This new generation of 12V drills are ideal when you have to drill and drive a lot of small screws, but you can certainly use them for drilling holes up to 3″ in hardwood. The four models we looked at all feature lithium-ion batteries, and weigh between 1.5 and 2.4 pounds. All use a ⅜" chuck, except the Milwaukee (¼" hex). Prices range from a low of $99 for the Ryobi to a high of $179 for the Bosch.
As with all tools, consider the work for which you intend to use the tool – this will serve as a guide for your purchasing decision. Will this be a general purpose drill/driver that you will use to drill holes as well as drive fasteners? If so, then a model with a keyless ⅜" chuck might be more useful than one with only a ¼" hex mount, particularly if you have a large investment in conventional round shanked drill bits. You can, of course, use any hex shanked accessory on a ⅜" chuck drill – it's just not as quick as on a hex mount drill. One of the most popular accessories is a universal driver adapter – a single holder for any ¼" hex driver bit.
If you will be primarily using hex shanked bits, then the easy, one handed bit changing on the Milwaukee will come as a pleasant surprise. After-market chucks, like the DeWalt DW0521 (dewalt.com), are available that enable you to hold round bits in hex shafts. Lee Valley (leevalley.com), also has a handy set of hex shanked adapters that convert round shanked bits into hex bits, along with centering bits and socket drivers. So even with a hex mount, there is nothing keeping you from completing your tasks.
The four models we looked at feature the new lithium-ion battery technology; the improvement over previous batteries is startling (for an overview of this battery technology, see "Lithium-ion", Issue #49, AugSept '07). Lithium-ion batteries do not have a memory, which means that they can be charged or topped up at any point during use. These batteries also deliver more power over a longer time than previous batteries and when left on a shelf for an extended period they will not lose their charge. They are also much lighter, which results in a weight reduction on the tool making these drills more pleasant to use for an extended period of time. All of these models, other than the Ryobi, ship with a charger that will recharge your batteries in 30 minutes; the Ryobi model takes somewhat longer at 40-50 minutes. As battery technology changes, many customers are feeling frustrated that every new improvement in batteries means investing in a whole new tool platform. Companies like Bosch and Milwaukee have eliminated this by making their new 12V platform (the 'M12' line for Milwaukee and 'Litheon 12V Max' line for Bosch) the new standard for their ultra compact series of tools. Both companies have a number of companion tools on their 12V platform, including flashlights, cut saws, and impact drivers. For the consumer, all that matters is that the batteries for these tools are all interchangeable, allowing you to add to your collection without having to deal with multiple battery types and charging systems. The one really innovative, and practical feature of the new lithium-ion batteries is that as the charge fades, there is not a corresponding fade in power from the drill. The tool will work at full power until the charge drops too low at which point it will simply stop working altogether.
The Ryobi has a more conventional T-handle, which means you can stand it up on a work bench. You can't do this with the pistol grip units. But, we find the pistol grip models easier to use in small, restricted places. The handles on the Bosch and Ridgid feel somewhat bulkier than on the other drills, and anyone with small hands might find them somewhat uncomfortable in use. We also found them a bit top-end heavy. The Milwaukee is particularly well balanced, and comfortable in use.
Where these tools really shine is in the shop when installing hardware on furniture, working in confined spaces, and around the home or cottage for general drilling and screw driving. Setting a #4 or #6 screw into a hinge on a cabinet requires a different torque setting than would setting a hinge on an exterior door. To avoid overdriving the small screws most of these drivers come with a multi-position clutch setting. Use the clutch engaged at a low setting for installing furniture hardware, but for taking full advantage of the 220 inch/lbs of torque that the Bosch PS30 delivers, one of the higher settings is in order. Most of these reserve the final setting on the clutch for drilling holes, and the clutch is disengaged in this position. The Bosch PS30 offers two speed ranges, a low speed setting that offers higher torque, which is ideal for driving fasteners, and a higher speed setting that is better for drilling holes. For long-term job site durability the Milwaukee 2401-22 features a gear housing made of metal.
When using these sub compact drivers to install hardware, one of the most valuable features we have grown to appreciate is an LED worklight to clearly illuminate the area you will be driving the screw into. This may sound trivial, but even in a well-lit shop, the inside back corner of a cabinet can still be a pretty dark place. Only the Ryobi lacks an LED light. The light on the Bosche and Milwaukee is more focused than on the Ridgid. We also like the spindle lock on the Bosch and Ridgid. It makes for easier and faster tightening of the chuck.
The Ryobi has a convenient magnetic bit storage slot on the top of the battery housing, while the Milwaukee features a nice feature – a built in battery fuel gauge that displays run time, giving you a 'heads up' before the battery runs out.
We tested these four drills in a variety of material – drilling holes for #6 and #8 screws in ¾" ply and 2″ softwood and hardwood, and sinking 1″ to 3″ screws in pre-drilled holes. We also tried drilling 3″ #8 screws straight through two layers of 2 x 4 fir. With its 220 in/lbs of torque, the Bosch was the all out top performer, but followed closely by the Milwaukee and Ridgid. The higher torque rating on the Bosch made for much easier setting of larger, longer screws, while the higher speed setting (up to 1100 RPM) gets the drilling and driving done more quickly.
All three offer the same package of features (comfortable handle, LED light, clutch, variable speed, two batteries, fast charger). Whether you're a professional or a woodworking enthusiast, you'll likely be very satisfied with any of these three drills. For the DIYer or homeowner, the Ryobi is a good drill. It's a no frills, 'pick-up and use' unit, that costs under $100. While it lacks the power of the other units, it still delivers a punch.
You can drive screws by hand, but new advances in battery technology have made these powerful, compact drivers the choice of woodworkers and trades people alike. They provide ample power to get the job done in a lightweight, easy to handle package with a battery that not only lasts longer in use, but holds a charge longer when left on the shelf.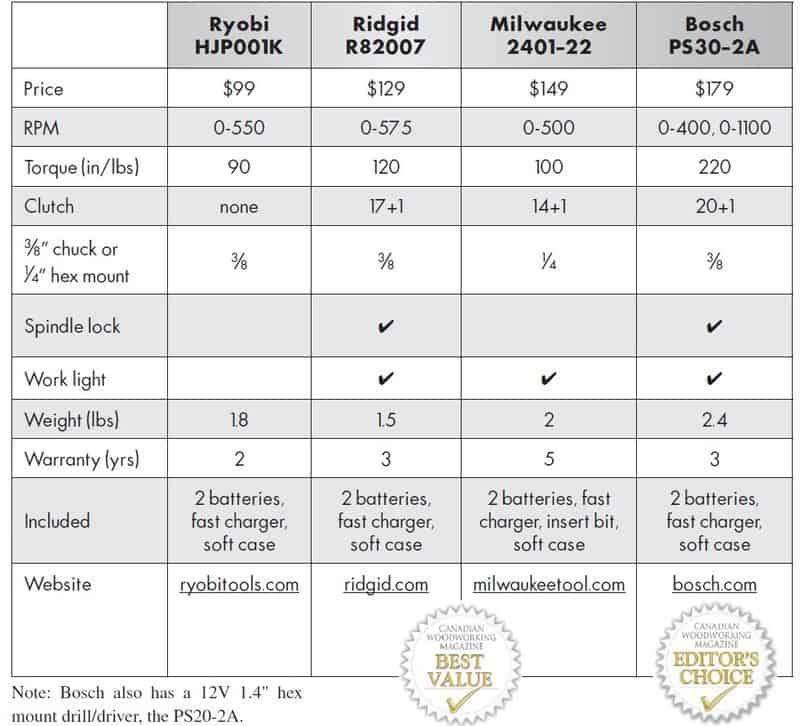 Maybe you don't need the power of a compact drill driver, or you want something less expensive to drill the occasional hole and drive the odd screw. There are a whole host of super compact or featherweight drill drivers on the market. Typically in the 4V to 7V range, and under 2 pounds, they are primarily geared to the homeowner or DIYer. We think they also make excellent first power tools for youngsters. As well, people with disabilities or the elderly will appreciate their light weight, small size, and generally uncomplicated design.
We recently looked at two new units from Black and Decker, both featuring lithium-ion batteries and ¼" hex mounts. At the low power end is the LI4000 Smart Driver. This 3.6V drill delivers 45 ft/lbs of torque, features a six position clutch, an LED light, and a unique retractable screw holder with a magnetic tip. The lithiumion battery is housed in the handle, and holds a charge for up to 18 months (obviously depending on how much it's used). We especially liked it for setting screws one-handed. At only $39.99, and with a two year warranty, it's a great 'screw setter' to have around the shop, particularly for drilling holes and driving screws in the smaller #4 to #6 sizes. If you need more power, then the B&D VPX 1101X is a sweet unit. It can be purchased alone, or as part of a package containing a cut saw, flashlight, battery and charger. The VPX 1101X is rated at 7V and delivers 40 ft/lbs of torque at 195 RPM and 140 ft/lbs at 625 RPM. It doesn't have a clutch or LED light, but it does come with a nifty storage case and a ten piece drill and bit set. It's very well balanced and a comfortable drill to use, feeling lighter than its stated 2.6 lbs. While B&D markets the VPX1101X as a cordless screwdriver, we found that it did a commendable job of drilling and driving all but the largest and longest screws into the hardest of woods. The housing is not as durable as on the 12V compact drivers units we looked at, but at $64.99, and with a two year warranty, this is a good buy.