Although re-sawing boards is pretty easy, it's another thing to re-saw logs. Logs are round, not always straight, and more awkward to handle than dimensioned stock. But, there are a lot of 'free for the asking' and 'firewood salvaged' logs around, and some of them are very nice indeed. I once had the good fortune to visit my brother-in-law while he was cutting up some firewood that included several apple logs about 8″ diameter and 4′ long. I beat him senseless with a stick and shamelessly stole those logs. The wood was wonderful: a bit browner than cherry, with swirls of pink and orange running through. I thought about cutting the logs on my bandsaw, but felt it would be safer and more expedient to have the local saw mill cut them for me.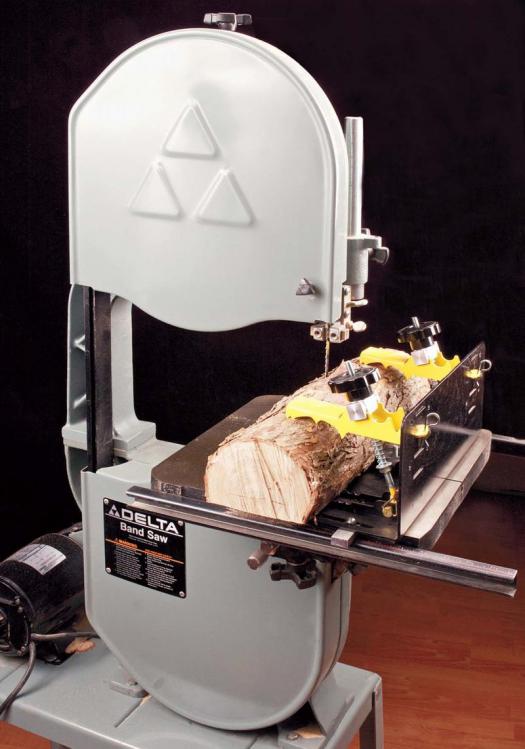 If you have any logs or firewood, and thought about milling some of the nicer looking pieces into lumber, then Paul Moore (Stockroom Supply) has come up with a device that makes short work of re-sawing logs (up to 6″ diameter) into lumber.
The Little Ripper is a simple, easy to use sled that securely holds a log while you guide it through the bandsaw blade. The sled is made of 1/8″ sheet metal, 6″ wide at the base, 6″ high and 14″ long. It's very well machined, being less than .005″ off square on the sample I tested. Two sturdy, toothed arms (yellow in the photo) securely hold the log in place; slots in the side of the sled enable you to raise or lower the arms to accommodate variously sized logs while two knurled plastic knobs apply pressure on aluminum blocks that hold the arms in place. An aluminum bar (the runner) under the sled fits accurately into the miter slot on your bandsaw table. You can adjust the angle of the sled by means of the two adjustment screws located at each end of the runner. This enables you to adjust for blade drift. There is also a knurled knob in the center of the runner that enables you to lock the sled in place; when re-sawing large logs you will need to remove this knob. The sled has about 2″ of lateral movement towards the saw blade.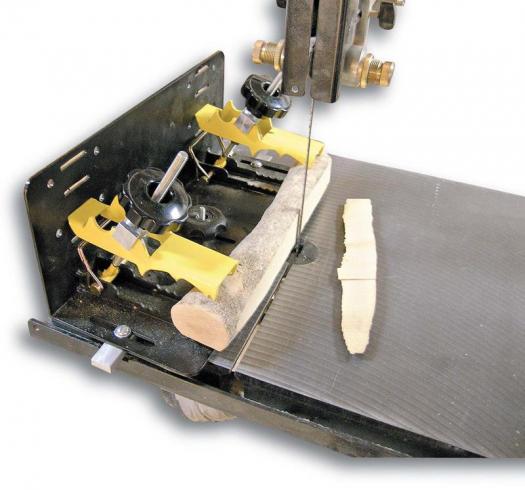 The Little Ripper also makes an excellent guide for re-sawing boards. You simply turn the jig end for end and remove the clips that hold the arms in place. You can exert as much pressure as you need when re-sawing your boards, the Re-saw Jig won't flex at all. I placed a roller stand on the out-feed side of the bandsaw, and have re-sawn boards up to 48″ long and 12″ high. You'll also want to use a roller stand for re-sawing logs longer than a couple of feet, especially if they are of a large diameter.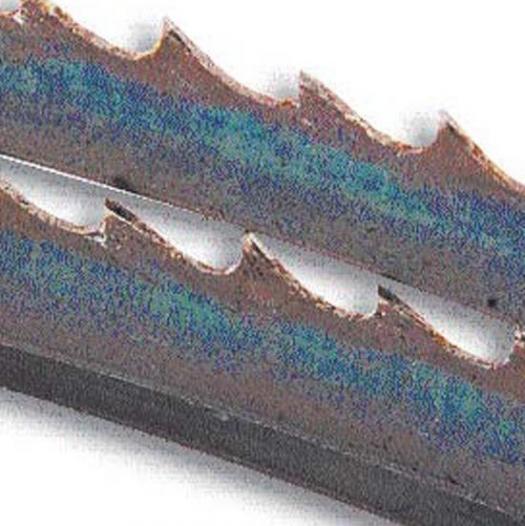 Stockroom Supply also has a 3/8″ 4tpi blade available that makes the perfect accompaniment to this jig. When properly tensioned on the saw, the blade cuts exceptionally well, with a very good surface finish.
This is a well-made jig, which should last for a long time. And best of all, it's simple to use. Devilishly simple.
The Little Ripper is an essential jig for anyone wanting to mill small logs (maximum of 6″ diameter). It is also an excellent fence for re-sawing dimensional stock.
With a retail sale price of $380. this handy Canadian made tool is sure to pay for itself in no time.
For more information contact Stockroom Supply.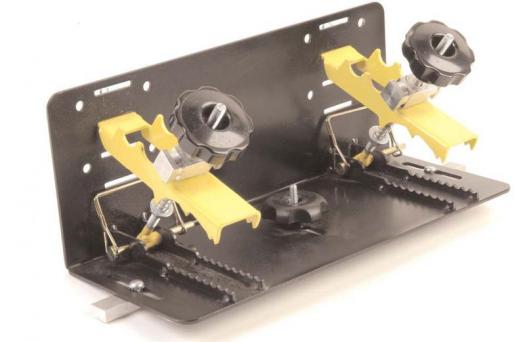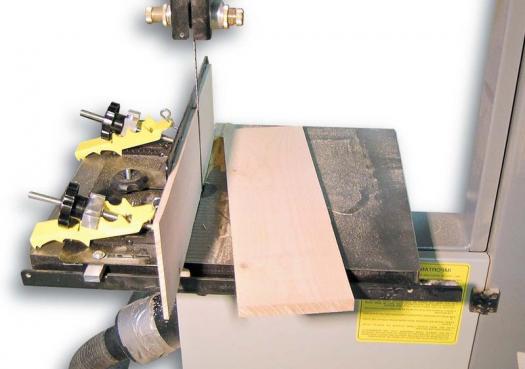 Use common yard trees (i.e. Lilac, Crab Apple, Birch) in your projects
Logs, burls, and crotch wood gripped securely
Adjusts to become taper jig
3/8″ 4tpi blade cuts wet and green wood
Cut quarter-sawn lumber and book matched boards
Adapts to many shop tools (works in any 3/4″ x 3/8″ mitre slot)
Accessories increase log capacity to 12″ diameter and 5′ length