You're much better off purchasing acces­sories specifically designed for use with impact drivers. Fortunately, there are lots of impact-ready accessories to choose from. And, of course, you c an use any of them with your standard drill/driver.
Just about any accessory you would typi­cally use in a drill/driver is now available for an impact driver, including drill bits, driver bits, hole saws, step bits, nut driv­ers, drill chucks, clutch tip holders, sockets and socket adaptors, nutsetters, right angle adaptors, and a range of bit holders and extensions.
All impact-ready accessories have a 1/4″ hex shaft that fits into the 1/4″ hex chuck on the impact driver. To use some of the non-impact-ready accessories that you may have on hand for your drill/driver, you'll likely need to purchase a few adaptors.
Almost all the leading power tool manu­facturers have impact-ready accessories in their inventory, and most use a moniker to distinguish them from standard drill/driver accessories. For example, Bosch uses the handle "Impact Tough", DeWalt uses "FlexTorq", Irwin styles their accessories "Impact Performance", Makita labels their products "ImpactX" and Milwaukee acces­sories are tagged "SHOCKWAVE".
All these products seem to be described in similar terms: minimal breakage; maximum strength; and durability. This likely means that the brand you choose is largely a mat­ter of personal choice, product availability and brand loyalty.
While you can purchase individual pieces, sets are usually a more economi­cal choice, especially if you'll be using an impact driver on a regular basis. And sets often come in a durable case that makes it convenient to organize, transport and store the accessories.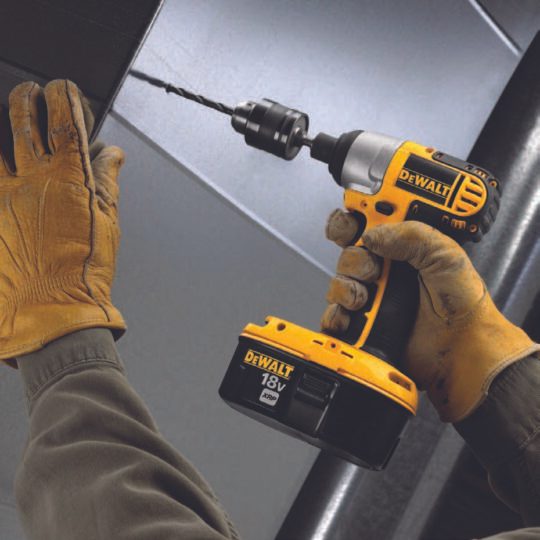 Titan & DeWalt Chucks – These chucks by Titan and DeWalt both fit a 1/4″ hex chuck and will hold a wide range of driving and boring accessories.
If you have a basic set of drill bits that you use with your drill/driver and want to use them in your impact driver, one option is to purchase a separate adaptor for each size of drill bit. Unfortunately, adaptors are only available in a limited range of bit sizes, typically to fit 1/16″, 3/32″, 1/8″, 5/32″, 3/16″, 7/32″ and 1/4″ twist bits. Snappy Tools has a set (#40020) that accommo­dates all seven of these bit sizes. You simply insert a bit into the appropriately sized adaptor, tighten a grub screw and it's ready to use. A nice feature on this set is that the adaptors come with drill bits.
A second option, which is probably the best approach if you're heavily invested in a variety of twist drill bits and step drill bits, is to purchase a keyless conversion chuck adaptor such as the Titan #16207 or the DeWalt #DW0521. Both have a three-jaw chuck that enables you to use drill bits up to 3/8″ diameter.
Just remember, when using non-impact drill bits, select the lowest impact setting on your impact driver (or feather the trig­ger if your impact driver doesn't have an adjustable torque setting) to avoid break­ing the bits.
Because impact drivers aren't the power tool of choice when it comes to drilling, there isn't a large selection of impact-ready twist drill bits, especially in the smaller sizes. Most sets contain drill bits from 1/16″ to 1/2″. The DeWalt set (#DW1956) consists of 16 titanium-coated bits that fea­ture a "Pilot Point" tip – a cutting point on the tip of bits 3/16″ and larger, which pre-drill holes to keep the bits from wandering. The Milwaukee set (#48-89-4632) has 29 titanium-coated bits and features a "Quad Edge" tip that incorporates a 135° split point tip and four cutting edges.
If you drill a lot of large holes in wood, you're in luck as there is a wide range of hole saws (from 3/4″ to 1-1/2″), spade bits (from 1/4″ to 1-1/2″ diameter) and step bits (from 1/8 – 1/2″ to 13/16″ – 1-3/8″). You'll find individual bits and sets from Bosch, DeWalt, Irwin and Milwaukee.
Right to the Point – The DeWalt DW1956 drill bit set includes 16 bits between 1/16″ and 1/2″. The larger bits also include "Pilot Point" tips to keep the bits from wandering.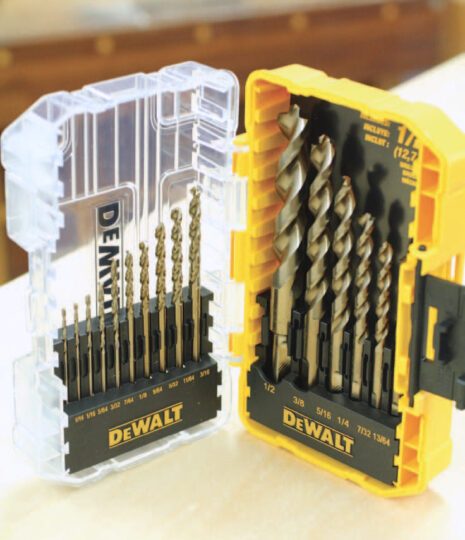 This is where impact drivers really shine. They sink standard screws and lag screws much more quickly than drill/drivers. If you use only a few types of screws, then it's probably more cost effective to purchase individual driver bits. Otherwise, a kit that contains a range of driver bits is the way to go.
Many of the higher-quality driver bits incorporate a torsion zone (a.k.a. shock zone) – the middle section of the bit is nar­rower than the tip or shank, enabling it to flex when torque is applied to prevent the bit from snapping.
Sets comes in a wide range of con­figurations. For example, Bosch offers a three-piece driver set (#ITV203) of 2″ long bits that consists of the ubiquitous #2 Robertson and #2 Phillips bits and a T25 Torx bit. If you need a wider selection of driver bits, a set like the Makita 50-piece set (#A-98348) is worth considering. It consists of a range of 1″ and 2″ bits in all three common sizes along with a couple of bit holders, a socket adaptor and some nut drivers. For a smattering of everything there is the Milwaukee PACKOUT kit (#48-32-4082) with an assortment of 100 square, Phillips, TORX, Slotted and hex bits.
For those of you who use Torx (the ones with a six-point star-shaped pattern head) or Pozidriv (with a head similar to a Phillips) screws and bolts, special impact-ready driver bits may be more difficult to source. Wera has one of the widest ranges of impact-ready specialty drivers, along with nutsetters and adaptors. If you're tempted to use a Phillips driver with a Pozidriv screw – don't. The driver will probably cam out of the screwhead before it's fully tightened.
To make it easier to swap out driver bits most kits include bit holders. Basic holders, like the Milwaukee #48-32-4502, rely on a permanent magnet that holds the bit in place. Those that incor­porate a quick-release collar along with a permanent magnet, like the Wera Rapidaptor #052502, lock the bit firmly in place until it's manually released. The DeWalt #DWHJHLD has a bit holder with an integrated clutch designed for drilling in metal. This bit holder clutches out as soon as the screw is set, which prevents the bit from breaking or the screwhead from stripping.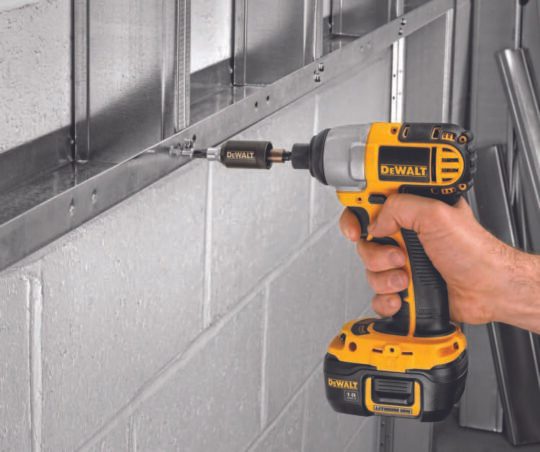 To deal with nuts and bolts, there are both socket adaptors and nutsetters. Socket adaptors enable you to use non-impact-ready sockets you may already have on hand. They're widely available for the three common sizes of sockets (1/4″, 3/8″ and 1/2″) and come in lengths from 2″ to 12″. Of course, you're better off purchasing impact-ready sockets if you're using them often. There is a wide range of choices available in singles and sets from Bosch, DeWalt, Exchange-A-Blade, Makita and Milwaukee.
Nutsetters are also available in a range of metric and imperial sizes. For use around the shop or home, a set that includes 1/4″, 5/16″, 3/8″, 7/16″ and 1/2″ nutsetters is likely all you'll ever need.
If you do a lot of work on machinery, then you might want to get a torque-limiting impact extension bar set, like the Husky #H2DTRQEXT5PCC, which has five 1/2″ drives in 65, 80, 100, 120 and 140 ft lbs. These drives stop applying torque when they reach the specified torque setting.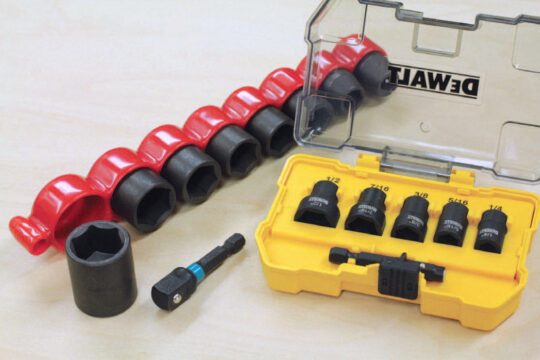 Combination kits or sets are an attractive choice for hobbyist wood­workers and avid DIYers because they offer a range of commonly used accessories, typically at a lower cost per unit ratio than purchas­ing accessories separately. Each manufacturer will have a slightly different assortment of accessories in their kits, which may include bit drivers, drill bits, nutsetters and bit holders. Most are packed in a mod­ular storage case. You'll want to make sure that the set you purchase has the accessories that are most applicable to the work you do.
The 41-piece EAB set (#76700) consists of an assortment of 36 1″ and 2″ Phillip, Pozidrive, square and Torz driver bits, three nut­setters and a standard bit holder. For a larger assortment of bits, the Ryobi set (AR2040) comes with a mix of 60 Phillips, slotted, square and Torx driver bits, six nutsetters, three sockets and stan­dard bit holder. Along with 31 1″ and 2″ Phillips, slotted, square, hex and Torx driver bits, the Milwaukee 40-piece set (#48-32-4006) has three drill bits, along with three nutsetters, two sockets and a standard bit holder.
To extend the reach of any impact-ready accessory there are bit holder extenders available in lengths from 3″ to 12″. Some feature a quick-release magnetic locking head, others use grub screws to secure the accessory to the bit extender.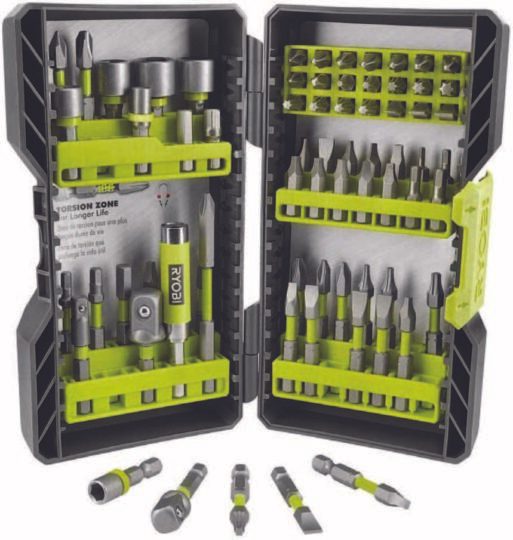 Sources: boschtools.com, dewalt.ca, exchangeablade.com, homedepot.ca (husky), irwin.com, makita.ca, milwaukeetool.ca, snappytools.com, www-us.wera.de