Festool's new KSC 60 EB mitre saw has a range of features that, in my view, make it a viable choice for anyone who wants a pre­mium compact mitre saw that can run for the better part of a work day on a full dual battery charge, that delivers excellent accu­racy with repeatable precision, and has the capacity to handle stock up to 2-3/8″ × 12″.
I have a small shop, so floor space is pre­cious. The KSC 60 EB takes up less than six square feet (33″ from the wall to the end of the locking handle and 32″ side-to-side). At just over 40 pounds (with batteries installed) it's light enough for me to cart around without having to plan a visit to my chiro­practor. And with an average 78.4 dB noise level it's certainly not the loudest power tool in my shop.
The KSC 60 EB operates on one or two 4 Ah or higher batteries. With only one bat­tery installed you'll get a maximum blade speed of 1,800 RPM. With two batteries speed increases to 3,500 RPM. Runtime depends on the amp-hour of the battery you use, the thickness and density of wood you cut, and how frequently you use the saw throughout the workday. For the kind of work I do – making furniture and small cabi­nets – I recharge the batteries about every third day.
The head glides wobble- and vibra­tion-free on dual 1″ diameter stainless steel guide rails. The 9″ of rail travel, coupled with the 8-1/2″ blade, allows for a full 12″ crosscut capacity at 90° (and 8-15/32″ at 45°). A feature I've used only a few times, but am glad to have, is the cutting depth limiter that enables you to cut flat grooves in your stock at a pre-set depth. It's sur­prisingly easy to use.
Setting a mitre angle is very quick and there are standard detents for the com­monly used angles. The mitre range is a generous 60° left and right. Setting the bevel angle is more time consuming. The bevel scale is small and harder to read, and there isn't a fine adjustment to help you set the exact angle. I use a digital angle gauge to speed things up. The bevel range is 47° left and 46° right. If you do much in the way of renovation or carpentry work you'll love the angle transfer device that comes with this saw. You use the device to replicate an inside or outside angle and then transfer the angle to the saw without having to make any complicated calculations. It works like a charm.
Aligning the blade to your cut line couldn't be easier. A button on the handle enables you to switch an LED on whenever needed. The light projects the saw blade shadow onto your stock so you can position your cut line precisely. The light turns off when you press the button a second time or after one hour. It's a super-effective feature I've come to depend on.
An electronic brake stops the blade in about two seconds. I like this feature, as on any mitre saw you should wait until the blade stops spinning before raising the head. This eliminates the prospect of a cut-off being flung towards you, particularly to your face. The KSC 60 EB comes with an over-the-top hold-down clamp that can be mounted on either side of the saw head and in back and front of the fences.
Mitre saws kick up a lot of dust, and the KSC 60 EB is no exception. The dust bag isn't overly effective but connect the saw to a dust extractor and you can expect to col­lect the lion's share of dust and debris.
The KSC 60 EB comes with a decent 36-tooth general-purpose blade. A 60-tooth blade along with specialty blades for alu­minum/plastics and laminates/HPL are also on offer.
Nothing on the saw feels flimsy. The fit and finish are super, and the levers and knobs are easy to reach and manipulate. There isn't much I can grumble about. As you'll find on all mitre saws, the slot in the kerf plate is pretty wide, which leads to some inevitable chipping when making mitre cuts. You could replace it with a com­mercial or shop-made zero-clearance insert plate that you remove when making bevel or compound cuts, or, as I often do, just place a sacrificial piece of 1/4″ MDF under the stock. I also find the 2-1/4″ fences (what Festool calls "stop runners") a tad low. However, I plan to add taller remov­able sub-fences that will also effectively serve as a zero-clearance fence.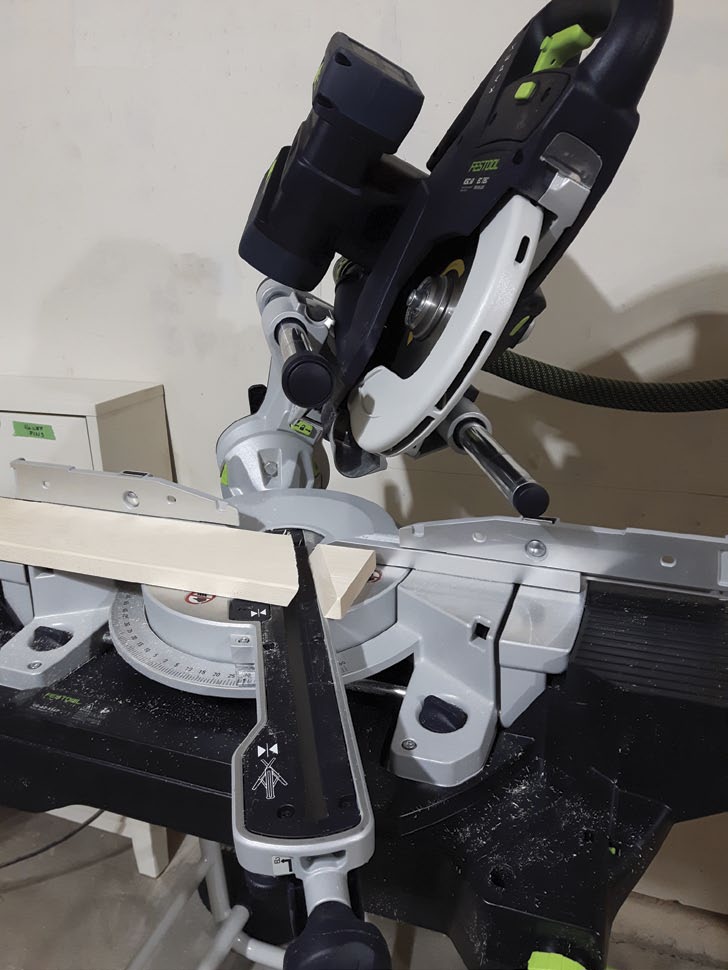 The Basic KSC 60 EB includes a 36-tooth ATB blade, dust bag, angle transfer device, elevation feet and screw (hold down) clamp. The Plus model adds two 5.0 Ah batteries, dual charger and Systainer. Also available is a compact underframe – a mobile stand that you can use in the shop or on the jobsite. A range of other accessories is also available.