Similar to other multi-head units, the DeWALT 5-in-1 consists of a compact drill/driver body that has an integrated 1/4″ hex chuck, and it comes with four interchangeable chucks – a 3/8″ standard keyless chuck, a 1/4″ hex chuck, a 1/4″ right angle drill chuck and a 1/4″ offset chuck. Without an attachment, you can use the DeWALT 5-in-1 as a compact 1/4″ hex screwdriver.
I really like the storage bag that comes with this tool. It does a reasonable job of protecting your investment and an excellent job of keeping things organized. The removable plastic tray has compartments for each tool head, the drill/driver, charger, battery and half a dozen drill or driver bits. There is still room in the bag to store several bit and driver sets along with your most frequently used fasteners.
The brushless motor is powered by a 12V 2Ah battery (DCB122) with a 24Wh rating that only adds 7-3/4 ounces to the tool weight. The drill/driver only weighs 2lbs 3oz (with battery installed). Each head adds about another 8oz of weight.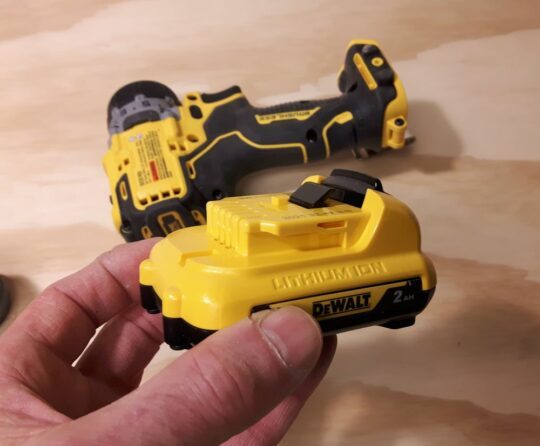 The battery has an on-board fuel status gauge so you know when to recharge. The included charger (DCB112) takes just under an hour to recharge the battery (it will also charge 20V batteries). A single battery may be ok for DIYers, but tradespeople will likely want to purchase an additional 12V battery (unless you have other DeWALT 12V tools on hand). I'd opt for a 3Ah battery (DCB123), which will give you about 50% increase in runtime.
There are 2 speed settings on this tool and 15 clutch setting plus a drilling-only mode. I typically keep it in the high-speed setting, dropping down only when I'm setting larger fasteners.
The DeWALT 5-in-1 delivers 250 UWO (unit watts out) of power. It's impossible to convert this to inch pounds of torque (the standard used by virtually all other tool manufacturers). In comparison, the DeWALT DCD780C2 20V MAX drill/driver delivers 350 UWO of power (about a 40% increase). I typically use #8 screws up to 2-1/2″ in my shop and pre-drill countersink holes. The largest holes I freehand drill are 3/4″ diameter.  The DeWALT 5-in-1 has both ample torque and speed for these tasks.
The LED light is fairly bright and does a good job of lighting the work area and it stays on for about 15 seconds after the trigger is released.
While the DeWALT 5-in-1 does have a convenient belt clip, tools like this are constantly being placed (dropped) on work surfaces – often coarse surfaces. Fortunately, on both sides of the casing (head and base) are large rubber pads that protect the drill when laid on its side.
The chuck heads are easy to install and remove. To install a chuck you pull back on a gray spring-loaded locking ring on the chuck, insert it onto the drill/driver head, and then release the locking ring. Reversing the sequence removes the chuck head. On all the chucks except the 3/8″ keyless chuck, and on the drill/driver head are a series of 16 metal tabs that interconnect. This enables you to position the chuck heads at 22.5° increments.
Most of the time I alternate between the 3/8″ keyless chuck and the 1/4″ kex chuck. I leave a drill bit in the keyless chuck and the corresponding driver bit in the hex chuck. Switching between the two takes less than 4 seconds. The offset chuck is surprisingly useful, as it enables you to drill and sink fasteners up to 1/2″ from a vertical surface. While I rarely use the right angle attachment it's a godsend when needed. Plus, it can be combined with any of the others chuck when you need access to tight or awkward spaces.
If you're looking for a light weight, versatile drill/driver that you can use in just about the most awkward places you're likely to encounter, then the DeWALT 5-in-1 is well worth considering. It's no wonder that the DeWALT 5-in-1 was voted a runner-up in the 2021 Tool of the Year awards power tool category.