CNC machines require a motor to drive the cutter. Virtually all entry-level desktop CNCs use a palm router motor for this purpose. Most do not come with the router motor – you'll need to provide one. Some of the professional grade desktop CNCs come with a spindle motor – unlike router motors these are designed for continuous use, and are either air or water cooled, which makes them significantly quieter than router motors.
Before you invest in a CNC machine, you might want to consider taking an introductory course. Check with your local community college or trade school. There are also online courses (check out Lynda.com). Other resources include: woodworking clubs; CNCZone.com, the largest CNC Forum; OpenBuilds.com, which also hosts a CNC Forum; and Makezine.com, which focus on small-scale CNCing. There are also an increasing number of Makerspaces (community workshop that provide CNC and other shared machinery) cropping up across Canada – search 'makerspace city' online to see if there is one in your area.
Software Sources: AutoDesk.com (ArtCam), FreeCADWeb.org (FreeCAD), GRZSoftware.com (MeshCAM), Inventables.com (Easel), MecSoft.com (VisualImport), Onshape.com, Vectric.com (Aspire, VCarve)
If you're not sure whether CNC is for you, aren't ready to put out a lot of money for a CNC machine, or if you just might want to tinker with it, then consider assembling a CNC machine from a kit. You'll often find these machines referred to as 'tabletop milling machines'. All will require you to purchase a palm router and operating software.
The Sienci Mill One Kit V2 ($515US) is the least expensive unit that I know of. The frame is made of MDF, but the gantry is aluminum. It has a very small (9-1/4″ x 7-1/4″ x 4″) milling area. Travel speed is about 3/4″ per second.
All the other CNC kits are fairly similar in design, with an aluminum or metal frame and gantry. The OpenBuild C-Beam Machine XLarge ($1,410) from Maker Parts has a decent-sized milling area (13″ x 29-1/2″ x 2″). Travel speed is just over 1″ per second. For this kit you'll also need to purchase a 12V or 24V power supply and a driver board and controller. Carbide 3D is the company that makes the hugely popular Shapeoko CNC kits. They come in several models based on the milling area size, from 16″ x 16″ x 3″, to a huge (for a desktop model) 33″ x 33″ x 3″. The Shapeoko 3 has an impressive travel speed of 3.3″ per second. Prices start at $1,099US.
Sources: Carbide3D.com, CNCRouterParts.com, Inventables.com, MakerParts.ca, Sienci.com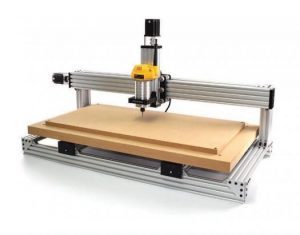 And now for something completely different. The Origin ($2,399US), from Shaper Tools is a hand-held CNC machine that looks just like a large plunge router, and it uses standard 1/4″ shank router and mill end bits. You upload designs via a USB stick (or through the cloud) to a built-in computer. An LED screen atop the Origin then displays the design and cut path, which means there is no template to follow on the work piece. You simply move the Origin simultaneously as the cutting outline is displayed on the LED screen. A unique locating and auto-correcting system enables you to cut within 1/100″ of the cutting path. Unlike any other CNC machine, there is no cutting area size limit.
Source: ShaperTools.com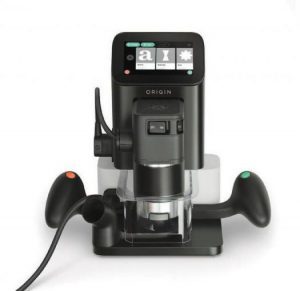 There are quite a few companies making entry-level, fully assembled desktop CNC machines. For most of these you have to supply a palm router. A number of them come with CAD/CAM software. Milling area sizes are from about 12″ x 16″ to 24″ x 24″, with Z-axis depth to about 5″. All will have an aluminum or steel frame and gantry.
The Piranha FX, by Next Wave Automation ($2,499.95) has a 12″ x 18″ x 3″ milling area and comes with CAD/CAM software and a library of 3D models that you can practice with. Next Wave Automation also has a Shark, pictured at the top of the first page of this article.
The Axiom AutoRoute 1 Basic ($2,498.99) provides a 12″ x 12″ x 3″ milling area and has a travel speed of 3.3″ per second.
The CarveWright CX ($2,100US) is quite different than most other CNCs in this category. It looks just like a thickness planer, and has a cutting area 14-1/2″ wide and 12′ long (because it's open on both ends), with a Z-axis depth of 5-1/2″. Travel speed is a whopping 9″ per second.
CWI Machinery, who specialize in professional and industrial CNC machines have recently introduced their new Prodigy series for the hobbyist and educational market. The basic model features a 12″ x 12″ milling area and a 350 watt DC motor, along with an optional 3 watt laser and a sound enclosure. They'll also be releasing a 3 axis model with the same motor configuration and options, but with an 8″ x 20″ milling area.
Sources: AxiomPrecision.com, CarveWright.com, NextWaveAutomation.com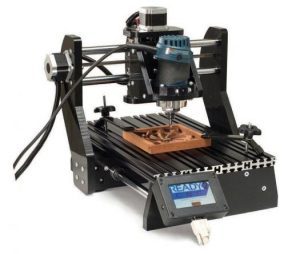 These are robust CNC machines designed to be used in a professional workshop or small production environment for extended periods of time. These machines come in benchtop and floor models.
CWI Machinery has three models in its Professor series, the 2.2, 2.3, and HDX ($5,799.95 to $10,599.95). Milling areas range from 23-1/2″ x 23-1/2″ x 7″ to 23-1/2″ x 35-1/2″ x 7″. They feature heavy-duty cast iron base frames with adjustable feet, anodized aluminum tables, 2.2HP Bosch variable speed motors (2 HP industrial air-cooled spindle motor for the HDX), 3/4″-thick aluminum gantry and support arms, and 5/8″ ball screws. Travel speed is 3.2″ per second. They come with a controller and control box. CNC software is sold separately.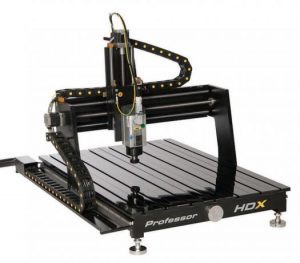 The Laguna IQ ($9,249) has a 24″ x 36″ x 6″ capacity and a travel speed of 2″ per second. It features a one-piece steel frame, robust aluminum gantry, 5/8″ ball screws and a 3HP induction motor with liquidcooled spindle. It includes a controller and control box, but no software. Laguna provides free online training.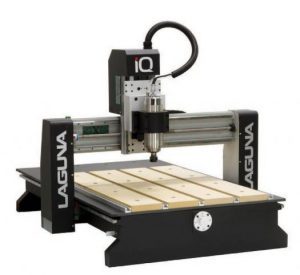 The X Series ($4,999US) from IconicCNC is one of the smallest professional CNC machines with a 20″ x 15″ x 4″ milling area. However it has a fast 3.9″ per second travel speed with a .002″ positional accuracy. The unit comes with a 600W brushless motor, and includes ArtCAM/ VCarve and iPicture software along with 1/4″ and 1/2″ collets.
Powermatic's PM-2X2RK ($9021.26) comes mounted on a heavyduty base and features a welded steel frame and 24″ x 24″ x 6″ milling capacity. The table and the gantry are made of cast aluminum. Travel speed is 3.3″ per second. It comes without a spindle motor or collets.
Sources: CWIMachinery.com, IconicCNC.com, LagunaTools.ca, PowerMatic.com