Woodpeckers 7″ SkillSquares are available in Standard and XT models. Both models are available with either an aluminum or phenolic beam and can be had with with imperial or metric scales. Squares with the red anodized aluminum beam are best suited for use in a furniture or cabinet shop. The nearly indestructible black phenolic beams are a better choice for anyone working on a jobsite or construction site – these squares are labelled JS (jobsite).
The difference between the Standard and XT models is that on the XT models the blade extends 1/2″ below the beam, providing an additional registration and marking option.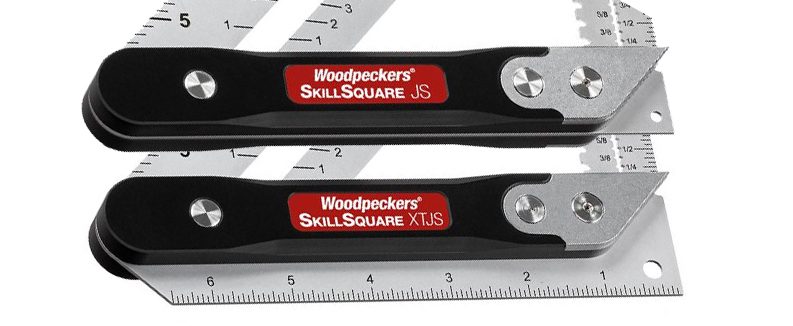 The 1/16″ thick blades on these squares are milled to a tolerance of .0085″ per inch from a single piece of steel and bead blasted to produce a low sheen finish that makes the laser-engraved scale very easy to read. Accordant to Woodpeckers the markings will never wear off. Unlike squares with much thicker blades, these thinner blades really do reduce parallax errors (which occurs if you read a scale when you're not looking perpendicular to the point of reference on the scale).
The measurement scale is graduated in 1/16″ / 1mm increments and has laser-cut notches on 1/8″ (for standard pencils) and 1/4″ (for carpenters pencils) centers parallel to the edge of stock. This makes it easy and quick to mark precise and consistent lines up to 6″ from the edge of your stock.
The angle scale is in 1° increments from 0° to 90°, and there is also a common rafter scale and hip/valley scale.
Marking out angles is very quick. The pivot point on the SkillSquare is sharp and well-defined making it easy to hold the square firmly in place as you rotate it to the desired angle.
Each SkillSquare comes with a wall-mountable storage rack.
With the SkillSquare you can quickly mark out any angle, and of course layout angles for common, hip, and valley and hip rafters. Even if you're not building houses, it's a surprisingly useful shop layout tool. Use it in place of a try square to mark and check 90° angles and a T-bevel or protractor for laying out angles. You can use it to draw arcs and circles up to 6-3/4″ and as a guide for your circ saw, jig saw or router for making square cuts up to about 7″ long (longer if you butt a straight edge against the blade of the square.
Highly recommended for anyone looking for a premium quality carpenter's square built to deliver decades of dependable service.