For laying out rough lumber and measuring long stock a tape rule is usually the best choice. For just about everything else the shop rule is king. They're available in various lengths and configurations, and in stainless steel, aluminum, plastic and wood.
You want to use a rule that's just long enough to measure your project. Trying to measure something 5″ long with a 24″ rule is awkward. I've found that a set of  6″, 12″, 18″ and 36″ covers the majority of my shop measuring needs. The lengths best suited for you will depend on the nature of your work.
These Veritas rules are machined from 2-1/2″ wide aluminum extrusion and anodized black for protection. and have both edges beveled at about 15° down to 1/32″ at the edge that virtually eliminates parallax errors (which happens when you take a reading at an angle rather than face-on.
The laser-etched scales (available in Imperial, metric or a combination of both) read right-to-left on one edge and left-to-right on the opposite edge. The white scales provide excellent contrast against the black surface. The Imperial rules I use are graduated in 1/32″ with registration marks every 1/8″. I rarely need to measure down to 1/32″ so would have liked a more prominent marks at every 1/16″.
On the back narrow ridges create a relieved section in the middle of the rule that helps to keep it laying flat on your stock. A large hole on one end lets you hang the rule on a shop wall for quick access.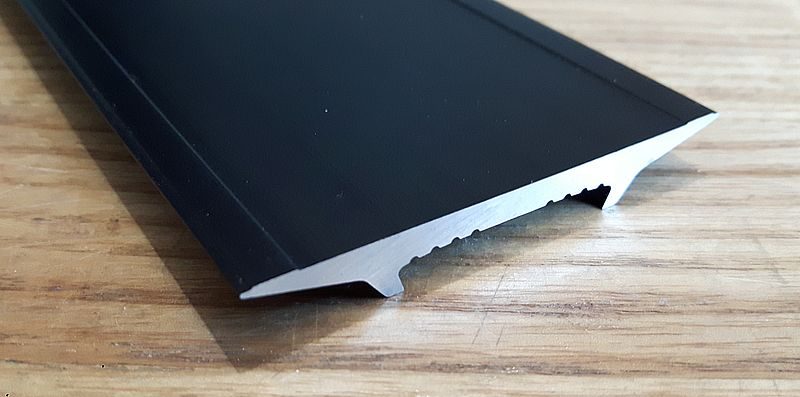 While these shop rules feel somewhat light in weight they do feel great in the hand. They're surprisingly robust and sturdy enough to use as a straightedge (though they're not wide enough to stand unsupported). Well priced for tools that will last a lifetime.