At under 6″ long and 1-1/2 pounds, the Box Maker's Plane is almost half the size of it's larger sibling, the Veritas Small Plow Plane. Like big brother it not only cuts grooves and rabbets, but also beading. A 1/4 grooving blade comes with the plane. The other blades you can purchase are: 4mm, 5mm, 6mm, 7mm, 8mm and 10mm grooving blades; 1/8″, 3/16″, 5/16″ and 3/8″ grooving blades and 1/8″, 3/16″ and 1/4″ beading blades. The grooving blades are $21.90 and up while the beading blades start at $26.50.
The plane body is made of cast iron. Stainless steel rods connect the fence to the body. The blade adjusting mechanism has knurled brass knobs. Veritas has chosen to use steel hex screws to secure the plane body onto the rods. A 1/8″ hex key (supplied) is used to adjust the screws. While a tad inconvenient to have to peck around for the hex key all the time, it enables you to apply a lot of torque to ensure the fence stays in place – more so than with brass thumb screws. It would have been nice if Veritas had found a way to house the hex key on the body of the plane.  The 1″ by 5″ fence is made of torrefied maple. You can easily replace it with a longer fence, or an angled fence.
Blade installation, retention and adjustment is excellent. A brass knob on the side pushes the blade against the plane body and ensure it's vertically aligned with the skate (the metal plate on the bottom of the plane that rides in the groove cut by the blade). The skate is beveled to accommodate beading cutters. At the top is a brass knob that locks the blade in place after you've set it at the correct cutting depth. Unlike the Veritas Small Plow Plane there is no blade adjuster. A nice feature, no doubt, but one that would have invariably increased the price. Not to worry though – with a bit of practice you'll find that setting the blade depth is no big deal.  You set the depth of cut (up to 3/8″) by means of a depth stop (shoe). The shoe has beveled edges to keep it from marking your work, but at 1-3/16″ I find it too short – a longer shoe would provide better stability.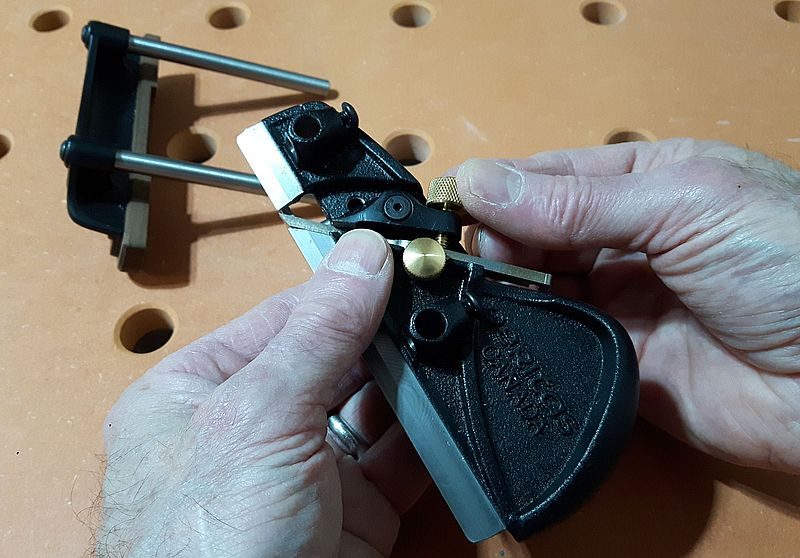 The Box Maker's Plane is very comfortable to use. The 'handle' is about 1″ wide and provides ample support for the palm of your hand. On the side of the skate is a reinforcing rib that provides space to rest your fingers against when gripping the plane.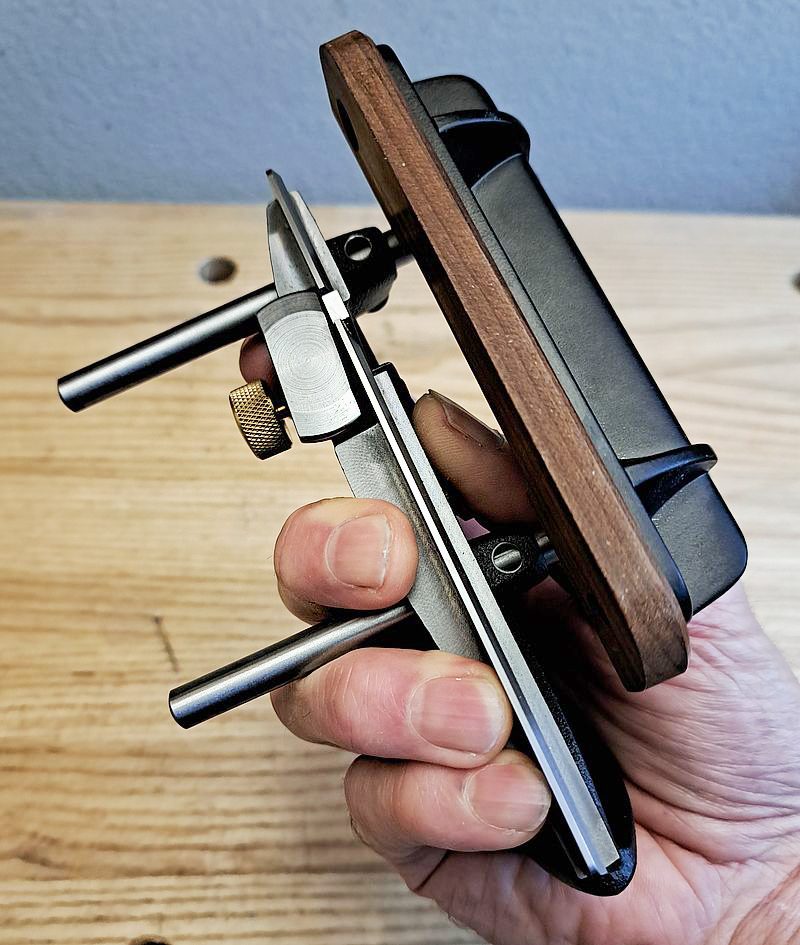 The Veritas Box Maker's Plane is smaller, simpler and more cost effective than a full size plow plane and makes an excellent choice for cutting grooves and applying beading on all your small to medium size woodworking projects.