A frayed or damaged power cord, faulty electric appliance, cookware left unattended on the stove, failing to clean the chimney or fireplace, careless smoking – all of these and more can lead to devastating impacts for you and your family. It's not just fire you have to be concerned with – more people succumb to smoke inhalation than fire.
Carbon monoxide is another potential threat to personal safety. A CO detector measures levels of this nearly odorless, naturally occurring chemical compound in the air and issues a warning if concentrations approach the danger level (70 ppm). You can get sensors that detect only smoke, or CO, or both. All are battery powered except Nest, which is available in battery and hardwired models. Some sensors also monitor other pollutants (dust, pollen, soot), temperature, and humidity levels. Most of these sensors have a 10-year life expectancy, at which time they'll need to be replaced.
Typically you'll want a smoke detector in each room of your home, so if you plan to install more than one sensor, ensure the model you choose interconnects with multiple units. Any of these sensors can be user installed.
Along with smoke detectors are wireless alarm monitors that simply plug into a wall outlet and notify you if your smoke alarm goes off, and smart batteries that add wireless capability to any standard smoke or CO detector.
Prices quoted below are taken from the company websites. American prices have been converted to current Canadian dollars. All prices exclude shipping costs.
Nest Protect
Nest.com
$149.99
A combined smoke and CO detector, available in both a battery and hard-wired (120V) format. Has a siren alarm and voice alerts. Senses heat, humidity, ambient light, and room occupancy, and can shut off your HVAC unit in an emergency (when connected to the Nest Thermostat). It self-tests both the battery and sensor. A voice feature lets you know if it detects smoke or high levels of CO and where in your home it's located. Enables interconnectivity between multiple units and integrates with all the various Nest smart home devices.
OneLink Wi-Fi Smoke + CO Alarm
FirstAlert.com
$149.99
Offers both smoke and CO detection and is powered by a sealed lithium-ion battery rated for a 10-year lifespan. Has features similar to the Nest, including a siren alarm and voice alerts. Enables interconnectivity between multiple units. Apple HomeKit compatible.
Leeo Smart Alert
Leeo.com (NOTE: This company is no longer in business)
$70.00
Unlike the Nest and OneLink, the Leeo isn't a sensor. Rather, it listens for the alarm set off by a smoke or CO detector, and then notifies you (or anyone on your emergency contact list). You then dial 911. It plugs into any standard 120V outlet. It does sense temperature and humidity and has a built-in nightlight.
Some water disasters, such as a burst water pipe, failed sump pump during a severe rainfall, or washing machine gone berserk, can happen almost instantaneously. Other calamities happen over time – condensation in the attic or a leaking water heater or dishwasher. If you're fortunate, you'll be at home when something like this occurs, and can take remedial action as soon as you're aware of the issue. But if the issue goes unnoticed, or if you happen to be at work, out of town for any reason, or on vacation – you're out of luck. A slow, undetected leak can, over time, be just as destructive and costly as a sudden deluge of water. You can't always prevent these problems from occurring, but knowing about them as soon as they happen can give you time to mitigate their effects.
A smart moisture detection sensor will notify you the moment a water leakage or moisture problem occurs so that you can take immediate action, not after most of the damage has been done. These sensors can be installed around any potential source of water leakage, and if water is detected, the sensor sends you a notification over your mobile device. Most sensors also emit an alarm.
These water sensors can be battery or line powered (usually by a 12/24V DC power supply). Some connect to your mobile device via Wi-Fi and the app that the sensor uses, and others connect via a wireless hub (such as Wink or Samsung SmartThings) and the app that the hub uses. Sensors with longer sensor cables, or add-on extension cables, enable you to monitor hard to reach places. A few models incorporate temperature sensors that notify you when the temperature within the vicinity of the sensor drops below a specified level – a practical feature for areas in your home that might freeze over during the winter months.
Water sensors only notify you when they sense water. For maximum protection, you can connect some sensors to automatic shut-off valves that turn off your main (incoming) water supply if there's a leak. Not all sensors work with shut-off valves. Expect to pay considerably more for these sensors and valves, and, unless you have some requisite experience, anticipate having to hire a plumber to install the valve.
Roost Smart Battery
GetRoost.com
$70.00
This battery-powered add-on (which is itself not a sensor) enables you to add wireless capability to any battery or wired smoke or CO detector that uses a 9-volt main or backup battery, so you can get notifications when you're not at home. Includes a low-battery alert and the option of notifying an emergency contact (in case you're not reachable). Doesn't provide interconnectivity between multiple units.
Similar Products: RemoteLync.kidde.com, Z-Wave.com
D-Link DCH-S160 Water Sensor

ca.dlink.com
$89.99
Plugs directly into a 120V wall outlet, connects via Wi-Fi, and has a 70-decibel siren alarm. It uses a 0.5-meter sensor cable that detects water along its entire length, and comes with a 1-meter extension cable so you can more easily reach hard-to-access areas. The sensor cable can be further extended using any standard RJ-11 phone cable.
Fibaro Flood Sensor
Fibaro.com
$79.99
Powered by battery (that lasts up to two years without incident) or a user-provided 12/24V DC power supply, connects via a Z-Wave hub (such as the Fibaro Home Center 2 or Samsung SmartThings), and has a 70-decibel siren alarm. A separate Apple HomeKit model is available. Unlike the D-Link, it detects water using three selfleveling telescopic probes on the base of the sensor unit. However, there is a terminal on the sensor to which you can connect an external sensor cable. The Fibaro includes a tilt sensor that lets you know if the sensor has been moved, and a temperature sensor that warns of impending freezing conditions. It can be connected to a camera and almost any wired alarm system. The other distinguishing feature is that it can be connected to an electrovalve such as the Fortrezz Wireless Water Valve (see below).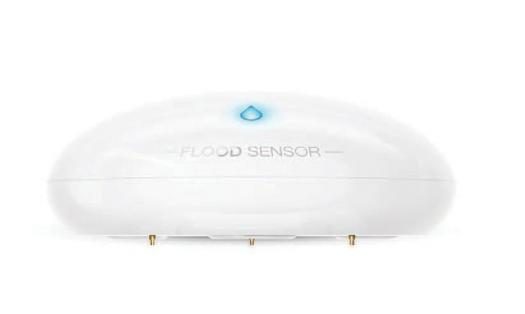 Lyric WiFi Water Leak And Freeze Detector
YourHome.Honeywell.com
$89.00
Battery powered (lasts up to 3 years without incident), connects via Wi-Fi, and has a 100-decibel siren alarm. Uses a 4-ft sensor cable that is optionally extendable up to 500 ft. Also includes humidity and temperature sensing. Doesn't integrate with any home automation systems.
Similar Products: GetRoost.com, Insteon.com, SkyLinkNet.ca, SmartThings.com, Wink.com
LeakSMART 2nd Gen. Complete Home Water Leak System

LeakSmart.com
$540.00 and up
Consists of a water sensor and an automatic water shut-off valve – an electronic motorized brass water ball valve that connects directly to the main water supply. It requires a Zigbee-compatible hub such as Wink, Iris, Nest, or the LeakSMART ($194.00). There are models for 3/4″, 1″ and 1-1/4″ water mains. The shut-off valve comes with a 9V power supply, and you can also install batteries as a precautionary power back-up. The sensor is battery powered and has a siren alarm. Up to 32 individual sensors can be connected to the system.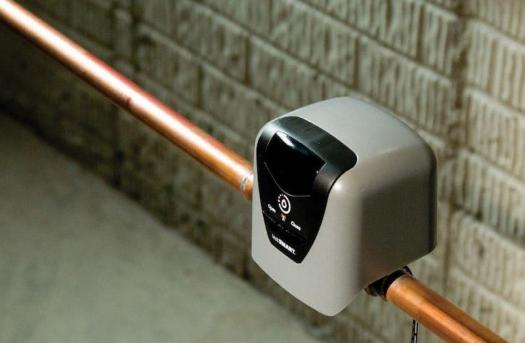 Fortrezz Sensor and Water Valve
Fortrezz.com
$62.00 (sensor), $527.00 (shut-off valve)
This company offers both a sensor and shut-off valve that can be used together or independently of each other. Similar to the Fibaro, the sensor has bottom-mounted probes that check for water every four seconds. Powered by batteries that last up to two years (without incident). Also monitors temperature. Does not have a siren alarm. The shut-off valve will work with almost any Z-Wave water alarm sensor, including Wink, Honeywell and Fibaro. It plugs directly into a 120V wall outlet and is available for NPT pipe sizes 1/2″, 3/4″, 1″ and 1-1/4″. There is an override handle in case of power loss. Comes with a 9′ probe. Both the sensor and valve work with any Z-wave network.
Similar Products: Domeha.com, SmartHome.com, WaterCop.com
Last modified: September 29, 2023
---

---
Check out other tool articles
More articles in Smart Home