DMT DuoSharp Precision Flat Sharpening System W8EFWB provides two-stage sharpening using a full 8″ of DMT's signature 'polka dot' Interrupted Surface with fast, consistent results every time. Fine and Extra Fine grits are all purpose choices for any woodworking shop. DMT is the original and unrivaled diamond sharpening company. Engineered resin base included.
W8EFWB has a retail price of $118.02.
Why It's Essential: DMT DuoSharp sharpeners provide you with an all-purpose sharpening station for the edged tools in your shop for years. Unrivalled in performance and durability, DMT sharpeners will provide years of service. Base also fits any 6″ x 2″ stone.
• Powerful 220V TEFC motor
• Superior dust collection and air filtration
• Cyclone action separates heavy particles from fine particles and drops them into steel drum
• Fine dust particles collected in 1micron canister
• Steel drum with quick release levers and castor wheels for easy disposal
• Magnetic line interruption switch – needs a restart after a power failure
• Manual crank handle for easy cleaning of inside of canister filter
• Remote control with timer setting – automatically shuts dust collector off after 2, 3, 6, or 8 hours
• Complete with four-wheel casters for portability
Why it's Hot: Exceptional two stage dust collection efficiency AND easily emptied.

For over 60 years, Elmer's products have been a familiar sight in workshops and homes across Canada. We strongly believe in providing the best product to ensure that contractors can build and repair with ease. Our ProBond Max line offers contractor-grade wood glue and wood filler solutions that can be used for both interior and exterior applications.
Why It's Essential: ProBond Max Wood Glue is the only woodworking adhesive that is both waterproof and stainable. It's so strong that the wood will break before the bond does.
ProBond Max Wood Filler dries stronger and can be used with high-speed sanders to produce professional results. Learn more at elmers.ca

ForrestBlades.com
Forrest Manufacturing's award-winning 40-tooth Woodworker II—the king of all purpose table and circular saw blades—is like having three blades in one, delivering high quality rips, combos and crosscuts of 1″-2″ in hard- and softwoods with a smooth-as-sanded surface and no bottom splintering. Plus, specially- engineered clearances on the blade teeth eliminate side scoring. 5-3/8″ to 16″ diameters, $95-$185 MSRP.
Why It's Essential: The Woodworker II is the finest, quietest, and most precise blade of its type, preferred by both professionals and hobbyists looking for value and exceptional performance. If you can have only one general-purpose blade, this is the one to choose!

fujispray.com
The Fuji Spray Semi-PRO 2 HVLP Spray System offers features like no other in its price range.
The Fuji M-Model Spraygun has professional features such as non-bleed, a fan control knob (to adjust size). A super-powerful 1400 watt two-stage bypass motor in metal turbine case with handy gun holder. A 25ft hose with air control valve and quick-connect coupler.
Why It's Essential: DIY HVLP Systems typically feature low wattage motors that are underpowered for most spraying. Our 1400 watt two stage version can handle any type of coating. The Semi-PRO 2 is for the serious user. A 20-page User Manual is included.

general.ca
The #50-035 heavy-duty mobile base has a 1000 lb capacity. Featuring tubular steel corner brackets it is adjustable in size in 1″ increments from 22 1/2″ x 22 1/2″ up to 29 1/2″ x 34 1/2″. The 50-035 currently retails for $129.99 (pricing valid until Sept 1st, 2013) and can be ordered from most General International retail distributors.
Why It's Essential: Having machinery on mobile bases like the 50-035 allows you to make maximum use of valuable workshop floor space. Machines that are not being used can be parked against a wall or out of the way when not in use.
It's not often you can see a tool and say "Wow, that looks fantastic," but the Anniversary Edition version of the award winning Grizzly G0555 series bandsaw will be the crown jewel in most any shop. High-gloss black powder coating with the Grizzly Bear logo, accented by the special Anniversary Edition graphics, makes this bandsaw's appearance truly stunning. But beauty isn't only skin deep on this saw. Cast iron wheels with ball bearings, quick release blade tension, cast iron frame and table, ball bearing blade guides, 4″ dust port and a powerful 1hp motor makes this saw as much about performance as appearance.
Why It's Essential: A 14″ bandsaw is the perfect size for most shops and the Grizzly limited Anniversary Edition provides everything you want and need at a very special Anniversary Edition price.

grizzly.com
Its powerful 9 amp motor allows cutting material to 2 5/32″ thick and when used with its Track system, guarantees accurate cuts in shop or on site. Loaded with features like plunge cutting and spring-loaded riving knife not only increase accuracy and versatility but improve safety as well. Round it out with an accurate depth stop, tilt scale and dust port.
Why It's Essential: Getting very accurate straight rips on the job site has always been a challenge. Track Saws have made that job simple but it took Grizzly to make it affordable. Now almost anyone can own a Track Saw.

ibexent.com
Lamello, a leading producer of precision joining systems, sets a new benchmark with its P-System. With the Lamello Zeta.
The Zeta is operated like a biscuit joiner. Designed according to Lamello's motto: fast, simple and precise. It also can be used as a regular Biscuit Joiner to receive the new BISCO.
CLAMEX-P is the most versatile connector; it consists of two halves, which are joined together.
Why It's Essential: Having this system in your shop gives you room to have the components stacked and installed on site with easy transport (less bulk). Change the blade to a 4mm cutter and you have a regular biscuit joiner. "Two machines in one."

irwin.com
The IRWIN FK100 with BladeLock Technology features a compact, durable body design that fits easily in the hand, pocket or on the belt. It's all-metal body design and liner lock provides quick, easy one-handed operation. With removable belt clip, cast finger grooves and trigger grip handle, the FK100 delivers maximum durability.
Why It's Essential: Engineered to prevent the blade from releasing while in-use. The blade can only be changed when in the 45° position with blade release button engaged – allowing the blade to come out only when you are ready to change the blade – never by accident. Available at Canadian Tire for $12.99.

KingCanada.com
Powerful, sturdy and modular design makes this 3 HP 15″ Planer a staple in any shop. You get the stability and precision of the table raising and lowering on four precision ground columns, anti-kickback fingers in front of the in-feed roller, magnetic safety switch, large cast iron extension tables, a three-knife cutter-head, and lever to shift gears/feed rate. Comes complete with knife setting gauge, a 4″ dust collector outlet and a built-in mobile base.
Why It's Essential: A heavy duty 3 HP industrial Planer with all the power and capacity you need, with a modular design to be able to take it apart to get into a basement shop.

KingCanada.com
This 15 amp. gem has more than enough power to rip and crosscut. The table extends to 25″ rip capacity with a 3 1/2″ depth of cut. Comes with dust collection port, onboard storage, fence, mitre gauge, standard and dado throat inserts, push stick, wrenches, guard and anti-kickback pawls. Best of all, it comes on a slick folding rolling stand so it can be easily stored.
Why It's Essential: Go from folded and stored to operational in a few seconds. This tablesaw is full-featured, portable and can be the hub of any workshop.

oneida-air.com, welbecksawmill.com
The Oneida Air Systems family of Dust Deputies are high efficiency cyclonic pre separators for wet/dry vacuums and single stage collectors. The patented cyclone design separates 99% of the waste before it reaches your system. They are made of static dissipative plastic and are simple to use. They have a compact footprint and can retrofit to any system.
Made in the USA.
Why It's Essential: The Dust Deputy converts your single stage collector or shop vacuum into a super cyclonic dust collector. The Dust Deputy keeps the filter in your collector or shop vacuum from clogging during use and helps keep a constant air flow with no loss of suction.

spaenaur.com
Spaenaur stocks high quality RAMPA woodworking and furniture fasteners in small packs for same-day shipping. RAMPA fasteners are perfect for projects where the inserts, screws, bolts and connectors need to be hidden. Spaenaur can access the full RAMPA line (including assortments), so if you need a product they don't stock, let them know and they can get it for you.
Why It's Essential: Whether for building a display or assembling furniture, RAMPA fasteners are known world-wide as industry leading with proven quality and technical excellence. RAMPA fasteners can be used virtually anywhere two or more components are assembled.

Toronto Tool SRG-50 is a complete professional workshop in one precision tool.
The SRG-50 is designed for one-person operation to accurately rip-cut, cross cut, mitre and rout up to full 4' x 8' sheets. It is a tablesaw, cross-cut saw, miter saw and a precision "X" & "Y" router system. Add any quality circular saw and router, the SRG-50 system supplies the rest. Change from the saw to router in seconds. A standard router table pales in comparison to the full "X" and "Y" routing capabilities of the SRG-50. The SRG-50 is portable, with folding legs and wheels for easy movement and storage.
Why It's Essential: Quality, Precision, Versatility and Portability make the SRG 50 an excellent choice for any shop.
EDITORS NOTE: This product is no longer available

elitetools.ca
This is the most advanced box joint jig ever produced!
Works with both tablesaws and router tables, features micro-adjustable joint tightness, and allows pin widths from 1/8″ to 3/4″. Fast setup for basic joints, plus advanced capability for unique decorative joints.
It's easy to use and the included one-hour instructional DVD covers everything from basic setup to advanced decorative joinery.
$149.99 CAD Free Shipping
Why It's Essential: If you've been looking to improve your shop's joinery capabilities with a fast, versatile, and easy to use method for producing box joints of all descriptions, the INCRA I-Box is what you've been waiting for.
Quality stands are essential in any shop environment — Ask the hundreds of people that have purchased our stands.
The adjustable height SRG and RS-29 are perfect for in-feed, out-feed, bandsaw and planer applications. Our AHS-29 and SH-36 are simply the best saw horse on the market.
Why They're Essential: They will not fall over. They fold up for portability and storage. Our products are all manufactured in Canada using only the highest quality parts and materials.

RIDGID.com
The RIDGID Corded Jobmax Multi tool, part of the industry's most versatile tool system, is a versatile tool that can cut, plunge and sand through wood, metal, drywall and many other materials. Compatible with seven different tool heads, the Jobmax can easily switch from a multi tool to a jigsaw, right angle drill, reciprocating saw and more.
Why It's Essential: The one tool for every job, the Corded Jobmax saves time, money and space by powering seven easily interchangeable tool heads on one base. Like all RIDGID power tools, it's backed by a Lifetime Service Agreement.
The D300 is a new innovative panel clamp invented and manufactured in Canada. This panel clamp is a new concept of clamping specially designed for any level of woodworking. In fact, this 4.5 pounds, made of steel tool allows the user to laminate wooden pieces from 3/4″ to 4 1/2″ thick up to 36 inches long.
Why It's Essential: The D300 prevents curvature during the gluing process by using two parallel rails that keep the wooden pieces together for efficient clamping. Indeed, the D300 will significantly minimize the user's manipulation by using less tools.
EDITORS NOTE: This product is no longer available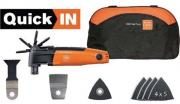 FEIN.com
A professional system for interior construction, renovation, and more – designed for perfection and providing the best performance.
• Made in Germany, premium quality.
• Most powerful motor 250W, built for continuous use.
• Low vibration and comfortable easy handling for best ease-of-use
• Built for professional use to the absolute highest standard of quality
• Offers maximum convenience thanks to QuickIN tool-free accessory changing
Why It's Essential: The most versatile tool on the market with the most extensive range of accessories.
Features FEIN's QuickIN – for fast easy accessory changes. Set includes MultiMaster tool, bi-metal E-cut blade, rigid scraper blade, sanding pad, 20 pieces assorted sandpaper, and carrying bag.

duragrit.com
The 90º TruSander from DuraGrit is a unique sanding block with carbide coated sanding surface that collects dust in the handle. Use to sand surfaces, bevel edges, round corners and as the name suggests, true-sand edges 90º to the work surface. This tool really works (and works…) and is designed to last years.
Available grades: #60, #80, #120 & #150.
Why It's Essential: The DuraGrit TruSander is a sanding tool you don't need to change, won't wear down like sandpaper, is virtually the same grit grade at the end of the job as it is at the start and can be used again and again and again…

ryobitools.com
The Ryobi 18V ONE+ 18 Gauge Brad Nailer allows you to complete all the finishing jobs of a traditional pneumatic brad nailer without the hassle and noise of compressors or hoses. By using the power of Ryobi 18V power tool batteries this rapidly generates compressed air internally to drive up to 700 nails per charge.
Why It's Essential: Traditionally cordless finishing nailers can be quite expensive. The Ryobi 18V nailer retails under $200 with battery and charger included, less than the cost of a combined nailer and compressor, and can run off any existing Ryobi 18V Battery.

duragrit.com
Powerful. Versatile. Long-lasting. DuraGrit hi-speed carbide rotary tools cut and shape hard and soft woods, fibreglass, laminates, ABS, MDF and more. They enable your Dremel or other hi-speed drill to become a powerhouse tool around the home. Small wheels that perform big work. You'll have a hard time running out of ways to use them.
Why It's Essential: DuraGrit carbide cutting and shaping tools will handle lots of jobs, including cutting ABS pipes under the sink, shaping irregular profiles in wall tile, trimming and fitting molding and laminate flooring or quickly carving pockets for door strikes without splitting the door jamb.

festoolcanada.com
The all-new TS 55 REQ is not your standard circular saw. With its accuracy and versatility, it should be compared to the most advanced tablesaws, miter saws, or panel saws available. Its incredible portability and unbelievable ease of use delivers a precise cutting solution like no other—equally at home in high-end cabinet shops as in the most challenging onsite remodel.
With the addition of micro-adjustable depth controls and a flat housing for flush cutting against walls or adjacent surfaces, the TS 55 REQ is Festool´s most advanced plunge-cut saw ever—and that's saying a lot.
Why It's Essential: With the FS Guide Rail System, you'll get laser-straight, splinter-free cuts in seconds. Simply lay the guide rail between two points, and you have your cut line. Splinter guards on both sides of the blade ensure that you'll make zero-tearout cuts in virtually any material, improving your quality of work while significantly reducing material waste. Replace large stationary equipment with an incredibly precise, handheld unit. You'll save your back, while getting more out of your expensive materials.

You're always ready to roll with the new low profile, rugged SYS-Cart. It allows you to create custom assortments of tools and accessories for job-specific tasks. Large locking casters easily maneuver cracks and obstacles, while ensuring that your goods stay put.
The SYS-Cart's locking latches grip each component securely, and its wide base ensures the stability of your equipment. Easily transport up to 220 lbs in less time, and with less fatigue.
Save time through better organization with the new open-face SYS-Toolbox. The easy-access design of the SYS-Toolbox allows you to keep what you need within easy reach—you'll spend less time searching for frequently used tools and accessories.
A perfect complement to the Festool Systainer System, the SYS-Toolbox latches seamlessly and securely to the top of both T-Loc and Classic style Systainers.
Weighing in at a mere 14.3 lbs and with a capacity of 220 lbs, the SYS-Roll provides a simple, convenient means to get your Festool Systainers to and from the worksite, no matter the terrain.
Integrated storage secures small parts essential to the task at hand, reinforced risers tackle stairs with ease, and large, locking casters make sure your stack stays put.
Small Shops Most Popular Knives:
Flexcut Knives
flexcut.com
Flexcut knives are precision made for maximum performance. Their high-carbon steel blades have durable points, hold an edge extremely well and are easily maintained by simple stropping. Each knife is expertly hand-sharpened and tested before shipping, so it's ready to use right out of the package. Comfortable, curved ash handles allow for long periods of carving without hand fatigue. In addition to those pictured, a wide range of knives are available to handle every task from roughing in to fine-detail carving.
Cutting Knife
KN12 – $18.95
Detail Knife
KN13 – $19.95
Roughing Knife
KN14 – 21.95

flexcut.com
We've packaged some of our most popular knives in one, 3-Knife Starter Set. The comfortable curved ergonomic handle allows for long periods of carving without hand fatigue. Includes KN12 Cutting Knife, KN13 Detail Knife, KN14 Roughing Knife, and Flexcut Gold polishing compound.
KN500 – $52.95
Why They're Essential: Flexcut knives are versatile, well-engineered tools, 100% North American made, assembled and sourced. The company's commitment to quality and customer service make these knives a top pick of pro carvers, hobbyists and woodworkers around the world.