Rob's online workshops provide a virtual apprenticeship. Members are taught to build house furnishings and shop implements through (stored) daily half-hour, real-time sessions.
Rob's son and cameraman (Jake) doubles as the "student" to create those true-to-life "Now what do I do?" teaching moments. Rob also manages the member forums himself, and provides his personal "expert" advice.
Why It's Essential: Shorten your learning curve and increase your enjoyment with Rob's online workshop.  Watch and learn as Rob demonstrates and explains which tools to use, how to sharpen them, and how to best use them – This is truly an essential small shop solution.
Payment options $1.53 – $2.21 per episode. Free – one month trial robsworkshop.com
This mini cyclone tank will eliminate virtually all dust particles from your shop without clogging your shop vac filter. Cyclonic effect ensures 99% of all dust particles get trapped into the tank before it can reach your filter. Includes translucent 6 gallon tank, 4 casters and accessories to get you started!
Picured here: Model # B3069 Sale Price – $39.99 Reg Price – $59.99 Price valid until May 24th 2012
Why it's Essential: The Mini Cyclone kit from Craftex Blue Tornado will allow you to use your shop vac for numerous projects without clogging your filter. At a fraction of the cost of similar cyclone kits, this high quality is a great buy. busybeetools.com
This handy tote bag includes 13 exterior pockets, 24 interior pockets and a plastic storage compartment for small parts. $34.99
Why it's Essential: An ideal bag to carry your tools. The different sizes of bag pockets make it easy to store every tool and accessory. This sturdy bag includes reinforced handles and stitching, making it tough enough for power tools. Visit our website to learn more about our product line.
Clamping force can be adjusted within a range of 25-550 lbs with the turn of an integrated pressure screw – the clamp will auto-adjust to varying work piece heights without significant change in applied clamping force – holding capacity up to 700 lbs.
Why it's Essential: Because it auto-adjusts to variations in work height, there is no need for continuous adjustment – resulting in better productivity. The range of applied clamping force also replaces a variety of competitive offerings with one BESSEY. besseytools.com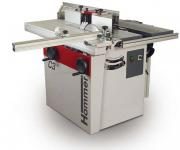 With 55 years experience in the combination machine market, the C3-31 offers impeccable quality and cutting edge mechanical engineering for the discerned hobby woodworker. The Hammer C3-31 (made in Austria) is a 4-in-1 combination machine with a 12″ sliding table saw, a 12″ jointer, 12″ planer and a shaper. A mortiser is available to make the unit a 5-in-1.
Why It's Essential: With a foot print as little as 6 ft x 5 ft, the C3-31 is fully operational in all four functions within minutes. A rolling carriage is available that allows the machine to be moved easily to free up space for assembly, finishing or just to make room for the family car. hammer-canada.ca
The Fuji Spray Semi-PRO 2 HVLP Spray System offers features like no other in its price range. The Fuji M-Model Spraygun has professional features such as non-bleed, a fan control knob (to adjust size). A super-powerful 1400 watt 2-stage bypass motor in metal turbine case with handy gun holder. A 25ft hose with air control valve and quick-connect coupler. $399.00
Why it's Essential: DIY HVLP Systems typically feature low wattage motors that are underpowered for most spraying. Our 1400 watt 2-stage version can handle any type of coating. The Semi-PRO 2 is for the serious user. 20 page User Manual included. fujispray.com
During this 6 day course start­ing November 26, 2012, students will learn a host of tech­niques involved in the building of the small veneered box as fea­tured in the September/October 2009 issue of Fine Woodworking. From jointing veneers to setting quadrant hinges and locksets, each student will pick up exacting skills both at machines and the workbench.
Why it's Essential: Adrian is one of Canada's top furniture designer/makers, and a graduate of the College of the Redwoods where he studied for two years with James Krenov. Each student in the class will create an exquisite and unique box, just in time for Christmas gift giving. rosewoodstudio.com
Get the best of both con­tractor style and cabinet style table saws with this Polar Bear Series Hybrid Table Saw. You get the easy-to-transport weight and size of a high-end contractor saw, but with the dust control and full features of a cabinet saw. This hybrid also has a quick-change blade guard, anti-kickback pawls, riving knife, serpentine belt and pulley system.
Why It's Essential: A tablesaw is the most important tool in a small shop. Grizzly's G0715P is a full-featured saw that will provide near cabinet saw performance for far less money yet fit into most small shops. grizzly.com
The Trend Item #DWS/W6/FC is a double sided fine (1000 grit) and coarse (300 grit) 6″x 2″ precision diamond whetstone. It is pre-ground to +/- 0.0005″ and it is manufactured with monocrystalline diamond which is surrounded by nickel and electroplated to a heavy duty car­bon steel base. The new Trend 6″ x 2″ Precision diamond stone has a retail price of $79.
Why It's Essential: Many carvers, wood turn­ers and cabinet makers do not need a full size 8″x 3″ diamond stone to sharpen smaller tool­ing. Trends' new diamond stone is ideal for the sharpening of CPM4 coring tool tips, M2 and M4 steel tips for hollowing, carbide tipped turning tools and carbide and HSS inserts at an affordable price point. trend-ca.com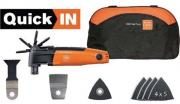 A professional system for interior construction, renova­tion, and more – designed for perfection and providing the best performance.
• Made in Germany, premium quality.
• Most powerful motor 250W, built for continuous use.
• Low vibration and comfortable easy handling for best ease-of-use
• Built for professional use to the absolute highest standard of quality
• Offers maximum convenience thanks to QuickIN tool-free accessory changing
Why It's Essential: The most versatile tool on the market with the most extensive range of accessories.
Features FEIN's QuickIN – for fast easy accessory changes. Set includes MultiMaster tool, bi-metal Ecut blade, rigid scraper blade, sanding pad, 20 pieces assorted sandpaper, and carrying bag. FEIN.com
The Oneida Air Systems fam­ily of Dust Deputys are high efficiency cyclonic pre-separa­tors for wet/dry vacuums and single stage collectors. The patented cyclone design sepa­rates 99% of the waste before it reaches your system.
Why they're essential: The Dust Deputy converts your single stage collector or Shop Vacuum into a super cyclonic dust collector. The Dust Deputy keeps the filter in your collector or shop vacuum from clogging during use and helps keep a constant air flow with no loss of suction. See our complete line of Dust Collection equipment at oneida-air.com. Also available at Busy Bee Tools, Felder Canada, Welbeck Sawmill and Elite Tools.
Square and level are the foundation for any good building project and the Benchmark 48″ Combination Level and Folding Framing Square will keep you in line. The level features a folding square, zero to eight percent adjustable grade finder, cross hair and pinpoint laser, and an LED illuminated centre vial.
Why It's Essential: This all in one tool will fold flat for easy stor­age and portability while the 48″ length provides extra length for marking. The percentage grade finder allows for simple slope set-ups and the illuminated level allows for set-up in dim lighting conditions. $59.99 homehardware.ca
We can't believe it either! A full featured cast iron 6″ Jointer with tons of extras for $425? Take a look at these great features: A "kick Stand" mobile base, depth of cut scale with ⅛" index setting, 4″ dust hood, a quick infeed table hand lever and a precision handwheel for outfeed table adjustments and more!
Why It's Essential: This 6″ Jointer is perfect for the small shop with its 46″ long bed, heavy duty features not found in a benchtop unit and small foot print. Even better is the built in mobile base for easy movement. grizzly.com
The MX30E is a solid, powerful, comfortable, and convenient oscillating tool. It has minimal movement that allows precise, smooth plunge cuts for maximum user control. The MX30 has the ability to cut flush with the surface material without damaging the surrounding area, and it facilitates efficient sanding/scraping operations in corners and other small confined areas.
Why It's Essential: Unlike a fast rotating tool, an oscillating tool is unlikely to kick back and therefore is comfortable and safe to work with. Starting at $249.00 each Learn more: boschtools.com
Stanley introduces a complete line of floor protection products that not only reduces noise and dust but also saves money associated with floor maintenance in homes, schools and offices buildings. The Stanley line of floor protection products features high-density plastic furniture glides, sliders, leg tips, bumpers, casters and a wide array of new Flexi-Felt 100% wool felt protectors, all constructed for performance and durability.
Why It's Essential: Stanley Flexi-Felt heavy-duty adhesive pads are made of 100% pure wool industrial felt so they last longer and won't compress like polyester felt products. The line of Stanley Floor Protection Products can be found at all WalMart stores across Canada & independent home improvement general retailers across Canada at retail prices ranging from $2.00 to $25.00. stanleyhardware.com
Based on the innovative Bill Pentz design, our Mini CV06 dust collection system uses cyclonic air movement to separate and contain over 99% of dust and debris before it reaches your shop vacuum filter. The Mini CV06 will help prevent your filter from clogging, maximizing air flow, and maintaining peak suction from your shop vacuum.
Why It's Essential: The Mini CV06 is small, lightweight and portable. This powerful pre-separator is essential to a cleaner and healthier shop! Price: $149.99 ClearVueCyclones.com
• Powerful 3 HP motor
• Heavy-duty cast-iron table and extension tables
• Table has "T" slots for miter gauge and beveled front edge
• Comes with riving knife, industrial T-square rip fence system, lami­nated melamine extension table, 2 sturdy adjustable supporting legs for extension table, cast iron miter gauge with adjustable aluminum fence and flip stop, standard and dado insert
• The router table and sliding table attachments fits most table saws with 27″ deep table
Why It's Essential: This cabinet saw is versatile, multi-functional, compact, and affordable. An ideal choice for your small shop. Model: KC-26FXT/i30/Deluxe KingCanada.com
• Powerful 15-amp, 5,200 RPM motor
• Twin lasers
• Compound cuts (mitre and bevel) up to 45° to left
• Dual rail sliding system
• Rotating table has 9 positive stops
• Bevel positive stops at 90° and 45° left.
• Adjustable sliding fence extensions
• High quality 40-tooth carbide blade included
• Comes with a 2 position vertical hold down vise, retractable extension wings, dust bag and blade socket wrench
Why It's Essential: This saw takes little space, yet is quite versatile. With its substantial 13″+ cross-cut, you can cut crown moulding or shelving, plough a dado in multiple passes, and then mitre all day long. Great for the small shop, and portable enough to take with you…KingCanada.com
Flexcut Knives
Flexcut knives are precision made for maximum performance. Their high-carbon steel blades have durable points, hold an edge extremely well and are easily maintained by simple stropping. Each knife is expertly hand-sharpened and tested before shipping, so it's ready to use right out of the package. Comfortable, curved ash handles allow for long periods of carving without hand fatigue. In addition to those pictured, a wide range of knives are available to handle every task from roughing in to fine detail carving.
Why They're Essential: Flexcut knives are versatile, well-engineered tools, 100% North American made, assembled and sourced. The company's commitment to quality and customer service make these knives a top pick of pro carvers, hobbyists and woodworkers around the world.
Detail Knife
KN13
SRP: $19.89
Mini-Detail Knife
KN27
SRP: $24.95
Pelican Knife
KN18
SRP: $23.69
Flexcut's Draw Knife has five inches of workable edge. It is designed to flex around contours where large amounts of stock need to be removed quickly. The tool can be flexed to carve both concave and convex surfaces, so cuts conform more closely to the finished shape. That means less time sanding and scraping.
Why it's Essential: Its high-carbon steel blade really holds an edge and its flexibility makes it incredibly versatile. This tool was designed by woodcarvers for wood carving and woodworking. Shown here: 5″ Draw Knife with sheath – KN16 $43.49 flexcut.com
The best-in-class Dremel Multi-Max MM40 boasts a 2.5 amp motor that delivers quick, efficient cuts. The tool includes the innovative Quick Lock accessory change system that quickly facilitates accessory changes without a wrench. The MM40 operates between 10,000 to 21,000 OPM and offers a soft-start as well as Electronic feedback and an extended length 7-foot rubber cord. The MM40 also boasts a new line of cutting accessories with expanded cutting width and depth, these enhanced blades make precise cuts through tough materials such as hard woods, framing lumber and 2x4s, making accessory changes twice as fast. Available at $149. dremel.com
The Dremel Saw-Max is reinventing cutting as consumers know it. As a compact, handheld saw allows users to make precise, clean and straight cuts in a wide variety of materials. At one-third of the size and weight of a traditional circular power saw the tool enables easy one-handed operation for detailed work in tight spaces. The tool can make straight, plunge or flush cuts up to ¾ inch deep through wood, plastic, laminates and drywall, as well as sheet metal and wall and floor tiles. Perfect for applications such as installing baseboards and trim, replacing flooring or remodelling. Available at $149. dremel.com
This award-winning bandsaw has a full 14″ of resaw capacity more than any other 14″ bandsaw and loaded with features such as the proven Laguna Tools guides, 3HP Leeson motor, rack and pinion controls, cast-iron table, quick-release blade and foot brake with micro-switch for extra safety and convenience.
Why It's Essential: The LT14 SUV offers woodworkers and light production shops big performance in a compact package, and includes an easy-tilt table and precision-machined controls to provide smooth and accurate operation. $1795 CAD
Available at elitetools.ca
Built with plenty of muscle to take on most shaping challenges, our mid-sized, 1-½ HP model G1035 Shaper offers the perfect, low-priced alternative for the serious hobbyist or small-shop owner. The G1035 offers precision wheel adjustment, two spindle speeds, a finely milled cast iron table, interchangeable spindles and sealed ball bearing movement – all for less than the price of a router and router table!
Why It's Essential: The G1035 1-½ HP, 110V shaper provides big shaper performance in a small footprint. Able to use shaper cutters up to 5″ in diameter allows making raised panel doors, styles and rails easily in the small shop. grizzly.com
Exchange-A-Blade now offers a full line of professional grade, exchangeable, oscillating tool accessories to cut, grind, scrape and sand. The new universal fit arbor is designed to fit most major oscillating tools on the market including Fein, Bosch, Dremel, Milwaukee, Hausmann, Craftsman, Ridgid and King. An adapter is available to fit Rockwell and Porter Cable tools.
The exchange feature allows you to keep worn accessories out of our landfills by returning them to your dealer for a credit towards your next purchase.
Why It's Essential: Professional-grade accessories, which save money as well as the environment. exchangeablade.com
Exchange-A-Blade has introduced a full line of Industrial Grade screwdriver bits and nut setters designed for use with modern impact drivers.
Made with specially tempered S2 spring steel which has been heat treated for maximum strength and durability. The hardened tips have been milled for optimal fit and extended life.
Why It's Essential: Extensive testing has shown these bits to be among the longest lasting, highest torque bits available on the market today.
With this complete bandsaw conversion system, your bandsaw will perform like the sawmill you've dreamed of. No special guides, no special fence, no special blade, just time-proven results. Like a sawmill – absolutely no blade drift, no more burning blades, just dimensionally correct lumber every time.
Why It's Essential: Many woodworkers have invested a lot of time and money into their bandsaws, to be able to cut dimensionally correct lumber. The Little Ripper and Round Ripper provide a simple conversion to transform any bandsaw into a sawmill. A definite asset for any small shop that wants to produce their own lumber, from their own small logs.
Reg price $669. Special Promotion (until July 1) $490 with FREE SHIPPING stockroomsupply.com