During assembly of the LongMill MK2 it became rather apparent that the term "bench top" is slightly misleading. I was expect­ing to build something fairly small. The MK2 is available in three sizes: 12″ × 30″; 30 × 30″; and 48″ × 30″. Sienci Labs sent me the 30″ × 30″ machine to try, which is a generous size for a bench-top machine. It's a good size for a home shop and it would be able to complete quite a broad range of projects. Unless you only ever want to do something very small, I would highly recommend stay­ing away from the smallest machines.
What does "ready to assemble" mean? Sienci sells their machine as a kit which arrived in a long skinny box, about 10″ square and 40″ long, containing dozens of parts. The machine comes completely unassembled. The machine's price is a reflec­tion of the fact that you need to completely assemble it. This was one concern I had going into this review: Can the average woodworker reasonably build a CNC from a kit? I made a point of carefully following the instructions provided (not something I usually do) to make sure it was reasonable.
I was quite impressed with the level of detail in the simple, clear instructions. They take you very patiently through the process, step by step, and I think it's quite achievable for the average wood­worker to put this together. All the parts are already machined, so you're just bolting everything together. There are only a couple of sizes of hex keys and a wrench required so it doesn't take much in terms of tools or skill. Sienci publishes the assembly instruc­tions on their website so you can even take a look before you buy. Without rushing, I was able to put the machine together in a couple of evenings.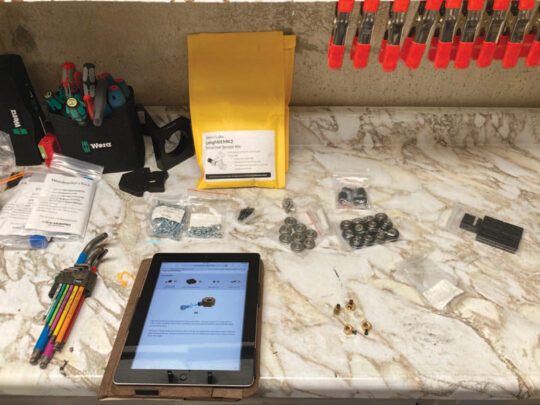 Overall, I was impressed with the machine's quality, especially given its price point and size. Sienci uses some sturdy aluminum extrusions for the gantry. Other parts are machined from solid steel and a few are even 3D printed. The axis move on ball bearings and the motion is provided by long lead screws. The screw tension is adjustable to ensure there's zero play in it. The lead screws turn in bearings as well so the motion is very smooth. The router bit is powered by a laminate trimmer. Sienci also has a laser available as an option for fine detail engraving. The machine is controlled by a black box, which is provided with the machine. The box connects to your computer via a USB cable. Software can be downloaded from Sienci's website to send standard G-Code files to the machine to run it. The LongMill can be used in conjunction with pretty much any 3D design software designed to produce G-Code.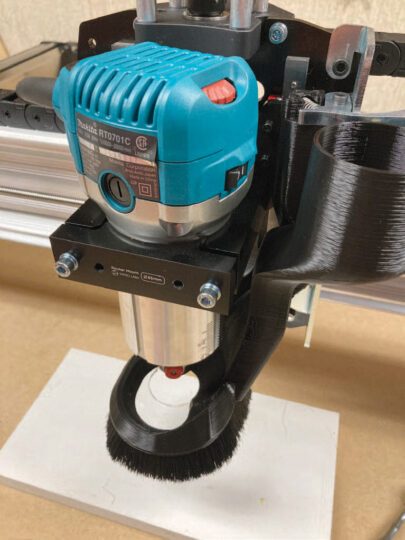 Another historical cost of CNCs was the software required to design your workpiece and run the machine. I have software that I've owned and used for years, and I could have designed some­thing with this software and sent it to the machine to cut. Today there is a wide range of free or much less expensive programs avail­able online so I thought I would give one of these a try just to see again how reasonable it would be for the average woodworker to order this kit and start making something in short order.
I downloaded a free program called F-Engrave, which is fairly limited in what it can do. You can enter a short string of text, set a size, and it will create G-Code to cut the outline of the letters to the desired depth. There are more complex programs available with minimal or no cost, but of course they require a bit more learning to get up and running.
It was quite simple to get up and running and cut something with F-Engrave. From downloading to cutting my first piece, it took me about two hours. That included a few failed attempts to figure out the correct file format to save in (which was probably detailed in the instructions that I never read). There were a few little things to learn along the way so it would obviously go much quicker a second time. One issue I had was that I kept losing connection between my computer and the CNC controller. After checking Sienci's website and their user forum I realized I had a bad USB cable. I had substituted the cable they provided for a longer one I had around. After swapping out the cable, the machine ran fine for me. These are the types of things that you have to be prepared for along the way when learning how to use a CNC.
This illustrates a point I mentioned in my article "Introduction to CNC Machines" (Apr/May 2018), but it's worth mentioning again here. You do need to have a basic understanding of computers in order to have a good go at CNC-ing. CNCs are a bit more technical and even finicky in nature. If you've reached a point in life where you aren't into learning something new every day then CNCs will probably not be a good fit for you. If you're a life-long learner and like to expand your knowledge base, then you will probably enjoy a CNC machine. You don't need to be a computer whiz, but you should be able to work your way through some basics, includ­ing Googling for help when needed. There is a learning curve to it but once you get going, your own creativity and imagination will be your limiting factor, not the computer or the CNC. I feel that a CNC in my shop has really allowed me to take my woodworking to the next level. It has helped me produce intricate details and accu­rate templates that would otherwise be very difficult or impossible with other methods.
The construction of the LongMill MK2 is very good. The gantry rails and other parts are fairly thick and sturdy. The machine moves on bearings everywhere so the motion is quite smooth. In the grand scheme of CNC machinery, this is still a smaller and less expensive machine, but I think it is at an excellent price point to allow more people to enter the CNC market. For the price of the kit, there is good value for the consumer. The machine has been thought through carefully and has some construction details (like bearings throughout) that you would not expect to see on a machine at this price.
The 30″ × 30″ capacity is very generous, in my opinion. Over the past decade pretty much everything I have done on a CNC could be done on this machine. The laminate trimmer is not as limit­ing as you might presume. One thing you would not be able to do on this machine (for a couple reasons) would be to cut out kitchen cabinets, but I don't think that is what Sienci has geared this for. At least for the types of projects I have used the CNC for, there isn't as much heavy cutting needed as you would assume. Most of the CNC work I do is for intricate details; heavier work is done with more traditional tools. Occasionally, I'll cut out a thicker part on my current machine, and the Sienci LongMill would be able to do it, as well. It would just require shallower cuts and more passes to get the job done.
Sienci has several optional accessories available that are worth getting. I would highly recommend the AutoZero touch plate and the Inductive Sensor kit as essentials to any machine. The AutoZero touch plate lets you locate the exact corner of your workpiece with the machine so that you can cut your project in an exact location on the piece. Without this you would have to eyeball the corner, which could get you fairly close, but not exact. For something like a sign, for example, where you want the text exactly centred, you would only be able to get it reasonably close. There is a chance that the finished product would be visibly off. With the AutoZero plate you can measure everything and get your work exactly where you want it.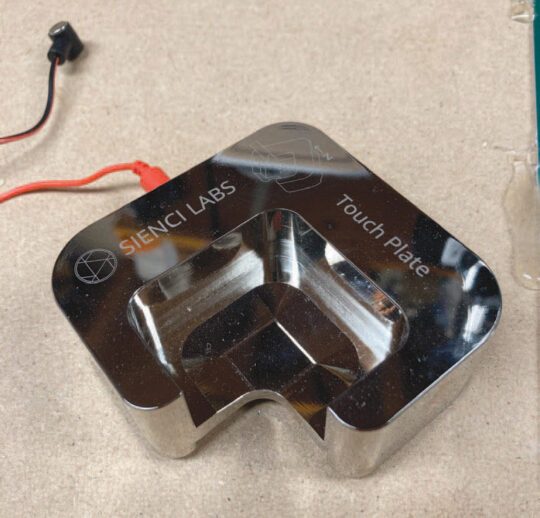 As far as the Inductive Sensor kit is concerned, on a machine without sensors it's up to the operator to intelligently run a program that will never cause the machine to run into itself. Even the small stepper motors on this machine are more than powerful enough to cause damage to the machine if you "crash" it. The sensors prevent this from happening by establishing a limit of travel in one corner. The software controlling the machine knows the limit of travel to the other side so it will not move beyond this. It also allows you to start the machine from a repeatable point, so if you wanted to cut numerous parts from the same program you would be able to start each piece from the same point.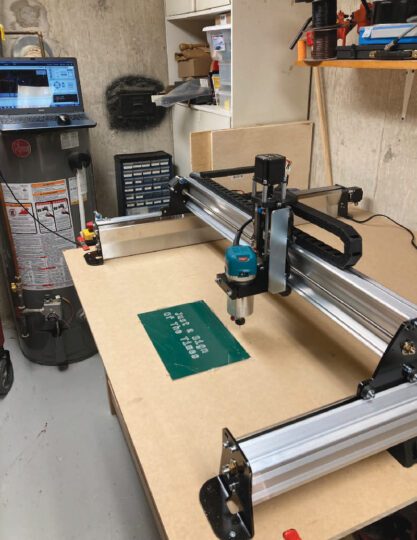 I enjoyed my trial run of the LongMill from Sienci Labs. The machine was simple and fun to build and easy to get up and run­ning. As your comfort level with CNC machinery grows you can add upgrades to the software and hardware of the LongMill to be able to do more. I would recommend the LongMill to anyone look­ing to get into CNC-ing, especially if you like the idea of building a machine from the ground up.