The upper on the Reno is made of a synthetic waterproof and breathable material that is paired with Keen's lightweight 'KEEN.Dry' proprietary membrane lining – it lets warm air out to help keep your feet feeling dryer and also reduces overall hoe weight.
The shoes also feature Keen's 'KonnectFit' heel locking system – essentially a free-moving cord that extends from both sides of the shoe around the back heel. As you lace up the shoes the cords stabilize the back of the heel, pulling the heel back and into the heel cup. This system likely leads to a more custom, snug fit for different foot widths.
Another outstanding feature on these work shoes is Keen's 'Bellows Flex' technology – essentially a pliable, ridged bellows shaped thermoplastic polyurethane insert just behind the toe box, below the lacing system. When walking, as you bend your foot the insert flexes smoothly and naturally with every step for an easier hiking experience. The theory is that it helps reduce the energy your foot expends with each step by making it easier to bend the arch in your foot.
The cushioned insoles on these shoes are replaceable, though they should last quite a long time. Their purpose is to increase comfort and provide some shock absorption. The only reason to replace them is if you have specific support requirements such as fallen arches or flat feet, or if you feel that you need even more cushioning than these insoles provide.
The midsole (located between the upper and the sole) is, as you'll find on many top quality work boots, made of a dual-density compression-molded EVA (Ethylene Vinyl Acetate) foam. The midsole is a key component in footwear comfort – it provides cushioning and flexibility, and absorbs shock and rebound as you walk about. Keens 'KEEN.ReGEN' midsole is designed to provide 50 percent more energy return than standard foam.
The soles are slip, oil and abrasion resistant and have deep 3/16″ lugs that provide very good grip and enhance stability and traction.
To keep weight down the Reno shoes feature carbon fiber toes that are lighter than steel toes, yet can still withstand the force of a 2 by 10 falling on your foot. They're also don't conduct heat, cold and electricity.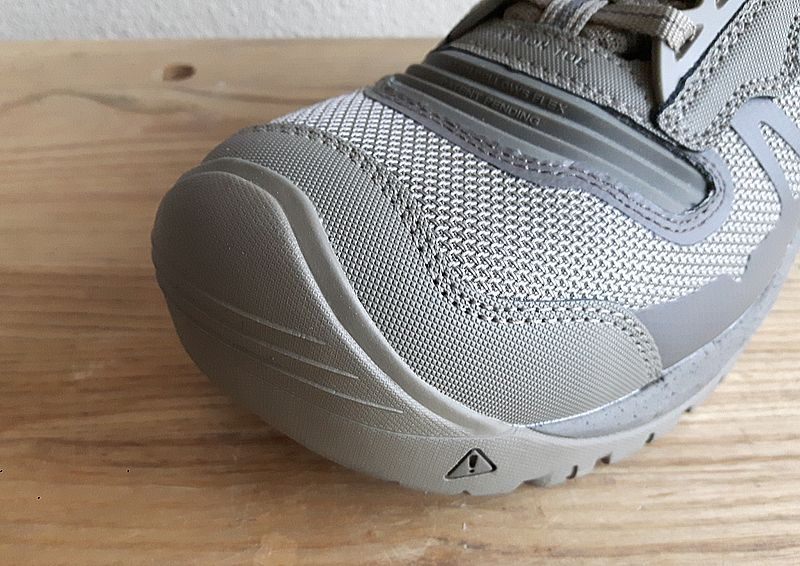 These Keen Utility Reno work shoes are well suited for carpenters, renovators, and other tradespeople looking for light weight footwear high on comfort, are durable, oil, slip and abrasion resistant and have ample toe protection. Avid DIYers looking for long-lasting top-of-the-line work shoes that are also stylish will also be pleased with them.