At just 1 lb. 7 oz. per sneaker, the Arvada work sneakers give you a lot more freedom of movement and breathability than 6″ or 8″ work boots. And they're a heck of a lot lighter. The sneakers are available in sizes from 7 to 15 in medium in a standard width and rather splashy colour scheme. The size 11 pair I've been wearing are true-t0-size fit.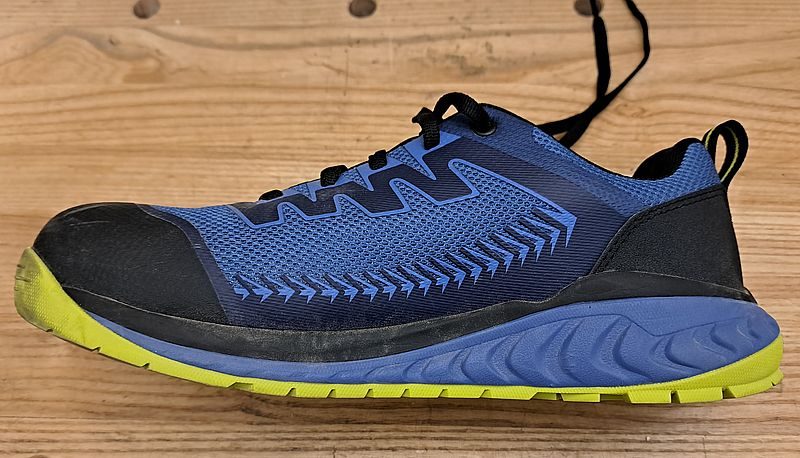 The upper, or body of the shoe, is made of an abrasion-resistant synthetic breathable textile fabric. Over the 2 month period during which I've been wearing these sneakers daily in the shop, I've found they provide good durability and abrasion resistance. They're comfortable enough to wear all day long without your feet overheating.
Inside the shoe is a breathable fabric mesh lining that helps wick moisture away from your foot. KEEN doesn't specify whether the lining is antimicrobial, which helps to prohibit the growth of odor causing bacteria. However I assume it is, as the shoes haven't picked up any noticeable odour.
The midsole (the layer between the upper to the sole) is made of a dual-density, compression-molded EVA (Ethyl Vinyl Acetate) copolymer material (aptly named KEEN.ReGEN). It provides a lightweight foundation with superior cushioning and longer lasting shock absorption properties. According to KEEN their midsole provides up to 50% more energy return than standard EVA foam. The proof, as they say, is in the pudding, and these sneakers are just great to walk around on. According to KEEN, for enhanced protection these sneakers also feature a non-metallic, flexible woven-textile puncture-resistant midsole plate that is ASTM and CSA certified.
The removable metatomical polyurethane insoles (aka footbed) provide extra shock absorption and cushioning. The only reason to replace them is if you have specific support requirements such as fallen arches or flat feet.
The sole is made of rubber and has sufficiently deep treads that provide a good grip on smooth floors (concrete in my shop) and improve traction and stability. Rubber is preferred on all work footwear, as it's slip, oil, and abrasion resistant, as well as very long wearing. Just above the heel is a large looped tab that makes it easier to pull the sneakers on and off.
As you'll find on a lot of footwear, the sole and the uppers are joined with an adhesive rather than sewn, which means the sole can't be replaced – it's a less costly method of construction that makes footwear more economical for the end user.
The sneakers have carbon fiber toe protection and are ESR (Electric Shock Resistant) rated – in case of accidental contact with live electrical circuits.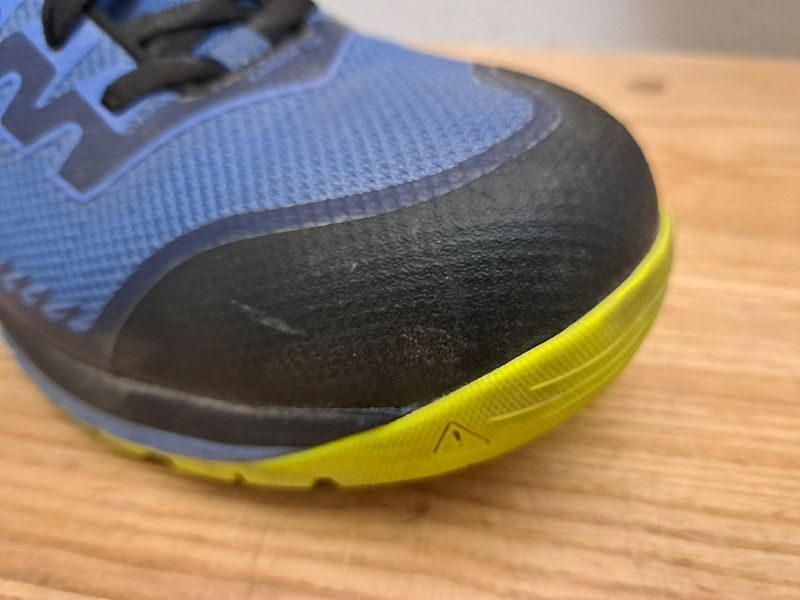 These KEEN Utility Arvada work sneakers have just about all the features I want in work footwear with a protective toe. The fit is on par with everyday walking sneakers, arch support is great, they're reasonably light in weight and they're comfortable enough to wear the whole work day.