In general, hatchets with curved blades are best for cutting and splitting, while those with flat blades are more suited for making shearing cuts and carving. The thicker the blade the better it is at splitting wood. Most hatchets have a poll that can be used to set nails, pegs or stakes.
While metal handles are undeniably the strongest and most durable, they are the heaviest, transmit the most shock into your hands, and aren't as comfortable (unless they have a cushioned grip overlay). Fiberglas and carbon fiber handles are extremely tough and can take a lot of punishment. Plus, they have great shock absorption properties and aren't affected by moisture which makes them a good choice for use on a job site. But, these handles are more difficult to replace. Wood is, of course, the traditional axe handle, and can't be beat for looks. Wood handles feel great in the hand, are very good at absorbing shock, can be modified to accommodate the specifics of your hand, and can be easily replaced if broken.
A well-balanced hatchet is one in which the weight is centered just below the head. This aids in chopping, slicing and carving. A slight curve to the handle with a bit of a swelling at the knob generally make the hatchet more comfortable to use and less likely to slip out of your hand. Handles come in various thicknesses as well, so you want to choose one that best suits your hand size.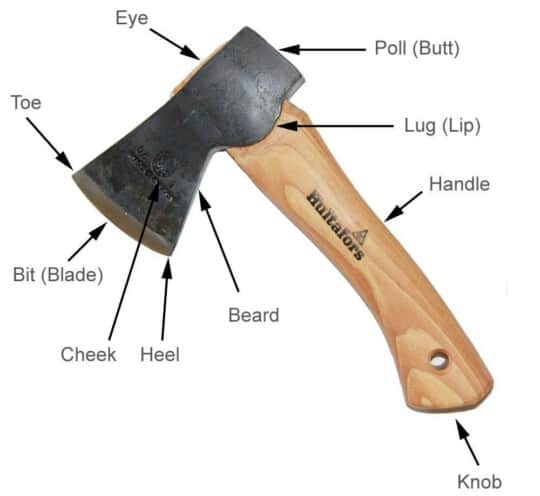 Model: 2746, $92.00
Steel: 1055 carbon steel
Handle: Hickory
Overall Length: 16"
Blade Width: 4-1/2"
Weight: 1.8 lbs
crkt.com
Made in the USA, the Freyr features a hot forged 1055 carbon steel head with a magnesium phosphate coating that provides extra hardness and wear resistance. It has a large 4-1/2″ blade and a long hickory handle that you can cut to a length that suits you. The handle is secured to the head by means of a wooden wedge and two round steel wedges. The hatchet that I received was very dull and required some judicious sharpening before I could use it. Once sharpened it cut nicely, and the edge has held up well. It has a convex grind with a thick bevel making it suitable for splitting and shaping wood. It's a comfortable hatchet to use and I found it well-balanced. I favour a gently curved sweep at the end of the handle, but this straight handle was surprisingly comfortable. You can really choke up on the hatchet when you want to make controlled cuts. If you're into axe throwing this would make one sweet flying blade – and bring out your inner-Viking. A very handsome hatchet indeed.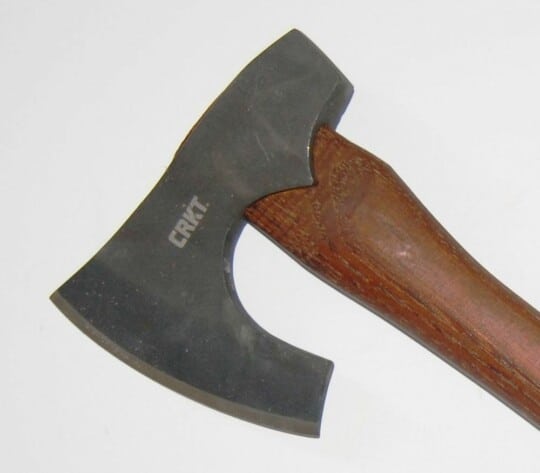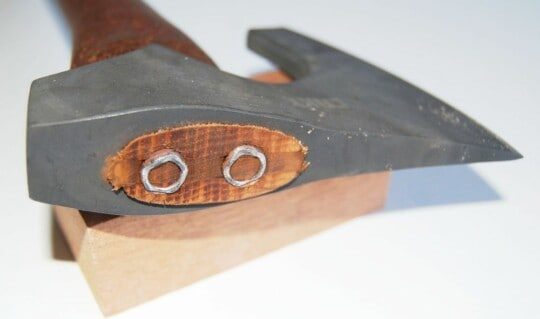 Model: DWHT56031, $44.95
Steel: Cast Iron
Handle: Carbon fiber
Overall Length: 14"
Blade Width: 3"
Weight: 1.25 lbs
dewalt.ca
The Exocore is an all-purpose hatchet for use on a job site, around the home, or camping. Like the Freyr above, it arrived dull and needed sharpening. It comes with a plastic bit guard that once you remove from the hatchet won't go back on. The cast iron blade has a convex grind and is quick to sharpen but didn't hold a keen edge as long as the other hatchets. The Exocore incorporates scalloped cutting edges that are designed to help you more easily drive the hatchet into wood and then withdraw it. The very thick bevel causes it to work like a little maul, splitting wood with minimal effort. However, that same thick bevel lessened its use shaping wood or doing any precision cutting. The hollow carbon fiber handle is all but indestructible and the carbon fiber collar just below the head protects the handle if you inadvertently overstrike. The poll is rounded making it not very useful for pounding nails or spikes, but more suitable as a maul. This is a hatchet that won't mind being tossed into the boot of your car or being tossed into your tool box. While it won't win any accolades for it's looks, it's still a solid, dependable, almost indestructible hatchet at a very reasonable price.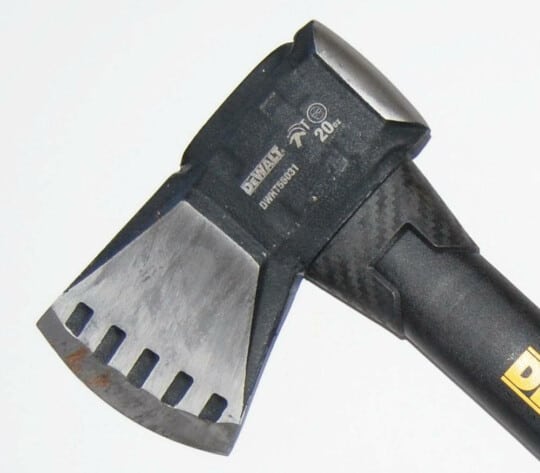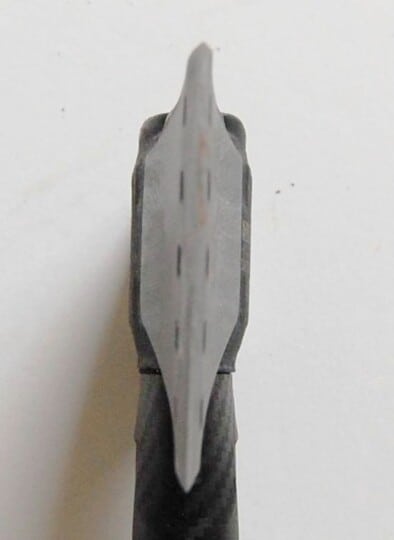 Model: 841760, $119.95
Steel: High carbon Swedish steel hardened to RC 59
Handle: Hickory
Overall Length: 9-1/2"
Blade Width: 2-7/8"
Weight: 1.7 lbs
hultafors.com
At only 9-1/2″ long, the Agelsjon Mini is one of the shortest hatchets on offer, though not the lightest (that honour goes to the Exocore). It's made of hand-forged high carbon steel hardened to RC 59. In the process of forming the head the billet is struck 40 to 60 times to increase its density and durability. The result is a durable steel that holds an edge well. Like most hatchets it has a convex grind. The hatchet came sharpened, polished and ready to use. The hickory handle is very comfortable. While the short handle means you can deliver less cleaving power because of a shorter swing, it makes the hatchet that much easier to control. The handle is fixed to the head with both a wood wedge and a round metal wedge. The Agelsjon Mini is a great shop hatchet and a superb hiking and camping hatchet. It's small enough to carry on a belt or strap to a backpack. Comes with a leather protective sheath. Treat it well and you've pass this hatchet on to your grandchildren.
Model: 840025, $59.00
Steel: High carbon Swedish steel
Handle: Hickory
Overall Length: 15"
Blade Width: 3-1/2"
Weight: 2.3 lbs
hultafors.com
The Hultafors H006SV is a larger sibling of the Agelsjon Mini. The steel is hand forged, thought not to the same exacting standards as the Agelsjon Mini (which accounts for the substantial price differential). While easy to sharpen it didn't retain an edge as long as the Freyr, Agelsjon Mini or Veritas. It has the same convex grind but lacks the noticeable lip. The longer hickory handle gives a broader swing so you can deliver more chopping power, making it better suited for use as a campfire hatchet. The head is fixed to the handle with a wooden wedge and a single round metal wedge. Comes with a suede blade protector.
Model: 05U1001 (right handed); 05U1002 (left handed), $199.50
Steel: PM-V11 steel hardened to Rc 61-63, $199.50
Handle: Hickory
Overall Length: 11"
Blade Width: 4"
Weight: 3.5 lbs
leevalley.com
The Veritas Bench Axe is unique in both appearance and design. The head is secured to the handle by means of two mounting screws and a steel collar. This rather ingenious arrangement makes it very easy to quickly remove the blade for sharpening or honing. One side of the head is ground perfectly flat (as found on hewing axes), the other side has a bevel ground at 30-degrees. The PM-V11 steel is very durable and impact resistant, holds an edge exceedingly well, and is reasonably easy to sharpen. Like the Freyr the bearded design enables you to choke up on the handle for more controlled cutting. The hatchet is very well balanced. The Veritas Bench Axe is available in both right- and left-handed configurations and comes with a protective leather sheath. This is an ideal hatchet for wood sculptors, chair makers and spoon makers, and is equally adept in the workshop for trimming and shaping stock. Exceptionally well made and a real joy to use.