FLEX is owned by the CHERVON Group, which also own EGO and SKIL. In Canada FLEX power tools are available at Lowe's. Along with the drill and impact driver set that I tested are a couple of circ saws, hammer drill, high impact torque wrench, and a 4-piece combo tool kit. There is also a selection of 2.5Ah, 5Ah, 8Ah and 12Ah battery packs and 3.5Ah, 6Ah and 10Ah stacked (pouch cell) battery packs. Stacked batteries offer more power (watts), faster charging times and a longer lifecycle than cylindrical cell batteries – and they're smaller in size.
The FXM201-2A kit consists of a 1/2″ drill and 1/4″ impact driver, two 2.5Ah batteries, a fast charger with a charging current of 5 amps, canvas tote bag and belt clips and bit holders. Both feature brushless motors that deliver a longer battery runtime for increased productivity. A brushless motor also extends tool life because there is no brush or commutator erosion, and it delivers increased torque per watt of power input for greater motor efficiency and performance. The storage bag has enough surplus room to accommodate a good assortment of drill and driver bits, hole saws and the like. There are also 2 large side pockets and 4 slot pockets for tape measures, try square, pencils, long drill bit and other accessories.
The drill delivers variable speeds from 0 to 2,200 RPM and a respectable torque of 750-in-lbs. At just over 4-1/2 pounds (with battery installed) it's not overly heavy unless you're using it overhead for long periods of time. It has a reasonably short (7″) head that makes it usable in all but the most constricted spaces. The 22 clutch settings are more than adequate for just about any driving task.
The drill features a keyless all-metal chuck that securely locks the bit in place. And, the metal chuck will last a considerably longer than a plastic chuck.
The impact driver delivers variable speeds from 0 to 3,400 RPM and tops the chart at a whopping 1,800 in-lbs of torque. I could easily drive 1/2″ lag screws through dense 2″ Douglas fir with no problem. It has a 5″ head length that makes it easy to work in confined spaces where you might otherwise need to resort to a right angle drill. At a tad over 3 pounds (with battery installed) you can use it throughout the work day without putting undue strain on your wrist and arm.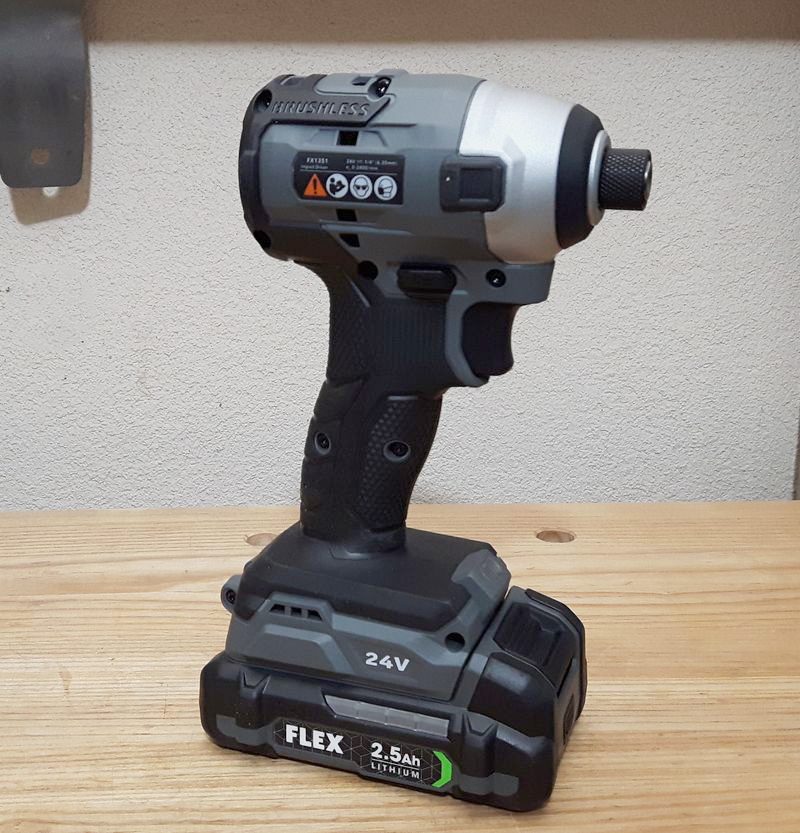 As you'll find on most impact drivers there is a rubber bumper that protects both the front of the driver and your work surface.
Both models feature a very comfortable textured grip.
FLEX is one of the few companies to power their tools with 24V batteries. The 2.5Ah batteries that come with the FXM201-2A kit deliver 60Wh (watt hours – the amount of watts the battery can supply per hour). A typical 18V 2.0Ah battery will deliver 40Wh of battery capacity. What this means to you is a much longer run time. A nice feature on these FLEX batteries is that there is a highly visible fuel gauge on each side of the battery pack. It's not a big deal, but it does make it a lot easier to quickly see when you need swap out batteries. The batteries can be recharged in 30 minutes.
The LED work lights are exceptionably bright which helps make working in places with less than ideal lighting a lot easier.
I've only been using these two FLEX power tools for a couple of months, but so far I'm very impressed. They feel solid and perform flawlessly. The 24V 2.5Ah batteries, like the Energizer Bunny, keep going and going. At $320 this is a competitive buy, especially when you factor in the 5-year warranty.