First let's discuss "fixed-finger" jigs. Based on the decades-old "box" or "finger" joint jig, which required a straight router bit, the original "dove­tail" jig was created from the same jig by substituting the straight bit with a dovetail bit. Both decorative joints offer a lot of glue surface, precise alignment and mechanical strength.
Today's refined "fixed-finger" jigs offer welcomed improvements over the origi­nal designs to produce half-blind dovetail joint styles only (Lee Valley's model being the one exception), plus "box" joints if used with a straight bit.
All the jigs I evaluated here require you to size your project parts to suit the jigs finger spacing; generally at 1″ width increments plus 1/4″ (1-1/4″, 2-1/4″, 3-1/4″, etc.) to yield half pins at each side of the joint. All jigs arrived 99 percent assem­bled, ready for setup and use. All are of painted, stamped steel and Nylon con­struction with solid aluminum guide templates (-1/4″ thick) yielding 1/2″ joint spacing. All employ single-lever cam clamps top and front to hold your stock in place during routing and require a 1/4″ router or 1/2″ router with reducer collet. All accept stock up to 1-1/4″ thick and 12″ wide, but in reality the thickness you can work will be governed by the depth of the dovetail bit and confined to an 11-1/2″ working width.
1. Fixed Finger Basic
A single adjustment sets the upper stock thickness plus guide template elevation, offering quicker setup than other jigs.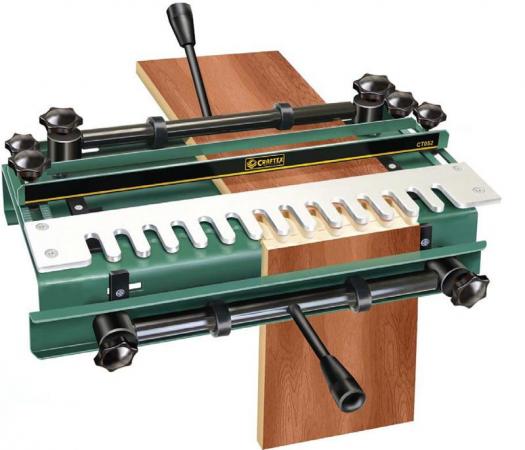 Busy Bee Tools Craftex model CT 052, $79
Includes a 16-page English manual outlining making half-blind joints for boxes and drawer backs plus flush-offset and rabetted half-blind joints for drawer fronts. An optional kit includes the required 1/4″ shank bits and companion guide bushing set. Busy Bee offers an excel­lent "online" instructional video for step-by-step visual guidance plus in-store support and available accessories. Also available in a 24″ wide model. busybeetools.com
King Canada model K 2796, $79
Comes complete with an eight-page English/French manual outlining the jig and its operation with router bits – guide bushings and a 12mm wrench, which must be sourced separately. I found the semi-gloss and tex­tured paint finish offered excellent grip when securing stock. The stamped guide template wasn't as refined or precise as the machined guides provided with other jigs, but the large adjustment knobs on this model are welcomed and very user-friendly compared to those on similar jigs.
King Canada offers optional 7/16″ and 9/16″ guide tem­plates to accessorize the 1/2″ guide supplied, and sells through dealers nationally. kingcanada.com
2. Fixed Finger Standard
Separate adjustments for upper stock thickness and guide template elevation, offers noticeably improved rigidity for improved, repeatable precision.
More Flexibility – Seen as an improvement over "fixed finger basic", "standard" jigs (below) feature separate adjustments and locking devices for stock thickness and template elevation, offering stronger assembly, more rigid setups and repeatable precision.
Busy Bee Tools Craftex CT 052N, $99
With virtually the same fit and finish as their CT 052 (see "fixed finger basic"), this new model functions the same as the others of this design for a more rigid setup. It comes almost ready to use but requiring a dovetail and/or straight bit and router guide bushing, available separately, to make 1/2″ half-blind dovetails and/or finger joints. busybeetools.com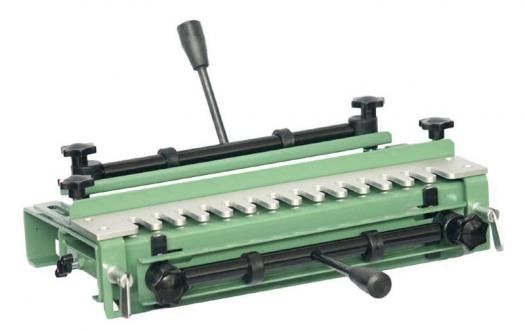 General International 40-010, $99
Includes a concise seven-page English/French manual describ­ing jig setup and use plus listing the required 1/4″ shank router bits and guide bushings, which must be bought separately. There's also a wider 24″ version for making cabinetry, boxes and drawers and optional 5/16″, 7/16″ and 9/16″ guide templates to expand each jig's versatility. Accessories and product support are available through dealers across Canada. This product is no longer available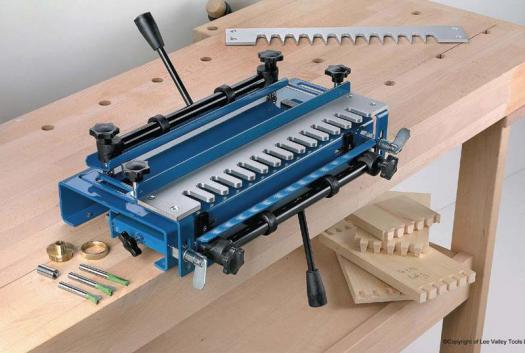 Lee Valley 86N80.10, $129
This new, refined, powder-coated jig arrives fully kitted and ready for use right out of the box; a change from all other jigs in this "fixed-finger" category. Requiring a 1/2″ router for use, included are a 1/2″ finger guide template, an 8˚ dovetail tem­plate, dovetail (2) and straight (1) router bits (all heavier 8mm shanks), an 8mm-1/2″ router collet adaptor and a router guide bushing set. The detailed six-page English/French manual describes the making of both half-blind and through dovetails, making this the most versatile jig purchase in this group. leevalley.com
3. Fixed Finger Professional
With integrated setup gauges and a full kit, this readily creates three styles of dovetail joints.
Porter Cable 4212, $249
This high-quality model kicks the "fixed finger" game up several notch­es in ways that really count. Instantly, there's no fence to set up and align. Instead, the guide templates themselves assure prefect joint depth and alignment in one setup. Included are two +1/4″ thick guide templates to pro­duce through, half-blind, plus sliding dovetails. For use with a 1/2″ router only, the jig arrives with dovetail and straight bits, two guide bushing sets and a hex wrench for stop adjustments. The clear, informative 79-page manual describes all aspects of the jig and its potential. Scintered steel surfaces, friction strips and single lever cam-clamps provide solid stock clamping. Large, user-friendly adjustment knobs, concise applied menus showing each operation and integrated router bit setup gauges make this jig fast, easy and enjoyable to use.
Available in 10″, 12″ and 16″ widths with ample optional kits and acces­sories to expand on each jigs "base" capabilities, Porter Cable also offers extensive online support, many instructional videos and dealers across Canada. portercable.com
4. Fixed Finger Infinite Width
Three sizes of "through" dovetails and "box" joints can be cut in infinite widths by hand-held or table-mounted router.
Leigh Industries R9 Plus, $169
In a total departure from all other "fixed-finger" jigs, this new offering from Leigh is unique for those who need "outside the box" width capacity. It includes a ful­ly illustrated 76-page manual (38 pages in both English and French) details all aspects of using this jig with either 1/2″ hand-held or table-mounted rout­er. Also included are 8mm shank dovetail and straight bits with adaptor collet, Leigh's unique adjustable router guide bushing set and the hardware required to marry the -3/8″ thick template guide to a shop-made wooden beam of a whatever length suits your needs. You can produce joinery up to 18″ long in one pass, easily extendable to wider project widths in 10″ increments with no further in­vestment, no stops to set, no fences and no adjustments during use. Precision CNC machined from solid anodized aluminum, the jig offers pin/tail spacing of 3/4″ or 1-1/2″ in stock from 1/2″ – 13/16″ thick; simply choose the spacing that's most suitable.
Leigh Industries has many accessory bits and guide bushings to extend the range of possible joint sizes, offers a 1-800 phone line, excellent online support plus a video demonstrating the features of this unique dovetailing solu­tion. Leigh products are available factory direct and/or through select dealers. leighjigs.com 
Over 30 years ago, Leigh Industries introduced their "vari­able-finger" dovetail jig design, permitting users to tailor the jig to suit the material width; very important if you're mak­ing custom joinery, working from measured plans or building accurate reproductions. This design allowed for the making of through, variable spaced half-blind, single pass half-blind, rabbeted half-blind, asymmetric and sliding dovetail joints plus "box" joints.
Fast forward to today and this style of jig is not only won­derfully capable as delivered, it's also an amazingly versatile foundation, capable of creating a host of joints in a variety of sizes and spacings using readily available accessory cutters and guides. Each jig of this design can easily be tuned to suit your wood width, preferred pin/tail spacing and length plus the tightness of joint fit, accommodating both hard and soft woods. Each requires a 1/2″ router (adjustable speed an asset). Both these Leigh jigs are quality constructed from extruded aluminum, high-strength Nylon and precision metal castings and feature a proven, infinitely adjustable finger guide with -1/2″ thick finger elements. One major advantage these Leigh jigs have over others is their ability to accept Leigh's oh-so-slick VRS "Vacuum & Router Support", doubling support for the router and providing for dust collection, assuring no-fuss, exacting cutting while keeping your work environment clean and breathable. Five-year warranty coverage is included and Leigh has an extensive online presence including demo videos, provides a dedicated customer support team and sells direct plus through a knowledgeable dealer network worldwide.

5. Variable Finger Professional
Adjustable pin/tail spacing, many joint styles and type possibilities plus industrial quality offer longevity and an artisan look to your joinery.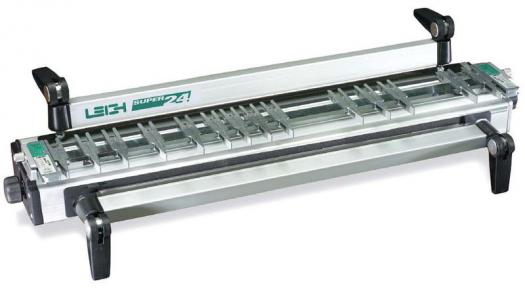 Leigh Super Jig 12″ ($289), 18″ ($399) and 24″ ($489)
The Leigh "Super Jig" is available in three widths to suit your needs in making boxes, drawers or full-sized cabinetry in stock thicknesses up to 1". Its 77-page manual plus companion DVD walk you through the assembly, understanding, setup and operation of all aspects of the jig and the range of joinery it's capable of producing; very impor­tant considering the jig's diverse capabilities. The "Super" series are built from a two-piece aluminum extrusion with glass reinforced nylon end-caps and have ad­justable bolt-on side stops and applied non-slip strips on the clamping areas. Included are three 8mm shank router bits (two dovetail and one straight), an 8mm – 1/2″ collet adapter and a square-head (Robertson) guide-finger screwdriver. All operations are graphically supported on the jig components with finely marked, colour-coded menus plus a quick refer­ence pullout card to make every setup fast and easy. Applied friction strips on the clamping surfaces and individual left and right cam locks perform quickly, easily and firmly to hold stock solidly. leighjigs.com
Leigh D4R Pro 24, $579
Leigh's "D4R Pro 24" is its latest engineered, variable-spaced jig. Similar in design, execution and supplied accessories to the Super series, the D4R Pro is available only in a 24″ capacity, is constructed from a single ma­chined aluminum extrusion with cast metal end-caps, has CNC machined side-stops and durable machine-textured clamping surfaces and is priced at $579.00. The D4R Pro handles project components up to 1-1/2″ thick. Right out of the box the DR4 Pro can produce a couple more joint forms than the Super series and with the many optional templates and router bits available uniquely for this jig, the potential sizes and styles of join­ery it's capable of (even multiple mortise and tenon joints) make this the most versatile of jigs. The 86-page illustrated manual and companion DVD explains every facet of the jig and the joinery it makes, so while this jig is fairly complex at first glance, by isolating each function it's easy to under­stand and master. leighjigs.com
6. Variable Finger Industrial
This jig system boasts robust construction, quality parts and integrated user-friendly gauges for longevity, no-fuss setup and artisan output.
Porter Cable OmniJig, $799
Porter Cable takes the dovetail jig to a "gentle giant" level with its Omnijig. Everything about this jig says solid, pre­cise, no-fuss output. Available also in a 16″ version, the 24″ I evaluated came out of the box almost fully assem­bled and weighing +70 lbs. (Leigh's D4R Pro is just over 20 lbs. by comparison.) Made from solid machined cast aluminum, it has large textured knobs for setup. Knurled steel knobs secure the finger template assembly (3/4″ thick finger elements) and router support (supplied standard) and quick-insert depth stop sets. Large offset, rubber gripped, single-lever clamps (top and front) secure work firmly against broad machined-textured clamping sur­faces. In use, each possible joint style is colour-coded for quick identification on the finger template, factory-set/user-adjustable depth stop sets, factory-set/user-adjustable router bit depth gauge and the quick reference "dove­tail setup guide"; simply decide on the style of joint to be made and the setup guide shows you the router bit, depth stop and router guide to suit your stock thickness. Supplied with a 70-page illustrated manual (one each in English, French and Spanish) plus instructional DVD, the jig arrives ready for quick setup, easy understanding and little if any measuring. Also included are 1/2″ shank dovetail and straight bits (one each), seven sizes of router guide bushings, plus a wrench and screwdriver for fine-tuning. Alone, it makes eight styles of dovetail joints. By adding a small selection of available accessories, the list of joint style possibilities more than doubles. A robust, user-friendly dust collection shroud is also available to en­hance your routing experience. Porter Cable back up the Omnijig with a three-year warranty, comprehensive online support and several entertaining instructional videos. portercable.com


Like most things in life, you mostly get what you pay for. If you only need a jig for joinery basics, there's a jig for that and the price is right. The more capabilities or versa­tility you require, there's a jig or "joinery system" to suit at an in-line price. Because we're comparing apples, oranges and pears here, it's hard to offer awards in the usual way. So … for "Best Value" I like Lee Valley's entry for a refined, complete and well-supported kit offering the most used joints right out-of-the-box. For thinking outside the box, "Most Innovative Design" has to be Leigh Industries' R9 Plus. The "Most Versatile System" award belongs to Leigh Industries' DR4 Pro for its instant and long-term potential, amazing range of available templates /profiles/sizes and after-purchase support. Lastly, I send out my "Hardest-To-Send-Back"/"Most User-Friendly" award to Porter Cable, whose concepts, designs, features, online videos and after purchase support make both of its jigs and joint systems exciting and fun.