Drum sanders offer a number of advantages over planers.
1) Unlike the planer, a drum sander won't tear out grain on highly figured or 'difficult' wood, such as burl, pommele, mottled, and crotch wood. You'll get a level, smooth surface every time.
2) You can safely reduce stock to thinner thicknesses. This makes it especially useful when re-sawing boards to make your own veneer. Re-saw veneer to 1/8″, then run it through the drum sander a couple of times for a 'ready to glue' surface.
3) You can safely sand stock as short as 7″, so no more tossing out those short pieces of exotic wood.
4) You can run glued up rail-and-stile doors and panels through a drum sander to clean up uneven joints.
5) Drum sanders will handle much wider stock than most planers; up to 36″ wide with the Delta 31-255X.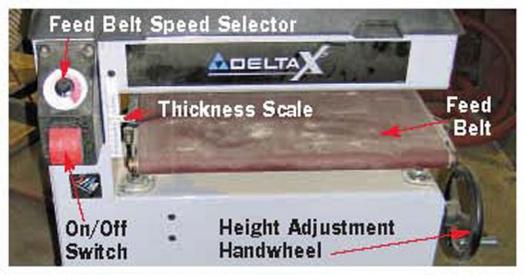 What is most striking about drum sanders is that they are much slower at removing material than a planer or jointer. For one thing, they have slower feed rates (12 feet per minute for a drum sander versus 24 FPM for a typical planer). While you can remove up to 1/8″ in a single pass with most planers, you'll be removing between 1/64″ and 1/32″ with a drum sander. In all fairness though, drum sanders are designed for finish sanding and not for heavy-duty stock removal. Keep in mind that a drum sander requires a dust collection system with at least 400-600 CFM capacity and a separate 20-amp circuit.
Mechanically, this isn't an overly complicated machine. The sander feeds stock via a conveyor (or feed) belt under a spinning sanding drum to dimension the stock. Wrapped around the sanding drum is a length of sanding paper. A set of tensioning rollers on either side of the sanding drum maintain constant, equal pressure on the stock as it moves under the drum. One motor runs the sanding drum while another smaller motor runs the feed belt. The tensioning rollers are not motor driven.
Plan on about 2 hours to unpack and assemble the 31-255X. Nothing complicated here, and the instructions are clear and amply illustrated. However, it's a good idea to have a helper; the feed table is awkward to manhandle due to its size and weight.
The 31-255X is solidly constructed, with a welded steel frame and cast iron feed table. Controls are simple and well laid out: large metal height adjustment hand wheel to the right, the on/off and feed belt switches together on the left. A 1 ½ HP thermally protected induction motor drives the sanding drum, and a 1/30 HP magnetic motor runs the feed belt. The default speed for the sanding drum is 2,210 FPM, although you can switch to 3,300 FPM if you consistently use finer belt grits. To switch feed rates you remove a couple of hex bolts and relocate the drive belt on both the motor and drum pulley. I found the default feed rate to be fine for all my sanding.
The feed belt is an aluminum oxide resin bond cloth material that holds stock well, and is preferable to a soft rubber belt, as it requires less roller pressure to hold stock because it moves under the drum.
The sanding drum is stationary, while the conveyor table moves up and down. This arrangement contributes to reduced drum flex. After assembling the 31 255X, check for table-to-drum parallelism, or else one side of your stock will be sanded more than the other. Aligning for parallelism is quick and easy. To sand a board wider than the feed table width set the open side of the drum sander a few thousandths of an inch higher. This creates an imperceptible crown on the board.
It's very easy to wrap the sanding belt on the drum; you don't have to apply a lot of tension on the belt, just enough to keep the edges reasonably close together – takes me about three to four minutes. I first use the 80 grit belt, switching to the 120 for my final pass, occasionally going to 180 grit. I still do my final finish sanding by hand.
Adjusting for depth of material removal takes a tender hand. My experience is that a 1/4 turn of the hand wheel removes 1/32″ of material, any more than that, the drum sander has a tendency to bog down. I got better results keeping the feed rate down to about 4 or 5 FPM.
To set the feed table position, lower the table so that the opening is 1/8″ wider than your stock, turn the feed rate to 1 FPM, and then turn the sanding drum on. Feed the stock in, and gently turn the hand wheel until the drum kisses the stock. Now you're ready to get to work!
The in-feed pressure roller is pretty stiff; you may have to exert a bit of force to start your stock moving under it. Long boards will require in-feed and out-feed support. If the board tilts up, even a little, it makes contact with the sanding drum and will dig in and overload the sanding motor.
The sanding belts can clog up pretty quickly; I'm in the habit now of running my crepe block across the drum every 2nd or 3rd pass, which helps prolong belt life. Once the belt starts to look a bit dull you can extend its life by reversing it on the drum.
Bearing in mind that the 31-255X is a finish sander; I'd say it does what it's designed to do admirably. I've sanded about 150 linear feet of stock, including fir, oak, cherry, and bubinga, and it all came out super smooth and flat. No complaints here.
The 31-255X is easy to use and maintain, well built, economical to use, and best of all, it produces a consistently great finish. I estimate a 25% time savings sanding large panels or table tops with the drum sander as opposed to using my random orbital sander alone; a significant savings over the course of a year.
The 31-255X is not expensive to operate. You can purchase pre-cut sanding belts in packages of 4 rolls, at a cost of about $32, or $8 per wrap around the drum. These are ideal for the person doing a limited amount of sanding. For the 'power user' it's more economical to purchase the belts in 50 meter rolls and cut to length; they retail for around $85, and you can get 14 wraps per roll, or $6 per wrap. I've been pretty impressed at how long the sanding strips last.
For the home handyman then, the 31-255X is a pretty sweet deal. For the professional woodworker with limited floor space, or where not a lot of panel sanding is done, the 31-255X is definitely worth considering. Affordable, reliable, and efficient are the keywords here.
An extra bonus with the 31-255X is that you can mount an outboard shaft for a 3″ by 9″ or 4″ by 9″ pneumatic drum for contour sanding. Other accessories include: pre-cut sanding strips from 36 to 220 grit (items 31-822 to 828), a sanding arbor (31-281) for mounting the pneumatic drum, sanding drum sleeves in 80 to 120 grit (31-274 to 276), and in-feed and outfeed support tables (50-281 and 389).
The suggested retail price on the 31-255X is $1,399. Just about every tool retailer seems to carry Delta equipment, so getting your hands on one will be a piece of cake; using it will be the icing!