If you're already familiar with mitre saws, you know that there are three additional items that you need to consider when buying a mitre saw – stand, dust collector, and blades. While you can use a mitre saw right on the floor, it's best to mount it securely on some kind of shop-made worktable or a commercially available mitre saw stand. A stable support stand not only makes for safer cutting, and places a lot less stress on your back, it's indispensable for making repeatedly precise cuts. The worktable and sliding fences on a mitre saw are typically quite small and suitable only when processing short stock. For anything longer than about 6′ you really need to have some additional support for holding the stock securely in place. When a mitre saw is going to be used exclusively in a workshop, I suggest making a custom mitre saw workstation. Where the saw is going to be used primarily on job sites, you can make your own temporary stand or purchase a commercial stand. Bosch has several stands on offer that are compatible with this GCM18V mitre saw.
With few expectations, the blades that come with most mitre saws are general purpose blades meant for rough work. They're fine for cutting framing, sheathing, and the like. For fine woodworking where you want crisp, clean, chip free cuts invest in a quality mitre saw blade like the Forrest Chopmaster.
As is the case with most power tools there are two primary grades of mitre saws – those designed principally for the consumer market (home owners, DIYers, hobbyist woodworkers and the like), and those geared to the professional and tradesperson segment. The GCM18V is a pro grade saw, that will be of greatest interest to contractors and carpenters, but should also appeal to professional woodworkers and avid DIYers who prefer to buy top-of-the-line tools.
The GCM18V is a compact 10″ slider with a relatively small 14-1/4″ by 23-1/2″ footprint. At just over 40 pounds it's light enough to tote from truck to job site. I use my mitre saw both on job sites and in the shop; I've found it most convenient to mount the saw on an aftermarket stand that can be easily folded for transportation yet doesn't take up a lot of floor space. If placing it in a work shop you'll need to allow for about 28″ of space from the front of the saw to the wall in order to accommodate the sliding arm. While there is a lifting handle on top of the saw, it's much easier to use the hand indentations on each side of the saw for transportation; I find this safer and easier on my back. As on most mitre saws, a lock down pin holds the head in the down position for transportation.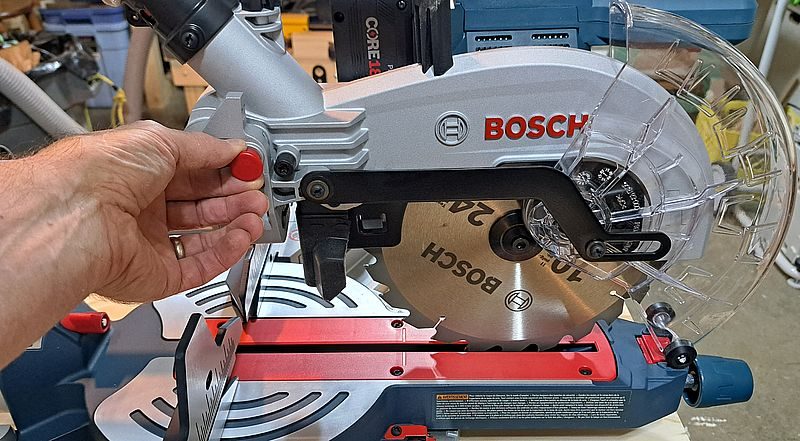 The saw has a brushless motor and an electric motor brake, and is powered by a single 18V 8Ah battery (though you can use any Bosch 4Ah, 6Ah or 12Ah battery packs). The GCM18V kit comes with one of the new 8Ah AMPShare batteries. AMPShare is a multi-brand shared battery system that enables you to use power tools from different brands without switching batteries. Bosch, Fein, Wagner, Steinel, Titan and a range of other companies currently participate in the AMPshare system.
I found that the saw operates very smoothly and, for a mitre saw, has a relatively low (no load) noise level of around 76 db. All bearings are permanently lubricated and sealed, the belt is designed to last the life of the saw. The saw head travels smoothly on two large 1″ diameter stainless steel guide rails that require nothing more than an occasional dusting. Length of movement over the rails is 7-1/2″, and the head can be locked at any position along the rails.
The worktable is 22-3/4″ wide – the rotating portion of the table is 10-1/2″ wide and the two side wings about 2-3/4″ wide. The distance from the fences to the mitre lock handle (along the red plastic kerf plate) is 15″. The two sliding machined aluminum fences are 4-1/2″ high by 11″ wide, and when fully opened they provide a generous 38″ wide support surface.
The fences are horizontally adjustable, smoothly sliding left and right to allow room for the saw to make steep bevel cuts. Holes in the fences allow you to add taller back supports. You can safely cut stock up to about 6′ long on the table; for longer stock I highly recommend that, at a minimum, you use additional side supports.
The kerf plate can be easily replaced with a shop-made zero clearance insert plate or replaced with a stock plate if damaged. When cutting furniture parts on the mitre saw I often place a sacrificial 1/4″ piece of MDF under the stock, which eliminates chipping altogether (I also switch to a 90 tooth finish blade).
The mitre lock handle has a cam-style lever that engages firmly, and the table top rotates smoothly 0° to 52° left and 0° to 60° right. There are detents on either side at 0°, 15°, 22.5°, 31.6°, 45°. The detents engage firmly without any wiggle room.  The adjustable stainless steel mitre scale plate is etched and the settings are very easy to read. The pointer is independently adjustable as well.
With the mitre angle set at 0° you can crosscut stock as large as 3-1/2″ by 11-1/2″, and at 45° you can cut stock up to 1-3/4″ by 11-1/2″ (1″ by 11-1/2″ on the right). Moldings up to 5-1/2″ wide can be cut in a vertical position.
The saw head bevels from 0° to 47° left and right. The printed stainless steel bevel scale is reasonably easy to read. You can quickly and easily fine tune the 45° bevel by means of adjustment screws on either side of the bevel scale. The bevel lock handle is on the rear of the saw and locks the head at a user defined angle. There are two rotating bevel stops (one on each side of the back column) so you can quickly set bevel angles of 33.9°, 45° or 47° (L or R). Also on the back of the saw is the rail lock knob that enables you to lock the head at any predetermined distance along the rails. All the adjustment knobs and levers on the GCM18V are reasonably sized, making them easy to grasp and manipulate.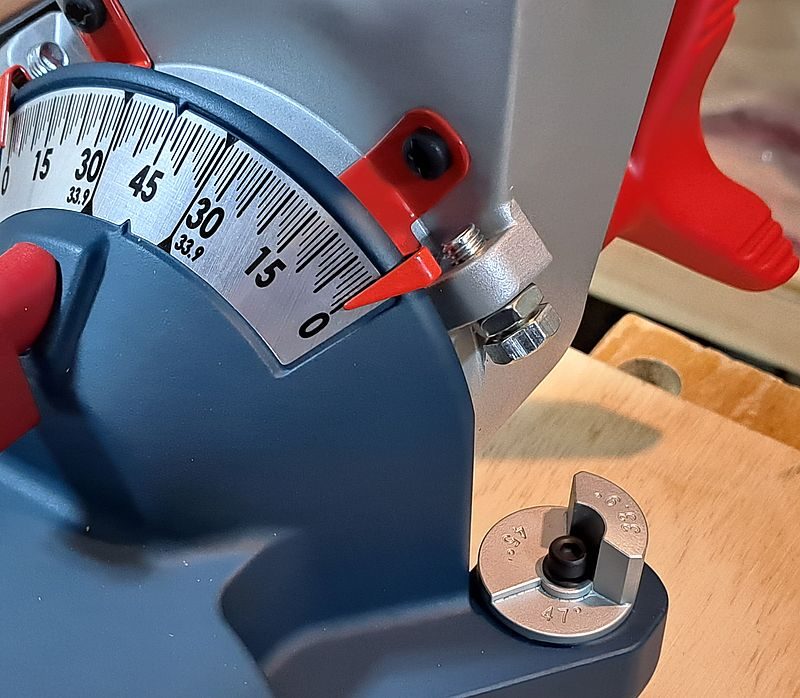 An over-the-top hold-down clamp is included, and works on both sides of the saw head. While it works, I didn't particularly like the clamp; it takes way too long to adjust. It would be a lot more convenient if the clamp had a cross-drilled speed nut on the arm. Fortunately, in a lot of situations you can use an Irwin style quick grip clamp.
Mitre saws kick up a lot of dust, and the little dust bags that come with most machines are notoriously ineffective. The dust bag on the GCM18V is no exception. A funnel directs dust up through a dust spout into the dust bag. Because of the exposed back of the mitre saw, and the small dust port, expect to collect no more than 75% of the dust at best. You're much better off connecting the saw to a dust extractor or to your dust collector. The saw accepts hoses up to 35mm (1-3/8″) and Bosc VH-series hoses. For smaller or larger size hoses you'll need to get the optional Bosch VAC024 adapter.  If you have a dust collection system, then consider installing a dust hood, which is much more effective at channeling dust away from the source.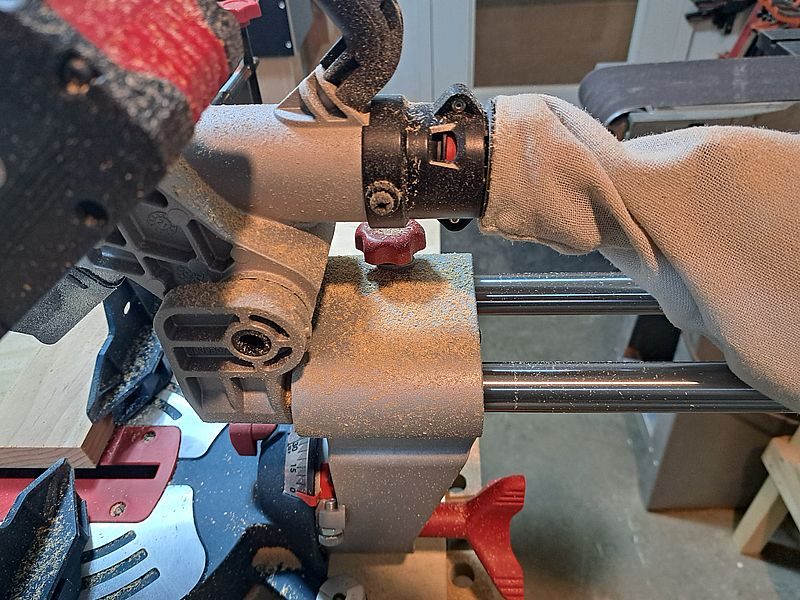 There is an LED work light that helps when the saw is in a location with less than ideal lighting. However there isn't a shadow line light or laser light to align the blade to a cut line. Either of these are nice options, but certainly aren't deal-breakers for me. Laser lights, in particular, aren't always spot-on and do require some upkeep to ensure they're consistently accurate.
The GCM18V is equipped with an ATB 24 tooth general purpose blade. The teeth are not overly large but you should be able to get it re-sharpened four or five times. For construction work, this blade is quite serviceable, giving good quality cuts. Finish carpenters, cabinet makers and furniture makers will likely want to install a higher quality blade and retain the Bosch blade for general rough cutting. Blade changing takes all of about 3 minutes using the arbor lock and Torx wrench (which is conveniently stored on the back of the saw).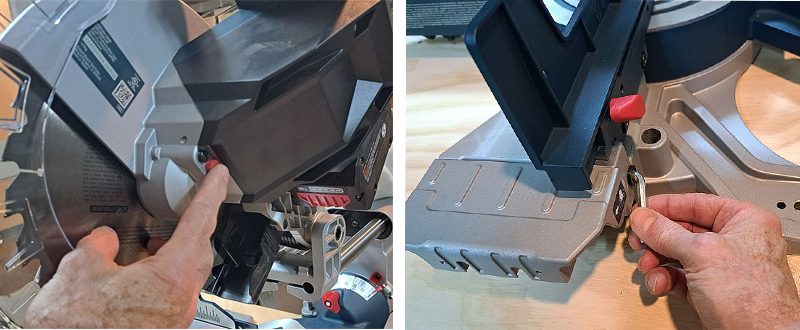 Like any power tool with a sharp blade spinning at high RPMs, mitre saws can be dangerous. The Lexan plastic blade guard is very durable and completely covers the blade, yet provides an unobstructed view of the cut-line. As you move the saw head down, the guard retracts, exposing the blade. Two small wheels on the end of the guard roll over the stock and keeps the guard from catching on the stock.
In use the GCM18V is a excellent performer. I tested it on a wide range of material, from 2″ x 8″ spruce to 3″ by 6″ ash, as well as 3/4″ plywood and melamine, baseboard and crown molding. I made a range of crosscuts, bevel cuts, and compound cuts. Straight out of the box the saw was ready to go; the blade was aligned square to the table, and the mitre and bevel scale stops were right on the mark. It powers through dimensional lumber and molding like a hot knife through butter.
Making adjustments is no big deal, and well documented in the accompanying instruction manual. The head travels smoothly along the guide rails and the electric brake stops the blade fairly quickly. More importantly, setting a mitre or bevel angle is quick, easy and accurate. Nothing on the saw feels flimsy – the fit and finish are super, and the levers and knobs are easy to reach and manipulate. I particularly liked the cam-style mitre locking handle design and the rotating bevel stops.
The GCM18V is a solid choice for trades people – carpenters, framers, home builders, stair builders, cabinet makers, renovators and the like – and discerning hobbyist woodworkers, offering a bevy of practical features, a high power-to-size ratio, great battery runtime and competitive cut capacity.