Multifunction workbenches are characterized by having a pattern of 3/4″ or 20mm holes drilled throughout the workbench top. Referred to as 'dog holes' they are commonly located about 3-3/4″ / 96mm apart. These benches tend to be smaller and lighter in weight than traditional workbenches, and can be easily customized to suit the specific working needs of users.
Along with the arrangement of dog holes on the working surface, a central distinguishing feature that separates MFTs from conventional workbenches is the absence of front and tail vises used for holding stock. On MFTs stock is held by various configurations of bench dogs, hold down clamps, toggle clamps and other fixtures.
Buy your MFT
The selection of commercial MFTs is a bit on the sparse side. There are three models that will likely be of interest to  woodworkers. The Axminister UJK Multifunction Workbench (#717978, $550.00) consists of a top and frame and sits on two metal sawhorses. The top and frame can be easily lifted off the base for transportation or storage. The Festool MFT/3 ($975) also has a top and frame, but has folding legs. The Triton TWX7 ($716) has a smaller top and folding legs with wheels for easy portability.
| | | |
| --- | --- | --- |
| Axminster UJK | Festool MFT/3 | Triton TWX7 |
Build your own
Alternatively you can build an MFT from scratch or purchase the top and build your own base. The second option is the one I recommend. Making the top isn't a piece of cake. To function properly the pattern of 3/4″ or 20mm holes has to be precisely drilled. If they're even slightly out of alignment you're work holding fixtures won't function properly.
However, if you think you'll want to make more than one MFT – perhaps a couple of different sizes for the shop and a portable one for use on the job site – then making your own top might be the way to go. Two options to consider are having the tops CNC machined at a local mill shop or using a drill guide system like the UJK Parf Mk II Guide System (#104779, $320.00) to accurately drill the dog holes.
I chose to use a UJK top and frame but build my own base as I wanted a stationary workbench. Shipping, import duties and taxes for the top and frame comes in at $495.04. Delivery via express courier takes only 6 days. The cost of a base will depend on your choice of materials. For the legs I used two sheets of MDF and a cover sheet of 5.2mm plywood at a cost $168. Total cost for the workbench I made is $663.
Top and frame
Axminster offers two styles of tops, both made of Valchromat, a high density fiberboard that is about 30% stronger than MDF, has greater load resistance and is fire and moisture resistant. One style has 20mm round holes, meant to be used with steel bench dogs; the other has 20mm elongated holes and can be used with either steel dogs or UJK plastic twist dogs (if you remove the horizontal locking rod from the twist dogs they can be used in a top with round holes).
I chose the top with round dog holes (left in photo above). It's 18mm (.71″) thick, measures 712mm x 1,102mm (28″ by 43.4″) and has a 7 by 11 grid pattern of 20mm CNC chamfered holes. This enables you to position and clamp stock anywhere on the benchtop. The top is flat and smooth and after one side begins to show its age, can be flipped over. There are screw holes in the corners that you can use to secure the top to the frame and legs (however, if you do this you won't be able to access the storage well in the frame).
The 18mm thick frame is made from birch plywood and has a 150mm (5.9″) skirt covered with a thick black phenol film on both sides. Phenolic wipes down easily and is very resistant to wear. The inner frame uses 12mm (0.47″) thick birch ply. On the front and back of the long side of the frame are a 2 by 5 grid of twist-style dog holes. There are also cut-outs on all four sides that enable you to use clamps for vertical work holding. In the center of the frame is a 120mm (4.7″) deep tool storage well. Together the top and frame weigh in just over 50 pounds.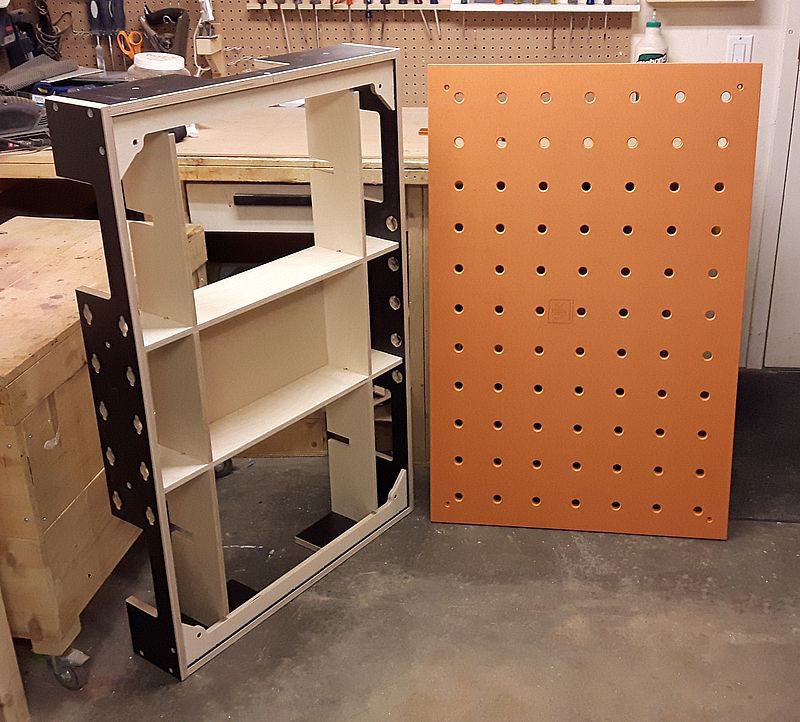 Legs
You can make the legs out of any stock. I chose to use 1/2″ MDF, laminating 8 pieces per leg. I applied a facing of 5.2mm RevolutionPly plywood on all four sides of the legs to make them a bit more attractive. I like a tall workbench so made the legs 32″ long. To prevent any damage to the bottom of the legs when the bench is pulled around the shop I added 3/4″ hardwood feet.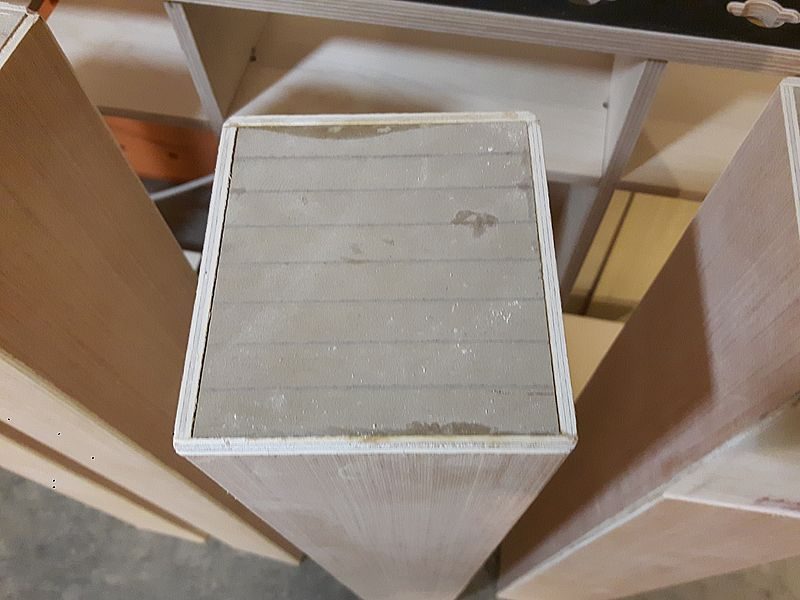 The legs need to fit into an approximately 4″ x 4-1/2″ by 5-5/8″ deep pocket in the frame. To ensure a perfect fit I used a router to skim 1/16″ off the top 5-5/8″ on one side of each leg.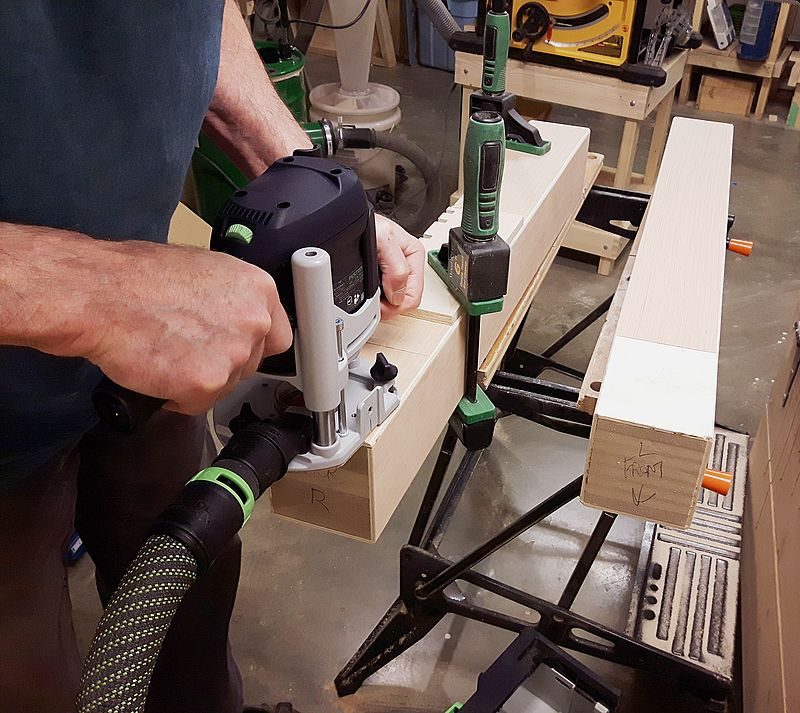 Rails keep the bench from racking. While you can make them any size you want it's imperative that the front face of the rails are in-line with the side of the frame. This means they need to extend 18mm (.71″) from the legs. Rail placement isn't critical. I placed the upper rails 15″ below the bench top and the bottom rails so I had about 3-1/2″ of toe room between the rail and floor. An easy way to cut the dadoes for the rails is with a router. Before routing I marked out the location of the dados and then cut the dado shoulders with a track saw.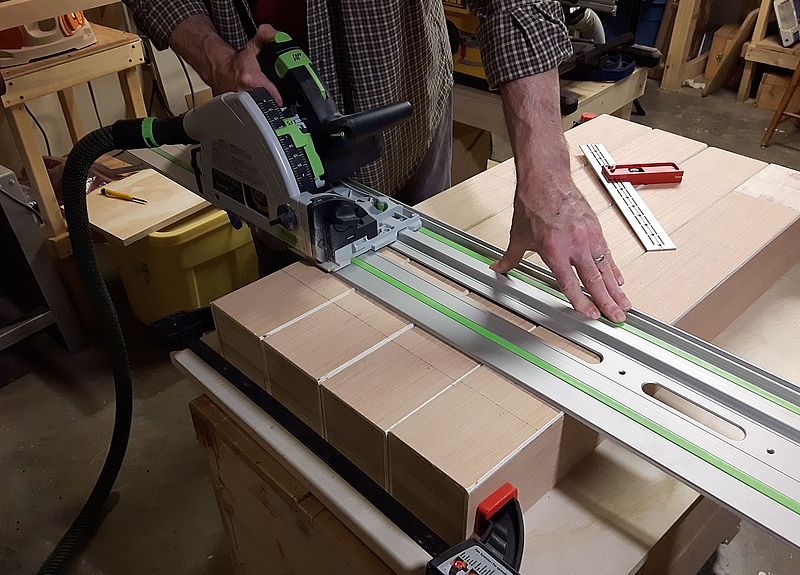 I then routed out the dados making a series of deeper cuts. My dados were 3/4″ deep so the job went pretty quickly.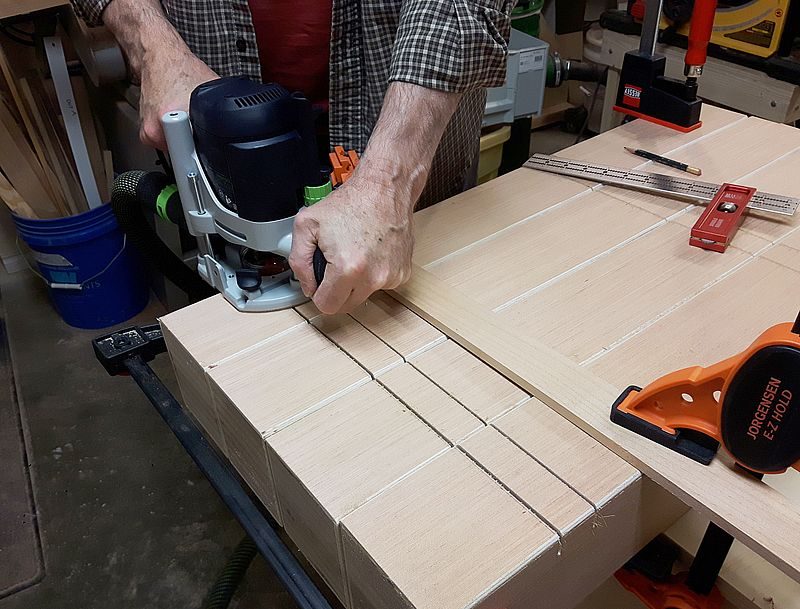 Once the dados for the rails were cut I installed the legs into the frame and then measured the lengths for the rails – there are two rails on each of the four sides.
Before screwing the rails in place (using two 3-1/2″ #8 screws per leg) I rounded over the ends on a stationary sander and also rounded over the edges of the legs. Rather than using screws you could bolt the rails to the legs.
The top drops easily into the frame, and sits about 1/2″ proud of the frame.
To access the well under the top you just insert a finger or two into a dog hole and lift the top up. When gluing up or applying a finish I place a sheet of 1/4″ ply on top the workbench.
Accessories
To get the most out of your MFT you'll need a few accessories. These include bench dogs (for positioning stock and accessories), clamps (for holding stock in place) and bench stops (to prevent stock from being pushed off the bench).  Axminster has a very wide selection of workbench accessories on offer. To start off I suggest you purchase a pair of bench dogs, a couple of clamps, and a single bench stop. Once you've become familiar with how they work you can add additonal accessories to your kit.
My recommendation for a basic starter kit is:
A pair of 40mm bench dogs: UJK 40mm dog
Two toggle clamps: UJK self-adjusting toggle clamp and anchor dog
The Parf fence: UJK Parf system fence and stop kit
If you plan to use a track saw with your MFT then you'll also want to purchase:
An 8 pack of anti-slip dogs: UJK anti-slip protection dogs
A pair of dog rail clips: UJK dog rail clip
Bench Dogs
Bench dogs are used to position stock on a bench top and in conjunction with clamps to secure stock firmly in place. They consist of a shaft (the part that extends above the bench top), a collar, chamfer ring or side spring (that prevents the dog from falling through the dog hole) and a post (the part that is inserted into the dog hole).
Bench dogs are available in 20mm and 3/4″ diameters, in various lengths, and are usually made of steel (sometimes plastic).  Axminster UJK Expanding Bench Dogs, CNC machined from tough corrosion-resistant 303 stainless steel, are unique in that they incorporate two O-rings on the post that lock the dog firmly in the dog hole (hence these dogs are referred to as "expanding dogs"). You insert the dog into a hole, twist the top of the dog and it locks rock solid.  UJK dogs also incorporate a chamfer ring that prevents the dog from falling through the hole before it's adjusted. Some bench dogs (including the UJK dogs) have threaded holes in the post to which you can attach clamping knobs to further hold the dog in place).
The UJK Super Dog (available with either a 60mm / 2.4″ or 90mm / 3.5″ projection above the work table) is essentially an expanding dog with an additonal 25mm diameter, 10mm tall step-out collar. If the dog holes in your workbench aren't chamfered, the collar keeps the dog from falling though the hole. They also provide a .197″ (about 3/16″) offset between the dog and your stock.
Axminster also has an acetate plastic UJK Twist Dog that is used with UJK bench tops that have elongated holes. You can use these dog on the front (vertical) face of the workbench to hold stock vertically, as their locking feature prevents them from inadvertently falling out.
If you plan to use a track saw on your MFT then you'll want to get a set of UJK Anti-Slip Dogs. Install them under your work piece, adjust the depth of cut so that it's  just below the bottom of your stock and cut away. High friction anti-slip pads serve to keep stock in place and prevent cutting into the bench top.
Another accessory that is indispensable for use with bench and anti-slip dogs is the UJK Dog Rail Clip. These nifty little clips keep the plunge saw guide tack secure and square against the bench dogs, eliminating any lateral movement.
When I first tried to use the UJK bench dogs they wouldn't fit into the dog holes – the fit was too tight. However a light sanding with 220-grit paper wrapped around a 3/4″ dowel solved the problem.
I've found that two dog lengths work well. A low profile dog lets you work thin stock without getting in the way of tools. A longer dog is better suited for taller stock and a necessity if you use the UJK dog rail clips with a plunge saw track. Almost all the time you'll use the bench dogs in conjunction with a clamp or work stop.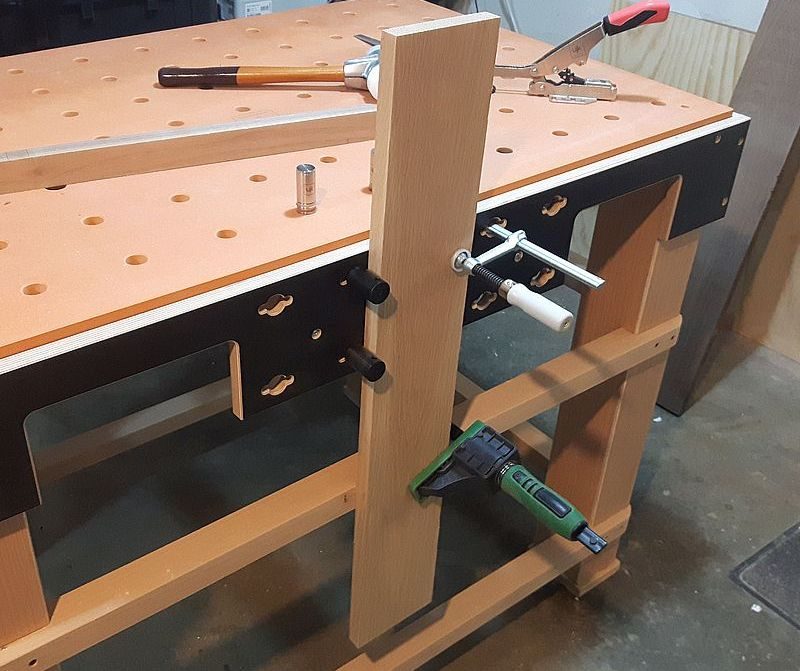 Clamps
The UJK Self-Adjusting Toggle Clamp & Anchor Dog secures stock up to 50mm /  1.96″ thick and has a maximum reach of 60 mm / 2.4″. I find that it handles all but the thickest stock I regularly use.  The clamp is quick and easy to use with one hand. And with a clamping force of  2,000 neutons (about 450 pounds) nothing is going to budge. I found that it works fine without needing to use the locking knob (which you can use to secure the clamp from beneath the bench top).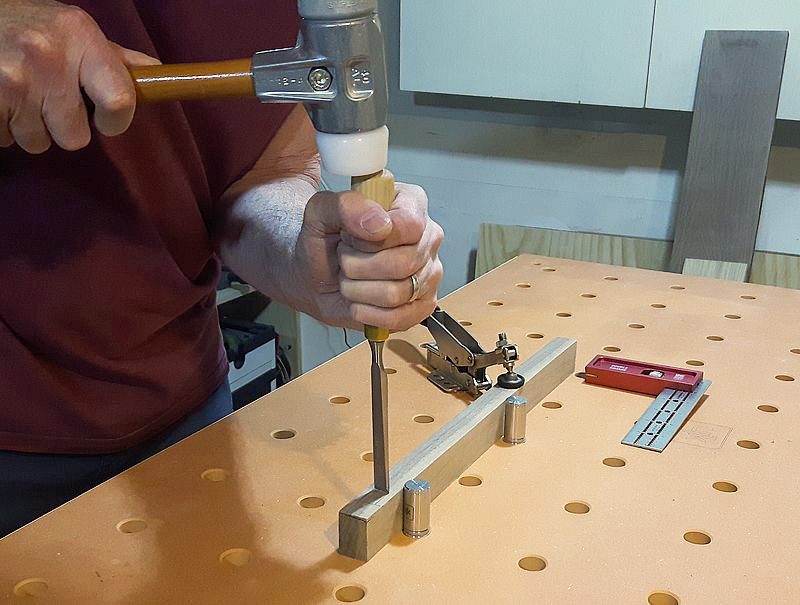 I found  the Professional Ratchet Hold-Down Clamp a better choice for thicker stock. It has a throat depth of 60mm / 2.4″ and a maximum working height of 90mm / 3.5″. Support plates serve to spread the load and prevents the threaded spigot from damaging the dog hole.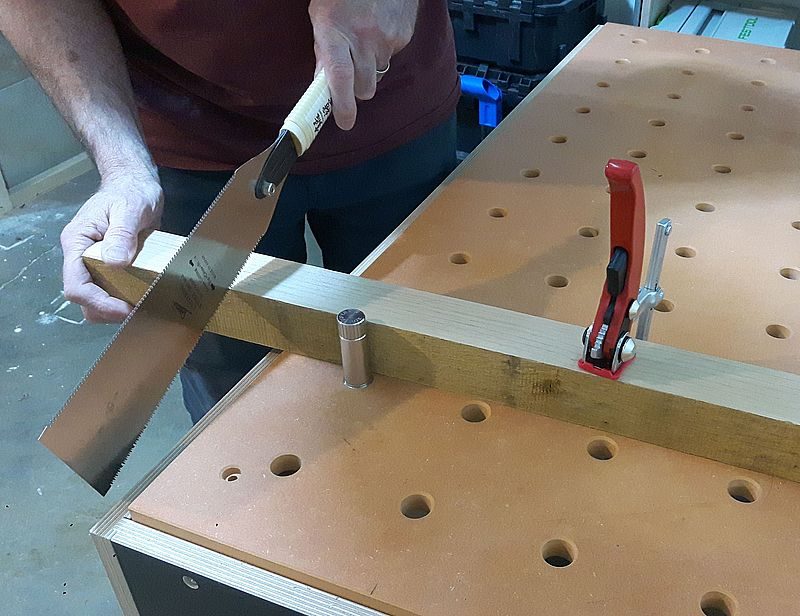 Axminster's UJK Cam & Wedge Clamping Set is a modern version of a traditional work holding device. It consists of two spacer blocks and two wedges CNC machined from HDF Valchromat, a cam clamp made of Phenolic resin, and three 12mm / .47″ steel guide pup. Used in conjunction with a bench dog or work stop you can secure material horizontally or vertically.
Work stops
Work stops are used in tandem with bench dogs or clamps to keep stock from moving about on the workbench. Of the three work stops I've tried, I find the UJK Parf System Fence and Stop the most useful. The 600mm /23.6″ fence is only 10mm / .39″ thick and comes with two 25mm dogs, two locking knobs (in case you want to secure the fence more permanently on your bench) and an adjustable stop. The holes in the fence are spaced at 32mm on centre, which makes it convenient to use if you build European-style 32mm cabinetry. I use this fence almost daily to keep work from sliding forward when hand planing. It also serves as a handy edge guide and when used with a clamp makes it quick and easy to secure frames and panels for routing, sanding and mortising work.
The UJK Assembly Square is made of the same material as the bench top (HDF Valchromat) and has two 36mm / 14.2″ arms set at 90° with cutouts so it can be used with clamps. At 18mm (.71″) thick it works well as a bench stop for thicker material, but really excels when you want to position stock at a precise 90° and when assembling boxes and cabinets. It's also great for making 45° cuts with a track saw.
The Axminster Multifunction Workbench is a good choice for doing routing, sanding, clamping and assembly work. It's also ideal for anyone who works primarily with hand tools, has limited floor space, or wants a workbench that can be easily transported to and from a jobsite. If you've never made a workbench before, and aren't particularly fixated on having a traditional design, you won't go wrong with an MFT.
I've been using the Axminster workbench for about two months, and while I still have a small traditional-style workbench, for assembly work, clamping, for precision sawing with my plunge saw, and for router work I find that I gravitate to the MFT. The more I use it, the more I like it.