Making a bending form
Anytime I need to make a form I start with a hardboard pattern, then transfer that to the material for the form, typically MDF. For the pattern I like to use 1/4″ hardboard, as it's a little more robust, as well as being thicker to catch the bearing on a router pattern bit. To make the pattern for the lamp, I started with a 9′ piece of moulding. There are many options for tracing curves, but a thin piece of wood from your scrap pile at a suitable length will work fine. Using two nails on the ends, I played with the curve until I was happy, then traced the line onto the hardboard. Using the band saw and sandpaper, I refine the shape until it is smooth, with no valleys, lumps or bumps. Making the pattern smooth is key, as any imperfections will get transferred to the form.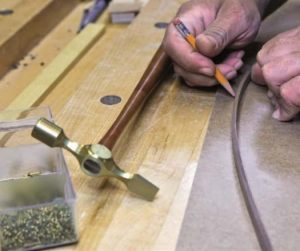 Next, I attached it to a piece of MDF and, using Veritas offset wheel gauges, I created an outline approximately 1/8″ away from the actual curve. Going back to the band saw, I cut this line, making sure to stay away from the hardboard pattern. Mounting a template cutting router bit in the router table, I adjusted the height to allow the bearing to ride against the hardboard pattern and cut the MDF to the exact shape. After removing the pattern and attaching another piece of MDF to the original, I repeated the process of tracing, cutting and routing the new piece. This process can be repeated as many times as necessary to achieve the width required.
While the curve is the important face, the opposite face will need some attention, in order to make sure that clamps can be used without them slipping and sliding. You'll need to make the overall thickness small enough to accommodate the different sizes of clamps you have. A very important point is to make sure that you cover the surface of the bending form with a glue resist such as packing tape and/or wax before use.