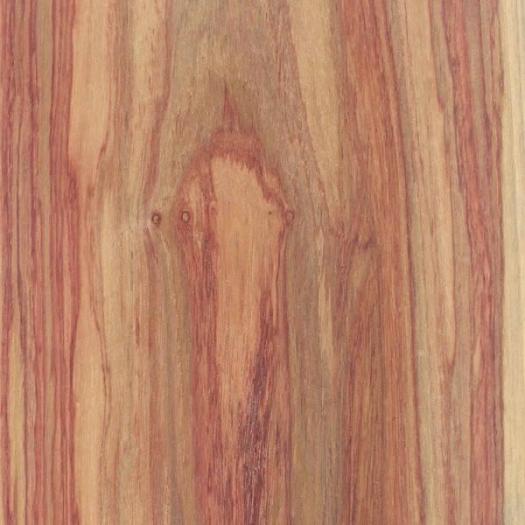 Brazilian tulipwood
Dalbergia decepularis
Rosewoods are the preeminent and valued group of woods available to woodworkers and craftspeople. Members of the genus Dalbergia, they are noted for their striking beauty and the distinct 'rose-like' scent produced when they are freshly cut. When early sea trade brought these valuable timbers to Europe, they were quickly assimilated into the woodworking industry and changed the existing aesthetics of furniture design. Demand led to over exploitation and the Rosewoods are now rare and protected.
Brazilian Tulipwood, a true rosewood, shares this interesting history. Brazilian Tulipwood was first brought to France in the 18th century and quickly became a favourite of Kings Louis XV and XVI.  First used in the construction of cabinetry, it became increasingly popular as a wood for bandings, inlay, decorative turnings and marquetry. The introduction of the rosewoods changed the historical design of furniture and interiors. Out were designs based on straight lined geometry and in was the use of rosewoods distinctive colours and interesting and active figuring.
Brazilian Tulipwood was an important player in this visual shift in design. This wood's popularity continued until demand exceeded popularity and it became scarce and difficult to source. Today, woodworkers will encounter it as small turning squares, blocks and pen blanks. Occasionally, small lumber is available, mostly 4/4 lumber in small widths. It's also available as a veneer and as a component of decorative bandings.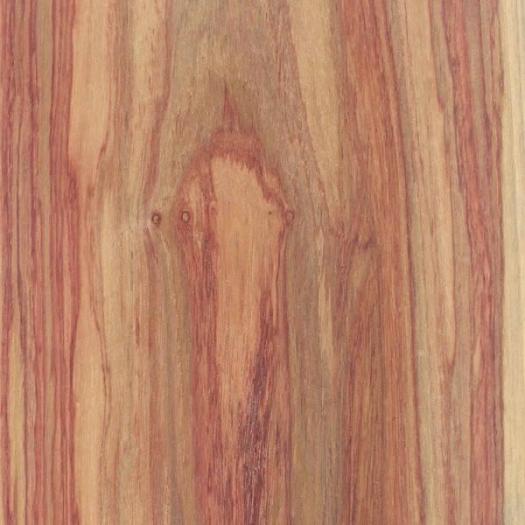 Brazilian tulipwood

Brazilian tulipwood end-grain
Native to northeastern Brazil and occasionally found in Columbia and Venezuela, Brazilian Tulipwood is a small tree or shrub.  It grows up to 30 feet in height with a width rarely exceeding 12 – 16 inches. Hence the tree yields small pieces of material often with heart defect. It is a long-lived, slow-growing tree that requires a minimum of a 100 years to reach maturity. The wood is straight grained, open pored with a medium to very fine texture. It is extremely hard and dense with a low shock resistance and a tendency to split.
This is a very beautiful wood. The heartwood is a pinkish to salmon colour, overlain with streaks of yellow, red purple and rose.  he streaks can be perpendicular giving the wood a somewhat linear appearance or they can be quite variegated and random. Tulipwood is very lustrous which adds to its appearance. The sapwood is a yellowish white which is sharply demarcated from the heart.
Working with Brazilian Tulipwood is challenging. It will blunt tools, so edges and cutters must be sharp. Low cutting angles may help. Feed speeds should be monitored to avoid splitting and burning. The presence of natural oils may make for a difficult glueup.  Obviously, the use of wood screws requires pre-drilling. It turns beautifully and finishes extremely well, polishing to a high luster.
Given its rarity, Brazilian Tulipwood is expensive and as mentioned, only available is smaller dimensions. Typically, it is used for small projects and turnings, pool cues, pen blanks, chessmen and decorative turnings. It is popular for inlays, stringing, bandings and as a contrasting wood. It is also used as a veneer for larger projects such a boxes and drawer faces.
Brazilian Tulipwood, like all rosewoods, was recently added to the CITES list level two.  This places restrictions on its import and export. Demand for rosewoods is increasing at a time when supplies are decreasing. This drives up prices and creates the conditions for illegal logging, over harvesting and criminal activity. The CITES designation will hopefully preserve the rosewoods from extinction.
This does not mean that Tulipwood is not available. Reputable dealers will be able source this wood by following the rules determined by CITES. Woodworkers can and should ask to see the documentation required to import this wood to assess its legality. The small sizes typically available will limit its use to small projects. Veneer is occasionally available but is also expensive. So while large furniture projects are not going to happen, woodworkers can experiment with pen blanks, drawer pulls and inlays.
Crafts people are united in their love for beautiful woods. Perhaps we can also unite to help preserve these endangered species. By using thoughtful design and sourcing from dealers committed to preservation, we can help steward species like Brazilian Tulipwood to a healthy future.
More about Brazilian tulipwood
Last modified: July 19, 2022
---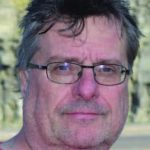 Peter Mac Sween - [email protected]
Peter's woodworking journey began with a career in carpentry followed by a decade buying and selling veneer. His spare time is spent abusing his guitars and exploring the great outdoors.
---
More woods to explore
Red alder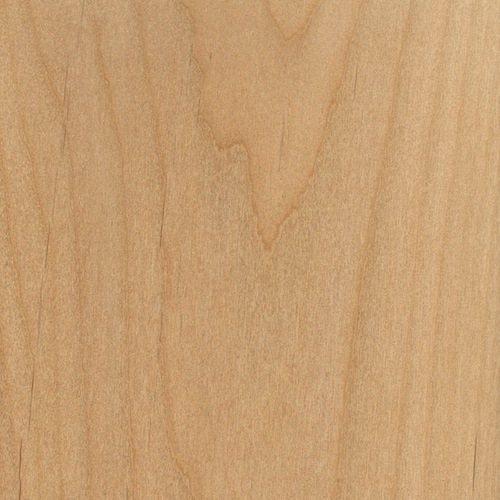 English yew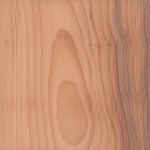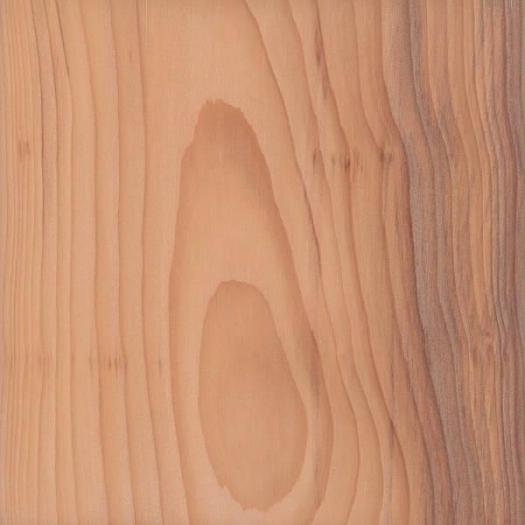 Sitka spruce