Mamba saw blades provide contrac­tors with professional cutting tools at affordable prices. The collection includes saw blades from 7-¼" to 12″ diameter and feature a thin-kerf design. Made of long-lasting European steel and carbide, they are designed for ripping, general purpose and fine finishing. Blades (#MD7240) start at $9.95 USD per blade.
Why It's Essential: Ideal for portable saws, giving contractors access to profes­sional-quality cutting materials, regardless of location. Select new blades feature nonstick electrostatic coating that reduces friction and protects against rust and resin buildup, resulting in maximum blade performance. See the entire Mamba collection at www.MambaTools.com
STC-VH20 & STC-VH50 augment the current eight inline and hori­zontal models currently offered. The new vertical models automatically adjust to work piece dimensions (up to 1-9/16″) while maintaining constant clamping force (up to 550 lbs) and the ability to adjust clamping force as needed at set-up time.
Why It's Essential: Toggle clamps are essential for any workshop requir­ing small jigs and fixtures. BESSEY self-adjusting toggle clamps leverage the already flexible nature of toggle clamps further because they cover such a range of clamping forces and work piece heights that only a few are needed for tremendous workshop flexibility. Available July 2014. (Approx. $20-25 CDN)
www.BesseyTools.com
The D300 is a new innova­tive panel clamp invented and manufactured in Canada. Designed to laminate wooden pieces from ¾" to 4 ½" thick, and up to 38″ wide, the two parallel rails keep panels flat at each clamping point for perfect results. The electrostatic finish over the steel rails is durable and prevents glue from sticking.
Why It's Essential: The D300 clamp is much lighter than conventional clamps, so panels can be moved out of the way easily. Also, you won't need as many, since it keeps panels flat, so it speeds up the process before the glue sets. Price: $74.95
www.Damstom.com
Your next favourite wood­working product. EcoPoxy is the strongest wood adhesive you can buy. EcoPoxy is a plant based, 100% solid, waterproof, non-toxic, non-solvent, non- conductive, epoxy system that is Certified "green". Try it today and find out why so many of our woodworking customers love this new product.
Why It's Essential: Because more and more people are look­ing for products that are safe for both them and the environment. They are not harmful to work with and do not give off dangerous fumes when used.
Find out more at www.EcoPoxy.ca
Forrest Manufacturing's award-winning 40-tooth Woodworker II—the king of all-purpose table- and circular-saw blades—is like having three blades in one, delivering high-quality rips, combos and crosscuts of 1″-2″ in hard- and softwoods with a smooth-as-sanded surface and no bottom splintering. Plus,specially-engineered clearances on the blade teeth eliminate side scoring. 5-3/8″ to 16″ diameters, $106-191 MSRP.
Why It's Essential: The Woodworker II is the finest, quietest, and most precise blade of its type, preferred by both professionals and hobbyists looking for value and exceptional performance. If you can have only one general-purpose blade, this is the one to choose!
www.ForrestBlades.com
The Mini-Mite 3 T-Series utilizes a powerful three-stage Turbine Motor installed in a durable Metal Turbine case. The lightweight and ergonomic T-Series Non-Bleed Spray Gun with Stainless Steel Fluid Components features an exclusive side-mounted pattern control knob and a high-efficiency air cap for even less overspray. A 25 ft. hose with air control valve and quick-connect coupler is included.
Why It's Essential: Spraying cabinets, furniture, autos or pianos – in fact, anything wood or metal – is easy and effortless with this system. The Mini-Mite 3 T-Series™ Turbine develops 6.5psi. It's a pow­erful and portable system for all fine-finishing.
www.FujiSpray.com
Get ready to save countless hours with a Domino Joiner. Whether it's furniture, doors or casework, Domino makes tight-fitting joints quickly and easily. The system consists of the Domino Joiner and solid hardwood, beech and sipo Domino Tenons. The Domino Joiner, with its oscillating cutting method, simple indexing features and adjustable mortise sizing, cuts flawless, repeatable mortises every single time.
Why It's Essential: Big mortisers take up space, need lots of setup and make you bring the material to the tool. With the Domino, you take the tool to the project and get precise joints in half the time it used to take.
For more details, or to see the Domino Joiner in action, visit
FestoolDomino.com
With Festool, portability never comes at the cost of capability. CT Dust Extractors are criti­cal to quality work. They capture dust at the source before it gets into your tools, covers the workspace or finds its way into your lungs. All CT Dust Extractors can be set for auto­matic start, which increases the efficiency of time-saving tools like Domino.
Having a stable workbench is just as critical for assembling joints as it is for cutting. MFT/3 mul­tifunction tables are Festool's solution for achieving precision, regardless of location. Every element of the MFT/3 system delivers the ultimate in clamping and security, no matter where the job takes you.
Flexcut knives are precision-made for maximum performance. Their high-carbon steel blades have durable points, hold an edge extremely well and are eas­ily maintained by simple stropping. Each knife is expertly hand-sharpened and tested before shipping, so it's ready to use right out of the package. Comfortable, curved ash handles allow for long periods of carving without hand fatigue. In addi­tion to those pictured, a wide range of knives are available to handle every task from roughing in to fine detail carving.
Why They're Essential: Flexcut knives are versatile, well-engineered tools, 100% North American-made, -assembled, and -sourced. The top pick of pro carvers, hobbyists and woodworkers around the world.
Cutting Knife, KN12 SRP: $19.35
Detail Knife, KN13 SRP: $20.35
Roughing Knife, KN14 SRP: $22.35
The 6-Blade Carvin' Jack is the world's first folding multi-tool for woodcarving. It's equipped with two scorps, straight gouge, a hook knife, chisel, and a detail knife. You also get a SlipStrop, a bar of Flexcut Gold pol­ishing compound to keep your blades sharp, and a leather belt-mounted sheath that looks good with jeans or even your better pants.
Why It's Essential: The only tool like it in the world – A woodcarving set in your pocket. JKN91 SRP: $145.95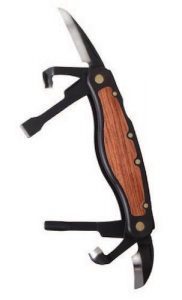 Our Starter Set has every­thing a new woodcarver needs. It includes 16 inter­changeable blades, cutting knife, quick connect ABS handle, and a power handle. There's also a SlipStrop, gold polishing compound, and an owner's manual showing how to care for the tools. Plus, you'll find a free step-by-step instructional DVD for a great first project.
Why It's Essential: This Starter Set contains profiles not included in any other interchangeable set. So it's a great way to add to your collection and save money. SK108 SRP: $199.95
The Laguna Tools 14|12 Bandsaw includes brass-tipped lock handle for the rip fence, Euro-style adjustable hinges, tracking and tension windows, an oversized table and heavy-duty trunnion, just to name a few. After more than two years of development and production, we're proud to offer the 14|12 Bandsaw that fits both a woodworker's budget and garage perfectly. $1,097
Why It's Essential: The 14|12 Bandsaw is something any woodworker – professional or hobbyist – would be proud to own. People will be blown away when they see just how much bandsaw they're getting for such a reasonable price.
www.LagunaTools.com
Sharpens every knife you own using an adjustable preci­sion sharpening guide (15° – 30°), variable speed and pre­mium flexible abrasive belts. It quickly and easily makes your blades sharper than ever. Work Sharp-engineered, Ken Onion-designed.  Spend more time woodworking and less time sharpening! MSRP $149.95
Why It's Essential: Sharp knives and tools are critical to the success and quality of any project. Having a fast and easy way to maintain cut­ting tools is now possible with the Ken Onion Edition Sharpener. No more excuses, only sharp knives and tools.
www.WorkSharpTools.com
Introducing the Best of E-Cut by FEIN; genuine, made-in-Germany saw blades for maximum performance and best quality. Fits all commercially avail­able multifunction tools (OMT). For MultiMaster users: full compatibility, no compromises. For all others: new application options, faster and better performance. FEIN MultiMount E-Cut saw blades guarantee highest reliability, even in the toughest of applica­tions. From $8.99 each.
Why it's Essential: Ideal for improving the performance of other oscillat­ing tools, but unbeatable when used with the FEIN MultiMaster. Maximum cutting performance and perfect results, the best quality, the best service life, and the best price-performance ratio. Dare to compare!
www.Fein.ca
The new 20 volt Lithium-Ion Cordless Drill and Impact Driver deliver power, perfor­mance, reliability and value. Get longer run-time with lith­ium batteries, and less charge time with included 45 minute charger.
Why It's Essential: Features sturdy heavy-duty high-torque metal gear box, non-slip rubber grip, and three LED lights to illuminate your work.
Cordless is taking over the shop – get in on the action!
Available in three kits; a cordless drill kit, an impact driver kit and a combo kit. Each comes with 6 drill bits, 6 screwdriver bits, 4 nut drivers (with the impact driver) and a sturdy carrying case.
www.KingCanada.com
These two new 2 HP oil-free air compressors are Ultra-Quiet. Both models feature extra-long 3000 hour pump life and up to 120 psi output. These durable compressors have aluminum tanks (40% lighter than conventional compressors) and will not rust. Their quick connect cou­plings allows you to connect your tools with ease. Both come with air pressure regulator.
Why It's Essential: With the increasing number of affordable air tools and nailers on the market, the compressor has become one of the most desirable shop additions. Now you won't dread the noise when the compressor kicks in!
www.KingCanada.com
Unlike scissors, the Benchmark Anvil-Cut Quick Change's blade cuts against a replaceable high-impact plas­tic anvil that protects the blade from wear while it prevents splintering and fraying on the bottom of the cut.  The Quick Change feature allows the user to change the standard trapezoid utility knife blade without tools.  Three extra blades are stored in the handle.  Available only at Home Hardware and Home Hardware Building Centre. Item Number 1119-002.
Why It's Essential: The Benchmark Anvil-Cut Quick Change slices smoothly and cleanly through dense and tough materials such as rope, hose, thick leather, thick or fibre-reinforced rubber and much more, making it a "must have" for the well-equipped workshop, garage or garden shed.
www.HomeHardware.ca
Perfect for small-to-medium sized shops. Features a powerful 2HP motor, pre­cision balanced cast iron wheels, and quick tension blade release. The one-piece body frame minimizes vibration, giving a smooth and quiet cut. Made in Taiwan, this bandsaw has proved to be a rock in the CX Series line, with over 1,000 units sold since its introduction just a couple of years ago.
Why It's Essential: This unit boasts a class leading 13″ depth of cut, three cut­ting speeds, precision fence, mitre gauge, and full three-year warranty. Currently on sale for only $1,149.
For more details, visit www.BusyBeeTools.com
These hand planes are moulded after the Bedrocks, Stanley Tool's very best line. They all feature heavy castings and fully machined frogs, lightly furnished Bubinga handles for comfort and control, and require minimal tune-up prior to use. Bench Planes #3 to #7 are now available with prices starting at $139.99
Why It's Essential: The market in Canada of high-end bench planes has mainly been cornered by two well known brands. With Busy Bee Tools now carrying the WoodRiver line, it offers Canadian's a new choice in high end Bench Planes. Busy Bee Tools has ensured pricing is close to or at par with US pricing from WoodCraft.
For more details visit www.BusyBeeTools.com
The A3-31 offers 12 inches of jointing and planing, with the option of adding a mortis­ing attachment, giving you up to three machines in the foot­print of one. The powerful 4 HP motor ensures this machine can handle any job. Move this 705lb workhorse effortlessly around your shop with an easy to install mobility base. Currently starting from $3,700.
Why It's Essential: Combining functions provides more usable space. You will enjoy saving money by milling your own wood, and the seamless transition from jointer to planer ensures you spend your time being creative with your passion, not worrying about cumbersome adjustments.
www.Hammer-Canada.ca
Mounted on a steel base with one swivel caster and two seven inch wheels, the 10-030CF is equipped with a 1HP motor with safety switch, a 10″ pre­cision spin-balanced impeller for smooth, quiet operation, a 506 CFM airflow capacity with a static pressure rated at 6 ¾ inches of water, and a 1 micron can­ister filter. Retail price: $399.99.
Why It's Essential: This 10-030CF 1 HP unit offers convenience and afford­ability making it a dust collection solution ideally suited for small shops with single machine hook-up requirements, or in any shop environment where a good balance between power and portability is needed.
Step up to the stability of cast-iron. Kit includes: 16″ x 27″full cast-iron table, two adjustable-length steel support legs, a deluxe 27″ router fence, and 9 ¼" x 11 ¾" phenolic router plate. Can be adapted to all 27″-29″ table saws with cast tables. Depending on mounting location, some modifica­tions may be required. Retail price: $399.99.
Why It's Essential: For shops with space concerns, the 40-070EK cast-iron router table kit allows you to multi-purpose your existing table saw by adding router table functionality to help make the most of your valuable workshop floor space.
Achieve the classic look of hand-cut dovetails and box (finger) joints with the D4R Pro, the most versatile dovetail jig in the world. Rout perfect through dovetails, half-blind dovetails (variably spaced or single pass), and sliding, angled and inlaid dovetails, all in varying thicknesses of material. Work more safely and efficiently with the optional VRS Vacuum & Router Support, for dust-free routing and stable support and a resting place for your router.
Why It's Essential: The D4R Pro is exceptionally versatile, precise, ruggedly built, easy to store and easy to use, with the best user guide and customer support in the industry.
www.Leighjigs.com
With full cast-iron construc­tion, heavy-duty clamp arm that swivels up and down, as well as front to back, to suit a wide range of workpiece sizes, and a two-position guide bar equipped with adjustable spring-loaded detents to elimi­nate miter slot play, the General International 50-050 tenoning jig is designed for precision results on vir­tually any left or right tilt saw.
Why It's Essential: Extremely versatile table saw accessory suitable for straight or angled tenoning with adjustable stops at 90° and 45°, easy-lock handles, threaded rods and knobs for precision adjustments, and large ergonomically designed handles for maximum user comfort and control.
This heavy-duty universal router lift features a 9 ¼" x 11 ¾" alumi­num insert plate, and is designed to fit all fixed base routers. Its unique four-post lift screw design and massive chain driven lifting system with above-the-table adjustment, controls all four corners simultaneously, for smooth, precision height adjustments, and fast tool changes. Retail price: $369.99
Why It's Essential: The critics have spoken: the Excalibur by General International 40-125 router lift was chosen "Best Overall" in a head to head router lift comparison by Fine Woodworking in its yearly Tools and Shops issue for 2014.
This bandsaw will be the crown jewel in most any shop, with its truly stun­ning appearance. But beauty isn't only skin deep on this saw. Cast iron wheels with ball bearings, quick release blade tension, cast iron frame and table, ball bearing blade guides, 4″ dust port and a powerful 1hp motor makes this saw as much about performance an appearance.
Why It's Essential: A 14″ band­saw is the perfect size for most shops and the Grizzly limited Anniversary Edition provides everything you want and need at a very special Anniversary Edition price. Retails for $525.
www.Grizzly.com
This special edition colour scheme is sure to make this bandsaw the eye candy in workshops and small businesses nation­wide. The G0513ANV is the exact same machine as the G0513, except for the anni­versary special edition colours.
Why It's Essential: Next to a table saw, the bandsaw is one of the most versatile machines there is. Straight cuts, curves and irregular cuts, and even resawing your own boards from rough stock are all within its capabilities. And the small footprint com­pared to other machines makes it hard to beat in value per square inch of precious shop space. This is one machine every shop needs! Retails for $825.
www.Grizzly.com
The stability and power of a heavy-duty stationary planer with the versatil­ity of shop mobility – in one precision 15″ planer. Press down foot pedal to raise planer on its wheels for position­ing. Push lever up to lower the planer down for rock-solid stability. 42″ long bed with cast iron wings and bed roll­ers provide support needed for perfectly planed lumber.
Why It's Essential: The power of a heavy-duty stationary planer PLUS the ver­satility of shop mobility, in one precision 15″ planer. Optional 4-row spiral cutterhead gives an incredible finish in those tough to cut figured woods. No small shop should be without a G0453! Retails for $1,125.
www.Grizzly.com
Popular among both professional and hobbyist woodworkers. Extra-long infeed table and huge fence ensure that stock is cut accurately. Easy-to-reach pedestal-mounted switch and lever-controlled table ele­vation make it a joy to operate. Oversized welded steel cabinet provides an incredibly stable platform. This machine gobbles up wood with ease, producing smooth, straight, and flat stock.
Why It's Essential: This 8″ jointer is a true workhorse with 3 hp motor and extra long 76-3/8″ precision ground cast iron beds. Optional spiral cut­terhead (G0490X) flattens the toughest of woods to a buttery smooth finish. Built-in mobile base means it can easily be tucked out of the way in even the smallest of shops. Retails for $995.
www.Grizzly.com
The highly acclaimed GRR-Ripper from Microjig is one of the safest ways to manually feed wood through your table saw, jointer, bandsaw or router table. The patented 3-leg design with green rubber grips lets you enjoy improved accuracy, less wasted materials, maximum control and safety far beyond that of simple notched sticks or foam backed push pads. Two models starting at $59.00.
Why It's Essential: BULLET PROOF YOUR FINGERS. The GRR-Ripper virtually eliminates kickbacks. It's beyond push sticks and feather boards. Whatever you use the GRR-Ripper® for, its innovative features will give you the confidence to create quality work without risking your safety.
www.WorkshopSupply.com (keyword search: grr-ripper)
The Step Gauge 3D Ruler is two rulers in one. The small ruler has 1/16″ steps and the large ruler has 1/8″ steps. It gives you no-squint precision by using the sensitivity of your fingers to compare your tools to the 3D rul­er's steps. If you can feel the thickness of a sheet of paper, only 4/1000″, you can be this accurate. Patented. Only $19.95
Why It's Essential: Obtain high accuracy and quick setups without expensive, hard to read instruments. The 3D ruler takes the guesswork out of your workshop and puts the fun back in. Use the natural accuracy of your touch to setup your woodworking machines.
www.WorkshopSupply.com (keyword search: 3D ruler)
The Most Advanced Kreg Jig Yet!
Why It's Essential: The Kreg Jig K5 incor­porates the best features of every Kreg Jig that came before with upgrades you've never seen, such as an all-new adjustable clamping mechanism without tools, swiv­eling dust-collection port, and large support wings doubling up as storage compartments. Add the SK03 screw kit, and you're ready to build projects. Drill, drive, done!
$149.99 CAD with Free Shipping
www.EliteTools.ca
This battery powered, air circu­lating face shield can be used with all woodworking applica­tions. It's ideal wherever solid particulates are a problem.
Why It's Essential: The Trend AIR/PRO features: combination face-seal and hood to improve protection; motor positioned away from the sensitive area of the forehead to reduce noise and irritation; strategic component distribution ensures optimum centre of gravity is achieved for balance and comfort; and audible low battery warning. Battery, charger and filters included.  Introductory price of $425 with Free Shipping
www.EliteTools.ca
The next evolution in woodworking is here–the versatile GRR-RIP BLOCK Smart Hook Pushblock.
Why It's Essential: With its popular Green GRR-RIP non-slip mate­rial and smart Gravity Heel technology, GRR-RIP BLOCK increases safety while rewarding you with complete confidence and control over your workpiece. GRR-RIP BLOCK's cutting edge technology increases safety and stability when working with jointers, bandsaws, router tables, shapers and table saws.
Only $24.95 CAD
www.EliteTools.ca
Titebond III Ultimate Wood Glue is the first one-part, water cleanup wood glue ever offered that is proven waterproof.
Why It's Essential: The waterproof formula passes the ANSI/HPVA Type I water-resistance specification and offers superior bond strength, longer open assembly time and lower application temperature.
$14.95
www.EliteTools.ca
A 300 grit coarse / 1000 grit fine double-sided bench stone, for the majority of sharpening requirements. Monocrystaline diamond is electroplated in nickel and set on a pre-ground steel sub­strate.+/- 0.0005″. The stone is ideal for flattening, re-shaping, resurfacing and fine sharpening applications. Five year warranty. $149 CAD.
Why It's Essential: Ideal for sharpening router bits, carbide and HSS inserts , plane irons and chisels, pocket-knives, kitchen-knives, and all hand tools. 300 grit side is ideal for flattening water stones and general reshaping. The DWS/CP8/FC is a fast sharpening stone that retains its flatness and gives a razor edge in seconds. Used, recommended, and endorsed by Rob Cosman.
www.Trend-ca.com
TASK Signature Circular Saw Blades are guaranteed to outlast and outperform or your money back! They offer unbeatable accuracy with total run-out (sum in all directions) of less than 0.100 mm. That's so tight that printing with ink on the blade's surface would put it out of tolerance so they are laser etched instead. The oversized C4 micro-grain tungsten carbide teeth mean they can be re-sharpened many times. The 10″ x 80T Melamine & Fine Cut Blade (T24711) has a suggested retail of $124.99
Why It's Essential: Quality of the blade has much greater effect on the results than the saw itself so don't settle when it comes to accessories. There is a complete line of 10″ and 12″ TASK Signature blades for your next project.
www.Task-Tools.com