When I had a large trim job looming it was a great excuse to check out one of the models on the market. I don't do a lot of trim work and I already have an air compressor and two pneumatic nail guns so I didn't feel the need to spend wildly on another gun. I also knew many woodworkers and DIYers have to consider cost and value when making purchases for the woodworking and home improvement projects they do. The Ryobi P322 HP Airstrike 18 GA Brad Nailer caught my eye.
At first grasp, I found the Ryobi P322 heavier than what I was used to. Having said that, it felt nicely balanced in my hand. After charging the battery I used it on a few 2×4s in my shop to see how it worked and to test out a few options it had. It will use brads between 5/8″ and 2-1/8″. Not surprisingly, it worked well. To the house to install some trim.
While installing some crown, the first few pins I drove fin­ished proud of the crown's surface. Not to worry, as I turned up the depth of drive adjustment. From then on, the brad heads finished slightly below the surface of the crown.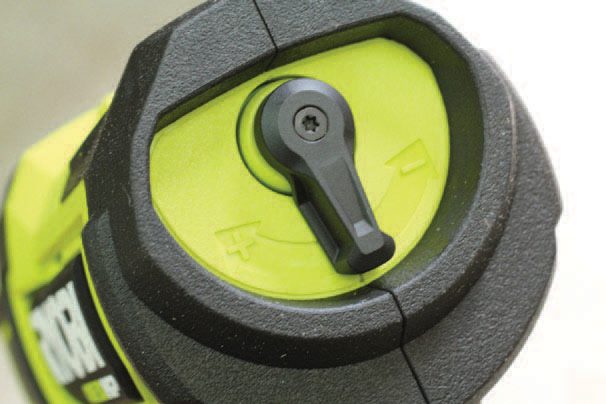 As I mentioned, it's heavier than the pneumatic 16ga and 23ga nailers I have, but it wasn't so heavy to be problematic. I'm not the biggest or strongest guy around, but I could still easily manipulate the nailer over my head to sink nails at any angle or location. It was comfortable to use with its moulded grip. It also has an LED that's easily triggered by a finger when in use, which sheds light right where needed.
I found I could easily drive the brads with precision, as the nose (Ryobi calls it the AccuDrive nose) didn't interfere with my line of sight and within a few pulls of the trigger I was used to where the nail was driven.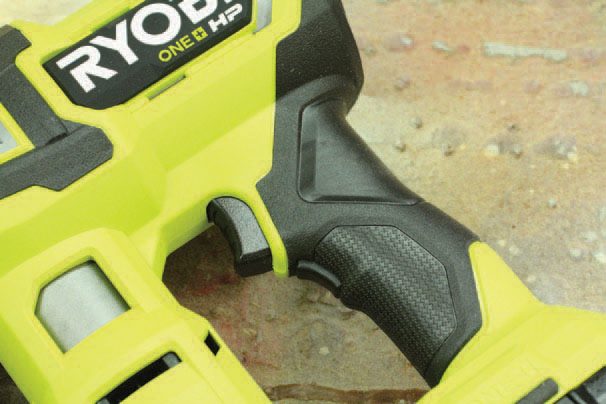 Over the next day or so I proceeded to install about 75′ of crown moulding and 150′ of baseboard. The battery held up nicely and is still going strong on its first charge well after my trim job was com­peted. The brushless motor the battery powers is efficient.
Though I didn't have the need to use it, this brad nailer comes equipped with a tool-free, jam-release latch. I could find a use for this nailer in my workshop, even with two pneumatic nailers hang­ing on my wall. Having the ability to quickly fire brads of almost any size is incredibly handy, and this is especially true when your nailer isn't tethered to a compressor.