Enter stage left a solution to these situations that I'm kicking myself I didn't discover sooner: a tool with a manageable amount of power and fine blades that can plunge cut into a piece of wood at a 90° angle and keep to a straight line, chew through a grout line or a flush cut without mak­ing you break into a sweat, and fit into tight spaces all the while. In addition to this, it has the versatility to act as a sander, scraper or rasp depending on the attachments you place on it. Multi-tools are likely going to be more useful for home renovation projects rather than for work in the shop but the versatility of the machine may lend itself occasion­ally to rough plunge-cutting a mortise or sanding a tight corner on a work-piece, depending on your situation.
The oscillating multi-tool is small enough to be held comfortably with one hand but deliver amazing results with very little blade travel. The attach­ment end of the tool oscillates back and forth only by about three degrees up to around 20,000 times per minute. So, with very little dust, fuss or potential for kickback, it can cut through a variety of woods and non-ferrous metals. The same oscillating motion can power a small triangular attachment for detailed sanding tasks, for scraping paint, adhesive or caulking or for grinding down thin-set mortar, wood or plaster.
In choosing a multi-tool, you'll be forced to decide whether you want to deal with batteries and chargers or cords. Corded multi-tools tend to offer the best value, durability, and stamina, while the advantage of cordless tools lies in their portability and the conve­nience of not having to deal with cords. The ability to plug a corded tool in and run continuously is a must for larger or repetitive tasks. Undercutting trim, for example, or sanding into the corners of an entire flight of stairs is where the corded multi-tools will shine; whereas if you need to take one up on a roof to make a specific cut, the safer and quicker unit will be cordless. Corded versions tend to be less expensive and last longer, whereas you'll pay a pre­mium for the convenience of working without a cord, and the batteries will need replacing after a few years. It's a good idea to assess how much you'll be using a multi-tool and where before finalizing your choice. There are quite a number of competitors on the mar­ket in both categories, so there is lots of basis for comparison. To review them, I've broken them down into cordless and corded versions and tried to high­light some of the features you'll find helpful in choosing one for yourself.
So Much To Offer – These units excel at cutting, sanding, scraping and more. You'll be amazed at how often you reach for a multitool while working wood around your home or shop.
Note: All product pricing is quoted at the time of publication (May, 2011)
CORDLESS TOOLS
Dremel Multi-Max
$159
Extras: Two Batteries, 7 pc. set
The Dremel Multi-Max is a solid tool with great accessories. It conve­niently sports two batteries and a "fuel gauge" to allow you to know how much battery charge is left when the tool begins running. It is widely accessorized with a variety of wood, metal and drywall cutting blades, specialized grout removal blades, scrapers and grinding pads. It's among only a select few tools that have on offer a carbide rasp for grind­ing thinset, cement, plaster and wood.

Ridgid Job-Max
$119 for base unit, $39-$49 for additional heads
Extras: One Battery
Ridgid's Job-Max is a remarkable tool that can re-invent itself; additional tool-free quick-connect heads allow the motor to power a right-angle drill head, ratchet head and impact driver head. The power base features an LED light to brighten your workspace, and a unique variable speed trigger for one-handed controlled adjustment. This was the loudest of the cordless tools I tested, coming in at 90 decibels. The starter kit only includes one 12V Lithium-Ion Battery which may push you towards buy­ing the larger kit from the beginning. And you've got to love Ridgid's lifetime service agreement.
King Canada
$69.99
Extras: One Battery, 30 pc. set
King Canada makes a basic oscillating multi-tool that has a 30-piece kit including sanding, cutting and scraping attachments. Unfortunately, it only comes with one battery, so when it runs out of juice you'll spend some downtime waiting for a fresh one. Speed is variably adjusted with a selector dial on the side of the tool. This is a no-frills multi-tool that is a bit heavy and, while functional enough, feels inexpensively manufac­tured. The advantage of this tool is its affordability and ability to do the basic job it was designed for.
Mastercraft Multi-Crafter
$139.99
Extras: One Battery, 15 pc. set
Mastercraft's cordless offering includes one battery and has a unique means of starting up. There is a power button which turns the machine on (turning on a small task light) and then a power-up button (+) and power down button (-) send the motor through various gradations of increasing and decreasing power. I found the mechanism to be a draw­back because of the slowness of it getting up to speed – each time you turn it on you need to ramp it up to your desired power level, which invariably involves wiggling the tool with each push of the button.

Rockwell Sonicrafter
$199-$229 (depending on attachment set)
Extras: Two Batteries, 21-100 pc. set
Rockwell's cordless Sonicrafter oscillating multi-tool is a sharp little tool with some visionary features, even on the charger. Rockwell will warranty a free battery replacement if the tool itself outlives the battery. The innovative ENERGY STAR*charger completes its charge quickly in 30 minutes while offering a built-in USB port for charging electronic gadgets. Rockwell's Sonicrafter is the only cordless unit to offer a detachable dust port for attaching to your shop vac, and it has a small task light for lighting dark areas. A removable adapter allows for expanded use of other manufacturer's blades and attachments which may be an advantage depending on where you live.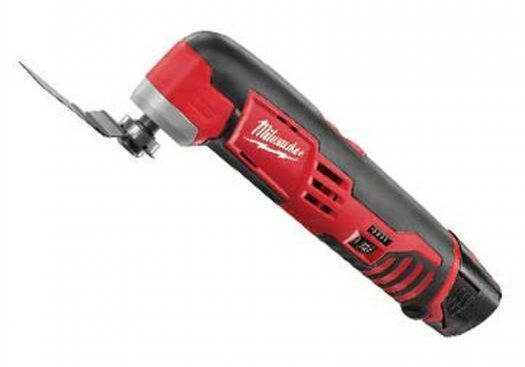 Milwaukee M12
$199
Extras: Two Batteries, 7 pc. set, adapter
Milwaukee's M12 Multi-Tool will likely look familiar to you – it is part of a system of sub-compact specialty tools all utilizing the same 12V Lithium-Ion battery, and two come included with the tool. For these tools, ranging from cordless drivers and impact wrenches to recip­rocating saws and camera kits, a 30-minute charger, and tools with battery fuel meters are standard. Featuring 12 speed settings on its dial the multi-tool also comes with an adapter which allows almost universal compatibility with its competitor's sanding, cutting and scraping attachments.
CORDED TOOLS
King Canada
$54.99
Extras: 30 pc. set
One of the most affordable tools of the bunch, King Canada's Multi-tool kit is very similar to its cordless counterpart. Its variable speed doesn't go slower than 15,000 opm, keeping it in the higher frequency end of the multi-tools. I found the nut and washer holding the blade tight kept coming loose under heavy use as I was undercutting door trim and jambs. The blades also were a bit disappointing, dulling quickly and beginning to overheat in their kerf. The cord length was about average at eight feet long.
ROK
$54.99
Extras: 25 pc. set
Sharing many similarities to the King Canada tool, the Rok Multi-tool also doesn't oscillate lower than 15,000 opm. A heavy tool, the blades on this one also loosened periodically. Its cord is short at 6 ½', nearly always requiring the use of an extension cord.
Haussmann
$59.99 ($19 for attachments)
Extras: Can purchase attachments separately
Sold by Rona, the Haussmann has a slightly larger slow start 2.2 Amp motor than the more common 1.8 Amp in most of the other tools, and perhaps for this reason was one of the quietest at 87 decibels. It is the only multi-tool to feature a built-in dust port which draws dust from around the attachment housing. My biggest frustration with this tool is its cheap hard plastic car­rying case. You may spend more time trying to fit its cord and attachments back into its tiny case than you will using the tool.
Fein MultiMaster
$239-$429
Extras: 24-61 pc. set
Fein makes a brilliant multi-tool and there are a number of different lev­els of units available at different prices. There is ample storage in the solid orange case for attachments, and the extensive Fein catalogue includes cir­cular offset blades, blades with depth stops, files, finger-shaped rasps and a unique profile sanding set for getting into six different types of grooves. The MultiMaster features a slow-start motor, a dust removal attachment, and powers a circular 4 ½" hook and eye sanding head. Perhaps most revolu­tionary is a quick-release hinge for tool-free blade changes, which will speed up your work. The cord, measuring 16' in length, nearly elimi­nates the need for an extension cord and the cutting blades were extremely durable.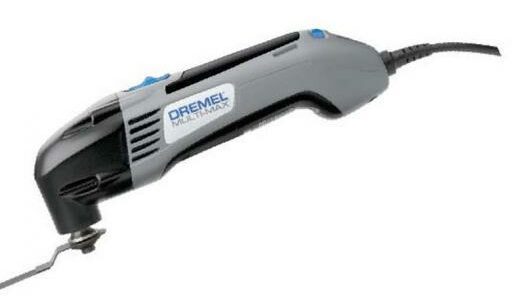 Dremel Multi-Max
$136.99
The smallest of the corded multi-tools with a 1.5 Amp motor, the Dremel has a light feel and a respectable number of attachments available for it. You can purchase rigid and flexible scrapers, and semi-circular wood and dry­wall blades as well as diamond paper and a carbide rasp for grinding various materials. The Dremel registered as the loudest of all the tools I measured at 93 decibels. Its carrying case is light and small yet spacious, with two spin­dles inside for holding blades in place during transit.
Rockwell Sonicrafter
$79-199
Rockwell's corded Sonicrafter offers a removable dust port, and a spacious soft carrying bag. It's a small thing, but there is a place on the cord to fit the Allen key, so it's always handy. Its cord length is a respectable 10 feet long and one of the innovative attachments unique to this tool is a felt pol­ishing pad for shiny and delicate surfaces such as chrome. This tool has plenty of power at 2.3 Amps and a variable speed dial that goes down to 11,000 opm.
Mastercraft Multi-crafter
$99.99
Mastercraft's corded Multi-crafter is a bit bulky with a 2.5 Amp motor and a weighty feel. Like the Rockwell, it comes with an Allen key holder on its short 6 ½' cord. It seems to be a mid-to-low end offering with average blades and a limited selection of attachments, fine for general use, but without some of the specialty features or attachments you would find with more expensive models.
Conclusion
Oscillating multi-tools fill gaps in the abilities of other more conventional power tools and can tackle challeng­ing manoeuvres like plunge cuts, fit into almost any space, and save you a lot of time and effort in the process – pre­cisely and safely. There is only so much variation in the tools themselves – an oscillating multi-tool capitalizes on a basic oscillating function in which there is very little room for innovation. Where the gap widens between the tools is in the attention to details, whether that's length of cord, means of changing attachments, or the overall quality and variety of the attachments.
There seem to be three categories of tools here: the industry leaders whose reputation is secured through innovative features, design and manufacturing of the highest quality, and strong warran­ties; the solid alternatives, which make what is perhaps the best value product and have a comprehensive but not exhaustive number of features and attachments without the frills; and finally the basic tools that perform the same function but generally opt for a lower level of performance and a more basic "fit and finish" in favour of being more affordable.
I would award "Best Overall" corded multi-tool to the Fein Multi-Master for the innovative advantages of the tool itself, its extensive and durable attachments, and great case. Fein has crafted an impressive pro­fessional-grade tool and invested heavily in making it as versatile as possible. Rockwell's Sonicrafter corded multi-tool offers a smaller but still respectable number of attach­ments, at a much more attainable price and is therefore my choice for "Best Value".
The Rockwell Sonicrafter cord­less would be my choice for "Best Overall" cordless multi-tool for the intentional design of its char­ger, dust port, task light and for its battery guarantee. While there are less expensive alternatives, my choice for "Best Value" would be the Dremel Multi-Max; the less expensive tools include only one battery and with a cordless tool like this you're going to want as much power as you can get. The Dremel Multi-Max has a wide variety of attachments available, a small but decent case, battery gauge and easy-to-use controls. Having said that, if you're needing the features of the additional heads available for the Rigid Job-Max, then purchasing it may be the best value for you in the long run – especially if you already own another Rigid 12V battery.
The nice thing is there's a multi-tool here for every budget and type of user, from the home improve­ment professional, through the dedicated do-it-yourselfer to the enthusiastic weekend warrior.