The D300 Panel Clamp is a new clamping system invented and manufactured in Canada. Designed to laminate wooden pieces from ¾" to 4-½" thick, and up to 38″ wide, the two parallel rails keep panels flat at each clamping point for perfect results. The electrostatic finish over the steel rails is durable and prevents glue from sticking.
Why It's Hot: The D300 clamp is much lighter than conventional clamps, so panels can be moved out of the way easily. Also, you won't need as many, since it keeps panels flat, so it speeds up the process before the glue sets.
Price: $74.95
This product is no longer available 
The new Rockwell BladeRunner X2 cuts wood, metal, PVC, plastic, aluminum and ceramic tile using standard T-shank jigsaw blades. This saw makes quick rip, scroll, crosscut, and miter cuts. At 14.7 lbs., and 6 ¾ in. H off the tabletop, the compact, portable saw sets up in seconds. The innovative, 3,000 spm saw is powered by a 5.5-amp motor.
Why it's Hot: BladeRunner X2's control arm assembly now accommodates longer and wider workpieces for ripping and crosscutting. A new blade guard assembly incorporates a splitter to help keep straight cuts on track.
Rockwell BladeRunner X2 (RK7323) $129.99
BESSEY is launching two new vertical toggle clamps in Fall 2014. These versions will be additional to the horizontal and inline toggle clamp models that are currently available and will retail in the $20 range. The vertical toggle clamps feature a holding capacity up to 700 lbs, a range of clamping force and openings up to 1 9/16 in.
Why it's Hot: These units are notable in that all models feature the ability to automatically adjust to work piece dimensions while maintaining constant clamping force and, to have adjustable clamping force.
The Rockwell Compact Circular Saw cuts 2×4's in a single pass. At 5 lbs., the compact saw is up to 50 percent lighter than full-size 7-¼" circular saws. Plus, left-handed blade design provides great cut-line visibility. Connect the 1-¼" dust port to a vac for a dust-free environment.
Why it's Hot: The compact saw is easy to transport and maneuver. Its slim, inline grip design provides comfort, balance and control. The compact saw makes quick depth-of-cut adjustments up to 2″. Its bevel cutting capacity is 0-45°. A push-button arbor lock provides fast blade changes.
Rockwell Compact Circular Saw (RK3441K) $129.99
Rockwell's new Sonicrafter F50 and F30 oscillating multi-tools are fast, real fast. In fact, they are up to twice as fast as competitors' oscillating tools. The F50 and F30 also feature industry leading oscillating angles of 5 and 4° respectively. These fully-featured tools are counterbalanced to offset vibration from faster speeds and increased oscillating angles. Working in cramped quarters with no light? No problem, two strategically placed LEDs on the F50 illuminate the work area for greater visibility.
The 4-amp F50 and 3.5-amp F30 work harder. These Sonicrafters keep working at 35 lbs. and 30 lbs. of force, while other competitors' tools bog down at 20.5 lbs. or less.
The Rockwell Sonicrafter oscillating tools have leaner, more tapered bodies, for greater handling and control. Plus, both multi-tools are equipped with true Universal Fit to accept every other brand's accessories. They also feature Hyperlock that locks-in accessories to eliminate blade slippage with one metric ton of force.
So what did all these upgrades cost consumers? Nada, nothing! The tools dropped in price!
Rockwell Sonicrafter F50 (RK5141K) $159.99
Rockwell Sonicrafter F30 (RK5131K) $139.99
The Rockwell Sonicrafters have a 3 year warranty.
Make plunge cuts up to 1-1/8″ deep in wood, tile, aluminum, plastic, and metal. The worm-drive gearing system provides greater power. Laser guide for easy tracking, and connects to a 1-¼" vacuum hose for dust-free cutting. Includes 3 blades, dust extraction adaptor, and edge guide.
Why It's Hot: Lighter and easier to use than a full-sized circular saw, especially when you need to make precision cuts. It's the ideal tool for making perfect cuts in hardwood and laminate flooring, cutting transitions, and wherever you need to make plunge cuts.
MSRP $99
Delivers 1,670 lumens of bright light for shop or work site illumination. Tilt the head to position the light exactly where you need it. Consumes only 20 watts of power, and has an impressive 30,000 hour bulb life. 5-foot power cord.
Why It's Hot: This LED work light provides bright lighting without the heat build-up and fire risk that's typical of halogen lights, making for a safer work environment.
MSRP:
KC-1601LED $49
KC-1602LED-ST $99 (includes 2x lamps PLUS stand)
The Oneida Air Systems family of Dust Deputy's are high efficiency cyclonic pre-separators for wet/dry vacuums and single stage collectors. Patented cyclone design separates 99% of the waste before it reaches your system. Made of static conductive resin and are simple to use. Compact footprint and can retrofit to any system. Made in the USA.
Why it's Hot: The Dust Deputy converts your single stage collector or shop vacuum into a super cyclonic dust collector. The Dust Deputy keeps the filter in your collector or shop vacuum from clogging during use and helps keep a constant air flow with no loss of suction.
See website for Canadian dealers oneida-air.com
In celebration of Grizzly's 30th Anniversary, they have taken two of their most popular saws and created a special edition color scheme that is sure to be the eye candy in workshops and small businesses nationwide. The G0513ANV is the exact same machine as the G0513 except for anniversary special edition colors.
Why it's Hot: For those that need a respectable cutting capacity at a respectable price, Grizzly offers this full-featured 17″ Heavy-duty Bandsaw. The 2 HP motor powers through wood up to a maximum 12″ cutting capacity, and the 16-¼" throat is plenty for most applications. Features include deluxe fence, heavy-duty miter gauge, dual 4″ dust ports, microadjusting geared table, and European-style blade guides. Feature-packed at a hot price!
Reg. $895 Sale $825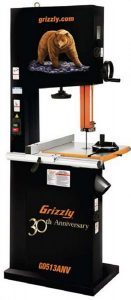 The G0555LANV 14″ Deluxe Bandsaw has many of the same great specifications and features as the extremely popular G0555, but with the following notable differences:
• Computer-balanced cast iron wheels
• Rack-and-pinion guide post adjustment for upper blade guides
• Sturdy T-shape fence design
• CSA certified meeting CSA C22.2 #71.2-10 and UL 987-8th standards!
Why it's Hot: This is the best selling 14″ bandsaw in the USA with industry magazine awards and reviews from end users. It features precision-ground cast iron table, quickrelease blade tension lever, deluxe extruded rip-fence, miter gauge and more and now comes in eye-catching glossy black color.
Reg. $545 Sale $525
Experience the pleasure of using sharp cutting tools like never before with this 8″ Grinder/Sharpener. Sharpen like a pro in no time for the best cutting edges imaginable! Ideal for wood chisels, carving chisels, lathe tools, plane irons, scissors, knives, axes and more!
Why it's Hot: You won't find another German-designed tool of this caliber, at this price, anywhere but Grizzly. Thousands sold at an incredible price.
T10010ANV Reg. 199.95 Sale $159.95
The Mini-Mite 3 T-Series utilizes a powerful 3-stage Turbine Motor installed in a durable Metal Turbine case. The lightweight and ergonomic T-Series Non-Bleed Spray Gun with Stainless Steel Fluid Components features an exclusive side mounted Pattern Control Knob and a High-Efficiency Air Cap for even less overspray. A 25ft hose with air control valve and quickconnect coupler included.
Why it's Hot: Award-Winning Hvlp Spray System – Best in Class! Ideal for spraying cabinets, furniture, autos or pianos. Anything wood or metal is easy and effortless with this system. The Mini-Mite 3 T-Series Turbine develops 6.5psi. Powerful and portable perfect for all fine-finishing.
Kreg Automaxx Bar Clamps are the clamp to choose for large, hard-to-handle assemblies. Kreg's proven auto-adjust technology lets you clamp quickly and easily by simply sliding the clamp heads against the workpiece, and squeezing the handles to close the clamp with consistent pressure every time.
Why it's Hot: Automaxx Bar Clamps make it easy to clamp hard-to-handle assembles. They use the same auto-adjust technology found on Kreg's Automaxx Face and Bench Clamps, so you simply dial in the pressure you want, and clamp with consistent pressure every time. Automaxx Bar Clamps are available in two styles and six sizes starting at $29.99
Whether you're a professional looking for performance and durability or a DIYer wanting accuracy and a multi-layer comfort grip, STANLEY's new FatMax High Velocity Hammers deliver it all. Hammer shafts have been created with a curve to increase hammer strength in addition to other features including claws that have been redesigned for improved nail pulling and magnetic nail starters on all but the drywall hammer provide convenient one-handed nail placement.
Why it's Hot: The 14-ounce checkered faced model 51-124 High Velocity Hammer strikes like a 28-ounce hammer but because it is lightweight, it provides a fast swing which helps to reduce fatigue.
$39.99 to $79.99
Available at RONA and other home centres.
DEWALT has expanded its 20V MAX/12V MAX heated gear line with four new heated jacket styles. New additions to the line include a khaki heated jacket with a hood (DCHJ064), a woman's heated jacket with a removable hood (DCHJ066), and two styles of heated hoodies (DCHJ067 and DCHJ068).
Why it's Hot: DEWALT's line of heated jackets provide the warmth and comfort demanded by building professionals and outdoor enthusiasts along with enhanced features such as robust metal zippers, reinforced stitching, added wind protection and metal hood snaps instead of Velcro.
$129 to $289
Available at Home Depot, Canadian Tire, Lowe's and other retailers across Canada.
Bostitch introduces a new Smart-Point nailer that is ideal for a wide range of woodworking applications including molding, chair rails, furniture and cabinetry. The Bostitch BTFP12233 Smart-Point nailer drives 18 gauge brad nails between 5/8-inch and 2-1/8-inches long. The Smart-Point nailer delivers the world's first micro-nose design while offering Dial-A-Depth control and tool-free jam release.
Why it's Hot: The Smart-Point technology allows the tool to place the nail in tight spots and eliminates the need to push against the work to drive a nail, thus reducing potential marks on the work surface.
$249 Available in 15, 16 or 18 gauge at home centres.
The Kreg Foreman Professional- Grade Pocket-Hole Machine lets you build with twice the speed and half the effort of a standard pockethole jig. You just pull the handle to start the motor, clamp the workpiece, and drill a perfect pocket
hole. Plus, the Foreman creates all three types of Kreg pocket holes: Standard, Micro Pocket, and HD.
Why it's Hot: The new Foreman offers the features previously found only on Kreg's industrial-duty pocket holes machines, but sells for less than half the price of its predecessor. That makes it a versatile, affordable, high-speed solution for pocket-hole construction.
$399.99
ROLAIR's new AB5 "Air Buddy" is the much anticipated follow-up to the popular JC10. This new ½ HP compressor is capable of delivering .7 CFM at 90 psi. The long life induction motor features manual overload protection and the manifold includes a regulator, gauges and a ¼" universal quick-disconnect. All of this weighs in at a modest 25 pounds.
Why it's Hot: The super-quiet and portable design of this compressor will make it a light trim/finish carpenter's best friend. Tucked safely inside the protective roll-cage, the AB5's motor-pump delivers plenty of air for finish work, while drawing only 4.6 amps.
Suggested Retail Price: $179.00 CAN
The Pro-Cut 50 Saw and Router System is the next generation table saw designed to accurately rip-cut and cross-cut boards or panels up to full 4'x 8' sheets with ease. Switch from the saw to router in seconds and the Pro-Cut 50 becomes a full size "X" and "Y" direction router table for taking full advantage of the countless operations a router is able to perform.
Why it's Hot: The Pro Cut 50 is a precision tool designed for ease of use and accuracy to replace a shop full of tools saving valuable space. It's fast becoming the tool of choice for many home workshops and professional custom woodworking shops.
Complete Package: $998
This product is no longer available
TASK Carabiner Clips offer unparalleled quality and practicality. Genuine Robertson 2-piece Screwdriver Bits feature hardened tool steel tips, colour-coded bodies, and the perfect cling-fit. TASK Impact Driver Bits (available in Robertson, Phillips, and Torx) offer superior performance for the most demanding professional end users and are laboratory proven to outlast and outperform all competitors' impact driver bits.
Why They're Hot: A ready supply of your most-used bits are always close at hand with TASK Carabiner Clips. The convenience, vivid colour coding system, easily shop-able displays, and the unmatched product quality make them the #1 bit clip program on the market. $11.99 (MSRP)
This Air Cleaner will not only keep your air crisp and clean, but it will also tell you when it's time to change the filter with the all new LED light indication system, a first in its class. With a powerful 1400 CFM 1/5HP motor, 3 speeds and a 3 year warranty, this is a mainstay for any workshop.
Why it's Hot: The LED light indicator will help ensure you are changing your filter when you are supposed to and are using your air cleaner as efficiently as possible. Also includes a remote control and ceiling mount. On sale for $399 (Reg. $499)
Looking for a 14″ introductory band saw with the power and features of a larger unit? You've found it! This machine features a powerful 1HP motor, 2 speeds, cast iron wheels, quick tension blade release, a large cast iron table, and a 3 year warranty. With 7″ cutting height and one piece body designed for stability, this great starter band saw has "big brother" features.
Why it's Hot: This saw also includes a free 28 minute DVD with complete assembly instructions, tips and techniques featuring Mark Eaton.
On sale for $589 (Reg. $799)
Find angles between two surfaces on inside and outside corners with ease. AngleFinder features an angle measurement readout, allowing you to set your angle once determined. The locking lever allows you to secure your angle in place while transferring it to your miter saw. The retractable edge guides allow you to transfer any set angle.
Why it's Hot: Are you looking for a tool that automatically divides inside and outside angles in half? Look no further the AngleFinder does all the work for you. MSRP $14.99
With the Milescraft DrillBlock, you can accurately drill holes perpendicular to any surface in wood, through glass, metal and tile. The vertical center lines on all four sides let you auto-center the DrillBlock on any flat surface. The non-slip TPE feet prevent slipping and maring while drilling.
Why it's Hot: The Milescraft DrillBlock allows you to drill straight holes every time on flat and round surfaces and on corners. DrillBlock combines solid metal steel with high-impact resin that dissipates heat for both hand and clamped drilling.
MSRP $9.99
The only Pantograph that comes mostly assembled right out of the box. This gives you a complete routing system including 3 router bits, 3 stylus tips, 2 stencil fonts and line drawings. All necessary hardware is included, all you need is your router and wood. Follow the design with your stylus and let the router do the work.
Why it's Hot: The Milescraft PantographPRO lets you expand your routers capabilities with fingertip control. Quickly connect/disconnect your router through the TurnLock Base Plate. Anything you can print out, you can rout.
MSRP $79.99
Position and drill perfect shelf-pin holes every time with the CabinetMate. This jig allows you to accurately drill eleven holes, spaced 32mm apart, in one setting. The two indexing pins and spring loaded, self-centering drill bit are contained in the closeable storage compartment. The custom spring-loaded-brad point drill bit allows the holes to self-center with the holes on the main body.

Why it's Hot: A stand-out feature of the CabinetMate is that it also allows you to mark the locations for euro-style hinges. This can be used on cabinets before assembly or already assembled cabinets. Even novice woodworkers can install wobble-free shelves.
MSRP $29.99
The Milescraft JointPro is the only doweling jig that allows you to drill up to six holes in one setting. This tool is all steel constructed. The bushing blocks are not only interchangeable they are also reversible for best results with standard board thicknesses.
Why it's Hot: The Milescraft JointPro allows you to quickly and accurately create stronger joints than pocket hole or biscuit joining. JointPro is a selfclamping system, which allows consistent alignment of boards. No marking or measuring required.
MSPR $69.99
Milescraft TriGrips have an innovative triangular design with TPE surfaces on three sides that give you more possibilities that any other work support. The cone shaped tip formed into one corner offers great support when painting.
Why it's Hot: The Milescraft 4-pc TriGrips elevate the work piece allowing users to rout, sand, drill, carve and paint without clamps.
MSRP $13.99
Sharpen dull and broken drill bits with Drill Doctor. Don't get stuck in the middle of a project and run to the store for a new bit- just sharpen it and get back to work. Drill Doctors can sharpen a wide range of point angles and drill materials, probably everything you own. Visit website to learn about special offers.
Why it's Hot:
• You already own a lifetime supply of drill bits. Now sharpen them and save money!
• Fast, easy, works every time
• Sharper than new results
• Saves money – pays for itself in just a few sharpenings
• Models to fit any budget
• Durable- three-year warranty
The Trend Complete Sharpening Kit contains: a precision double sided 300/600 grit credit card with extra thick plate and embossed grit sizes, a fine double sided half round/flat mini taper file, 100 ml. (3.4oz.) bottle of diamond abrasive lapping fluid, cleaning block and James Barry's Sharpening Made Easy DVD and booklet.
Why it's Hot: For a minimum investment, a woodworker can sharpen a multitude of products including: router bits, forstner bits, carbide and HSS inserts, turning tools, pocket knives, fluted tooling and much more. The set is supported by James Barry's easy to follow instructions in DVD and booklet format.
MSRP $99
An easy to use, dry sharpening system for chisels, plane irons, lathe & carving tools and more. Precision sharpening port has repeatable bevel angle settings: 20°, 25°, 30°, and 35°. Routed air flow and heat-sink cooling system. With NEW Tool Bar Attachment ($59.95): A faster, more consistent and repeatable way to sharpen lathe turning tools.
Why it's Hot:
• Sharp blades mean better results
• Complete, frustration free sharpening system for your woodworking tools
• Consistent sharpening results
• Dry, air-cooled sharpening means less water mess
Complete package: two glass wheels, one Edge-Vision wheel, complete abrasive kit, instructional DVD, and more! $249.95
The kit contains: double sided 1000/300 grit fine/coarse monocrystalline diamond bench stone,heavy duty fabric tool pouch, honing guide with precision roller, horizontal clamping and angle setting device, 300 ml (3.4 oz.) diamond abrasive lapping fluid, micro fine honing compound, cleaning block, non-slip mat and James Barry's 'Sharpening Made Easy' DVD and 'Sharpening' Booklet.
Why it's Hot: This kit is ideal for the sharpening and maintenance of plane blades, chisels, knives and the 300 grit side of the precision bench stone is perfect for the flattening of water and oil stones so this kit is an all around sharpening polishing and flattening system.
Suggested Price $239
Producing razor sharp tools and finely finished bevels has moved from an art to a science. Any grinding job from skews, scrapers, bowl gouges or roughing gouges are all easy prey for this jig. The Wolverine will speed up your grinding, give you sharper tools and prolong the life of both tools and grinding wheels.
Why it's Hot: Makes sharpening skews and gouges a snap, which means less time grinding and your tools last longer. Easy to set up. The best investment an amateur or occasional woodworker can make.
$87.95
A patented formula that helps indicate when your project is ready to be sanded, painted or stained to make the wood look just like new! Use it to fix holes, dents, and other defects on interior wood surfaces! Now available in two colours and sizes! Goes on Purple, Dries White and Goes on Pink, Dries Natural in 114g or 227g.
Why it's Hot: Elmer's Wood Fillers resists shrinking and cracking. This non-toxic and solvent-free wood filler is a perfect item to have around the house. The dry time can be seen right before your eyes! Just after 75 minutes you will see the pink or purple fade into white or natural colour.
MSPR: $3.99 114g
$5.99 227g
This system combines a large double-sided continuous diamond sharpening stone with a one-of-a-kind magnetic base. The stone enables longer and more consistent sharpening strokes for a variety of tools and blades, while the base affords quick and easy grit changes. As a whole, the system offers the ultimate in two-stage sharpening and delivers Made in America quality and performance.
Why it's Hot: DMT's largest continuous diamond surface; each side measures 12″ x 3″
• Available in Coarse/Extra-Coarse and Extra-Fine/Fine grit combinations
• Precision-flat surfaces accommodate all sharpening including small or pointed tools
• Unique MagnaBase enables quick grit changes; offers safe knuckle clearance and stability
MSRP $199.99
Forrest Manufacturing has taken its award-winning general purpose saw blade to a superior level of performance. The new 1048 Woodworker II has more teeth, a higher bevel and sharper points than the original 40-tooth Woodworker II, making it exceptionally good for cross-cutting everything from soft woods to plywood. It cleanly slices through wood fibers and operates quietly with virtually no vibration.
Why it's Hot: Cross-cutting involves severing the fibers in the grain, often resulting in splintering or a fuzzy cut. The 48-tooth Woodworker II eliminates those problems. It also produces smooth rips without side scoring or splintering, making it a good all-purpose combination blade.
Price: $146.00
The Dremel 3D Idea Builder is a high quality 3D printer that goes above
and beyond your imagination, turning your ideas into reality. The software and touch screen are easy to use and the unit is fully enclosed for safety. The PLA filament is plant based and recyclable and available in 10 dynamic colours (sold separately).
Why it's Hot: The most innovative technology right in your home; unlock the creativity within your family. Easy to use straight out of the box, you're ready to start building anything you need or want, or anything the world has been waiting for.
Dremel 3D Printer
Model #3D20-01
MSRP $1,299.99
Introducing the next generation, the new FEIN MultiMaster FMM 350 Q
Made in Germany, state-of-the-art design featuring a unique anti-vibration system for minimum physical strain and safe working. Powerful 350 Watt motor with high copper content for continuous use and maximum power, combined with outstanding noise insulation, low weight, and easy handling.
Why It's Hot:
• Up to 35% more power!
• Up to 50% less operating noise!
• Up to 70% less vibration!
• Dare to compare!
Sold in sets starting at $199.
With the Roll&Stow you can stow, organize, and carry a wide range of supplies and tools. As a carrying case it can carry up to 40 pounds of job related accessories. The base serves as a mobile cart accommodating most paint trays, cans, pails and objects up to 150 pounds. As an anti-drying unit Roll&Stow stores paint, brushes, and rollers for up to 7 days without drying.
Why It's Hot: Improves Painting Productivity saving hours and valuable dollars. A product that is convenient, efficient, and a cost-effective way to organize, store, and transport supplies. Watch the videos!
The Vecturo oscillating multitool provides the ultimate in versatility by combining unmatched functionality and power with exceptional controllability to deliver precision cutting in the trickiest of places. The ergonomic handling and industry-first tool-less base allow for easy mounting of the Plunge Base and Depth-Stop, which translates to faster, more comfortable work with less downtime.
Why it's Hot: The accuracy capabilities. The Plunge Base allows users to achieve accurate, to-the-line cuts anywhere in the material, while the Depth-Stop provides depth control for exacting plunge-cuts. The first of- its kind tool-less adapter allows both accessories to be installed and removed quickly.
All-steel frame mounted on a sturdy steel base with one swivel caster and two 7″ wheels for smooth mobility. 1HP motor and 10″ precision spin-balanced impeller provide smooth, quiet operation producing a maximum of 506 CFM. Supplied with 4″ hose inlet and a 1 micron canister filter.
Why it's Hot: Affordable portability; an ideal dust collection solution well suited for small shops where mobility and single machine hook-ups are required. The 1 micron canister filter provides the same ultra-efficient filtration as any full-sized dust collector.
10-030CF Retail Price: $399.99
This product is no longer available
Powerful 2 HP 15 amp motor with thermal overload protection. Helical head comes equipped with 26 reversible two-sided carbide inserts and a pre-set stop for repeat planing to four commonly used stock thicknesses. Inset lifting handles and front and rear fold-down extension tables for easy storage.
Why it's Hot: Professional planing results from a portable bench top planer are now within reach. Cutterhead is supported at all four corners by threaded posts for maximum head stability and minimal workpiece snipe.
30-005HC Retail Price: $699.99
This product is no longer available
The NOVA Infinity Quick Change System is the ultimate woodturning chuck system that will speed up productivity. This system is powerful and versatile enough for all woodturning needs. The only system you'll ever need. The Infinity System not only includes our new Infinity chuck but may be retrofitted to your NOVA Chuck so you can upgrade them to quick change.
Why it's Hot: The NOVA Infinity Quick Change System is the hottest chuck on the market. Powerful, Versatile, and Quick Change make is the only chuck system you'll need for all of your woodturning projects.
Promotional price $269.99.
Sturdy build with a full cast-iron head, tailstock, and bed. 3 variable speed ranges from 300-3600 RPM with forward/reverse switch, ideal for turning and sanding operations. Maximum distance between centers of 17 5/16″ with 12″ swing and a 180° pivoting head for outboard turning.
Why it's Hot: A mini-lathe with all the features and performance needed for serious turning. Precision electronic speed controller with digital display allows turners to dial in the exact spindle speed they need for their most demanding projects.
25-200 Retail Price: $829.99
This product is no longer available
Sturdy welded steel frame, precision-balanced wheels and a large 21 ½" x 15 ¾" cast-iron table for smooth, vibration-free performance. Powerful 2/3 HP 6.5 Amp motor with 2 blade speeds for ideal results in both soft or hard woods. Multi-size dust port fits 2″, 3″ or 4″ dust hose.
Why it's Hot: The latest offering from a great family of quality bandsaws. With its 12″ inboard rip capacity and 6 ½" maximum resaw, the 90-040 is the ideal saw for many small wood shops.
90-040 Retail Price: $559.99
This product is no longer available
An enhancement of the T-3 model taking the precision and stability to a completely new level. Vital functions like the motor and the main shaft are mounted in the zinc cast top that includes the integrated sleeves for the Universal Support which is the foundation of the Tormek jig system.
Why it's Hot: You get a high quality machine which can sharpen all the common edge tools. Delivered with the Stone Grader SP-650, AngleMaster WM-200, Honing compound, DVD and the comprehensive Tormek Handbook on sharpening. Complement the T-4 with your choice of jigs according to the tools that you are to sharpen. (The jigs are sold separately).
Tormek CEO Håkan Persson explains: "We have been able to improve the rigidity by 300%. Also, with a new Tormek design (patent pending) of the sleeves for the Universal Support we have been able to minimize the play by 50%. Combined, these improvements will affect your control of the sharpening – and increase the precision of your result."
The new cast zinc top section also has an integrated handle, an appreciated feature that makes the machine easy to move and position.
Price $399.00
JessEm's new Clear-Cut TS Stock Guides for your table saw will provide you with safety and precision while preventing kickback. These unique guide rollers are mounted on a 5° angle effectively steering your stock towards the fence. The roller arm holds your work under spring pressure to ensure your work is held firmly in place. Setup is fast and easy.
Why it's Hot: With Clear-Cut TS Stock Guides you won't have to struggle to hold wide boards or large panels as you try to feed it through your saw blade. You will achieve safer, smoother, more precise cuts as your work is always held in position.
Price: $249.99
Drilling square holes is easy with RIKON's new #34-260 Mortiser. It features a mechanic's-type vise to hold your work, while the table easily moves left & right, plus, forward & back on dovetail ways. Control wheels let you exactly position your work for drilling mortise holes. Powerful ½HP motor won't bog down when working the densest hardwood. All metal construction.
Why it's Hot: It offers outstanding table movement and control for boring precise mortises. Includes ¼", 5/16″, 3/8″ and ½" mortising chisels and bits, 6″ extension rods, depth stop and a tool holder. 5 year warranty.
List $349.99. Available at Authorized RIKON Dealers.
Designed to give wood turners what they have been asking for in a small scale lathe. The #70-220VSR lathe features a powerful 1HP motor, big 12-½" diameter x 20″ long turning capacity, 24 position index head, and 2-½" ram travel! Plus, its Electronic Variable Speed control gives optimum management of turning speeds in forward or reverse mode.
Why it's Hot: The heft of machine will be appreciated, as will the ease of adjusting the speeds (250-3850 RPM), or positions of the tool rest and tailstock.
Just like the big boys. List $649.99. Available at Authorized RIKON Dealers.
Wood turning is easier and safer with the new Badger Spur Center from Big Tree Tools. Its innovative spring-loaded safety guard automatically protects you from the 4 rotating spurs during turning. No tools or your hands will accidentally come in contact with these sharp objects! Spring-loaded center point allows easy mounting, stopping and removal of the workpiece from the lathe.
Why it's Hot: Patent pending design offers exceptional user safety and convenience for wood turners of every skill level. Use for spindles as small as ½" diameter! #2 Morse Taper fits most lathes.
List $79.99. Available at Authorized RIKON Dealers.
The Starter Set has everything a new wood carver needs. It includes 16 interchangeable blades, cutting knife, quick connect handle, and a power handle. There's also a SlipStrop, gold polishing compound and an owner's manual showing how to care for the tools. Plus you'll find a free step-by-step, instructional DVD for a great first project.
Why it's Hot: This Starter Set contains profiles not included in any other interchangeable set. So it's a great way to add to your collection and save money.
SK108
SRP: $203.95
Flexcut knives are precision made for maximum performance. Their high-carbon steel blades have durable points, hold an edge extremely well and are easily maintained by simple stropping. Each knife is expertly hand-sharpened and tested before shipping, so it's ready to use right out of the package. Comfortable, curved ash handles allow for long periods of carving without hand fatigue. In addition to those pictured, a wide range of knives are available to handle every task from roughing in to fine detail carving.
Why they're Hot: Flexcut knives are versatile, well-engineered tools, 100% North American made, assembled and sourced. The top pick of pro carvers, hobbyists and woodworkers around the world.
Cutting Knife KN12 SRP: $19.95
Detail Knife KN13 SRP: $20.95
Roughing Knife KN14 SRP: $22.95
The 6-Blade Carvin' Jack is the world's first folding multi-tool for woodcarving. It's equipped with 2 scorps, straight gouge, a hook knife, chisel, and a detail knife. You also get a slip strop, a bar of Flexcut Gold polishing compound to keep your blades sharp, and a leather belt-mounted sheath that looks good with jeans or even your better pants.
Why it's Hot: The only tool like it in the world – a woodcarving set in your pocket.
JKN91
SRP: $149.95
Using a fully adjustable precision sharpening guide, variable speed and wide flexible abrasive belts it sharpens pocket & hunting knives, serrated knives, kitchen knives and any other shape or type of blade you own. Professional blade makers like Ken Onion use flexible belts to put a razor sharp edge on their blades, now you can have the same technology in your home or shop.
Why it's Hot: The combination of Work Sharp engineering and Ken Onion's industrial design has created a fast, easy and stylish way to sharpen all your knives and tools with precision and repeatability.
$149.95 CAD FREE SHIPPING
Drill guide helps align drill bit with the work surface for precision alignment. It's similar to a drill press, but portable! Can be used on corners, round and flat surfaces. Drill guide sized for drill bit sizes: 3/8″ to ½". Made in USA. Drill sizes: 3/8, 25/64,13/32, 27/64, 7/16, 29/64, 15/32, 31/64, ½".
Why it's Hot:
• Drill straight – every time!
• Lifetime Warranty on every guide
• 90° "V-groove" design allows perpendicular alignment on round and cornered material
• Guides are made from a special nickel alloyed steel that is heat treated for durability
• Pocket-sized
MSRP: $29.95.