Relatively safe, flexible and easy to use
Will cut sheet goods, lumber, laminates, solid surfaces, some metal, etc.
Portable enough to easily fit into most vehicles
Will not take up permanent space in a small shop
Not confined to cuts that are parallel to a fence
Can be set up to cut more than one piece of material at a time
Produces cuts that minimize splintering
Offers excellent dust collection
Clamped cutting requires a bit of set-up and take-down time
Possible to make mistakes with setting the track up if you're not paying careful attention
Can only clamp and cut material wider than the offset distance between your clamps and the edge of your cut (ripping narrow material is out)
All three companies use lightweight aluminum tracks with a groove that holds a clamp from below while guiding the saw above. The track bottoms have slip-resistant rubber padding so that they will not mar the surface of the workplace beneath them and for some cuts you may use the tracks without clamp­ing them down. Plastic runners on the top of the track reduce friction so the saw glides along with minimal resistance. On the edge of the tracks, a replaceable zero-clearance splinter-guard stops the blade from pulling wood fibre upwards as it exits the cut.
Makita and Festool's tracks are simi­lar. The off-set between clamp and blade, and therefore the narrowest clamped cut you can make, is 5 ¼". DeWalt's track is unique in two notable ways: it is nar­rower than the others, making possible clamped cuts as narrow as 3 ¾", and it is double-sided, allowing you to cut in either direction, saving you the hassle of removing clamps and spin it around between cuts. Festool's eight tracks come in a variety of lengths from 32″ to 197″. DeWalt's three range from 46″ to 102 " and Makita's two on offer are 55″ and 118″ long. It's possible to connect tracks of different lengths for extra-long but still accurate cuts. The guide rails are also compatible with other tools like routers, and each company sells a mitre guide for setting up angled cuts.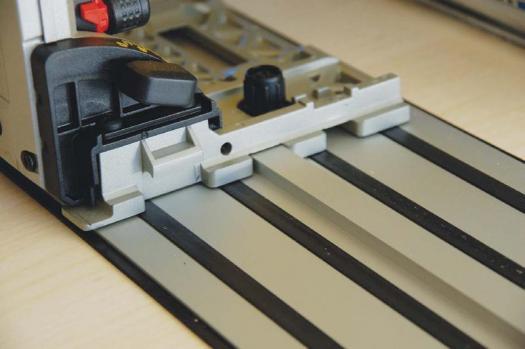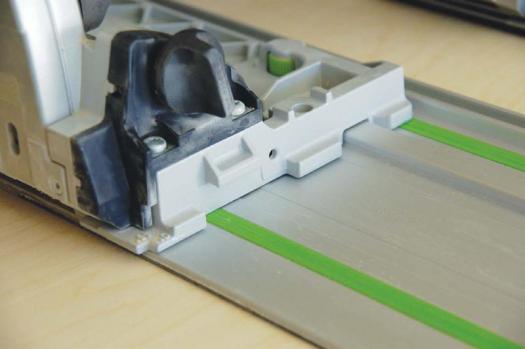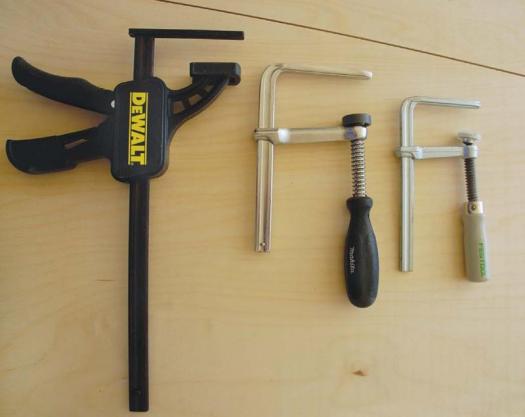 On a busy day, the time taken to tighten and remove clamps can add up, so design is important. Festool offers three types of clamps: Standard f-clamps in two sizes, ratcheting Quick-grip clamps, and a pistol-grip Rapid Clamp allowing for the fastest set-up primar­ily on sheet goods. Makita's guide rail clamps are mid-sized F-clamps – unfor­tunately, I found the ones I tested to be difficult to move in their groove, stick­ing in the tracks. DeWalt has on offer a ratcheting handle-style bar clamp simi­lar to an Irwin quick-grip clamp. Larger clamps like the Festool and DeWalt ones allow a work piece to be sandwiched between a bench top and the track for greater stability, but the small Festool standard f-clamps can sometimes be an advantage in tight situations.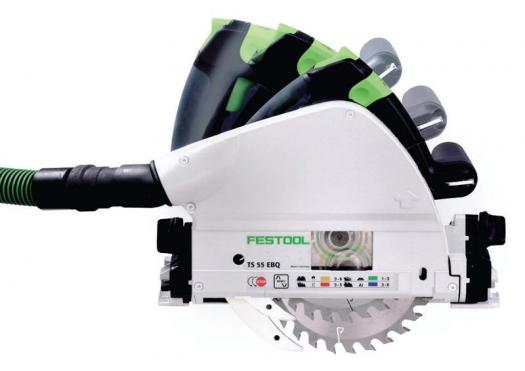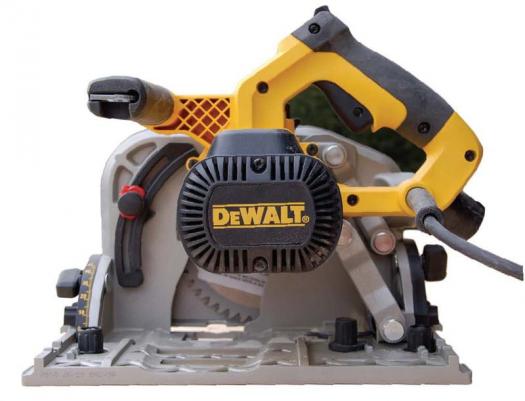 All three saws feature a soft start motor, variable speed adjustment for a variety of materials, an automatic brake, a swiveling dust port and a glide adjust­ment to regulate lateral play as the saws fit onto their tracks. The Festool and Makita saws are hinged at the back and pivot forward, while the entire DeWalt saw plunges forward parallel to the base as it's lowered. I found when using the DeWalt that I needed to hold the base from moving forward on the track as I plunged the saw for greater control. The Festool and DeWalt seem the saf­est: both feature riving knives for cutting solid wood and the ability to stop kick­back. Festool's approach is to clamp a stop onto the track so the saw cannot jump backwards during a plunge cut while DeWalt has integrated continuous kickback protection into the base of the saw so that, when engaged, a camming device allows the saw to move forward only. The Festool TS75 EQ also contains a slip clutch; in the event you were cut­ting a piece of reclaimed wood and hit a nail the likelihood of damage to the saw, or injury to its operator, is reduced. This feature is not available on the smaller Festool TS55 EQ.
Depth stops are standard on the saws, but I liked the speed of the positive stops set in millimeters and smooth functioning of the Festool push-and-slide adjustment. I appreciated the imperial measurements of the DeWalt saw and that the depth scale included the thickness of the track reducing mental arithmetic, although undoing and tightening a knob to adjust it seemed cumbersome as it did with the Makita depth adjustment. The Festool TS75 is the largest and heaviest of the saws at 13.6 lbs and will cut to a depth of 2 ¾"; the smaller Festool TS55 weighs in at just under 9.92 lbs and cuts to 1 15/16″, the DeWalt is a solid 12 lbs, cutting down to 2 ." and the Makita at a mere 9.1 lbs will cut to an impressive 2 3/16″. If light­ness is preferred, the Makita delivers the best depth of cut to weight ratio.
The DeWalt and Festool saws come with long cords around 13 feet, which is a necessity when circumnavigating a sheet of plywood, while Makita's is shorter at only eight feet long. Festool's removable cord is a handy feature given the possibility that it will take some abuse over the years. Makita has put a bit more attention into their bevel fea­tures, including positive stops and a range of -1 to 48 degrees and a smart little safety clip to keep the saw from tipping over while making a bevel cut. Makita's accessory dust bag did surpris­ingly well at collecting the majority of off-cut dust and I wish one was avail­able for the other saws. Results for all three saws when connected to a vacuum were great.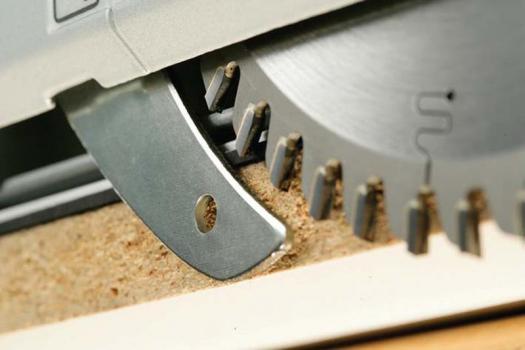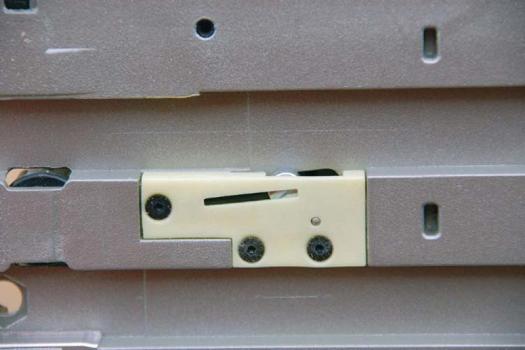 Festool is the only saw that provides splinter protection on both sides of the blade. An adjustable plastic secondary splinter guard is mounted on the hous­ing and the blade cuts through it to create a second zero-clearance guard on the off-cut side of the blade, although the results not using the second splin­ter guard are still great. I think of the secondary guard as an insurance policy when dealing with expensive veneered materials. The results of the Festool saw cuts are excellent and predictable with a finish nearly worthy of a jointer.
Makita's approach to clean cuts is to make the cut in two passes: the first is a scoring cut and there is a dedicated depth stop button which allows the blade to cut 2mm deep; the second cut goes to just below the full depth of the work piece to minimize tear-out. The result­ing amount of tear-out is minimal but I found that there was consis­tently some chatter left on the cut edge of the work piece and obvi­ously it takes more time to take two passes with the saw. Out of curiosity, I tried to omit the scor­ing pass and the tear-out on the off-cut was more significant.
Although DeWalt does not make a provision for minimiz­ing tear-out in the off-cut, I was impressed with the results of the cuts. They were as tear-out-free as the Makita with two passes. Chatter was not visible on the DeWalt, nor was tear-out a problem during my testing.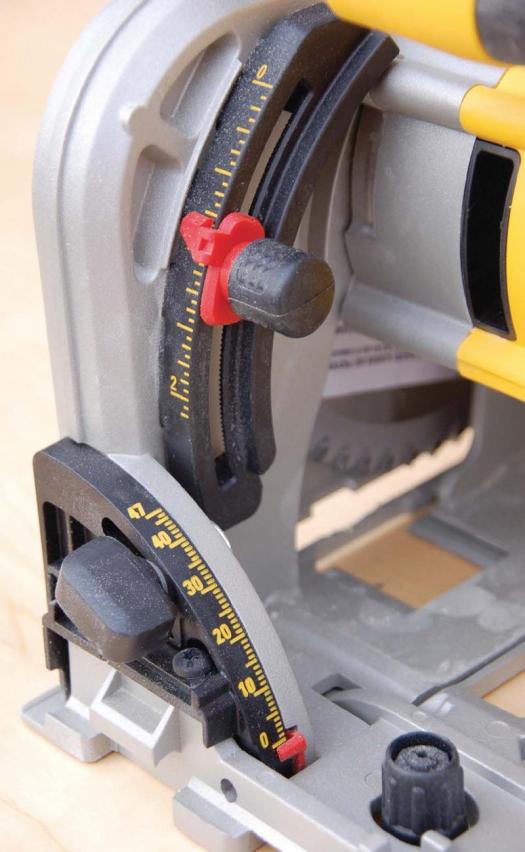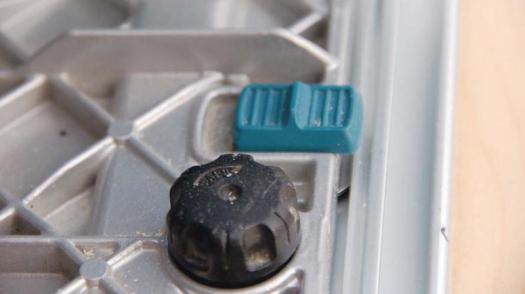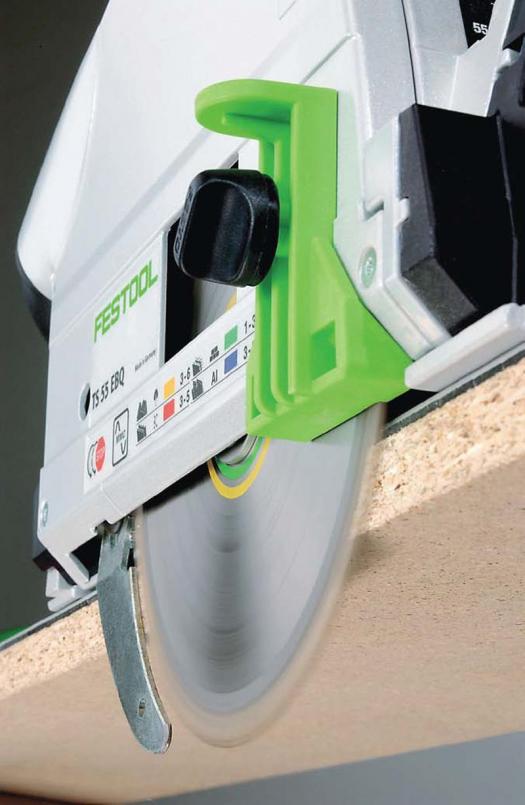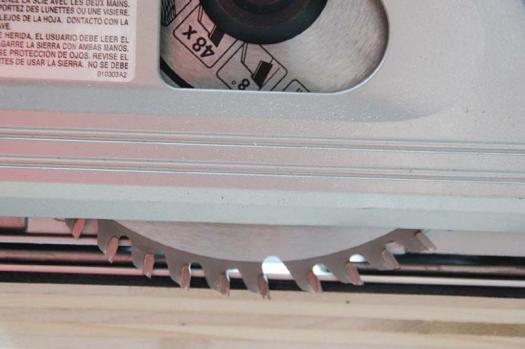 Each of these three saws was a pleasure to use and each offers something unique, depending on your priorities and budget. As a saw, the Makita SP6000K's strength would be in its bevel settings, that there is a plan to address tear-out through the scoring cut. That it's over four pounds lighter than the Festool TS75 and about three pounds lighter than the DeWalt may be significant. At $478.80, it is the best value if you are on a limited budget and includes a 55″ guide rail. Limitations include its lack of a riving knife or other form of kickback protection, its short cord, and clamps.
For me, the DeWalt DWS520K saw with its narrow dual track and its clamping system is versatile and innovative and sells for $599.99 with a 59″ track. I was pleased with the cuts that it made and features that it offered. DeWalt has built safety features into their saw that gave me piece of mind when using it.
Of the three saws the Festool TS75 EQ seems positioned to deliver the safest, most predictable and refined results: the cleanest cuts with the secondary splinter-guard, great­est cut depth and a range of clamps and accessories. It is a larger saw than the other two reviewed, and as such it deliv­ers greater performance due to its capacity of cut, and power of motor. It is also the most expensive at $790.63 including a 75″ track. To compare a bit more closely with the DeWalt and Makita saws is the smaller Festool track saw: the TS 55 EQ which at $632.50 includes a rail at a comparable length of 55″. If I had to choose a saw to send through a slab of solid surface countertop worth a couple of thousand dol­lars or a sheet of expensive veneer that I had gone to great lengths to produce, the Festool Saws and the TS75 EQ in particular would be my saw of choice. Peace of mind can justify a slightly higher initial purchase price that I won't later regret.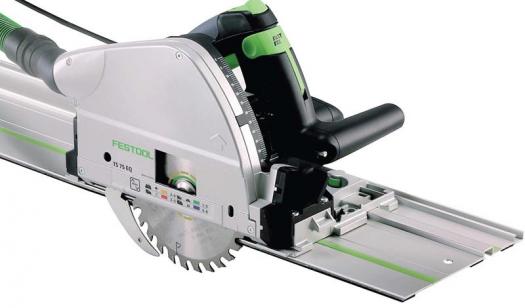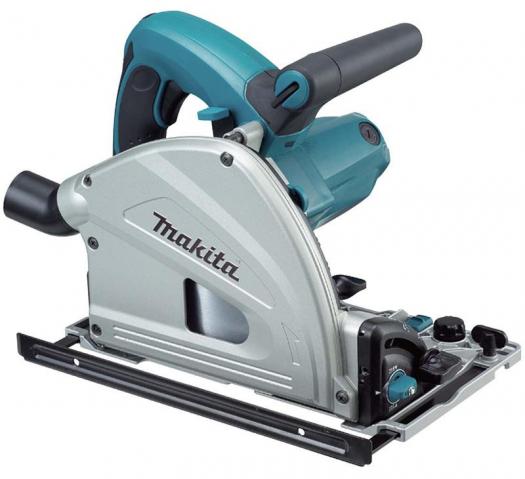 The Veritas and Black Jack Tool Guides
Another alternative to a track saw is to purchase a track and supply your own saw. Two power tool guides on the market allow for use of a router as well: Lee Valley's Veritas Power Tool Guide and the Black Jack Power Tool Guide from Workshop Supply. Both systems provide a track that can be used as a straightedge to guide a saw or router along its length, and both companies sell a means of attaching the tools to the guide for greater accuracy.
The Veritas track itself comes in three different lengths (100″, 52″ and 48″), which allow ripping and cross-cutting of sheet goods and the two shorter tracks can be connected with excel­lent results for long cuts. Two different clamps sizes (1″ and 2″) are avail­able, which dovetail into the bottom of the track and fasten the track to a work piece, and you can also purchase a position stop, which will limit the distance of your cut. With the Veritas system, you'll need to make a base out of ¼" plywood to bolt through the bot­tom of your saw and that will attach to the 12″ traveller accessory, which is pre-drilled and tapped with supplied screws. I found some minor lateral play between track groove and traveler hook but with some low-friction tape (sup­plied) it tightened up and ran smoothly. Low-friction tape on the bottom of the plywood base plate also made for a smoother cut.
The Black Jack guide is a bit longer than the Veritas one and consists of two 55″ rails and one connector mak­ing long diagonal cuts of up to 109″ on a 4'x8′ sheet of plywood possible. The track clamps are fixture clamps that are finger adjustable with a rubber pad on the bottom and open to approximately 1 ¾". Blackjack also makes a universal base of PVC with a high-density poly­ethylene traveler, which is compatible with the rail to which you attach your own circular saw or router. The ini­tial fit between base traveller and track was tight to the point of making travel nearly impossible but being of a soft material you can tune it up yourself by sanding or shaving slightly where necessary.
I found the tracks comparable in terms of machining and accuracy but preferred the Veritas clamps. They seemed more finely machined and less gangly than the Black Jack ones. The Veritas aluminum traveller seemed more durable than the Black Jack poly slider, which could wear over time but it was nice to be able to pull the base and slider out of the box ready to use and not have to connect them, or hope that I had a piece of ¼" ply of the cor­rect size lying around.
One of the minor inconveniences of these systems is that you will need to make two marks on your work piece: the first where you want the cut to be and then the offset mark which will allow you to set your track. This will take a bit more time than using a track saw with the advantage of zero off-set between blade and track but you can use a block of wood cut to the offset distance to keep from measuring each time. The system stops short of being an accurate or safe plunge saw but is a viable option for making relatively accurate through-cuts in a variety of materials.
A basic kit contains two clamps, two guide rails and a connector; the Black Jack system retails for $145 and the Veritas guide for $175. Overall, this system is a great option for occasional use, if you have a limited budget, already own a circular saw and if you factor in a bit more time to set it up and remove the base so the saw can be used for other projects.
www.leevalley.com
www.workshopsupply.com