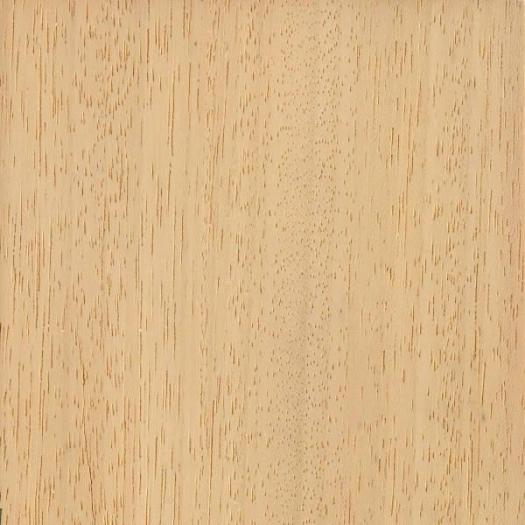 Obeche
Triplochiton scheroxylon
Obeche is an African hardwood that is heavily used within its natural range. It is native to Central West Africa, primarily the countries of Nigeria, Ghana and the Ivory Coast. A tall tree reaching over 150 feet in height with impressive 5-foot diameters, it produces large amounts of clear knot free lumber and veneer.
While impressive in size, Obeche has a featureless and muted appearance with little of the 'eye candy' figuring that attracts woodworkers. Overall, its colour is a creamy white to a straw yellow. There is very little difference in colour between the sap and hardwood. This helps produce the large yields of lumber and veneer as there is no dark coloured sapwood to remove. The white colour also makes it a good choice for pulp production and the manufacture of particle and fiberboard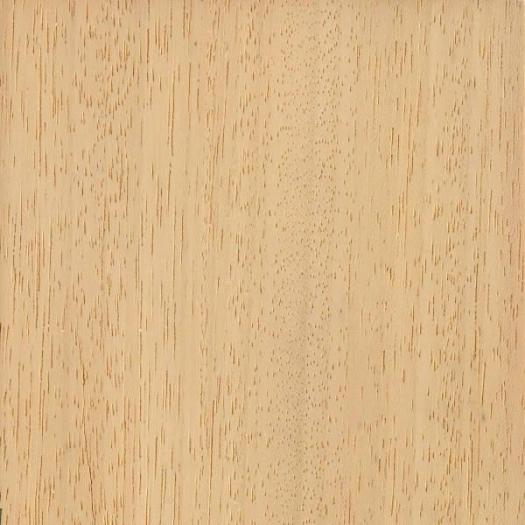 Obeche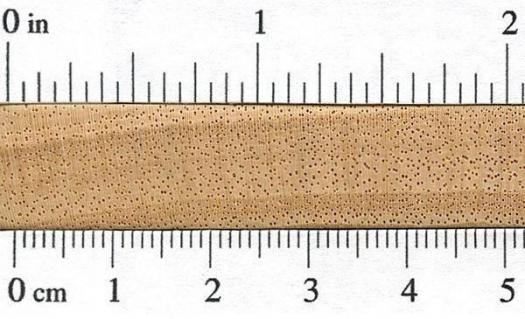 Obeche end-grain
The grain has a medium to coarse texture and is usually interlocked. This interlocked grain will give it a striped appearance on quartered material. It is lightweight with low strength and stiffness. However, it does have a respectful strength to weight ratio. It is a poor candidate for steam bending. Obeche is not durable, prone to attack by insects and fungi. This wood must be stickered immediately after cutting to prevent blue staining on the lumber. Once dry it is very stable. Large logs may show brittle heart after drying, but Obeche usually dries with very little degrade. The wood works extremely well by hand or machine. Sharp tooling may help prevent 'crumbling' when sawing or machining.  here is very little wear on tooling when processing Obeche. It holds nails and screws well. There are no problems with gluing. This wood stains well and staining is an important technique to add visual interest to projects using Obeche. It polishes to a high degree aided by its natural lustrous appearance. Obeche can use a light filling to help make an outstanding finish.
Within its range, Obeche is used for all sorts of interior projects. Railings, small boxes, mouldings, carving and cabinet frames are typical uses. North American woodworkers are most likely to see it as a plywood or veneer. Obeche is the premier wood for sauna interiors especially for surfaces that contact the skin.  This is due to its lack of splinters and low resin content. Obeche is also resistant to heat and shows poor heat attention, which further offers protection to delicate skin.
Obeche has found a home in the craft and hobby world when it is in model aircraft and miniature furniture. Korina is another common name for Obeche, and it was the wood used to make the original Gibson Flying V electric guitar. It is still used for solid body guitar construction due to its light weight and the availability of one piece bodies.
Obeche is now a common item in the inventory of specialty lumber dealers. It is also one of the least expensive imported species. It can be adapted to a lot of woodworking projects if you are prepared to work with its characteristics. For the furniture maker, secondary woods and mouldings are an ideal application. Given that there are a few environmental concerns, Obeche is a good choice for those interested in exploring tropical woods. Just remember that can of stain!
More about Obeche
Last modified: July 19, 2022
---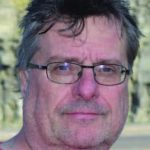 Peter Mac Sween - [email protected]
Peter's woodworking journey began with a career in carpentry followed by a decade buying and selling veneer. His spare time is spent abusing his guitars and exploring the great outdoors.
---
More woods to explore
Spalted maple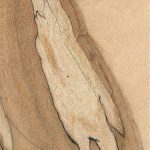 Australian blackwood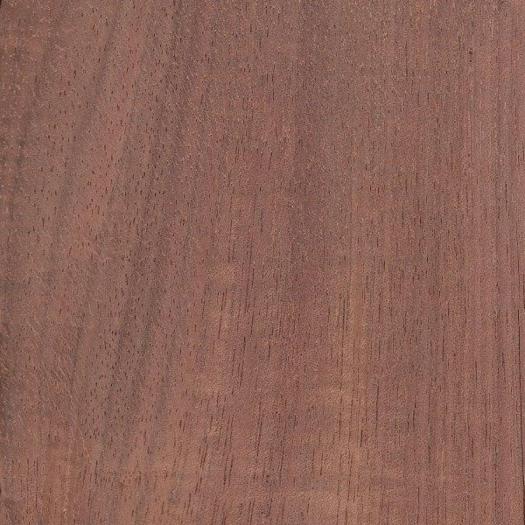 American chestnut