Abranet is an abrasive that's unique from standard sandpaper. It features a net structure instead of a conventional paper backing. The open-weave net structure means that no dust particle is more than 0.5 mm from a dust extraction hole. With your sander attached to an efficient dust extractor, Abranet delivers virtually dust-free sanding. Available in a wide range of for­mats, including 5″ and 6″ disc sizes, sheets, belts, rolls, and strips, Abranet abrasives can be used for sanding raw wood, fillers, primers, lacquers, com­posite materials and a wide range of other materials.
Mirka.com
Low vibration, quiet run­ning, comfortable to hold, minimal heatup and stellar dust pickup make Mirka DEROS a favourite among professional finishers and avid woodworkers. The light­est electric sander in its class, the DEROS features a 350-watt brushless motor (comparable to a 500-watt brushed motor) that's virtually maintenance free, delivers a longer tool lifespan, and more efficient speed and power transfer. The 5 mm orbit delivers fast stock removal and leaves a fine scratch pattern. Electronics ensure a soft start and constant speed under load. DEROS sanders are available with a 5″ or 6″ pad.
Mirka.com
Festool's class-leading router is now even better. Column clamps on both sides make the router extremely torsion-resistant, guaranteeing per­fect routing results. Users have a clear view of the routing bit, ensur­ing results with absolute precision. Router bits can be changed quickly and easily, and routing depth can be adjusted to the nearest 1/256″ (0.1 mm) in seconds. A wide variety of accessories, including a guide stop, template bushings, guide rails and the LR 32-hole drilling set, considerably extend your routing capa­bilities. Combined with a Festool mobile dust extractor you get virtually dust-free routing.
Festoolcanada.com
Fisch Wave Cutter drill bits feature a scalloped (wavy) edge rim. The scalloped edge cuts quickly, produces less friction, decreases heat buildup and improves chip ejection. The bits are ideal for drill­ing splinter-free, true-to-size blind holes, for edge drillings, and slant drillings in softwood and hardwood. The wavy peripheral cutting edge also prevents the cutting edges from wearing out. They're available in a wide range of diameters, from 1/4″ to 2-1/8″ in Imperial styles, and 15mm to 68mm in metric styles. Box sets of the more commonly used sizes are also available.
Fisch-tools.com
The Einhell drill and impact driver kit (#4257245) has all the features an avid DIYer or hob­byist woodworker will need. The drill/driver has a two-speed (0-400 and 0-1500 RPM) chuck with a metal gear box that delivers 354 in-lbs of torque. The single-sleeve chuck has a quick-stop function and automatic spindle lock for quick and easy tool change. Three high-intensity LED lights illuminate the area around the chuck. The 1/4″ impact driver delivers a maximum no-load speed of 0-2300 RPM and an impact rate of 0-2900 BPM. Includes a 30-minute high speed charger, two 1.5 Ah batteries and carry bag.
Einhell.ca
For an avid DIYer or hobbyist woodworker there's nothing like a compact air compres­sor to give you that helping hand. The 36V Einhell compressor (#4020455) oper­ates on two 18V batteries (sold separately) to deliver a maximum operating pressure of 135 PSI. Compress air output at 102PSI is 1.34 CFM. The compressor features an oil-free, service-free pump, easy-to-adjust pressure gauge to regulate output pressure and a quick-connect outlet. Includes an 8.2′ air hose, tire inflation gauge and a nine-piece adapter set.
Einhell.ca
For anyone who has a small shop or needs to transport a table saw to and from a job site, the Einhell 8-1/4″ cordless table saw (#4340451) offers power, capacity and accuracy. The motor is powered by two 18V batteries that deliver a 2-3/4″ depth of cut at 0° and 1-3/4″ at 45°. The rip fence extends to 24-3/4″ and has a flip-over sub-fence attachment for support of wide stock. An integrated blade guard and riving knife includes a dust port at the back of the assembly for connecting to a shop vac. Includes a HM saw blade, mitre gauge and blade wrench. Batteries and charger sold separately.
Einhell.ca
A jigsaw can cut almost as quickly as a circular saw, it can make fine cuts in thin stock and it's ideal for cutting curves. With the right blade you can cut steel, aluminum, brass, PVC and other plastics. The Einhell variable speed jigsaw (#4321233) has a maximum cutting speed of 2,400 RPM and a 1″ stroke, and three levels of orbital action plus a straight sawing movement. Bevel capacity is +/- 47°. Toolless blade change and quick-release system make switching blades a breeze. Other features include a dust blow-off function for optimum visibility, a chip guard that reduces splintering, a removable shoe for protecting delicate workpieces and a rip fence for making straight cuts. Battery and charger sold separately.
Einhell.ca
Keep your shop clean and collect dust at its source with the Einhell #2347137 5.3 gal (20 litre) wet/dry vacuum. It delivers 53 CFM of suction power and 33″ of water lift at a 72 decibel level. The stainless-steel tank has four castors for excellent mobility. It comes with a 4.9′ hose, foam filter, pleated filter and paper dirt bag, a three-part extension tube, and combination, crevice and upholstery nozzles. There's a blow connection for blow-cleaning hard-to-reach areas. Battery and charger sold separately.
Einhell.ca
The Einhell OMT (#4465165) is easy to use, single-handed and has ample power to carry out a wide range of sanding, scraping and cut­ting jobs. It features a 12-pin-tool fixation for flexible positioning of blades and accessories, and a universal mounting and magnetic end so a blade doesn't fall off while you tighten. Also features quick release for tool­less change of equipment and decoupled battery uptake for reduction of vibration. Includes triangular sanding plate, 9x grinding/sanding paper (3*P60/3*P80/3*P120), scraper and four saw blades. Battery and charger sold separately.
Einhell.ca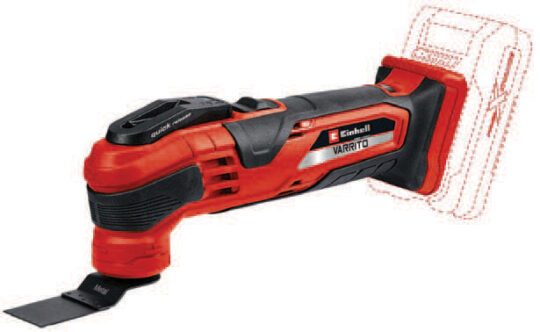 The compact, lightweight, cordless, gas-powered Grex GCP650 head­less pinner has a cycle rate of 60 shots per minute and drives fasteners from 3/8″ to 2″. An auto lock-out sys­tem prevents dry-firing, while providing a 10-pin reserve for when you need just a few more pins to finish the job. A power adjustment knob accommodates different woods and nail lengths. It also features a high-tolerance, preci­sion-machined, hardened steel driver, Posit-Lock nose cover and a nose guide assembly that aligns and seats the headless pin for optimal drive per­formance. This ensures the pin goes straight into even the hardest piece of material. The professional's choice for durability and dependability.
Grexusa.com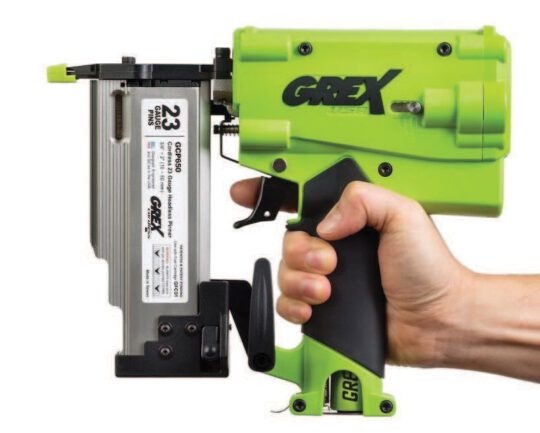 The Thin Air Press Kit is a simple, efficient and inexpensive vacuum system for veneering and bent lamination projects, originally introduced for making maple skate­board decks. The TAP kit is also useful for furniture making, cutting boards and utensils, flat panels, curved drawer fronts, guitars, pens and other turned objects, marquetry, handles for throwing axes, and more. Kits include a heavy-duty 20 mil vinyl vacuum bag with one-way valve and seal, a low-volume high-pressure hand pump, breather net, extra seals, and instructions. TAP bags can be used for hundreds of pressings and are available in six sizes.
Roarockit.com
Video
The compact and lightweight WORX WX845L mitre saw is perfect for DIY jobs around the house or in the workshop. It delivers a maximum cutting width of 8-1/4″ and cutting thickness of 2-1/4″ at 90°, and 5-3/4″ width and 1-5/8″ thickness at 45°. You can bevel the blade up to 45° for perfect mitre cuts. A built-in lever holds the workpiece in place on both sides of the blade while cut­ting for increased accuracy and user safety. Includes a 40-tooth carbide blade, 4Ah 20V battery, charger, work holding lever and wings, dust bag, and blade key. Comes with a three-year warranty.
Shopworx.com
The WORX WX102L drill/driver is built for pro-level performance to deliver the power, speed and productivity you need. It features an all-metal gear box and a heavy-duty 1/2″ ratcheting metal chuck for superior bit retention. Variable two-speed gearing (0 – 600 and 0 – 2,000 RPM) and 18+1 clutch settings adapt speed and torque for opti­mal drilling and driving results. Includes a 2Ah 20V battery, charger, belt clip, double-ended bit and carry case. Comes with a three-year warranty.
Shopworx.com
Become a part of the Canadian Woodworking community and learn the skills you need to become a better woodworker. You get 6 issues – including our annual Small Shops issue – packed with project plans, tips and tech­niques from seasoned woodworkers. Each issue delivers the know-how you need to build bet­ter projects. As a member you'll be first in line to access exclusive content and give-aways. You also get unlimited access to every back issue of our magazine – over 25 years of unique content right at your fingertips. You'll also get access to over 60 member-exclusive skill-building videos. Now is the time to begin your journey to becoming a better woodworker.
canadianwoodworking.com/try
The sturdiest forms on the market, the Exotherm line of no seal forms cater to epoxy enthusiasts, makers and hobbyists alike. Designed for ease of use, they allow you to work smarter, more efficiently and cost effectively. No more screws or seal­ant required, and they're guaranteed not to leak. De-moulding projects is a breeze and you're immediately ready for your next proj­ect. There are three types to choose from: Original No Seal, Vacuum and Silicone, in an array of sizes and shapes. Exotherm Designs – helping your projects take form.
Exothermcustomdesigns.com
If you work in a small shop where space is at a premium you might want to con­sider purchasing a benchtop jointer rather than a station­ary 6″ jointer. It will deliver the same overall performance and precision as a stationary jointer. The King Canada KC-6HJC jointer features a powerful 1 HP motor that delivers a 12,000 RPM cutterhead speed, a 12-blade helical cutterhead, large aluminum tilting fence, spring-loaded retractable safety guard, parallelogram table adjustment system and 2-1/2″ dust chute for dust collector hook-up. Includes two safety push blocks, Torx key and adjustment hex key.
KingCanada.com
The King Canada KC-770FX combo sander can handle a wide range of sanding, surfacing, grinding, cleaning and deburring jobs on wood, metal and plastics. Either a 1″ or 2″ sanding belt can be installed on this sander for greater versatility. The pow­erful 1 HP direct-drive motor delivers a disc speed of 3,450 RPM and a belt speed of 3,100 SFPM, while a solid cast-iron body and steel base add stability and minimize vibration. The solid cast-iron belt and disc tables have integrated T-slots and tilt from 0° to 45°. Includes 1″ and 2″ × 42″ sanding belts, 1″ and 2″ belt platens, two 8″ adhesive sanding discs, mitre gauge and adjustment hex keys.
KingCanada.com
Every shop needs a good table saw to produce accurate work. The King Canada KC-10HCX has all the fea­tures the most discerning woodworker could want. It features a 1.75 HP belt-driven dual-voltage motor (pre-wired for 120V), a precision-ground cast-iron table and extensions tables that provide a large 44″ × 27″ work surface, 30″ rip capacity, anodized aluminum duo-fence with horizontal and verti­cal positioning, riving knife blade guard system with anti-kickback fingers for maximum operator safety, and integrated dust collection system with 4″ dust chute. Includes a 10″ × 40 tooth carbide-tipped saw blade, cast-aluminum mitre gauge, push stick, standard table insert, wrenches and adjustment hex keys.
KingCanada.com
A bandsaw is a versatile shop machine that's superb for ripping rough and dimensional lum­ber to size, re-sawing lumber into veneer, cutting curves, circles and irregular shapes, and a vari­ety of joinery. The King Canada KC-1402FX bandsaw has a powerful 1 HP two-speed (1,476 and 3,280 SFPM) motor, adjustable upper/lower ball bearing blade guide system, large 21-3/8″ × 15-5/8″ tilting table with rack and pinion adjustment, and a rack and pinion height adjustment system. There's a 14″ cutting capacity (frame to blade) and an 8-3/4″ resaw capacity. Comes with cast-aluminum mitre gauge, rip fence with 5″ high face, push stick, adjustment wrench and hex keys.
KingCanada.com
Drilling with power, precision and repeat­ability is best done on a drill press. The King Canada KC-12HS-VS drill press can power through a wide range of drill press operations. It features a mechanical variable speed system from 580 to 3,200 RPM, a digi­tal readout for precise spindle speeds, dual intersecting adjustable laser guides for pre­cise drill bit alignment, a positive depth stop for quick and easy adjustment of the spindle travel and an LED work light for maximum visibility. Includes a 5/8″ drill chuck, chuck key, onboard chuck key storage and adjustment hex keys.
KingCanada.com
A thickness planer is a cost-effective way to machine lumber to final thick­ness. The King Canada KC-13HPC has a number of great features that make it a great addition to any small shop. A 15 amp motor delivers a 10,000 RPM cutterhead speed and a 26 FPM feed rate. Twenty-six cutter inserts produce reduced operating noise, near tear-out-free surfaces for a superior finish and are easy to replace. Includes precision-ground columns for extra cutterhead stability, pre-set depth stops for repeat cuts and an exclusive two-position dust chute.
KingCanada.com
Perfect for the small shop or woodwork­ing enthusiast, the SuperMax 19-38 Drum Sander reduces the tedium of hand sanding, speeds up the sanding process and produces more consis­tent results. It has a sanding width of 38″ (two passes) and can handle stock between 1/32″ and 4″ thick and as short as 2-1/4″. Conveyor speed can be adjusted from 0 to 10 feet per min­ute. The height adjustment mechanism is smooth, accurate and secure. Aligning the conveyor to the sanding head is fast and easy, and the sanding drum will never go out of alignment.
Lagunatools.com
Exotherm is a Canadian designer and manufacturer of the original No Seal Form and the sturdiest casting forms on the market – often imitated, never duplicated. They carry three types of forms – Original No Seal, Vacuum-Formed and Silicone – in an array of sizes and shapes. Ideal for epoxy enthusiasts, makers and hobbyists alike. Exotherm Designs – helping your projects take form.
Exothermcustomdesigns.com
Spiral cutterheads are qui­eter, require less energy to operate and leave a smoother finish, especially when it comes to figured woods. Sheartak Tools manufactures spiral cutterheads for planers and jointers, including King Canada, Busy Bee, RIKON, General, Powermatic, RIDGID, Steel City, Mastercraft, Makita, DeWalt, Ryobi and many more. A stockist of spiral cutterheads for more than 800 machines is available. Sheartak even manufactures to custom sizes from 25mm to 2100mm in cutting length, and 38mm to 480mm in diameter for any machine. Visit their website for special offers.
Sheartak.com
The Laguna F1 Fusion delivers rock-solid performance for ripping, cross cutting, dadoing, rabbeting, tenoning and so much more. It features a 1.5HP TEFC motor, a heavy cast-iron trunnion attached to the cabinet that increases rigidity and decreases vibration, precision-ground pol­ished cast-iron table with pre-formed steel wings (with a side-to-side width of 58″), a 33-7/16″ long aluminum and steel cam­lock T-shape fence, and a highly efficient high-low dust collection. The rip fence and mitre gauge can be stored out of the way on the saw cabinet. Includes a 10″ 60-tooth blade, mitre gauge, blade guard, spreader and riv­ing knife, push stick, and wrenches.
Lagunatools.com
The Q5 Platinum turbine with its powerful five-stage motor develops approximately 9.5 psi, making it ideal for all kinds of tasks, including heavy-duty projects. Yet, it's super quiet – only 63 decibels. (Compared to normal conversation, which is 60 deci­bels!) The extra power allows for less thinning of viscous paints and achieves finer atomization to produce a flawless finish in less time. It features a Heat Dissipation Chamber™, which expels excess heat from the turbine, resulting in much cooler operat­ing temperatures, while a variable speed dial allows the user to adjust motor speed, providing the ultimate in versatility.
Fujispray.com
The BESSEY EZR-SET gives you three clamping functions – table clamp, standard clamp and step-over clamp. The EZR-SET track system clamp not only makes clamping easy with a one-handed trigger lever, but a quick push-button release mechanism allows an easy conversion to spreading without the use of tools. Insert the included 2″ adaptor into the upper or lower jaw for step-over work. A cross prism design integrated in the plastic cap allows secure fastening of round, pointed and angular pieces. Engineered with a 2K ergonomically shaped handle for comfort and safe handling.
Besseytools.com
The PantoRouter® woodworking machine makes joinery fast, accurate, safe, repeatable and fun! Mortise and tenon has never been easier with over 150 perfectly fitting sizes using their patented tapered templates. You can set up and cut angled or compound-angled joints in minutes, virtually dust-free due to the incred­ibly effective dust collection hood. Go from setup to glue-up in under five minutes in most cases. Box joints and dovetails can be variably spaced, and custom templates can be shop-made to produce the perfect size and shape for your project.
Hobbyists and custom furniture mak­ers use the large table and numerous clamping positions as a con­venient platform for custom jigs and fixtures so the tool never limits their design. Customers rave about PantoRouter's thoughtful design, engi­neering and high-quality construction. And because there's no safer way to use a wood­working router, the PantoRouter is pop­ular in high school shops across the country. Visit their website to see vid­eos of the PantoRouter in action and learn more about how others are using this unique tool.
PantoRouter.com
It can be quite a challenge to wrestle a 4'× 8′ sheet of plywood home, especially without a truck or van. And cutting a full sheet on a table saw can be nerve rack­ing. The solution is with PureBond's convenient, ship-to-home 2′ by 4′ project panels, available in 1/4″, 1/2″ and 3/4″ thicknesses. Panels are available in a wide range of species choices, including maple (in raw and pre-finished forms), red oak, white oak, aromatic cedar, walnut, poplar, birch, mahogany, alder, hickory and innovative new Rough-Sawn faces in red oak and birch. Maple and walnut are also available with an exposed-edge "EuroPly" core. Made with a soy-based technol­ogy instead of added urea formal­dehyde, Purebond Project Panels are available through The Home Depot Canada website (just search for "Columbia Forest 2 ft" at HomeDepot.ca and you'll see these great choices). Better for you in the workshop and in the home.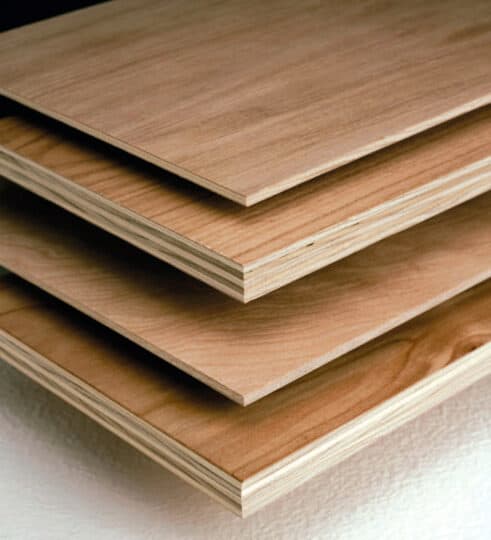 The ergonomically designed, two-handed RALI 220N is a great way to bring the revolutionary RALI design into your workshop. The RALI disposable blade design allows for changes in seconds, with the blade always square to the sole and instant height adjustment quickly con­trolled by a lever. Each blade has two cutting edges for quick rotation. No more sharpening or setup required! At 8-5/8″ long, the 220N is a classic medium length RALI plane featuring a precision laminated steel sole and anti-corrosion smooth nickel sides. It comes with four chrome steel knives – replacement knives are available in chrome steel and carbide.
Tersaknives.com
The six-blade Carvin' Jack 2.0 (#KN91, $249) is the world's first folding multi-tool for wood­carving. Available right- or left-handed, it's equipped with a Pelican knife, V-scorp, detail knife, 3/4″ radius hook knife, gouge scorp and straight gouge. You also get a SlipStrop and a bar of Flexcut Gold polishing compound to keep your blades razor-sharp, and a leather belt-mounted sheath that looks good with jeans or even with your better pants. The only tool like it in the world – a woodcarving set in your pocket.
Flexcut.com
The four-blade Spoon Carvin' Jack 2.0 (#JKN96, $149) includes a gouge scorp, 3/4″ radius hook knife and 3/8″ to 1/2″ radius hook knife designed to form the hollows of spoons and bowls. It also features a Pelican knife for shaping and carving fine details into a design. This tool fits neatly in your pocket, so you can carve wherever you go. The handle is made of rug­ged aerospace aluminum with an ergonomic design that contours to fit the palm of your hand. There's also deep crosshatching on the handle to keep the knife from slipping while carving.
Flexcut.com
The new and improved Pocket Jack 2.0 features a cross-etched, aerospace aluminum handle, giving you greater carving control. This Flexcut jackknife is a streamlined version of our Carvin' Jack, the first folding multi-tool designed specifically for the needs of wood­carving. It weighs 3.9 ounces and has a closed length of 4-1/4″. Includes detail knife, straight gouge, gouge scorp and V-scorp. The Pocket Jack makes it easy and convenient to handcraft every kind of wood stock. #JKN28$104.95
Flexcut.com