Gouges, skews, scrapers and parting tools – the four course meal for turners. There are other more specialized tools, but it's best to stick with a set of these basic tools until you've acquired some level of proficiency. Of course, at that point you may develop the 'turners twitch', where the acquisition of tools and accessories, and the desire to turn at every opportunity, will be irresistible.
You can purchase these four turning tools individually or as a set. I recommend a set, as it's less expensive. A good choice is the high speed steel mini turning set from Henry Taylor (Lee Valley Tools, item #58B16.01). These are about twice the price of a set of the 'El Cheapo' brand, but they are of exceptionally good quality, have good edge holding ability, and will retain their hardness even after a lot of re-sharpening. This set consists of a 3/16″ and a 1/4″ spindle gouge, 1/4″ round nose scraper, 1/4″ skew chisel, and a 1/8″ parting tool. Tools like these are much smaller than those used for turning on full-sized lathes. Overall they are about 11″ long with 3 1/2″ to 4″ of blade, which makes them less intimidating for novice turners, and the perfect choice if you intend to limit your turning to smaller pieces.
There are several types of gouges on the market: roughing gouges, bowl gouges, and spindle gouges. In cross section they have a curved body, while the tip can be square, curved, or finger nail shaped. The spindle gouge is the most common gouge used for small scale turning. It's a shallow version of the bowl gouge, usually ground with a 'finger nail' shape. On the bench top lathe you use this tool as a roughing gouge, and also to cut beads and coves, and for shallow hollowing.
You'll use skew chisels on spindle turnings to refine the surfaces after initial shaping with the gouge. Skews typically have double ground flat bevels and are similar to hand planes in that they remove shavings of wood from the piece that the gouge has turned round. They are also useful for tapering cuts and cutting shoulders.
Of the various configurations of scrapers, the round nose scraper is one that you will find most useful for making finishing cuts on concave surfaces, for making flowing curves, and for cleaning up end grain. While the parting tool derives its name from its function of parting the finished work from the stock remaining on the lathe, you can also use it to cut deep grooves, form shoulders, and round over small beads.
While a mini turning set consisting of the four tools mentioned above are more than adequate to begin your excursion into the joys of turning, you may also wish to consider purchasing a multifunction tool such as the Sorby Spindlemaster (Island Woodcraft, item #50-7317).
With this tool you can rough small pieces from square to round, make vee cuts, roll beads, cut coves and trim end grain. The nice thing about this tool is that it's quite easy to use and it's easy to sharpen.
Most bench top lathes comes with a drive center and a live or revolving center. These hold stock between the headstock and tailstock for 'spindle turning' or 'turning between centers'. Of course, there are all kinds of replacement centers available. When mounting stock between centers it's a good idea to saw a 1/8″ or so kerf for the prongs of the drive center to sit in. You can do this with a hand saw or the band saw.
Your lathe will probably also come with a faceplate, probably 3″ or 4″ in diameter. There are four holes on its face through which you insert screws to attach stock to the plate. Pretty simple, except that you end up with screw holes in the bottom of your turned piece although you can plug them, or you cut off the bit of stock that holds the screws. Fortunately, you'll likely be turning small pieces of stock on your bench top lathe, and an excellent alternative to using screws on the faceplate is to use double-faced turners tape (Lee Valley item #25U03.11), not to be confused with 'carpet tape'. The tape will securely hold stock up to 10″ diameter. I've turned stock up to 4″ thick using this method. Optionally, screw a sub base to your faceplate (I use 3/4″ melamine) and apply the tape to the sub base. That way, you can remove the faceplate for use on another project.
Once you feel comfortable turning between centers and using the faceplate, you may wish to try out one of the many chucking systems on the market. A chuck is a mechanical device with several jaws that firmly grip one side of your turning blank so that you can turn the other side. For occasional turning these are somewhat overkill, but if you do a lot of turning, a chuck is a very convenient and time savings accessory.
The four jaw, self centering scroll chuck, such as offered by Teknatool, is the most popular and versatile type. Teknatool makes three models, of which the "Nova Midi" or "Super Nova" (Lee Valley, item #58B03.XX) are best suited for the bench top lathe. Choose the Midi if you'll be sticking with the bench top lathe; or choose the Super if you think you'll be moving up to a stationary lathe.
Chucks come with a body and a range of jaws. Again, it's a good idea to buy a chuck set. The one I use consists of the chuck body, which includes an adapter (or 'thread insert') that allows me to mount the chuck body on the inboard spindle of my General 25-100M1 Maxi Lathe; a 50mm standard jaw set; a chuck key; four jaw slides (that enable you to attach the jaws to the chuck body); and a woodworm screw (which is held in the 50mm jaws, and enables me to mount my work piece directly on the screw).
With the 50mm (2″) jaws you can mount stock two ways – clamping the jaws over a tenon that you turn on one end of your stock (to hold stock up to 6″ x 4″), or expanding the jaws into a recess that you turn on the stock (to hold stock up to 10″ x 4″). This should be adequate for most of your turning requirements. A range of other specialized jaws are available, including standard 25mm, 100mm, and 130mm jaws (100mm and 130mm only for the Nova chuck); 75mm step jaws (only for the Nova), which have three levels of dovetail shaped jaw faces that clamp over dovetailed tenons; and cole jaw sets, which are used to hold bowls or irregularly shaped stock.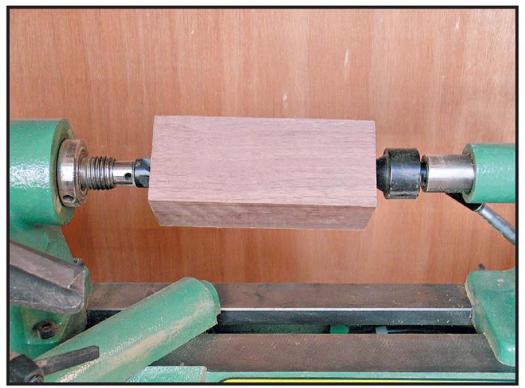 As a final note, a face shield (Lee Valley item #22R05.37) is a highly recommended accessory. It will protect your face from flying debris, without hindering your breathing. You'll find the lathe to be one of the quietest machines in your shop; nonetheless, hearing protection is advised, even if you only use foam ear plugs.