Stationary models have an open stand or closed base. Jointers are further defined by their cutterhead width, which determines how wide a surface they can cut. This ranges from 4″ up to about 16″, with 6″ and 8″ being the most popular.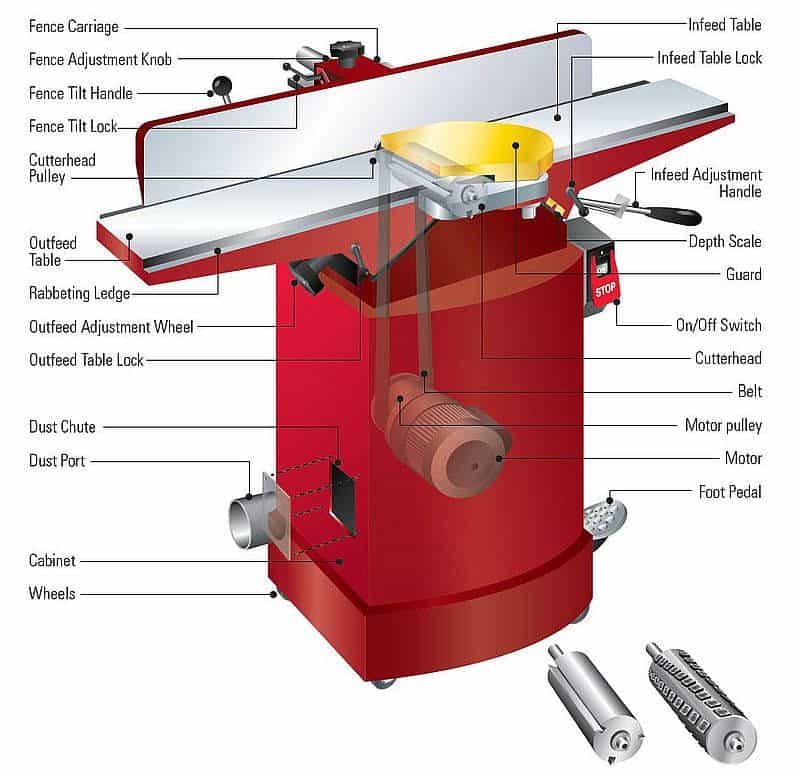 The most common type of cutterhead consists of three or four straight blades. Increasingly popular are spiral cutterheads that consist of a series of small carbide inserts. DIYers, craft makers, box makers, or anyone who works on small projects can get along nicely on a benchtop or small open stand jointer. If making cabinetry or furniture, choose the largest jointer you can afford with a spiral cutterhead. Choose wisely, as your jointer is likely to be a once-in-a lifetime purchase.
Format (Benchtop and Stationary)
A 6″ or 8″ benchtop jointer is a good, economical choice for a hobbyist woodworker or someone with a small shop. You can easily handle stock up to 5 feet long (longer if you use a roller stand). These jointers can be connected to dust extractors or small dust collectors. If you regularly work with wide stock (wider than 8″) or plan to do production work, a stationary jointer will be a better choice. Jointers in the 12″ and wider width range will likely require a dedicated 220V 30 Amp circuit and a full-size dust extractor.

Cutterhead type (straight blade and helical)
There are two basic types of cutterheads. The most most common, and least expensive is a cutterhead that uses straight knives (aka 'blades'). Typically there are 3 to 4 knives on the cutterhead. Knife length is roughly the same as the width of the jointer table top – for example, a 6″ jointer will have 6″ or 6-1/8″ knives. The knives can be made of high speed steel (HSS) or more commonly carbide steel. Carbide steel will last appreciably longer than HSS before the knives need to be re-sharpened. Replacing straight knives on a jointer can be time consuming as the knives have to be adjusted so they are in-line with the outfeed table.
Helical and spiral cutterheads use small 2- or 4-sided knives (aka inserts) that are staggered around the circumference of the cutterhead. The knives can be made of HSS or carbide. A 6″ cutterhead on a benchtop jointer can have a dozen of these knives, while a 6″ cutterhead on a stationary jointer can have as many as 30.
The main difference between a helical and spiral cutterhead has to do with the alignment of the knives in relation to the axis of the cutterhead. Spiral knives are aligned parallel to the axis of rotation while helical knives are aligned about 14-degrees off the axis of rotation.
While jointers with helical or spiral cutterheads are quite a bit more expensive, they produce a smoother finish with no tear-out (particularly on highly figured hardwood). They generate less noise and the knives are very easy to replace. Once a cutting edge become dull you simply loosen the holding screw and rotate the knife to expose a fresh edge. And because helical and spiral cutterheads produce thinner and shorter chips dust extraction is more efficient.
Motor size
A benchtop jointer typically has a 1/2 to 1 HP motor and can run off a 120V circuit. If the amperage draw of the jointer and dust extractor or dust collector to which it is connected is less than 20 amps, both can be run simultaneously off the same circuit. Stationary jointers have larger motors – from about 1 HP on a 6″ jointer to 5 HP on a 12″ jointer. Larger HP jointers will require their own 220V circuit.
Bed width and length
The optimal bed width and length best depends on the type and scope of woodworking you plan to do. Many professional furniture makers get along just fine with a 6″ jointer. Of course, if you will be making large scale furniture or cabinets and using wide and long stock, or working on a production basis, then a jointer with a wider and longer bed will be more efficient. More important than size is flatness – you want the infeed and outfeed tables to deviate no more than .005″ over their length.
Infeed table adjustment
Jointers can have hand-wheels or levers (or a combination of both) to raise and lower both infeed and outfeed beds. Both work well. What's important is the ability to make adjustment quickly and easily.
Fence size and adjustment
Jointer fences can be made of aluminum, cast iron or steel. A high, sturdy fence that is easy to adjust is preferred. It's important that the fence does not move when you are jointing stock and that it remains consistently at 90° to the bed.
Dust extraction
Benchtop jointers usually have smaller dust extraction ports that connect to dust extractor hoses. Almost all stationary jointers have standard 4″ dust ports. Adequate dust extraction is important to prevent an accumulation of wood chips around the cutterhead that can overheat and damage the motor.
Craftsman  craftsman.ca


1 model
benchtop
6″ to 12″ bed widths
Straight knife and spiral cutterheads
$1,180 to $15,000

CWI Machinery  cwimachinery.com


9 models
stationary
6″ to 12″ bed widths
Straight knife and spiral cutterheads
$1,180 to $15,000

King Canada  kingcanada.com


19 models
3 benchtop; 16 stationary
6″ to 12″ bed widths
Straight knife and spiral cutterheads
$460 to $5,800

Laguna Tools lagunatools.com


4 models
stationary
6″ to 12″ bed widths
spiral cutterheads
$2,600 to $9,300

Powermatic powermatic.com


10 models
stationary
6″ to 12″ bed widths
Straight knife and spiral cutterheads
$2,454 to $5,800

Ridgid  ridgid.com


1 model
stationary
6-1/8″ bed widths
Straight knife
$849.00

Rikon Tools  rikontools.com


3 models
1 benchtop; 1 stationary
6″ to 12″ bed widths
Helical cutterheads
$655 to $5,000
Rob Brown shows you what first for machines you should buy to begin making furniture: jointer, planer, bandsaw, and miter saw.
Rich Keller reviews the Laguna JX6 stationary jointer.
Carl Duguay reviews the King Canada 6″ benchtop jointer with helical cutterhead.