We've packaged some of our most popular knives in one, 3-Knife Starter Set. The comfortable curved ergonomic handle allows for long periods of carving without hand fatigue. The set includes 3 knives to get you started carving today: KN12 Cutting Knife, KN13 Detail Knife, KN14 Roughing Knife and Flexcut Gold polishing compound. Perfect for beginners and pros and easy to maintain the razor-sharp edges. KN500 – SRP: $61.95
Flexcut.com
It has both a shallow and a deep hook knife, designed to form the hollows of spoons and bowls. It also features a straight blade for shaping and carving fine details into the design. This tool fits neatly in your pocket, so you can carve wher­ever you go. The handle is made of rugged aerospace aluminum with an ergonomic design that con­tours to fit the palm of your hand. There is also deep crosshatching on the handle to keep the knife from slipping while carving. Flexcut's Spoon Carvin' Jack makes it easy and convenient to handcraft spoons from every kind of wood stock. JKN96 – SRP: $132.95
Flexcut.com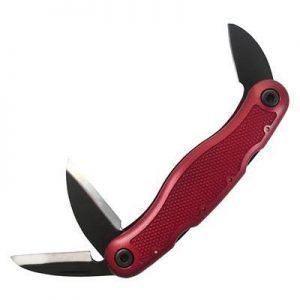 The 6-Blade Carvin' Jack is the world's first fold­ing multi-tool for woodcarving. It's equipped with 2 scorps, straight gouge, a hook knife, chisel, and a detail knife. You also get a slip strop, a bar of Flexcut Gold polish­ing compound to keep your blades sharp, and a leather belt-mounted sheath that looks good with jeans or even your bet­ter pants. The only tool like it in the world – A woodcarving set in your pocket. JKN91 – SRP: $169.95
Flexcut.com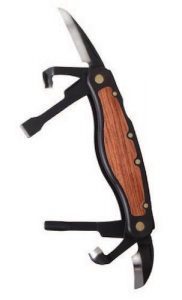 Power tools generate a lot of dust where you want it least: under your nose. Unfortunately, the wide variety of non-standardized dust ports makes connecting to the pipe more difficult – until now. This Rockler 48212 set includes two sizes of flexible rubber ports – 1'' and 1-1/2'' – that fit on almost any tool, plus a 2-1/4″ port that connects to multiple sweeper models and dust separators. The pipe stretches from 3′ to 15′ in length. A flexible and durable way to control dust in your shop.
Elitetools.ca
The new affordable King Canada KC-8365 Plunge Track Saw fea­tures a powerful 12-amp soft-start motor with constant torque tech­nology. You get a full 2-1/8″ depth of cut at 90° (2-5/16″ without the track) and a 1-1/2″ cut capacity at 45° (1-21/32″ without the track). The flat blade housing design allows wall cuts at 11/16″ from the wall. Includes a depth stop feature for splinter-free cuts, a fully enclosed blade, anti-kickback control (when used with the optional 50″ track), dust bag, dust chute, set of carbon brushes and hex key with on cord storage.
Kingcanada.com
The ergonomically designed, two handed RALI 220N is a great way to bring the revolutionary RALI design into your workshop. The RALI disposable blade design allows for changes in seconds, with the blade always square to the sole and instant height adjust­ment quickly controlled by a lever. Each blade has two cutting edges for quick rotation. No more sharpening or setup required! At 8-5/8″ long, the 220N is a classic medium length RALI plane featuring a precision laminated steel sole and anti-corrosion smooth nickel sides. It comes with four chrome steel knives – replacement knives are available in chrome steel and carbide.
Tersaknives.com
Watch a Video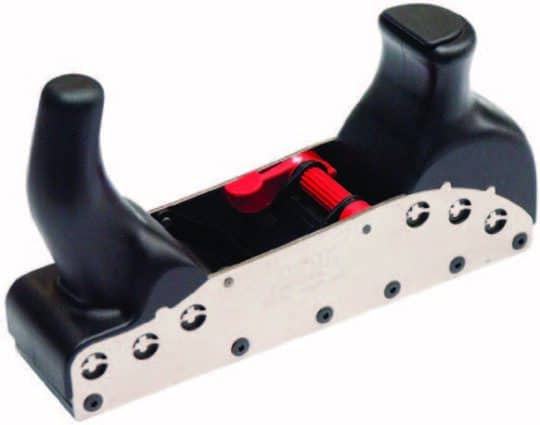 The WORX WX840L 2-in-1 fires both 18-gauge brad nails from 3/4″ to 2″ and narrow crown staples from 3/4″ to 1-1/2″. The magazine has a capacity of 100 fasteners and the high efficiency air impact technology fires up to 80 fasten­ers per minute. With the included 2.0Ah battery you can sink up to 500 fasteners per battery charge. Select from 2 firing modes – contact actu­ated mode for quick firing and single sequential mode for precision placement. The WX840L offers tool-free precision depth-adjustment for properly setting nail heads, a non-marring pad to protect work surfaces and dual LED lights to illuminate fastener placement in low light environments.
Canadiantire.ca
The WORX WX531L saw features a compact design for excellent maneuverabil­ity and portability. Quick rip and plunge cuts have never been easier – just grab the WORXSAW and go. The brushless motor provides a 50% longer runtime and 25% more power than a traditional motor. With the WORXSAW you can make cuts up to 1-1/2″ (at 90°) and bevel cuts from 0° to 46°. The saw has a 3-year warranty and comes complete with a 20V battery, battery charger, 4-1/2″ blade, dust adapter, parallel guide and carry bag.
Shopworx.ca
With the WORX WX820L you get 5 sanders in one tool by simply switching sanding bases: finishing, random orbit, detail, finger or detail contour. The Hyperlock clamping sys­tem makes changing bases and pads easily and securely without the use of tools. Choose from 5 variable speed options (4,000 to 10,000 RPM) for the material at hand. The unique DustStop micro filter reduces airborne dust. The sander has a 3-year war­ranty and comes with 5 sanding bases, 20V battery, battery charger, dust bag, 3 sanding sheets, hole punch and a carry bag.
Canadiantire.ca
This unique wet/dry vacuum accessory from Oneida Air captures nearly all the wood chips and dust produced by handheld rout­ers. Molded from clear polycarbonate – the material used for indus­trial safety glasses – this universal router hood offers excellent clarity and superior durability. It's designed to work with most of the fixed base and plunge style routers from major brands. The dust hood collects waste at the source both above and below the router bit, eliminating post-project cleanup. Tame the Dust!
Oneida-air.com
Offering superior accurate readings, remarkable versatil­ity, and built tough to last. Since 1965, Wagner Meters has established one of the best reputations in the woodworking and wood products industry. Our wood moisture meters are built tough for consistently high performance in the most punishing mill and workshop environments. The Orion line of the best pinless wood moisture meters offer the exact features you need along with the Wagner tradition of superior accuracy you trust.
Wagnermeters.com
Watch a video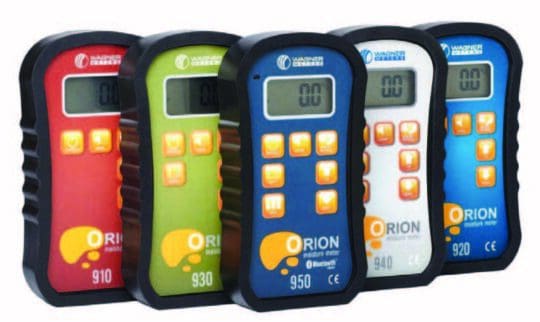 Diablo's new reusable hand sand­ing block maximizes sanding performance by enabling users to sand flat and contour surfaces with one tool. This premium 2-3/4″ by 5″ foam tool includes two sides: cush­ioned for controlled material removal in contour sanding, and dense for aggressive material removal on flat surfaces. Hook Lock backing allows repeated attachment and removal of Diablo SandNET sheets. Included with the Reusable Hand Sanding Block are five SandNET sheets, ranging from coarse/removal to ultra-fine finish. The reusable SandNET nylon design is easy to clean and reuse multiple times, simply shake, vacuum or rinse to remove any build up.
Diablotools.com
The BORA Centipede CK9S Workstand is the most flexible solution for your job site, workspace, or workshop. When folded it measures 8.75″ × 9.25″ × 38.5″ for easy storage or transporting. It quickly unfolds into a lightweight, portable, and durable 4′ × 4′ workstation with a 30″ working height. It sets up in seconds and supports up to 3,500 lbs. Heavy-duty steel struts are flexible to absorb the impact from heavy objects and machinery, yet durable enough to ensure long-lasting, smooth operation. The Centipede comes with 4 quick clamps, 4 X-cups, and 1 carry bag. To view the full line of Centipede workstands and accessories, or locate a Canadian retailer, visit their website. Also available at Home Depot Canada stores.
Boratool.com
Watch a video
The 3HP, 1624CFM P|Flux series gets a host of exciting new upgrades including an auto-clean­ing feature standard on all models in this line. The auto-clean conveniently activates every 10 minutes, or you can simply activate from the sleek redesigned remote. Overfilling the drum is a thing of the past, thanks to the super-sized 46-gallon octagonal drum and a bright LED light illuminating the drum on all P|Flux mod­els. Plus, LED and audio warning lets you know when the drum is full – features that are now standard in this line.
Lagunatools.com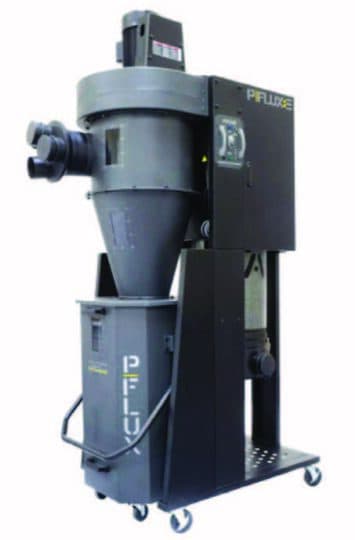 The BESSEY EZR-SET gives you three clamping functions – table clamp, standard clamp and step-over clamp. The EZR-SET track system clamp not only makes clamping easy with a one-handed trigger lever, but a quick push-but­ton release mechanism allows an easy conversion to spreading without the use of tools. Insert the included 2″ adaptor into the upper or lower jaw for step-over work. A cross prism design integrated in the plastic cap allows secure fastening of round, pointed and angular pieces. Engineered with a 2K ergonomically shaped handle for comfort and safe handling.
Bessey
Clapham's Beeswax Furniture Polish is a non-toxic, museum-quality polish made with or with­out lavender essential oil, from beeswax with a little car­nauba wax and deodorized mineral spirit solvent. Apply it sparingly over any cured fin­ish, including waterborne, solvent-based varnish, polyurethane, lacquer and penetrating oil. It can be applied directly to bare wood to get a gorgeous, soft beeswax shine that will become part of the patina as the years go by. Apply thinly using a cloth and after five minutes buff lightly with a differ­ent cloth. Available in 50g/1.75oz, 200g/7oz and 1134g/40oz sizes. Use WOODWORKING10 for a 10% discount when you place your order. Expires December 31st, 2022.
Claphams.com
Watch a video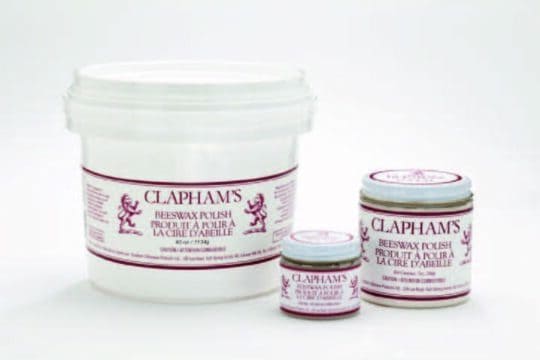 The popular 1.5HP 900CFM C|Flux cyclone dust collector keeps the user-friendly aspects of the previous generation while adding smart new features to improve the user experience. Among the upgrades is a dual-paddle filter cleaning design, a max level indicator to increase filter longevity and variable dust port positioning. The iconic octagonal drum provides 25-gallon capacity and the newly redesigned 3-piece drum construction requires far fewer joints and fas­teners cutting assembly time, while the locking casters provide additional stability.
Lagunatools.com
The 1HP SCM20302S1 professional band saw features a sturdy welded steel frame that provides robustness and stability. It offers 2 cutting speeds – 2300 and 3200 feet per minute and accepts 101″ blades from 1/8″ to 3/4″ wide. You get a maximum cutting capacity of 13-3/4″ and a resaw capacity of 7-1/2″. The blade guides are fitted with Bakelite cool blocks for easy setting and maximum blade stability. The 14″ square polished cast-iron table rests on two aluminum alloy trunnions and tilts from -10° to 45°. Quality and simplicity at a very afford­able price.
Normand.ca
For heavy duty crosscutting nothing beats the Steel City SCM10722S3 with its brake equipped 3HP motor. Crosscut stock up to 3″ thick and 16″ wide (1″ material) and rip stock up to 26-3/8″. You can install either 10″ or 12″ saw blades. Use a dado stack for cutting half laps, cross laps and rabbets. Key features include an ultra sturdy cast-iron frame on a heavy-duty stand, exclusive height adjustment by means of a removable front handwheel, pre­cision adjustable indexing with stops at 90°, 45° and 22.5° on both sides for bevel and mitre cuts and transparent blade guard with anti-kickback attachment and splitter. Versatile and efficient.
Normand.ca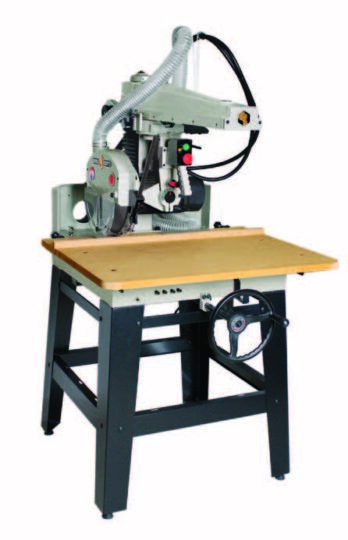 The SCM60400S1 bench edgebander melts the glue on the back of edging tape, automatically applies the tape to the workpiece and allows it to be cut to length. It has a 1500W – 110V heating element with electronic control that provides a variable choice of tempera­tures to accommodate a wide variety of tapes. It features 2 blowing levels and an easily accessible variable temperature control rotary button (100 to 200°C). The large 26-3/4″ by 7-1/2″ aluminum table makes it easy to handle large pieces, while a robust cut-off knife with protective guard and palm handle allows for straight and precise cuts.
Normand.ca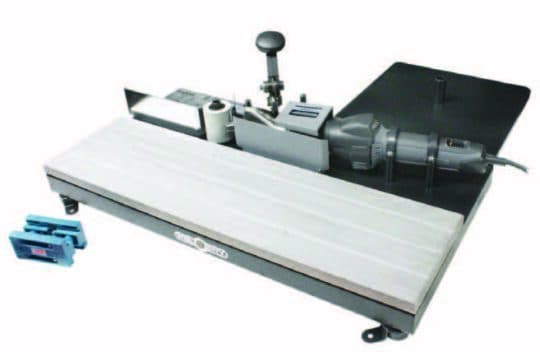 The heavy cast-iron SCM40300S1 drill press has a powerful 3/4HP (12A) induction motor that delivers 12 easy to configure speeds from 340 to 2800 RPM. The 12″ square table tilts 45° (L and R) in front and can also rotate 360° in order to offer more drilling capacity for end boring on long workpieces. A raising device offers 15″ of height adjustment. Key features include high quality sealed ball bearings on the spindle, 18″ maxi­mum distance between spindle and table, 5/8″ key chuck capacity and a #2MT tapered adaptor. The maximum boring stroke is 3-1/4″and a depth stop is included allowing repetitive drilling.
Normand.ca
The massive cast-iron head, column, table and fence on the SCM40510S1 make for better vibration absorption, while the 1/2HP motor delivers ample power for 5/8″ and 3/4″ shank chisels. The large 15-3/4″ by 17″ worktable provides additional stability. A robust rack-and-pinion gear drive with a damper cylinder ensures soft and con­trolled descent of the mortising chisel. Two stops allow you to adjust the plunge depth from 0 to 5″ deep. Adjustable non marring rubber pressure rollers press and hold the workpiece against the fence. Includes 1/4″, 5/16″, 3/8″ and 1/2″ chisels. An economic way to drill square holes.
Normand.ca
The SCM70200S1 bench grinder is equipped with a 3/4 HP induction motor running at 1725 RPM and a wheel balancer that provides opti­mum balancing of the wheels for less vibration. Key features include two 1″ by 8″ grind­ing wheels – 36 grit (coarse) and 100 grit (medium/fine); 2 large adjustable tool rests with quick adjustment handles, spark arrestors and transpar­ent eye shields; built-in dust extraction that includes 2 dust ports located on the rear inner side of each wheel guard and a compressed flexible hose with 2-3/8″ port to connect to a dust extractor; and 4 anti-vibration rubber pads. No more bouncing or vibrating, just smooth running.
Normand.ca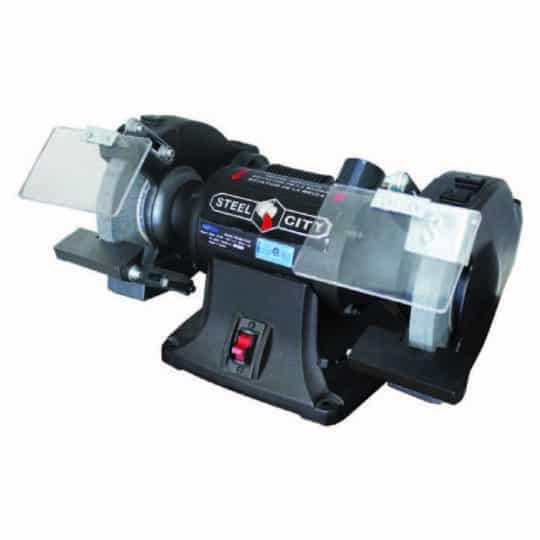 Clapham's Salad Bowl Finish is a non-toxic, food-safe fin­ish made of beeswax, carnauba wax and mineral oil. Use it on wooden kitchen utensils and surfaces, including countertops, butcher blocks, cutting boards, salad bowls, wooden toys, spoons and spatulas. The finish helps pro­tect wood from the elements and gives it a soft lustrous shine. Apply thinly and buff to a light shine once dry. Available in 50g/1.75oz, 200g/7oz and 1134g/40oz sizes. Use WOODWORKING10 for a 10% discount when you place your order. Expires December 31st, 2022.
Claphams.com
Watch a video
The Precision Carving System is the smallest attachment in the Power Carving Range. Highlighted by the Mini Ball Gouge, this 3-piece set will open the door to more intricate power carving, detailing and tex­turing. It includes a Universal Base that, when fitted to the Power Carving Unit or a standard 4″ – 4 1/2″ angle grinder with a 5/8″ spindle, allows users to interchange the precision carving and sanding bits to carve smaller radii, intricate details and fine textures in wood.
Arbortech.com
Watch a video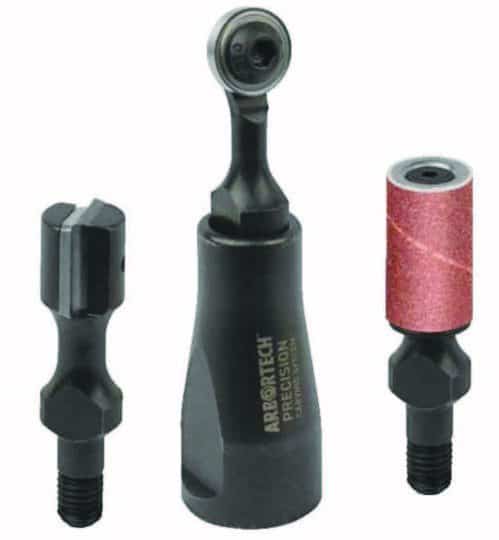 The entry level MM300 multitool handles a wide variety of jobs. Its StarlockPlus tool mount gives you access to over 100 FEIN accessories and with the game changing QuickIN tool clamping system, accessory changes are super quick. A soft-start motor for super smooth speed accel­eration, electronic speed control that delivers constant speed under load, overload protected motor for effective work, and exceptional build qual­ity for maximum durability and long tool life. No vibration, no kickback – just precise control. It's ideal for woodworkers, finish carpenters, reno­vators, hobbyists and DIY enthusiasts.
Fein.ca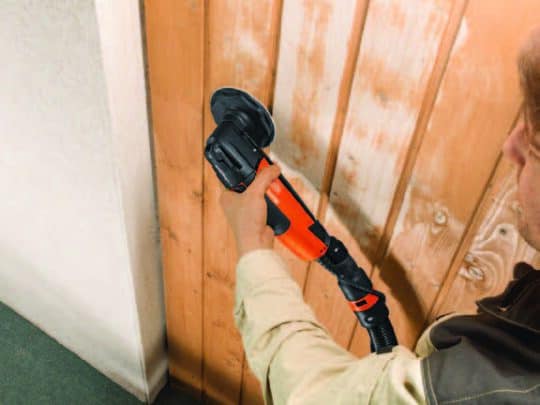 FEIN's oscillating accessory sets were designed to include our most pop­ular and best-selling Starlock blades. Each set was perfectly combined based on customer feedback, is designed to meet a specific application, and offers a price advantage. Simply pick a set and have everything you need to get the job done. And did you know? Our Starlock blades are compatible with FEIN MULTIMASTERS and competitive oscillating multitools that have a Starlock mount. With the largest range of accessories in the world, the applications are limitless.
Fein.ca
With the Pocket-Hole Jig 720PRO you will build pocket-hole projects faster than ever. Features like Automaxx one-motion clamping help you save time and effort – by simultaneously clamping your work­piece and automatically adjusting to the exact thickness of your mate­rial (from 1/2″ to 1-1/2″). GripMaxx anti-slip holds the project piece secure so you never have to worry about shifting while you drill pocket holes. Included with the 720PRO are the Kreg Docking Station material sup­port wings with a repeatable stop, as well as a Pocket-Hole Jig Clamp.
Kregtool.com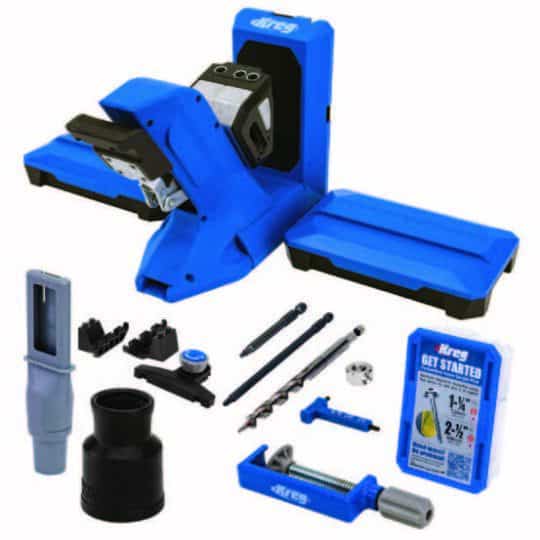 Shaper Origin is an easy-to-use handheld CNC router that brings digital precision to the craft of woodworking. With Shaper Origin and Workstation you can create perfect box joints, mortise and tenon joinery, and more with ease and accuracy. Best of all, Origin is portable and compact, taking up zero space in your home shop or small business. Learn more about how woodworkers from around the world rely on Shaper Origin + Workstation by visiting Shaper Tools online.
Shapertools.com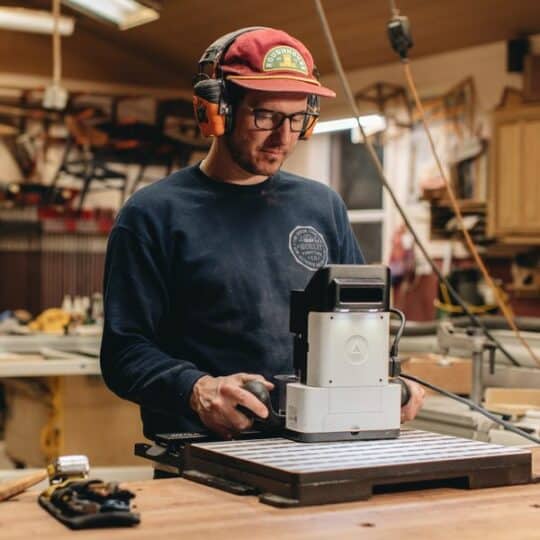 Launched on March 25, the new Festool  F Track Saw delivers excellent work results and a top-class sawing system—truly meeting every challenge. New, ultra-thin saw blades achieve up to twice the cutting speed of the earlier generations with maxi­mum cutting performance. The 360° swiveling connection allows the suc­tion unit to be adjusted to any working position. With accessories, such as guide rails and the angle stop, or sophisticated and proven details, such as the splinter guard and extraction system perfectly matched to the machine, the TS 55 provides excellent work results and a top-class sawing system.
FestoolCanada.com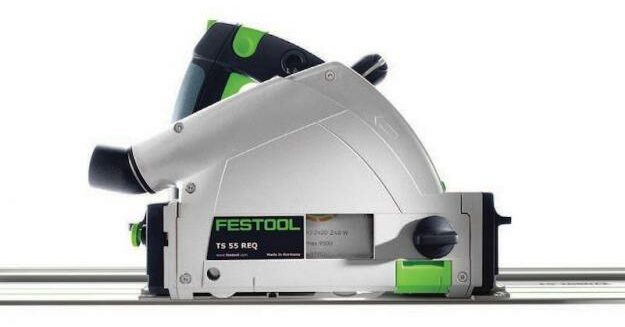 Titebond Speed Set is an extremely fast-setting, high solids PVA adhesive with a 15 minute clamp time and requires only 175 to 250 psi clamping pressure for hardwoods. It provides exceptional gap filling properties developing a bond stronger than the wood itself. It offers excellent sandability, unaf­fected by finishes, and increases productivity through its shorter clamp time with no increase in viscosity. Titebond Speed Set is non-toxic and cleans up with water.
Titebond.com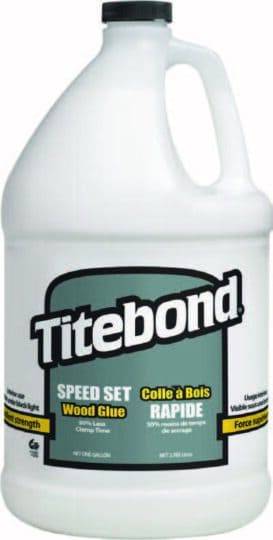 It can be quite a challenge to wrestle a 4'× 8′ sheet of plywood home, especially without a truck or van. And cutting a full sheet on a table saw can be nerve rack­ing. The solution is with PureBond's convenient, ship-to-home 2′ by 4′ project panels, available in 1/4″, 1/2″ and 3/4″ thicknesses. Panels are available in a wide range of species choices, including maple (in raw and pre-finished forms), red oak, white oak, aromatic cedar, walnut, poplar, birch, mahogany, alder, hickory and innovative new Rough-Sawn faces in red oak and birch. Maple and walnut are also available with an exposed-edge "EuroPly" core. Made with a soy-based technol­ogy instead of added urea formal­dehyde, Purebond Project Panels are available through The Home Depot Canada website (just search for "Columbia Forest 2 ft" at HomeDepot.ca and you'll see these great choices). Better for you in the workshop and in the home.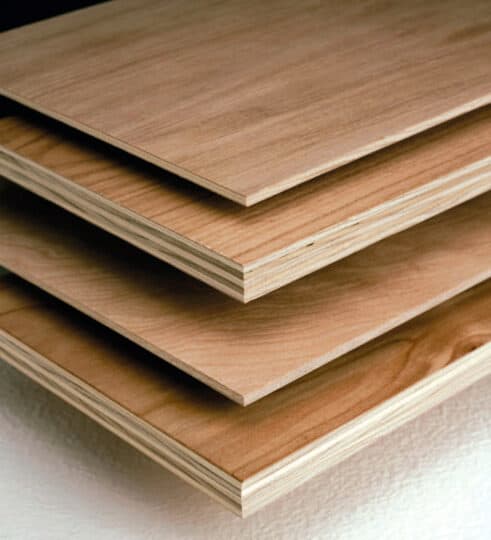 The Q5 Platinum turbine with its powerful 5-stage motor devel­ops approximately 9.5 psi, making it ideal for all kinds of tasks including heavy duty projects. Yet, it's super quiet – only 63 decibels. The extra power allows for less thinning of viscous paints and achieves finer atomization producing a flawless finish in less time. It features a Heat Dissipation Chamber that expels excess heat from the turbine resulting in much cooler operating temperatures, while a variable speed dial allows the user to adjust motor speed, providing the ultimate in versatility.
Fujispraysystems.com
The PantoRouter makes woodwork­ing joinery fast, accurate, safe, repeatable and fun! Mortise and tenon has never been easier with over 150 perfectly fitting sizes using their patented tapered templates. You can set up and cut angled or compound-angled joints in minutes, virtually dust-free due to the incredibly effective dust collec­tion hood. Go from setup to glue-up in under five minutes in most cases. Box joints and dovetails can be variably spaced, and custom templates can be shop-made to produce the perfect size and shape for your project.
Hobbyists and custom furniture makers use the large table and numerous clamping posi­tions as a con­venient platform for custom jigs and fixtures so the tool never limits their design. Customers rave about PantoRouter's thoughtful design, engi­neering and high-quality construction. And because there's no safer way to use a woodworking router, the PantoRouter is pop­ular in high school shops across the country. Visit their website to see videos of the PantoRouter in action and learn more about how others are using this unique tool.
PantoRouter.com
Watch a video