The DX51B is a bare-tool – if you don't have another CAT power tool in your kit you'll need to purchase a CAT 18V battery and charger. Currently there are 3 Li-ion batteries available – 2.0Ah (#DX-B2, $84.99); 4.0Ah (#DX-B4, $159.99) and the 5.0Ah graphene (GX-B5, $209.99). The 2.0 and 4.0Ah batteries take the #DX-C4 charger, ($84.99) while the graphene battery takes the #DX-C15 charger ($159.99). If you use a jigsaw occasionally, the 2.0Ah battery is a good choice. The 5.0Ah graphene battery will deliver maximum runtime. This is a new generation of battery that uses graphene to increase energy density, delivering better performance and increasing the battery life span. Graphene batteries also full recharge in under 20-minutes.
Like most high-end power tools today, the DX51B features a brushless motor. These motors run more efficiently than brushed motors, generating less heat build-up and delivering a longer motor lifespan.
The motor delivers trigger-controlled variable speeds from 0 to 3,500 strokes per minute – much more convenient than having to adjust speed with a dial. Stroke length is 1″and there is a straight sawing movement plus 3 orbital settings. With the orbital action (aka pendulum action)  turned off you get the least vibration and the best quality cuts. There is a bright LED light that does a good job of illuminating the cutline. Remember though, that cut quality ultimately comes down to the blade you use. You want to use good quality blades with the right number of teeth for the job at hand. Bosch, Diablo (Freud) and DEWALT are all good choices.
The DX51B has a very effective tool-less blade change and quick-release system that makes switching blades a breeze.
The shoe bevel release lever works well. It has detents for 0° as well as 45° right and left. The shoe mouth is 1-1/4″ wide, which I find can lead to tearout. When you're making rough cuts it's not an issue, but on expensive veneered panels and the like I use a zero-clearance sub-base attached to the jigsaw shoe. I attach mine with double sided tape.
While jigsaws don't kick up as much sawdust as other handheld power saws debris can still land on the cutline. Some models include dust blowers that fan debris off the cutline. The DX51B includes a dust adapter – when connected to a dust extractor it does a pretty effective job of keeping the cutline dust free.
I find that the top handle (aka D-handle) is easier and more comfortable to hold than a barrel grip and it doesn't compromise your view of the cutline.
You also get a rip guide with the DX51B that enables you to rip stock up to 6-1/2″ wide. For wider cuts just use a straightedge as a guide.
In use I found that the DX51B has sufficient power to easily cut through dimensional (2 by 6) lumber, 3/4″ hardwood plywood and solid wood up to 1-3/4″. On cuts that I made on solid wood (Douglas Fir and Alder) these was absolutely no blade deflection and no vibration to speak of.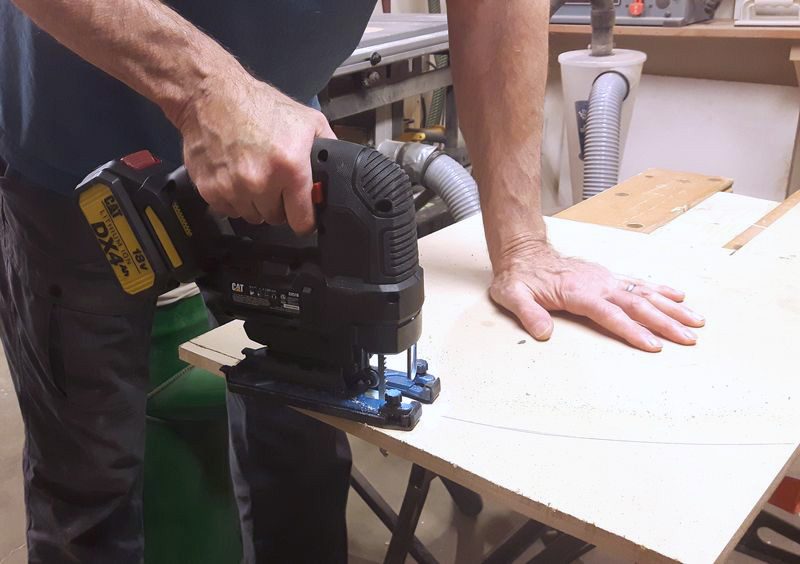 With trigger controlled variable speed, 3 levels of orbital action, low vibration, toolless blade change with auto blade ejection and easy shoe pivoting for making beveled cuts, and competitively priced at $215, the CAT DX51B represents very good value. If you already own a CAT power tool then the CAT DX51B will make a good addition to your power tool arsenal. Otherwise you need to purchase a battery and charger, which moves the price up to $385. You might then want to consider adding some other CAT tools to your kit. If so, check out my review of the CAT 18V brushless 1/2″ drill/driver kit.