The CAT DX12 comes in a durable, waterproof and stackable hard shell plastic storage case with nicely rounded corners that are less likely to get caught up on other tools or stock when stored in your truck. The case holds two 2.0Ah (36Wh) batteries that come with the kit along with a rapid charger.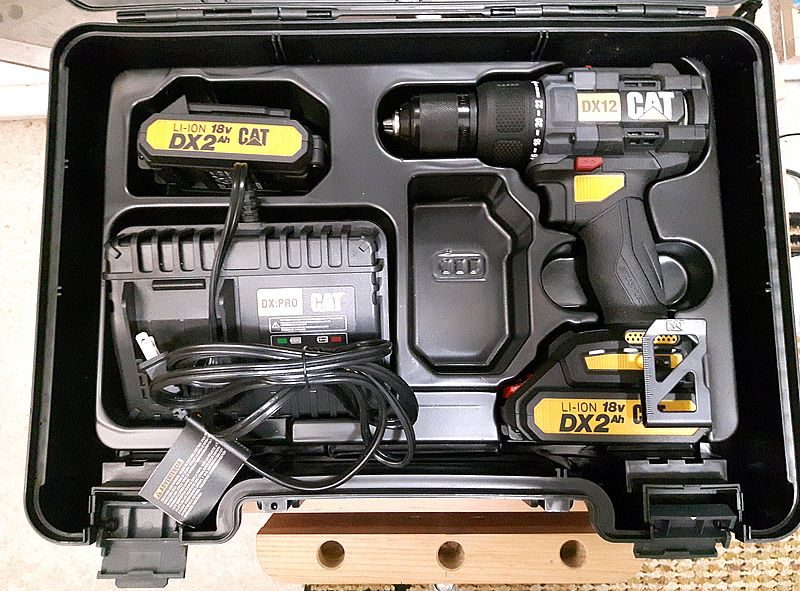 With that 2.0Ah battery, and the DX12's brushless motor,  you can easily drill 5 or 6 dozen holes through 2″ dimensional lumber with a 3/4″ spade bit. If you need more runtime there is a 4.0Ah (72Wh) and a 5.0Ah (90Wh) graphene battery.  Graphene batteries are like lithium batteries on steroids. They deliver better performance, last longer and full recharge in only 20-minutes.
For drilling and driving tasks, the DX12 delivers two speeds – 0-500 RPM and 0-2,000 RPM and 22 clutch settings, plus a heavy drilling mode and a hammering mode. Nothing you can find fault with here. This is a good range of speeds and enough clutch settings that you can easily set your screws to sink to just the right depth. Too many clutch settings is just overkill, and likely discourages users from taking advantage of the benefits of the clutch.
The all-metal ratcheting single sleeve locking 1/2″ chuck is as robust as you can get. This is where encounters with hard objects is most likely to take place and this metal chuck will outlast plastic hands down. The clutch rotates smoothly, and makes an audible clicking noise when turned. It's a feature that I like, as I don't have to visually check the collar when adjusting torque.
The speed shifter works fine, though if you're wearing gloves it can be awkward to move. In the #1 setting the DX12 delivers maximum torque at lower speeds — best for drilling harder materials, larger diameter holes, or setting larger diameter lag screws. In the #2 setting it delivers higher speeds at a lower torque level, which I use when drilling smaller diameter holes or setting smaller diameter screws.
In hammer mode the DX12 is a knock-out. While big is not always necessarily better, the adage does hold true when it comes to torque. At 600 inch-pounds of torque and a maximum impact rate of 32,000 blows per minute, the DX12 has enough oomph to drill just about the largest and longest holes you'll likely need, and to sink the full range of screws that most woodworks generally use. I had no problem sinking dozens of 3-1/2″ #8 screws in decking material and blasting out 1-1/2″ holes through framing stock. And, a second battery plus the fast charger eliminates down time.
Just about every power tool now had an on-board LED work light. The light on this drill shines upwards, just in front of the chuck and is very bright, making it helpful when working in poorly illuminated areas. Two other features add to the functionality of the DX12. Rubber bumpers on each side of the housing help to absorb any impact, particularly when laying the drill on its side, and a textured grip provides a firm hold and reduces slippage. At just under 4 pounds it's not overly heavy when using it for extended periods of time.
The DX12 doesn't include a side handle , which I find helps absorb vibration, enables you to hold the drill more securely, and lets you exert extra force as you drive the bit home – especially in hammer mode. However, the CAT DX13 hammer drill does include a side handle and it also comes with a graphene battery. Still, the DX12 has pretty well all the practical features you need in a hammer drill/driver, along with the power to handle just about any drilling and driving tasks you're likley to encounter on a daily basis.