While a circular saw is designed to aggressively and quickly cut dimensional lumber and sheet stock a track saw is specifically designed to make accurate, clean, chip-free repeatable straight and angled cuts on sheet goods and solid stock up to about 2″ thick. And it's meant to do this quickly, whether on a job site or in the workshop. These saws consists of two components that work together seamlessly to provide you with exceptional precision cutting – the plunge saw and the guide rails (aka 'guide tracks'). Track saws are especially useful when dealing with large, heavy sheet goods or shop made panels – it's considerably safer and easier to bring the saw to the work piece, rather than attempting to maneuver large stock over a stationary table saw.
The GKT18V is Bosch's first cordless brushless track saw. It's available as a bare tool (GKT18V-20GCL) or in a kit (GKT18V-20GCL14) that consists of the saw, PROFACTOR battery, fast charger, dust bag, vac hose adapter and an L-BOXX storage box. Tracks, which are available in 31.5″ (FSN800), 43.3″ (FSN1100) , 63″ (FSN1600) and 82.5″ (FSN2100) lengths, are sold separately. This makes a lot of sense as the optimal track length for you will depend on the kind of work you do.  You can use track connectors (FSNVEL) to connect any of the tracks together.
The 43.3″ or the 63″ track are good choices if you typically crosscut your sheet goods rather than making full length cuts. You can still make full length cuts, as I often do, simply by moving the track to finish the cut. Bosch does have a kit (FSN1600X2B) that consists of two 63″ tracks and a track connector (along with a convenient storage bag) which would be my choice if I was frequently making full length cuts. You might wonder about the utility of a 31.5″ track. I use one quite a bit as I find it more convenient and easier to maneuver when cutting smaller panels and for trimming veneer.
There are a range of other accessories available for the GKT18V-20GCL including track clamps, travel stop, rip fence and miter guide track.
The Bosch track saw is very competitively priced. For comparison, the GKT18V-20GCL14 ($649) kit with a FSN1600 ($149) track costs $798. A similarly equipped Festool TSC55 sells for $1,204 while a Makita MAK-SP001GZ05 retails at $894. (All prices as of April 2022, less taxes)
When you spend a lot of money on a power tool you shouldn't have to store it in a cardboard box or flimsy fabric bag. With the L-BOXX-3 you get a durable, lockable, stackable storage box that protects your tools in the shop and on the job site. The box is made of a tough polymer plastic. The wide top folding handle stores into a recess in the lid for stacking, yet allows you to carry the L-BOXX like a conventional tool box. There are also recessed side handles, which make it more convenient to carry two-handed when several of them are stacked together. The plastic locking clips at the front of the box are easy to open and close, and in the closed position they're flush up against the box, less likely to get snagged on anything. Everything is neatly stored inside the box and there's even room to store a pair of track connectors.
The GKT18V-20GCL features what Bosch refers to as "BITURBO technology". Essentially this consists of two components – their new PROFACTOR battery and their high-performance brushless motor and drive train.
PROFACTOR is the pairing of tools with BITUBRO brushless technology and CORE18V PROFACTOR batteries for optimized performance.
BITURBO brushless tech is based in a high-performance brushless motor and drive train that is optimized when paired with the CORE18V PROFACTOR batteries (8Ah or 12Ah)
Because of the advantages they offer over traditional brushed motors almost all manufacturers are using brushless motors with cordless power tools. What brushless motors offer are less noise and heat, more efficient energy transfer and longer product lifetime.
To get the most out of a brushless motor you need an efficient battery, and the new Bosch 18V CORE 18V PROFACTOR 8Ah battery is just that. It delivers an impressive 144 watt-hours of stored power.
The PROFACTOR battery is the exact same as Bosch has had in market for the past few years. They've simply added in "PROFACTOR" to the 8Ah and 12Ah naming to signal to the user that this is the optimized battery for PROFACTOR tools like this track saw.
Remember that heat is the number one enemy of batteries. To reduce heat build-up (and deliver maximum power) update to CORE18V batteries. PROFACTOR batteries use the larger 21700 lithium-ion cells that are assembled to get every ounce of power out of them. The 10 cells that make up the battery have laser welded copper end plates, power rails, a flexible circuit board and staggered cell design to reduce resistance and increase power transfer to the tool. The battery also incorporates Bosch's CoolPack 2.0 technology, which has cooling fins in the battery casing to further reduce heat build-up and prolong battery life.
Making a cut is a two-step process. First you depress a safety switch located on the top of the handle with your thumb, which releases the plunge lock on the saw. You then pull the trigger switch. I found it equally easy to perform these operations right- or left-handed.
A sliding detent enables you to quickly set the depth of cut. The easy-to-read depth scale is in both imperial and metric. Although the saw only has a 5-1/2″ blade you get a full 2″ depth of cut.
To set a bevel cut you release locking knobs on both the front and rear of the saw.  The bevel scale is also easy to read and quick to set. You can make bevel cuts from -1° to 47°. There are stops at both 0° and 45°.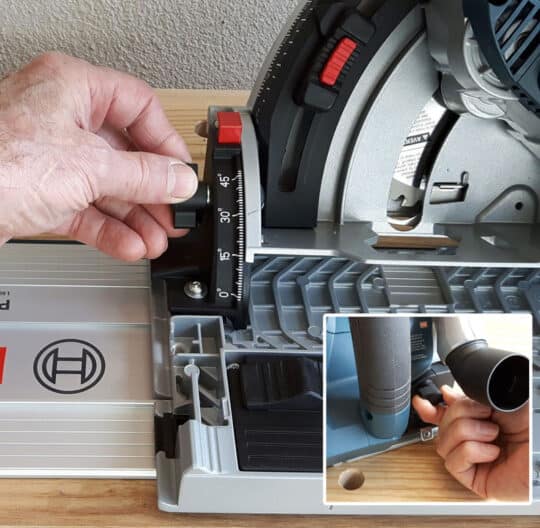 Changing the blade is simple. In front of the safety switch is a covered detent switch – pull up the cover, press the safety switch and lower the saw until it locks in place. You can then access the arbor through a window in the side guard. The hex wrench is conveniently stored on the base of the saw. I found this process to be very intuitive and quick to do.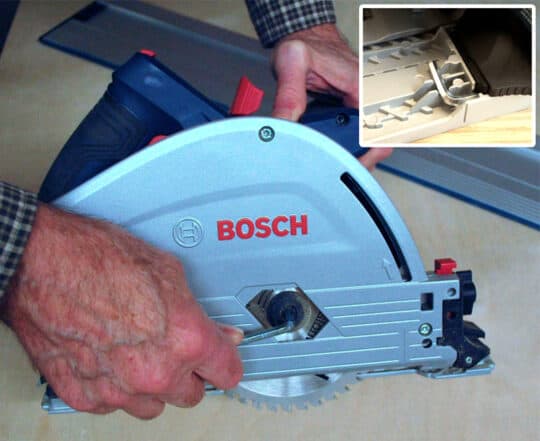 The 42-tooth blade that comes with the saw produces excellent cuts. The blade cuts a 9/128″ wide kerf, which uses a lot less energy, helping to extend battery life (and reduce stock waste).
There are two ways to control dust on the GKT18V-20GCL – with the fabric bag or connected to a dust extractor using the supplied hose adapter. While the latter set-up ensures almost 100% dust pick-up, I was pleasantly surprised at how well the dust bag worked. And the swiveling hose port makes it easy to keep the bag (or hose) out of the way.
The GKT18V-20GCL has a unique user battery interface that enables you to select from among 7 preset speed levels that range from 2,800 RPM to 5,500 RPM. There is also an Eco mode that runs the saw at 4,260 RPM. A lot of us tend to run our saws at maximum speed and the Eco mode gives you close to top speed while at the same time extending battery life. I've been using the Bosch exclusively on Eco mode without any problems. However for cutting some hard exotic wood, aluminum and acrylic Plexiglas you'd want the option to reduce speed.
There is also a temperature indicator on the user interface that lets you now if the saw (or battery) is overheating. I think you'd need to be doing a heck of a lot of continuous sawing for that to happen. Regardless, the saw has overload protection and shuts off automatically if things get too hot to handle. It also has constant electronics that help maintain speed under load.
You can purchase a Connectivity Module that enables you to connect your smartphone to the saw so you can check battery status and get information on saw usage, hours of operation and so forth. This is a feature I can live without, but might prove handy on a job site where several people use the saw.
The GKT18V-20GCL lacks a riving knife. If you're looking for a track saw to use exclusively on solid wood, then this might be an issue. However for processing sheet goods it's a moot point.
The GKT18V-20GCL has a magnesium footplate, which I much prefer over aluminum or steel as I think it has the optimal combination of durability, stability and light weight.
Built into the footplate is a narrow channel that fits over a matching rib on the top of the guide rail. This keeps the saw perfectly aligned with the edge of the rail.
Before you use a track for the first time there are two things you need to do. First adjust the fit of the saw on the track using the two groove alignment sliders. It's just a matter of moving the sliders forward in very small increments to tighten the fit of the saw footplate on the track's guiderail (or backwards to loosen the fit). You want the saw to glide smoothly on the track without any slop (side-to-side movement). Over time the saw might develop a bit of side-play due to normal wear and tear. Simply adjust any side-play via the two alignment sliders.
Next you want to trim the track's rubber anti-splinter edge. Set the saw's cutting depth to about 3/8″ and then run the saw along the track over a piece of scrap plywood or MDF. Done deal.
Cutting with the GKT18V-20GCL doesn't involve much in the way of guesswork. Simply align the edge of the track splinter guard where  you want to make the cut and go to it.  You really don't need to make layout lines (perhaps other than a few tick marks where to help you position the track). This makes cutting not only precise, but incredibly fast.
And the cuts are perfect. The top side of stock is always flawless with absolutely no tearout – on solid wood, plywood, MDF, particleboard and laminate. Occasionally I've noticed minor tearout – a bit of frayed fuzz- on the bottom side of panels (primarily with MDF). Making bevel cuts is as easy as square cuts – no special adjustment is needed. Set the bevel angle and cut away.
The GKT18V-20GCL is an ideal saw for anyone who has a small workshop and needs to process sheet stock or large panels, and for renovators and carpenters who don't want to be toting a table saw to the jobsite.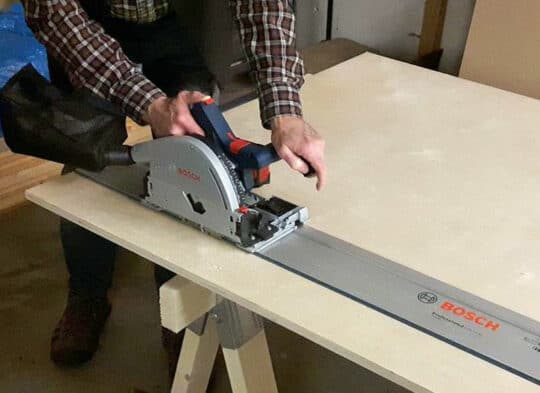 If you're in the market for a professional level plunge saw that's easy to use and delivers consistently accurate, repeatable, high quality cuts, then the Bosch GKT18V-20GCL is the saw you need.