The GEX33-5 comes with a removable front handle, dust canister, vacuum hose adapter (for connecting to your shop vac), 5mm pad wrench (which you also use to attach the front handle) and one P120 sanding disc. The wrench conveniently stores under the bottom of the main handle.
It has a rugged die-cast aluminum gear housing with a front handle that is quick to attach and a top-mounted contoured handle just above the motor housing. I only remove the front handle when I want to sand tight up in corners. I like the large spring loaded trigger that's easy to grasp if you're wear gloves when sanding.
The lock-on button is conveniently located so it can be quickly activated with your thumb. Likewise, while holding the main handle you can easily rotate the variable speed dial with your thumb. I like to start the sander at the lowest speed setting, with the pad resting on the work surface, and then increase the speed to the level required for the work at hand. I constantly use the contoured padded handle atop the motor housing which makes the sander more comfortable to hold for longer periods of time.
The GEX33-5 has a 3.3 Amp motor that delivers from 4,500 to 12,000 orbits per minute, which I've found is more than adequate for all my sanding and polishing tasks on hardwood, softwood and veneer backed plywood. It has an eccentric offset of 3/32″ and both orbits and rotates, which contributes to a smoother, well-blended surface that better approximates hand sanding.
All power tools, including sanders, generate some level of vibration. If you only use the tool for a few minutes at a time, then vibration might not be a big issue. However, on tools that we tend to use for extended periods of time, like sanders, vibration can be a literal pain – in the hands and forearms. This can be exacerbated if you have a tendency to hold onto the sander tightly. After twenty or thirty  minutes of continuous sanding your hands can start to feel numb.
The GEX33-5 has a very effective vibration dampening system that makes it the smoothest operating sander that I've used. It doesn't eliminate vibration totally, but enough that I can easily manipulate the sander with a single hand.
On the bottom of the sander, right above the backing pad, is a rubber damper ring that serves to reduce no-load speed. This is the 'Pad Dampening System'. What this means is that when you're not applying any downward pressure on the sander, there is minimal pad rotation. This helps reduce swirl marks on the work surface, resulting in a smoother, better looking finish.
The multi-hole microcellular backing pad is flexible enough to ensure a smooth, fine finish on both flat and contoured surfaces.  Sanding dust is pulled away from the work surface through a myriad of holes in the pad to maximize sanding efficiency, prolong disc life and makes for better dust pickup and extraction.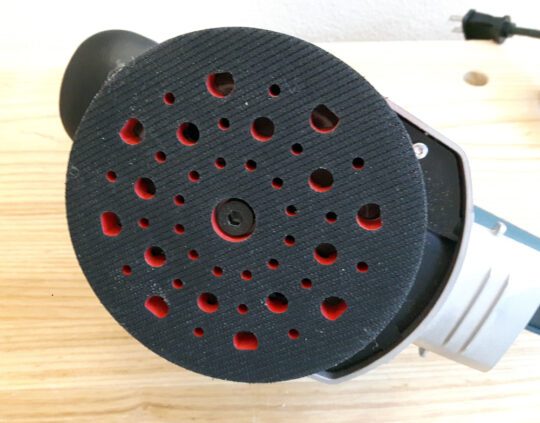 Dust control is crucial when sanding, as the dust is especially fine. Wearing a respirator goes a long way in keeping dust out of your lungs. However, you don't want fine dust settling all over your shop and on the surfaces you're sanding.
The GEX33-5 has an efficient dust management system. It comes with a hard shell dust canister that contains a removable paper micro filter. The canister has a flip-off top that makes it easy to empty the canister, which is something you should do after every sanding session. Better yet, connect the sander to a shop vacuum. The GEX33-5 comes with connectors that accommodates both 1-1/4″ and 1-1/2″ dust hoses. While I found that the dust canister works well, using a shop vac is, by far, much more effective.
The multi-hole sanding disc that comes with the GEX3-5 is a marked improvement over the standard 5- and 8-hole sanding discs. More holes makes for better air flow and dust extraction. I prefer the new generation of net-backed abrasives as they give me a much longer service life and excellent sanding results (see "Net-Backed Abrasive Sanding Discs"). 
At just over 5 pounds this isn't a light weight sander, but it's easy to control because of the low level of vibration.
While there are some good sanders on the market, I place the GEX33-5 at the top of the list. In use I found it to be a stellar performer – easy to control, with minimal vibration, good dust pickup (excellent if you connect to a shop vac, and most importantly, producing an excellent surface.
Note: Bosch also has a 6″ version of this sander, the GEX33-6.
Connect your sander to a shop vac, or empty the dust canister frequently.
Change sanding discs frequently – as soon as you notice pills forming (pills are those small spheres of compressed dust that stick to the surface of the sanding disc).
Periodically remove dust from the surface you're sanding, using a rag, brush, vacuum or compressed air, otherwise trapped grit will cause scratching and swirl marks.
Start with the finest grit that will do the job; progress through grit sizes sanding just enough to remove scratches from the previous grit – P100, P120, P150 and P180 is a good progression to follow.
Let the sander do the work – if you feel the need to apply downward pressure change to a coarser grit.
Place the sander on the work surface and then start it at low speed.
Keep the sander pad flat, particularly at edges of a board.
Lift the sander off your work piece smoothly and evenly, and then turn it off.