TUALATIN, OREGON—Oct. 26, 2023: How do you make the world's best table saws better? With premium accessories that deliver greater accuracy, dependability, ease of use, storage capacity, and safety. Introducing SawStop's new Revolution Miter Gauge, Scale Miter Gauge, and Under Table Cabinets, built for the workshop and jobsite, available at SawStop dealers across the United States and Canada.
Already the leading manufacturer of cabinet saws in North America, SawStop offers five models of table saws and dozens of accessories to augment these machines, including blades, mobile bases, dust-collection attachments, and more. "We are obsessed with innovation and our mission to protect and inspire woodworkers," said SawStop CEO Matt Howard.
"We designed these new accessories with the customer in mind, to help them take their shop, their saw, and their woodworking to a higher level."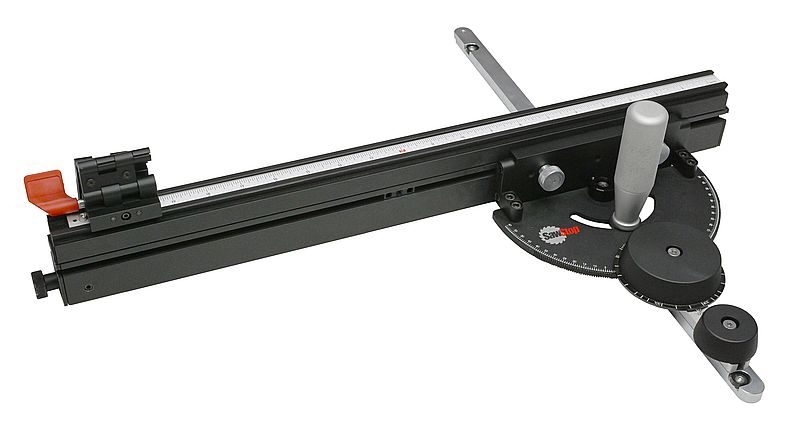 The Revolution Miter Gauge (TSA-RMG, $499) uses patent-pending technology to deliver precise angle setting as fine as 1/10° with a simple turn of the dial, as well as features that make it stand out against other miter gauges:
The RMG uses an intuitive geared dial system to set any angle up to 60° each side of zero, with settings in increments of 1°, 1/2°, 1/4°, or 1/10° with a positive tactile "click" in each notch as you turn the dial. You can also bypass the gear system for free turning.
Setting angles with the RMG is as simple as 1, 2, 3: Loosen the grip, select the increment for making angle changes, and turn the dial to move the head to the desired angle.
Markings on the dial align with markings on the head for absolute precision no matter the angle; includes common angle settings of 22-1/2°, 30°, 45°, and 60°.
Fits any table saw with a 3/8"x3/4" miter slot, with adjustable nylon washers to remove any play in the miter slot, and a removeable washer on the front of the bar to fit into T-shaped slots.
The RMG uses a sliding wedge system for securing fence attachments and repeatable stops. The reversible, telescoping fence works with the miter gauge in either the left or right miter slots with equal accuracy and ease of use.
Make repeatable cuts up to 37″ in length using the tool-free articulating flip stop—with or without a sacrificial fence. A micro-adjuster lets you fine-tune a crosscut length without repositioning the flip stop. The flip stop includes mounting holes for adding jigs or locking into the wedge system.
Heavy-duty construction, including a steel miter plate manufactured with machine tolerances of <.001" for exceptional precision.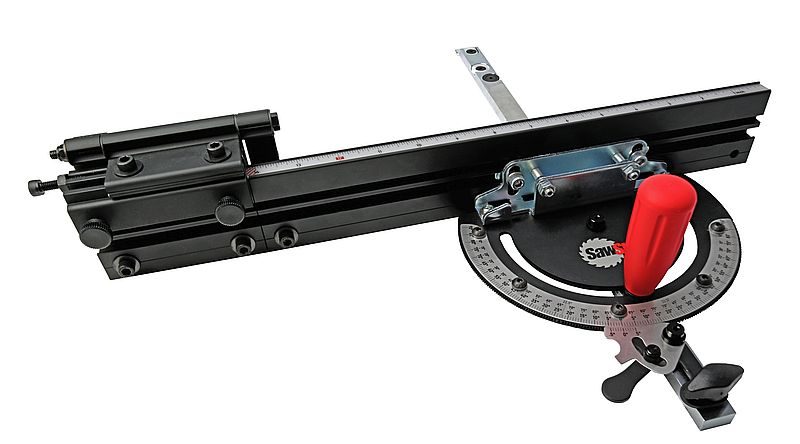 The Scale Miter Gauge (TSA-SMG, $249) brings can't-miss accuracy to any table saw, with up to 181 precise notches and the ability to adjust any angle within 1/10°. Other features include:
A protractor head with a pointer-and-notch alignment mechanism that locks in precise angles up to 90° each side of zero, including notches for 22-1/2° on each side.
A built-in Vernier scale gives you the ability to fine-tune any angle in 1/10° increments.
An 18"-long miter bar, made to fit in common 3/8"x3/4" miter slots, uses six adjustable washers to eliminate side-to-side movement while ensuring a smooth glide forward and back. A removeable T-clip at the front of the bar fits into T-shaped slots.
The aluminum fence provides a large reference for holding workpieces accurately, with a telescoping extension that reaches up to 34" with the flip stop. A T-slot in the front face provides a place to attach auxiliary wood fences with T-bolts. The scale on top of the fence can be calibrated to enable making precise crosscuts without having to measure and mark your boards.
Use the flip stop to make repeated cuts at the same setting for identical project parts. The flip stop indexes on the fence in 1/32" increments. The flip stop's dual arms can be set independently at different lengths from the blade or linked together with a rod, all of which can be fine-tuned with a built-in micro-adjuster.

The Scale Miter Gauge is available October 26, 2023.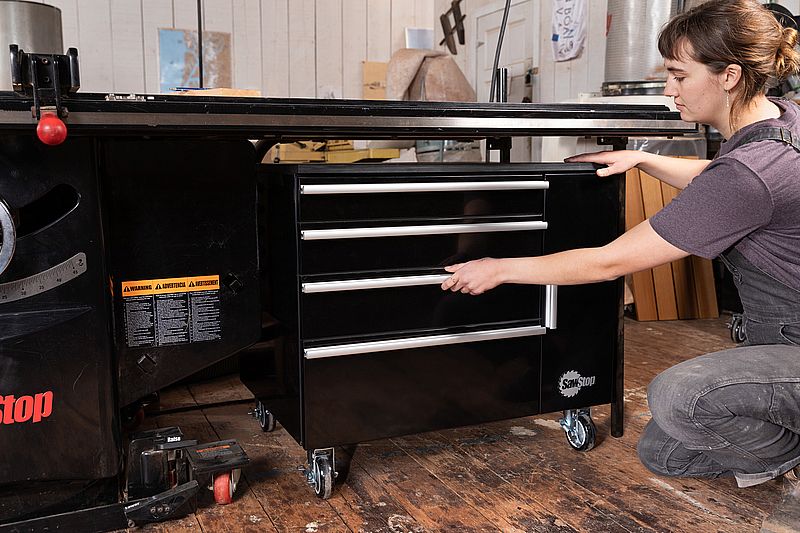 SawStop's Under Table Cabinet (UTC) comes in two sizes: 18" (TSA-UTC18, $499) and 32" (TSA-UTC32, $699) wide. These UTCs are specifically designed to fit under any SawStop cast-iron table saw* – providing loads of storage for blades, wrenches, and other accessories, ensuring a safer, cleaner workspace.
Five drawers mount on heavy-duty, 3/4-extension soft-close ball-bearing drawer slides for easy movement without sagging.
One vertical drawer with a perforated panel and hooks for hanging blades and accessories.
Four horizontal drawers offer convenient storage for various tools and accessories, with soft-rubber liners to protect and prevent scratches and damage.
A foam block insert allows you to cut out and create custom storage to fit your tools and accessories.
Four 4" locking, swivel casters create easy mobility.
The durable, stain-and impact-resistant UHMW top provides an additional work surface.
The heavy-duty welded-steel construction ensures durability.
*—The Under Table Cabinets will not fit under some SawStop table saws equipped with the Floating Dust Collection attachment or right-side Inline Router Table.
The Under Table Cabinets are available October 26, 2023.

For more information, visit sawstop.com