Canadian Woodworking & Home Improvement is rewarding members with monthly prizes in collaboration with our sponsors.
---
To be included in our next prize draw for a Festool CLEANTEC CT 25 HEPA dust extractor and ETS 125 Req-PLUS sander,
join or renew by Dec. 31, 2023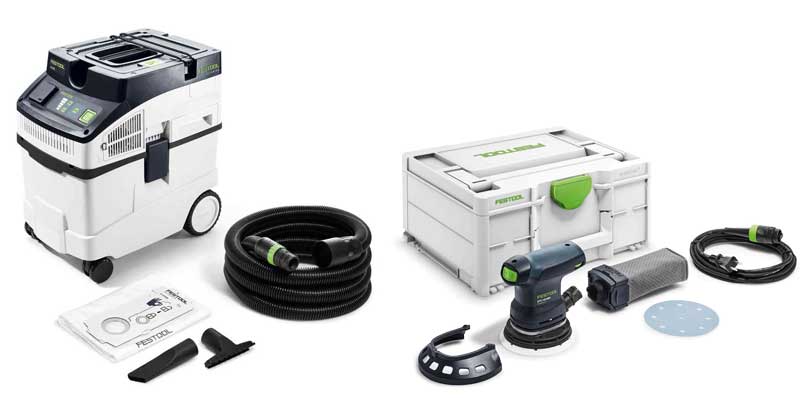 ---
Already a member?
You're automatically entered!
Subscribe now to be in the draw!
---
Canadian Woodworking & Home Improvement, in collaboration with our sponsors, is rewarding members with monthly prizes.
At the end of each month, Canadian residents who have an active, paid subscription will be automatically included in the prize draw period for that specific month.
To become a member, subscribe now.
---
Rules for the exclusive monthly Member Giveaway Draws
Administration
The Member Exclusive Monthly Giveaway Draws (Contest) are administered by Inspiring Media. Inc. o/a Canadian Woodworking & Home Improvement (the Contest Sponsor).
Prizes are provided by various advertisers (the Suppliers).
All decisions of the Contest Sponsor are final and binding in all matters as they relate to the Contest.
The Contest Sponsor reserves the right to change any of the terms of the Contest or to terminate the Contest at its discretion.
Each monthly selection for a winner is considered a separate Member Giveaway draw.
Eligibility
Contests are open to persons in Canada who have attained Age of Majority where they live. Employees of the Contest Sponsor and Suppliers, along with their partners and affiliates, advertising, promotion and production agencies, and members of their immediate families are not eligible. No purchase is necessary (see details below).
The Contest is void where prohibited or restricted by law.
Prizes
Prizes must be accepted as provided. Prizes are not transferable. No substitutions will be permitted. There is no cash value in lieu of Prizes.
Prizes will be shipped by courier to valid addresses in Canada or in some instances made available for pick-up at the nearest Supplier dealer. The Supplier dealer address will be provided by the Supplier. Taxes and fees, if any, are the sole responsibility of the winner.
Chances of winning
Your chance of winning will depend on the total number of valid member subscriptions at the end of each month. The list for each draw will be extracted from our membership system as of midnight on the last day of each month.
In order to have a valid member subscription, you must have provided your name, full shipping address, and valid email or phone number registered in our membership system and recorded as paid up.
How to enter
To enter the Contest, sign up or renew a digital or print Canadian Woodworking subscription in Canada for that includes the draw period(s). To be clear, members with subscriptions that include multiple month-end draws will be included in each draw for the duration of their subscription.
Members with multiple subscriptions (such as one for themselves and another as a gift for someone else) will receive an entry for each subscription in Canada.
Subscriptions must be paid for at the time of each draw in order to be included.
To enter a draw without making a purchase, apply for a No Payment membership by writing a 100-word essay about what you like about woodworking and send it, along with your name, address, postal code, email and/or phone number, to: Canadian Woodworking, P.O. Box 808, Niagara on the Lake, ON L0S 1J0. Essays must be original and cannot be mechanically reproduced. You will be subscribed with a one-day No Payment subscription for the last day of the next month after your submission is received. The No Payment subscription will not provide any privileges for access to digital or print content and will only allow you to be included in that one month's draw.
Subscriptions obtained through fraudulent means or through an abuse of the Contest entry process may, at the sole discretion of the Sponsor, be disqualified.
Consent

Winners are required to agree to the use, by the Sponsor, of their name (first name and last name initial only – e.g. Larry G.) and location (city and province) in any announcement about prize winners.
The use of any likeness, images submitted and/or prize information for promotional purposes in any medium will be without compensation to the extent permitted by law.
In entering the Contest you subject yourself to, and agree to be bound by, the Contest rules, all other guidelines, terms and conditions stated elsewhere on this site and all applicable laws, ordinances and regulations, including but not limited to all the laws respecting intellectual property, trademarks, copyrights, rights of privacy, and defamation.
Selection/Notification
A random draw will be held within two (2) business days of the end of each Draw Period by the Contest Sponsor to determine the potential Contest winner.
A representative from the Contest Sponsor will notify the selected entrant by phone or email within 3 days of the draw date.
Potential winners must respond to the Contest Sponsor's email or phone call within 3 business days; otherwise the potential winner will forfeit the prize, and the Sponsor will select the next randomly selected potential winner.
In order to be declared a Winner, the prospective winners must first correctly answer, unaided, a time-limited mathematical skill-testing question.
Winners will be required to sign a standard declaration and release form confirming compliance with the draw rules, agreeing to accept the prize as awarded, and releasing the Sponsors and Supplier from all liability.
Liability
The Contest Sponsor is not responsible for prize condition or quality.
The Contest Sponsor hereby specifically excludes any and all warranties or conditions, express or implied, including without limitation implied warranties of merchantability, satisfactory quality, or fitness for a particular purpose, and those arising by statute or otherwise in law.
The winner shall indemnify, defend and hold harmless the Sponsor, its affiliates, subsidiaries, parents, directors, officers, and employees from and against any liabilities arising from or regarding taxes owed on prizes.
Other
Au Québec, tout litige concernant la tenue ou l'organisation d'un concours publicitaire peut être soumis à la Régie des alcools, des courses et des jeux pour qu'elle soit tranchée. Tout litige concernant l'attribution d'un prix peut être soumis au conseil d'administration uniquement dans le but d'aider les parties à en arriver à un règlement. In Quebec, any litigation respecting the conduct or organization of a publicity Contest may be submitted to the Régie des alcools, des courses et des jeux for a ruling. Any litigation respecting the awarding of a prize may be submitted to the board only for the purpose of helping the parties reach a settlement.
For questions concerning the Contest, please contact the Contest Sponsor by email or mail: Canadian Woodworking, P.O. Box 808, Niagara on the Lake, ON L0S 1J0

[email protected]
---
Prizes for monthly Member Giveaways draws
Member Giveaway Draw #1 contest draw ends midnight Oct. 31, 2023
Prize: Prize: Festool 576726 TS 60 K Track saw with #577043 FS 1400/2-KP guide rail, estimated retail value $1,290; winner: Michael S of Tottenham, ON, a subscriber since 2016.
Member Giveaway Draw #2 contest draw ends midnight Nov. 30, 2023
Prize: King Canada Wet/Dry Sharpener KC-4900S, estimated retail value $259
Member Giveaway Draw #3 contest draw ends midnight Dec. 31, 2023
Prize: Festool Random Orbit Sander Dust Extractor ETS 125 Req Plus with CLEANTEC CT 25 HEPA, estimated retail value $994
Member Giveaway Draw #4 contest draw ends midnight Jan. 31, 2024
Prize: To be announced
Member Giveaway Draw #5 contest draw ends midnight Feb. 29, 2024
Prize: To be announced
Member Giveaway Draw #6 contest draw ends midnight Mar. 31, 2024
Prize: To be announced
Member Giveaway Draw #7 contest draw ends midnight Apr. 30, 2024
Prize: To be announced
Member Giveaway Draw #8 contest draw ends midnight May 30, 2024
Prize: To be announced
Member Giveaway Draw #9 contest draw ends midnight June 30, 2024
Prize: To be announced
Member Giveaway Draw #10 contest draw ends midnight July 31, 2024
Prize: To be announced
Member Giveaway Draw #11 contest draw ends midnight Aug. 31, 2024
Prize: To be announced
Member Giveaway Draw #12 contest draw ends midnight Sep. 30, 2024
Prize: To be announced
---
Last updated: Rules as of Oct. 20, 2023