Below are reader comments, along with my responses. If you get through all this and still think veneer is overrated, post your thoughts in the comments section below.
Al: I do agree with you about plywood, veneers, etc. The problem I have is that my father left me a LOT of pieces of solid oak – all 3/4″ thick, but some is 5″ wide, some 6″ wide and it all varies in length from 18″ to 30″. I would like to begin my woodworking with these materials but am unsure what to start with.
ROB: I don't consider this a problem at all. Oak is a strong, durable species, and very appropriate for many woodworking projects. Those lengths are fairly short, but as long as you choose projects that don't require long workpieces, you'll be fine. Everything from games, toys and boxes to night tables, end tables and mirrors can be built from the pieces you have. Don't feel you have to use veneer in every piece of furniture, as solid wood includes a lot of pros when used in the right projects. We have lots of projects in our back catalogue you can read for free. Visit our website and look through more than 20 years' worth of project articles.  Good luck!
Amy C.: While less desirable or "waste" wood can make up manufactured materials like plywood or particleboard, they also require glues, conditioners and mechanical processes to fabricate, and that is less environmentally sustainable when compared to solid wood. I'd be interested to know which material has a smaller carbon footprint from the forest to the finished product.
ROB: This is a fair point, Amy. One part of this equation is certainly the question of sustainability. To dig deep into this question we'd have to take into account many things. For example, the cost of solid wood to transport and process  compared to not only veneer, but to the core the veneer is eventually affixed to. There are also many other questions surrounding sustainability that I honestly don't know the answers to. One thing we can't forget is that no matter whether we use solid wood or veneer, the joinery we use and how well a piece of furniture is engineered factor greatly into how sustainable it is. For example, if a piece of solid wood furniture is disposed of after 10 years, while the same piece of furniture made with more veneered parts lasts 50 years, that's a big difference. Of course, the opposite is also true. There are likely studies available about this sort of thing, though I'm not aware of them.
Marpy: I would agree with the reader who doesn't like veneer. Yes, it's cheaper (well, maybe not), more uniform (maybe, but you can match your wood pieces to be uniform as well), but it has its drawbacks as well. It is not as durable (especially edges that have not been faced with a solid piece of wood), the veneer is usually very thin and it will always look like veneer.
As for being cheaper, the way the price has gone up, it's not that cheap anymore. If you are going to take the time to build a good project, IMO you may as well use solid wood. As for wood movement being a problem, I see that more as a fallacy than reality. I have projects that are over 40 years old and nothing has really moved. Even outside, I have made cedar projects that have held up well. This included stairs for my deck where the rails were glued together out of narrower boards. Guess what – 20 plus years later when I replaced them, they were still glued together. Some people will use veneer, but many woodworkers will not use it for any project of real importance, and they have good reasons for not using it.
ROB: I'd have to say veneer is certainly more uniform than solid wood. A tree will provide us with hundreds (maybe a lot more) of sheets of veneer, and the ones that were cut from the same portion of the tree will all be almost identical. Sure, two boards taken side-by-side from a tree will be very uniform, but that's only two boards, compared to the dozen or more pieces of veneer that are virtually indistinguishable. By the way, there's a good chance you could never find two pieces of lumber that were cut side-by-side from a tree if you're obtaining your lumber from a medium or large lumberyard. You'd likely have to either mill the lumber yourself or go to a small lumberyard that processes all of their lumber from start to finish. But then again, maybe some folks don't care about the uniformity of a project. Having said that, I happen to know many interior designers, industrial fabricators and studio furniture makers who do value uniformity.
Veneer, if pressed with the correct adhesives and on quality cores, can last for a very long time. Sure, if solid wood edges aren't applied the veneer can chip, but that's not typically a best practice. If solid wood edging is added to a veneered panel (either before or after the veneer is applied) the completed workpiece can be exceptionally durable and long-lasting. Properly done, protecting the edges of a veneered panel is easily accomplished.
In terms of cost, I never said veneer was cheap. As we've all seen, wood (and all sorts of related materials) has increased in price over the past couple of years. I was comparing the cost of veneer and solid wood. Also, different species are available in different parts of our great country, and the cost will also differ from coast to coast.
I'd have to strongly disagree with your notion of wood movement being a fallacy. Wood unquestionably moves with long-term changes in humidity. It generally grows in the summer and shrinks in the winter. That certainly doesn't mean a piece of solid wood furniture will fall apart due to wood movement. If a piece of solid wood furniture is engineered properly it can last a long time. But that's a big if. Some makers understand what needs to be done, while others don't. Different species of wood move at different rates. Also, different cuts of wood (radial, tangential and parallel to the grain) move in varying amounts. The radial (when compared to the annual growth rings) dimension of a piece of wood will move about half as much as the tangential dimension of a piece of wood. And the length (parallel to the fibres of wood) of a workpiece will change very little as the seasons change. This is critical to understanding how to best engineer a piece of furniture with solid wood in it. Over the years I've saved a few different solid wood offcuts to see how much they change from season to season. I measure them, check for straight and date the findings on the offcut. Not surprisingly, a trend very quickly emerges. I would suggest anyone interested in solid wood furniture should do the same thing so they can see the changes in real time. 
Regarding your comment about a solid wood joint that lived outdoors for the last 20 years still holding strong: I'm not surprised at all. Two main things are needed for that to happen: 1) a proper edge has to be machined on mating pieces; and 2) a waterproof adhesive needs to be used. These two components should produce a joint that lasts longer than the pieces of wood themselves, as wood will eventually rot when outdoors.
I'm guessing many woodworkers aren't using veneer because they honestly think quality wood furniture is simply not made with veneer. I think that's a shame for a few reasons. Not only is it not true, but some pieces of furniture will be of better quality only if they're made with veneer. At the end of the day, everyone has to use the skills and machinery they have to build a piece of furniture, and if some makers aren't comfortable with using veneer, I can understand that. I'm just saying if they learned a bit more about the benefits of veneering, they might change their stance.
Mark Hamm:
Great article – I appreciate your taking time to explain the pros and cons.
ROB: Glad you enjoyed it, Mark. I hope it talked you into learning a bit more about how to incorporate veneer into your next project.
Thomas P.: With over 50 years of woodworking experience, I have used solid wood, plywood, MDF, particleboard and even solid core plywood, and the key to what is best for a woodworking project comes down to one thing. That is cost. How much it ultimately will cost a client, and that includes self-projects. Whether you are a hobbyist, professional, or a DIY weekend warrior, if you use the wrong type of wood product for a project it will cost you more to repair or rebuild it. I now live in an area where there are tree plantations. Yes, it takes years before harvesting, but there is a way around sustainability. So, it comes down to planning and cost. Use what is best for your project so that it will last for generations.
ROB: It's hard to disagree with you, Thomas! As you say, cost not only comes down to how much the material will cost to purchase, but also to how long it will last, how sustainable it is, etc. We all want our projects to last for generations, and incorporating veneer into a project when that's the best material for the job is an important part of furniture making.
Steve Der-Garabedian: Very well said, Rob. You had me at veneer. There were two subjects that opened my eyes in woodworking school. The first was that I didn't realize until then what sharp really meant. The second was when I was taught to bend wood and veneer. Like anything, there are pros and cons with veneering. It's not fake. Veneer is thin but only until you attach it to the substrate. As far as being easy to damage, well, I don't go around banging solid wood or veneered pieces. Repairs can be made to both. If you want to work with the best-looking grains and colours then you'll need to work with veneer. Ever wonder why woodworkers who veneer continue to do so? The pros outweigh the cons.
ROB: As someone who literally wrote the book on veneering (Veneering Essentials: Simple Techniques & Practical Projects for Today's Woodworkers) I'm not surprised you enjoy the benefits of veneer, Steve!
Rike P.: While your article is well written and loaded with pros and cons, as a retired woodworker (I'm 71), I would love to have a conversation with you on this topic. Trying to lay up a bookmatched piece, even a cutting board, from a flitch is singularly one of the hardest things to do without all the specialized equipment and professionalism required. It's like playing poker….Ya gotta know how to play your best game. Two short questions, 1. Where in the world do you find ebony plywood? I'll look it up. 2. Do you think that Rococo furniture or Chippendale pieces were made from plywood? From what I've gleaned over the past 50 years of pursuing the craft, the best made furniture was built by Gustav Stickley and his brother Leopold. Nothing fake. "Honest" furniture. "Als ik kan" printed on every piece made ("to the best of my ability"). To your credit, the article is a good synopsis of all the decisions that need to be addressed if you are on the fence.
ROB: I'm always open to woodworking discussion. Maybe we can continue this via the comments section! Bookmatching a couple pieces of veneer isn't rocket science if you have a mix of the right tools and techniques. Anyone with a small shop should be able to create beautifully matched veneer panels. These same techniques can be used to produce large panels for all sorts of workpieces. Sure, larger pieces are often harder to create, but that's no different from dealing with solid wood.
I have never seen ebony plywood, though it might exist somewhere. I purchase ebony veneer, trim it to have straight edges, then apply it to panels, often with a vacuum press. The skills and equipment I have in my small shop allow me to make panels of almost any dimension, with virtually any species from around the world. Even ordering veneer is very simple. Call a veneer supplier and let them know what you want, then they will likely send you a few images to look at. After making a choice they will package the veneers up and mail them to you at minimal cost, as their weight is quite low.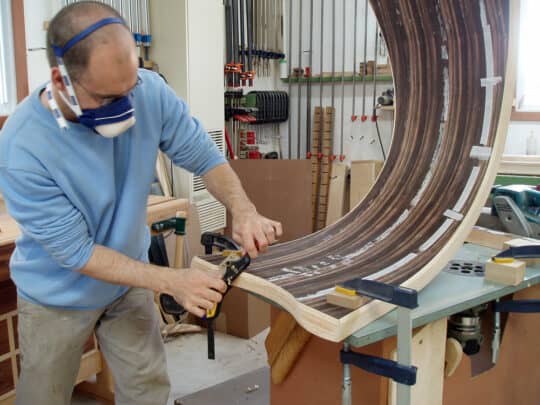 Speaking to classic furniture designs and styles, I'm sure the makers from a few hundred years ago didn't have the ability to purchase quality sheet goods like we do today, but they definitely used veneers in some of their work. Much of their work was constructed from solid wood, which is typically the way most quality pieces were made, but veneer was cut and used when needed. Many historical pieces were designed so solid wood was the best material for the task at hand, but if veneer was needed, they opted for that route.
And to be clear, I'm not saying for a second that it's impossible to build high-quality furniture with only solid wood. Solid wood works great for many, many workpieces. I just feel there are some pieces of furniture, or even some workpieces, that should be made with veneer.
Mark M.: The irony is that so many people who think solid wood is better don't realize that so many pieces of furniture cannot be built with solid wood. Sure, if you like Arts and Crafts furniture you can build with only solid wood, but most mid-century modern case goods are veneered sheet goods and could really and practically only be built with them. "I won't build with solid wood" has become a bit of a sneer, sadly. I wish we could look at design and construction in a more pragmatic way.
As far as "wood doesn't move" comments – tell that to the couple whose 12' dining table I just rebuilt because the solid edge timbers were affixed rigidly to the bar and the table split cleanly down the middle. Built in July, it blew apart in February.
ROB: I agree. A pragmatic approach to both design and construction is exactly what I'm pushing for. If a workpiece is best built from solid wood, solid wood it is. If a workpiece needs to be built from veneered sheet goods to ensure a lasting product, that's the way to go. Some pieces of furniture can certainly be made entirely from solid wood. I've done this many, many times myself. But what I'm hoping to get across to folks is that sometimes a mix of solid wood and veneer is the best approach.
And, yes, wood moves. Those who disregard this fact will very likely learn the hard way. That's not to say any and all cross-grain construction is going to fail, as the devil is in the details. If the pieces are narrow  movement isn't going to be a large problem. Or maybe the wood is quarter cut and will just move less with the seasons. It's even possible the piece of furniture will remain in a climate-controlled environment for years to come, so it may last decades before truly being tested. There are many other ways to stack the deck in your favour, though sometimes a veneered panel is simply what's called for.
Jacilynn: In my experience, plywood warps far more than solid woods. It is unpredictable in that way. Doors that are fine one year may twist the next in a different way. I have a few in my house. Veneers have a similar problem. They move in different ways than the base wood and can bubble or peel unexpectedly.
That said, using some veneers in good thicknesses is a good thing. Some old veneers were quite thick, but due to idiots with sanders over the years has made them near impossible to repair.
It's a pity how people have gone from smooth planed surfaces and cabinet scrapers to falsely believing sanding produces a better finish. Proper use of hand planes and scrapers produces a much smoother and burnished finish that no sandpaper can hope to match.
ROB: I agree with you regarding plywood warping, Jacilynn. This is especially true if it's not fixed to a structure of some sort. Warping, as you know, isn't to be confused with expanding and contracting. Solid wood will expand in more humid months, sometimes risking the structural integrity of the piece of furniture it's a part of. When building furniture with plywood, especially larger pieces, it can be advantageous to protect against it from warping by using solid wood, or even other pieces of plywood, to counteract any potential warping the plywood will do. MDF and particleboard are both much less likely to warp. Obviously, all sheet goods have their strengths and weaknesses, as does solid wood. The bottom line is that there's a time and a place for each type of material.