Hand-cut dovetails are overrated, but they can also be satisfying
I've been working away on a pine desk that has some unique details. One of the most prominent details is a pair of drawers with angled sides. Like most people, I associate dovetails with a traditional look. Most people also think having a dove-tailed joint indicates quality. The designer of this desk included hand-cut dovetails in this piece, along with angled drawer sides.
Japanese-inspired cabinet
This cabinet was inspired by the many Torii gates seen throughout Japan. Its simple, clean lines mean it will look great in almost any setting.
Upgrading to a Tersa cutterhead is easier than you think
Switching to the light weight, noise reducing Tersa Cutterhead will enhance your planing experience and make knife changes even easier.
Results of our 2021 Tool Survey
Our September 2021 Tool Survey asked Canadian woodworkers and DIYers about some of their tool buying habits. A total of 2,391 people completed the survey.
November Virtual Woodworking Show
The next Virtual Wood Show runs from November 12 to 14.


There will be a wide range of streaming seminars and demonstrations - it's a great opportunity for you to enhance your skills and meet new woodworking friends.
When you need a cost-effective flooring solution but still want the character of wide planks, consider a quality plywood for the job.
The complete cutting system
Shaper Origin + Workstation is the precision cutting and workholding solution for your shop.
"All things good to know are hard to learn."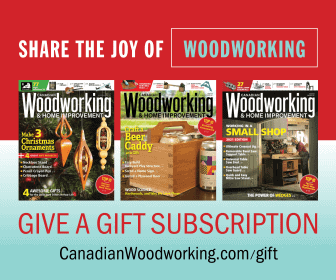 For advertising
opportunities
contact Chad Martin
This newsletter was sent to . If this email was forwarded to you,
You are receiving this email because you opted in at our website.
Inspiring Media Inc. o/a Canadian Woodworking, Box 808, Niagara on the Lake, ON L0S 1J0