Installing trim and a Wood Symphony Gallery Exhibition
Installing trim is never easy. I set myself up for this. I tricked myself into thinking this job would be easy, even though I knew very well that's almost never the case.
DeWALT Xtreme 5-in-1 cordless drill/driver
The new DeWALT Xtreme 5-in-1 drill driver, a runner-up in the 2021 Tool of the Year Awards in the power tool category, is an exceptionally versatile and compact precision drilling and fastening system.
Excessive humidity can be a real problem for your home and your health. We look at how a dehumidifier can help get things back under control.
Build a timeless jewellery box
Even if you're not addicted to jewellery, you likely know someone who is. Grab some figured woods and exotics and have fun making this timeless jewellery box.
Working from home? Work smart
Maintain your productivity and efficiency when working at home by integrating all your smart devices and boosting your network bandwidth.
Sanding by hand is a simple enough technique, but one that is very important for achieving the perfect finish.
Spiral cutterhead for Milwaukee M18 cordless planer
Woodworkers are now retrofitting spiral cutterheads to their old planers and jointers for superior performance.
Dowel joinery: simple, strong and accurate
Using dowels for joinery can be a very strong and accurate method. It's also generally a very simple technique to master. Woodworkers tend to avoid dowels for a number of reasons, even though they're perfectly capable of making you a better woodworker, and your furniture stronger as well.
Win an Arbortech Precision Carving System
The Precision Carving System is a four-piece precision set that will open the door to more intricate Arbortech power carving, detailing and texturing.
2021 Hot Products featured this week
Dust-Free Routing
Handheld routers are notorious for kicking up a lot of dust. The Oneida Air Systems Dust-Free Router Hood captures nearly all the dust, chips and shavings generated by portable routers.
Premium Whiteside Router Bits
If you use a router or CNC machine for woodworking, then you need Whiteside bits. These router bits are used in a variety of applications, including cutting decorative edges, adding joints like rabbets, dadoes and grooves
Cutting Board Packs
Making a cutting board is the perfect introductory woodworking project. If you don't have access to machinery, you can still start a new hobby using KJP Select Hardwoods packaged cutting board packs in

different

woods.
Editor's Note: We won't be sending out another shopNEWS until after Christmas. We'd like to take this opportunity to wish each of you a

happy and safe holiday.
"In the beginner's mind there are many possibilities; in the expert's mind there are few...

"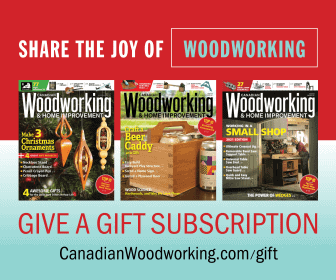 For advertising
opportunities
contact Chad Martin
This newsletter was sent to . If this email was forwarded to you,
You are receiving this email because you opted in at our website.
Inspiring Media Inc. o/a Canadian Woodworking, Box 808, Niagara on the Lake, ON L0S 1J0