My favourite piece of Canadian-made furniture
Beauty is subjective. Every one of us has a different opinion of what looks good and what doesn't. I've seen many beautiful pieces of furniture, many of which are Canadian-made, but there's one piece that stands out from all the rest.
The ultimate table saw crosscut jig
A quality table saw crosscut jig will help you make accurate, repeatable crosscuts every time.
Now is the time to upgrade your flooring
Sponsored: Mys-Teak is 100% environmentally responsibly grown plantation teak that will last for decades, and look beautiful with minimal maintenance while adding value to your home!
FAMAG Bormax 2.0 Forstner drill bits
Razor-sharp wave-form cutting teeth require less power, produce less friction and deliver superb results.
Häfele supports Tiny Home pilot program
Häfele small-space solutions utilized in tiny homes program geared towards establishing affordable housing.
Create a set of textured ornaments
Bright, eye-catching ornaments make great gifts. This two-piece maple ornament is finished with glitter and then textured to reveal the bare wood under the bold finish.
Brushes for applying a finish
You can get beautiful results applying film finishes – shellac, varnish, polyurethane, waterborne and lacquer – with a brush. But to do so, you need to select the right brush and use the right technique.
Win an Arbortech Precision Carving System
The Precision Carving System is a four-piece precision set that will open the door to more intricate Arbortech power carving, detailing and texturing. Ten ways to enter. No purchase necessary.
2021 Hot Products featured this week
Clapham's Hemp Wood Wax
The newest, cleanest and greenest wood wax finish, Hemp Wood Wax is 100% food-safe, completely non-toxic and contains no petroleum by-products.
Flexcut Micro-Palm Carving Set
With the industry's greatest selection of micro-tools, this set is perfect for carving small projects such as wood carvings, netsuke and linoleum blocks.
High Velocity Air Mover
With three user-selectable speeds of 420, 490 and 550 CFM, the 8500AM delivers serious air move­ment to dry floors, carpets, walls or ceilings.
"

Patience is not the ability to wait, but the ability to keep a good attitude while waiting.

"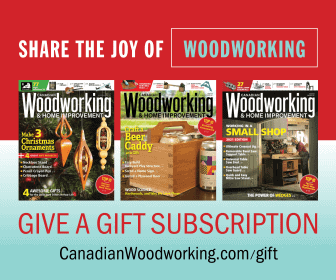 For advertising
opportunities
contact Chad Martin
This newsletter was sent to . If this email was forwarded to you,
You are receiving this email because you opted in at our website.
Inspiring Media Inc. o/a Canadian Woodworking, Box 808, Niagara on the Lake, ON L0S 1J0