Upstairs storage, online exhibition, women of woodworking
Last, but not least, is the upper level of my shop. Although I don't do much work up there, I'm able to store all sorts of tools and materials there that would otherwise take up valuable space in my main shop machining area.
Make a passive smartphone speaker
Amp up your music listening experience by making a sleek speaker for your smartphone.
Red alder (Western red alder) grows exclusively along the west coast of British Columbia, and is typically one of the first trees to colonize burnt-over or cutover areas. A rapidly growing tree, it has a short life span of around 60 years. The tree reaches heights of about 80 feet and diameters of up to 2 feet. Alder trees and shrubs belong to the same family as birch trees (Betulaceae).
Brushes for applying a finish
Finishing Touch: You can get beautiful results applying film finishes – shellac, varnish, polyurethane, waterborne and lacquer – with a brush. But to do so you need to select the right brush and use the right technique.
Simple router improvements
The router is a versatile tool. It's essentially a motor that spins whatever cutter you choose. The accessories you use with it determine how you can use the router, and what you can do. Here are some simple improvements you can make.
JET JPT-310 jointer-planer replacement cutter head
Upgrade your jointer-planer cutter head for superior results.
Website renovation in progress
We're remodelling — actually, reconstructing — the

Canadian Woodworking

website so things may be a bit messy in places. Your patience and understanding are appreciated. The

new website

will be faster and easier to search than the

old site

when all the construction mess is cleaned up. Thanks for being a reader. — Michael Fox, Publisher
"He who works with his hands and his head and his heart is an artist."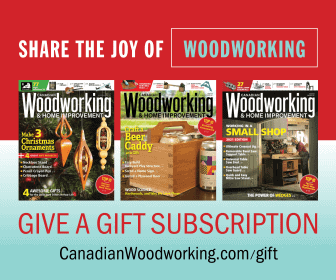 For advertising
opportunities
contact Chad Martin
This newsletter was sent to . If this email was forwarded to you,
You are receiving this email because you opted in at our website.

Inspiring Media Inc. o/a Canadian Woodworking & Home Improvement, Box 808, Niagara on the Lake, ON L0S 1J0