My baseboard mission is almost complete
Before Christmas I wrote about the simple task of installing baseboard in about half of the house. It was going to go really quickly, take almost no energy out of me and be done before I knew it. I was also going to pop some crown moulding in place right after the baseboard was done.
When versatility and durability are of paramount importance, you won't go wrong choosing a film finish.
The Shaker communities reached their height during the 1800s, but the last remaining community at Sabbathday Lake, Maine, still carries on to this day. They are most well known for the enduring legacy of the Shaker furniture style. Simple and unadorned in appearance, it was built with a high degree of craftsmanship with individual craftsmen developing their own discrete ornamentation to set their pieces apart from the others. As the 1800s drew to a close, the Shaker style started to adopt some of the ornamentation of the new Victorian era.
Working out of your home? Work smart
Maintain your productivity and efficiency when working at home by integrating all your smart devices and boosting your network bandwidth.
Prairie table
Jamie Russell shares some know-how that went into this prairie table. The many techniques used to complete the joinery and create this table are advanced, but each can be used on their own to create unique pieces of furniture.
Bora 100" NGX clamp edge saw guide, NGX pro saw plate
A cost-effective, simple and efficient solution to help woodworkers and DIYers with a common small workshop challenge of cutting sheet goods to size.
Make a kids' art storage box
The perfect level of difficulty for a kid's birthday party, this is a fun and easy project for most kids to do, and leaves them with a drawing or art storage box. 
2021 Hot Products featured this week
Diablo 3-1/2" Universal Fit Oscillating Blade
Diablo's universal fit bi-metal oscillating blades (#DOU350RBGP) feature application-specific designs that deliver maximum durability and longer life in general-purpose cuts
Festool
TSC 55 K

Cordless Track Saw
The combina­tion of a brushless EC-TEC motor and dual battery system makes the TSC 55 K as powerful as any corded track saw while giving you the freedom of full mobility.
The Ultimate Template-Guided Joinery System
Mortise and tenon joinery has never been easier or more fun. The PantoRouter offer over 150 perfectly fitting sizes using its patented tapered templates.
"

Creativity requires the courage to let go of certainties.

"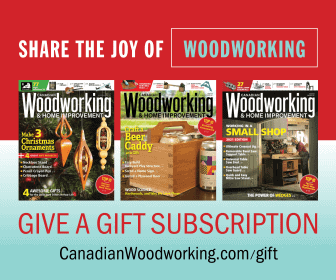 For advertising
opportunities
contact Chad Martin
This newsletter was sent to . If this email was forwarded to you,
You are receiving this email because you opted in at our website.
Inspiring Media Inc. o/a Canadian Woodworking, Box 808, Niagara on the Lake, ON L0S 1J0