David Haig: master of simplicity
When I'm planning Canadian Woodworking & Home Improvement, I stick with Canadian writers, photographers and illustrators. We feel there's a solid benefit in having only Canadians on our pages. Giving a Canadian perspective on woodworking is something we've heard our readers appreciate, too.
Beer makes a great gift. But giving beer in a handmade beer caddy isn't just fun to give, it's fun to make.
Waterborne finishes have improved quite a bit over the past few years – to the point where they make an excellent finish for just about any woodworker.
Milwaukee M12 23-gauge pinner
As perfect a pinner as you can get for precision fastening of narrow, thin or delicate stock. 
Making a lock mitre joint
The main advantage of using a mitre joint is that it looks clean and simple. The downside is assembling it evenly so it doesn't look like a dog's breakfast. The lock mitre joint ensures the joint not only looks great when assembled, but that assembly is a snap.
Live edge charcuterie boards
Sponsored: With the holiday season just around the corner, impress your guests with a handmade charcuterie board. KJP Select Hardwoods has spectacular live edge boards for your next project.
Rockler portable drill guide
Get the control and precision of a stationary drill press with the portability of a handheld drill.
"All we have to decide is what to do with the time that is given us."
Gandalf (aka J.R.R. Tolkien)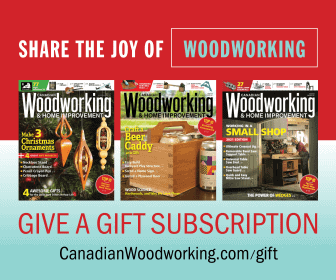 For advertising
opportunities
contact Chad Martin
This newsletter was sent to . If this email was forwarded to you,
You are receiving this email because you opted in at our website.
Inspiring Media Inc. o/a Canadian Woodworking, Box 808, Niagara on the Lake, ON L0S 1J0