Wooden spoons: sometimes the simplest things take the longest
You might remember I mentioned my son was making a wooden spoon last June as a thank you gift for his teacher . Well, it took some time, but we…I mean he…finally finished it.
Titebond III - an adhesive that does everything
Sponsored: The first one-part, water cleanup wood glue ever offered that is proven waterproof.
Build a curved floor lamp
Dark winter evenings can be lit up nicely with this bent floor lamp. Great for reading and adding ambiance to a room, this project will also teach you a lot about bent laminating.
Top 10: Make your home winter-ready
Now is the time to make your home ready for the cold season. Attend to one of these tips each week and by early December you'll have the upper hand over ornery Mr. Winter.
Walrus Oil becomes climate neutral certified
Sponsored: Walrus Oil measured and offset its 2020 carbon footprint and is working to reduce future emissions.
Sponsored: As an aspiring maker, you want an affordable CNC router, yet don't want to compromise on features, accuracy or build quality. When only the best will do… Choose Axiom Precision CNC.
PaintLine opens in Canada
Sponsored: PaintLine opens a distribution and fulfillment warehouse in Richmond, BC
"Have no fear of perfection - you'll never reach it."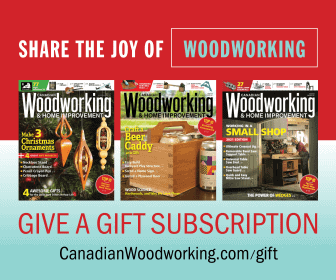 For advertising
opportunities
contact Chad Martin
This newsletter was sent to . If this email was forwarded to you,
You are receiving this email because you opted in at our website.
Inspiring Media Inc. o/a Canadian Woodworking, Box 808, Niagara on the Lake, ON L0S 1J0