I have enough shop space, but only if I'm organized
Over the last couple of columns, I've talked about moving into my new shop and how my table saw is the centerpiece of my workflow. There's a lot more than my table saw to my tool kit, though. Other large machinery, power tools, hand tools and a whole lot of accessories make building furniture efficient and enjoyable. I'll briefly go over some of the more important items here.
Introduction to CNC machines
You may have heard the term "CNC" a lot in the last few years and found yourself wondering what CNC machines are all about. Read on to learn about how these machines are changing the way people work wood.
Free, live woodturning demonstrations
Join Record Power for free live woodturning demonstrations. Learn from professional woodturners from around the globe and share your knowledge and projects with the international woodturning community.
Kitchen cabinet makeovers on a budget
When it comes to giving your kitchen a bright new look, you don't necessarily need to rip out and replace everything. Repainting or replacing just the cabinet doors, drawer fronts and shelves, along with installing new hardware, can make for an amazing facelift.
The ultimate router table revisited
Learn how the original was built and how to tweak a new build so it's virtually perfect.
Take the tool survey for a chance to win
We're conducting a short survey that takes only 2 minutes to complete. Fill out the survey for your chance to WIN a MAKITA DTD171Z impact driver. Survey ends September 30, 2021.
Premium woodturning chucks
Keyed chucks cannot be beaten when is comes to holding power. The totally enclosed back assures consistent, smooth action by preventing dust and debris from getting into the scroll and moving parts of the chuck. The backing lid is also indexed for those wood turners who do not have an indexing facility on their lathe.
Website renovation in progress
We're remodelling —actually, reconstructing — the Canadian Woodworking website so things may be a bit messy in places. Your patience and understanding are appreciated. The new website will be faster and easier to search than the old site when all the construction mess is cleaned up. Thanks for being a reader. — Michael Fox, Publisher
"Each plank…can have only one ideal use.
The woodworker must find this ideal use
and create an object of utility to man,
and if nature smiles, an object of lasting beauty."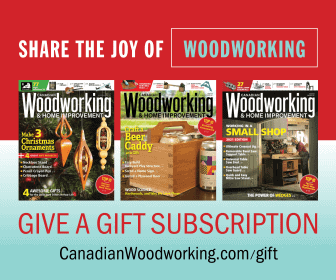 For advertising
opportunities
contact Chad Martin
This newsletter was sent to . If this email was forwarded to you,
You are receiving this email because you opted in at our website.
Inspiring Media Inc. o/a Canadian Woodworking, Box 808, Niagara on the Lake, ON L0S 1J0