One divider, preferably with joinery
A wise woodworker once said, "The difference between a good woodworker and a bad woodworker is their ability to fix their mistakes." There is definitely some truth to this, although I don't think this is the only difference between these two types of woodworkers.
Check out issue #135: December/January 2022
As the saying goes, the holiday season and giving go hand in hand. And as moms often say, the best gifts are those that are made, not bought. In this issue we've brought together six gift projects that might just take care of everyone on your list. Plus our Hot Products 2021, new woodworking product reviews and everything you need to know about lasers in the workshop.
Build an arched-top wall mirror with curved drawers
This cherry and birdseye maple wall mirror will look great in a front entrance or hallway. It may appear to be a challenging project, but the construction is quite manageable when you break it down into smaller steps.
You have 10 ways to enter – one great prize to win.
Learn to prepare and maintain your plane irons, as a sharp iron can make the difference between frustration and enjoyment.
Cast your vote in the 2021 Tool of the Year Awards
Cast your vote in the 2021 TOOL OF THE YEAR AWARDS for a chance to win a DeWALT combo drill/driver.
New brands added to the Tegs Tools lineup
Tegs Tools, a leading Canadian retailer of woodworking hand tools, power tools and machinery, adds three new brands to its product inventory.
2021 Hot Products featured this week
PX|12 Benchtop Planer
Laguna's new PX|12 benchtop thickness planer features the QuadTec I cutterhead with 26 four-sided solid car­bide inserts that deliver a superior finish on all woods.
Beeswax Furniture Polish
A favourite of renowned furniture maker James Krenov, Clapham's Beeswax Furniture Polish is a fine, museum-quality polish based on an old family recipe from England.
Variable Speed Track Saw
The KC-8365 has a 6-1/2″ blade and a 12 amp soft-start motor with constant torque that delivers vari­able speeds from 2,000 to 6,000 RPM for optimum performance.
"

Making the simple, awesomely simple, that's creativity.

"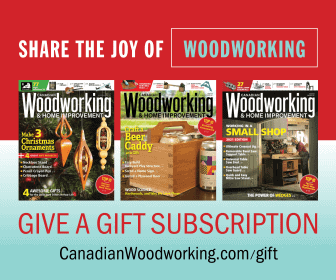 For advertising
opportunities
contact Chad Martin
This newsletter was sent to . If this email was forwarded to you,
You are receiving this email because you opted in at our website.
Inspiring Media Inc. o/a Canadian Woodworking, Box 808, Niagara on the Lake, ON L0S 1J0