Saving scraps: a rare success story
Most woodworkers are guilty of saving a few too many workshop scraps. Whether it's bits of domestic hardwood, offcuts of sheet goods or the always valuable small exotic offcuts, we could all keep less than we do. But once in a while our hoarding pays off.
Top 10 easy gift projects
All of these projects can be made over a weekend or a week of evenings. For those who like to build from plans, we've included many projects from previous issues. If you're really pressed for time, make sure to select finishes that dry fast. Shellac, water-based finishes and acrylic paint are good choices.
Cast your vote in the 2021 Tool of the Year Awards
Cast your vote in the 2021 TOOL OF THE YEAR AWARDS for a chance to win a DeWALT combo drill/driver.
National leadership development program for women in the skilled trades
The Canadian Apprenticeship Forum (CAF-FCA) will launch a new program to empower skilled trades advocates at the next Supporting Women in Trades Conference taking place June 2-3, 2022, in St. John's NL.
DEWALT TOUGHSERIES hand tools
The new lineup of premium hand tools from DEWALT is ready for more. Designed with industry-shattering innovation and breakthrough durability, TOUGHSERIES hand tools stand up to the harshest conditions.
The revolutionary roots of CNC machining
In the modern days of woodworking, computer numerical control (CNC) is all the rage. Where before all machining work was roll-up-your-sleeves manual, with a digitally driven mill the most intricate processes can be automated.
This weekend: 2021 Virtual Woodworking Show
The 2021 Virtual Wood Show is on this weekend – from Friday, Nov. 12, to Sunday, Nov. 14. You can tour show for free by registering.
An easier way to shop at Exotic Woods
Sponsored: Exotic Woods is now online.

They have heard and listened to their customers and are proud to present the NEW way to purchase from the comfort of your own home.
Win a FEIN MultiMaster MM 500 Plus Top Set
Nine ways to enter, one great prize to win!
"You will never plough a field if you only turn it over in your mind.

"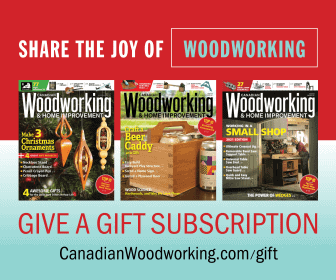 For advertising
opportunities
contact Chad Martin
This newsletter was sent to . If this email was forwarded to you,
You are receiving this email because you opted in at our website.
Inspiring Media Inc. o/a Canadian Woodworking, Box 808, Niagara on the Lake, ON L0S 1J0